PENERAPAN LEVERS OF CONTROL DALAM MENINGKATKAN KINERJA KARYAWAN PADA PT KALISARI CITRA JAYA
Jessica Peggy Fellita

Jurusan Akuntansi Fakultas Bisnis dan Ekonomika Universitas Surabaya
Abstract
Penelitian ini bertujuan untuk mengetahui bagaimana kerangka levers of control yang telah dikembangkan oleh Tessier dan Otley (2012) yang merupakan salah satu dari sistem pengendalian manajemen dapat meningkatkan kinerja karyawan suatu perusahaan. Hal inilah yang juga perlu menjadi perhatian semua perusahaan, ketika suatu perusahaan tersebut ingin tetap bertahan lama dalam jangka waktu yang panjang dan tidak hanya memperhatikan dari segi profit dan low cost. Penelitian ini menggunakan pendekatan kualitatif dengan menggunakan metode descriptive reasearch. Objek penelitian kali ini adalah PT Kalisari Citra Jaya yakni perusahaan yang bergerak di bidang transportasi umum. Penelitian ini bersifat applied dan menggunakan sumber data primer dengan melakukan wawancara dan observasi.Skripsi ini akan menunjukkan cara bahwa sistem pengendalian manajemen melalui beberapa rekomendasi dari masalah yang ada yang kemungkinan dapat meningkatkan motivasi karyawan sehingga kinerja karyawan dapat meningkat
Downloads
Download data is not yet available.
References
Arjalies, Diane-Laure and Mundy Julia (2013). The use of management control system to manage CSR strategy: A levers of control perspective. London

Efferin,Sujoko dan Bonnie,Soeherman (2010) Seni Perang Sun zi dan Sistem Pengendalian Manajemen Filosofi dan Aplikasi. Elex Media Komputindo. Jakarta

Maslow, A.H (1943). A theory of Human Motivation. 50 : 374-396.

Merchant,Kenneth A.,and Van der Stede, Wim A. (2003). Management Control System : Performance Measurement, Evalution and Incentives. Prentice Hall.

Milne, Patricia (2007). Motivation, Incentive and Organisational Culture. Journal of Knowledge Management.

Nasution, M. N. (2004). Manajemen Transportasi 2nd. Jakarta: Ghalia Indonesia.

Simons, R. A. (1995). Levers of control: How managers use innovative control systems to drive strategic renewal. Boston: Harvard Business School Press.

Simons, Robert S Kaplan, and Antonio Davila (1999).Performance Measurement and Control System for Implementing Strategy Text and Case. Prentice Hall: Upper Saddle River New Jersey.

Tessier dan Otley. (2012). A conceptual development of Simons 'Levers of Control framework.Canada,UK.

Tero-Seppotuomella (2005). The Interplay of Different Levers of Control: a Case Study of Introducing a new performance measurement system. Turku School of Economics and Business Administration, Department of Accounting and Finance.

Rao, T.V (1986). Penilaian Prestasi Kerja Teori dan Praktek. PT.Pustaka Binaman Pressindo.

Wiley,Carolyn. (1995) What Motivaties Employees According to Over 40 Years of Motivation Survey, International Journal of Manpower 18,3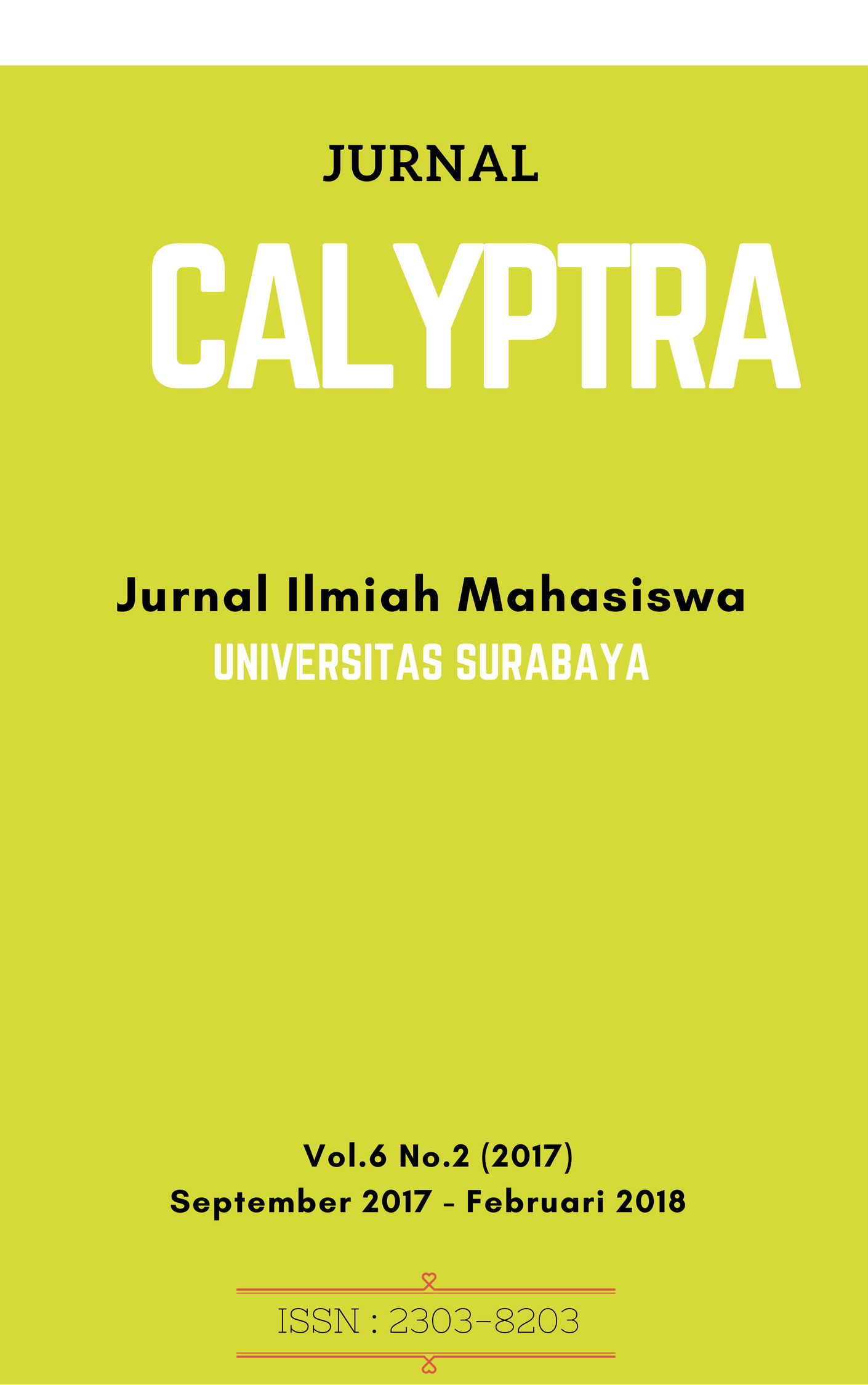 How to Cite
FELLITA, Jessica Peggy. PENERAPAN LEVERS OF CONTROL DALAM MENINGKATKAN KINERJA KARYAWAN PADA PT KALISARI CITRA JAYA.
CALYPTRA
, [S.l.], v. 6, n. 2, p. Hal. 149 - 168, sep. 2017. ISSN 2302-8203. Available at: <
http://journal.ubaya.ac.id/index.php/jimus/article/view/905
>. Date accessed: 18 sep. 2019.
Section
Bidang Akuntansi (AK)