EVALUASI PENGENDALIAN INTERNAL UNTUK MEMINIMALKAN KECURANGAN YANG DILAKUKAN MAHASISWA DI JURUSAN AKUNTANSI FBE UBAYA
Yoshua Adimas Setiawan

Jurusan Akuntansi Fakultas Bisnis dan Ekonomika Universitas Surabaya
Abstract
Penelitian ini bertujuan untuk mengevaluasi Sistem Informasi pada siklus penjualan yang diterapkan untuk meningkatkan kualitas pengendalian internal yang ada pada badan usaha berupa toko. Penelitian ini menggunakan metode kualitatif dengan objek penelitian Toko Makmur yang menjual bahan bangunan di Kediri. Sumber data yang diperoleh dalam penelitian ini adalah narasumber yang terdiri dari pemilik, dan karyawan Toko Makmur, dengan menggunakan metode wawancara, observasi, dan analisis dokumen. Hasil penelitian ini menunjukkan bahwa pengendalian internal yang diterapkan belum maksimal. Permasalahan yang terjadi di Toko Makmur secara umum adalah tidak terbayarnya penjualan secara kredit, pelanggan tidak dapat menerima pengiriman, dan pengiriman yang tertunda oleh karena stok yang habis. Penulis memberikan rekomendasi secara umum untuk menggunakan sistem terkomputerisasi, memberikan prosedur penerimaan kredit yang jelas, memastikan pengiriman dapat berjalan dengan lancar tanpa kerugian yang harus terjadi, dan membuat dokumen yang memadahi guna meningkatkan kualitas pengendalian internal.
Downloads
Download data is not yet available.
References
Badan Pusat Statistik. 2012. Tabel Perkembangan UMKM pada Periode 1997 -2012. https://www.bps.go.id/linkTabelStatis/view/id/1322. Diakses tanggal 6 September 2016

COSO.2013. The 2013 COSO Framework & SOX Compliance. http://www.coso.org/. diakses tanggal 15 Mei 2016.

CPA Australia Ltd. 2007. Internal Controls for Small Business. https://www.cpaaustralia.com.au/~/media/corporate/allfiles/document/professional-resources/business/internal-controls-for-small-business.pdf?la=en. Diakses tanggal 6 September 2016.

DeLone, W.H. & McLean, E.R. 2003. The DeLone and McLean Model of Information Sistems Succes: A Ten Years Update. Journal Of Management Information Sistems/ Spring 2003. Vol. 19. No. 4. Pp. 9-30.

Eldridge, Stephen dan Iwaarden, Jos van. 2014. Management Control Systems for Business Processes in Uncertain Environments. International Journal of Quality & Reliability Management. Vol. 31. No. 1. Pp. 66-81

Gelinas, Ulric J., and Dull, Richard B. 2008. Accounting Information System, 7th edition. Thomson South Western, Ohio, U.S.A: Thomson Higher Education

Hall, James A. 2011. Principles of Accounting Information Systems. Cengage Learning. South-Western

Hen. 2011. Bisnis Bahan Bangunan Semakin Menjanjikan. http://www.halloriau.com/read-belanja-6026-2011-01-04-bisnis-bahan-bangunan-semakin-menjanjikan.html. Diakses tanggal 6 September 2016.

Romney, Marshall, B. & Steinbart. 2015. Accounting Information System. Global Edition. 13th edition. Pearson Education, Inc

RUS, Ioan. 2012. Emerging Markets Queries in Finance and Business: The sustainability of integrated information sistem. Elesevier. Pp. 1005-1011.

Supadrijono, Mohammad Taufan, 2013. Pengaruh Audit Internal Dalam Menunjang Efektivitas Pengendalian Internal Piutang Usaha Pada PT.TELEKOMUNIKASI INDONESIA DIVRE II. Sumber: www.repository.widyatama.ac.id. Diakses pada: 23 Juli 2014. Susanto, Azhar, 2004. Sistem Informasi Akuntansi. Lingga Jaya. Bandung.

Widjajanto, Nugroho. 2001. Sistem Informasi Akuntansi. Erlangga: Jakarta.

Wilkinson, Joseph W. Cerullo. 2004. Accounting Information System. America. United Stated

Wilopo. 2006. Analisis Faktor-Faktor Yang Berpengaruh Terhadap Kecenderungan Kecurangan Akuntansi: Studi Pada Perusahaan Publik dan Badan Usaha Milik Negara Di Indonesia. Proceeding Simposium Nasional Akuntansi IX Padang. 23-26 Agustus 2006.

Wolf, Steven, Just, David, dan Zilberman, David. 2001. Between Data and Decisions: The Organization of Agricultural Economic Information Systems. Research Policy. Pp.121-141.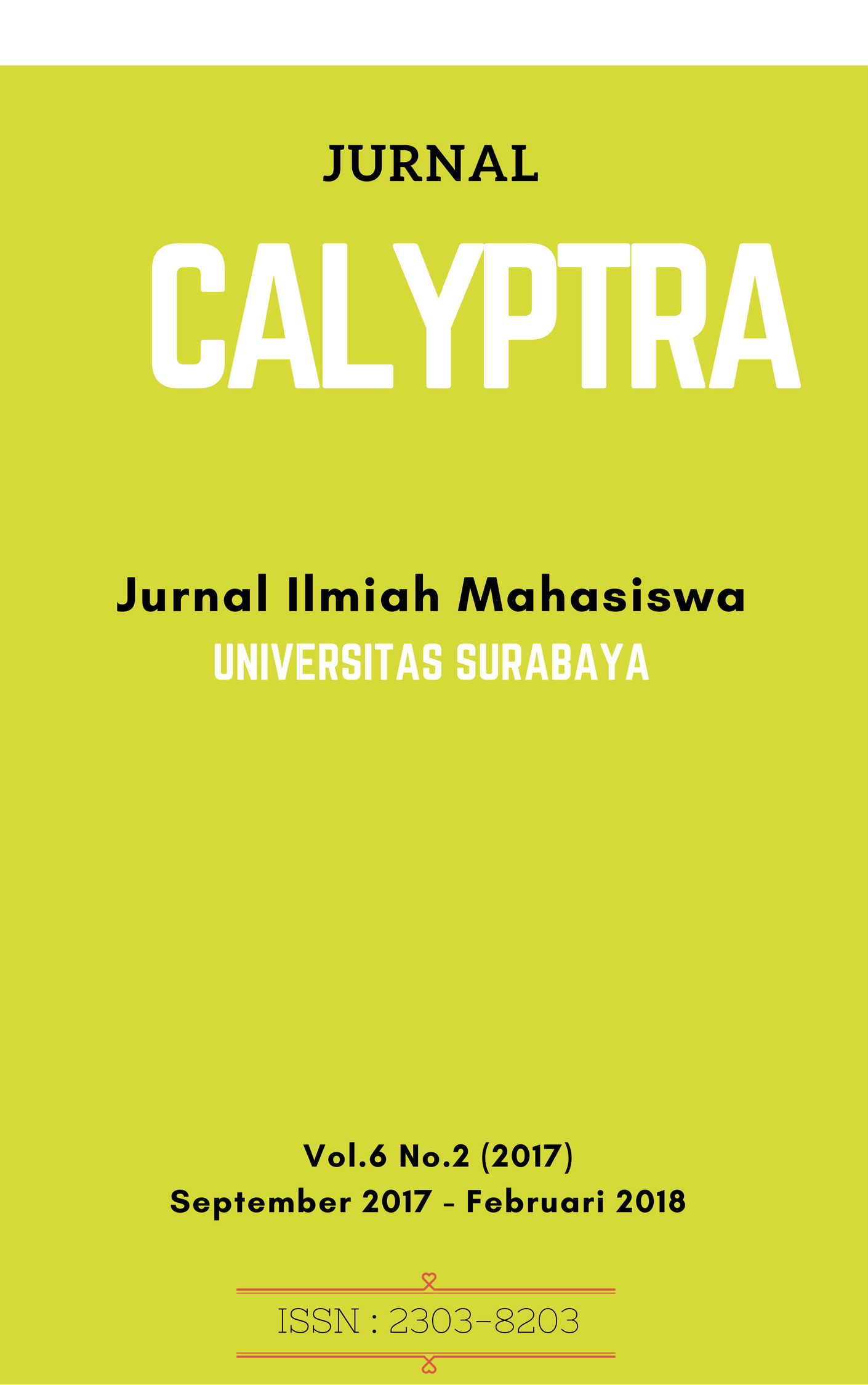 How to Cite
SETIAWAN, Yoshua Adimas. EVALUASI PENGENDALIAN INTERNAL UNTUK MEMINIMALKAN KECURANGAN YANG DILAKUKAN MAHASISWA DI JURUSAN AKUNTANSI FBE UBAYA.
CALYPTRA
, [S.l.], v. 6, n. 2, p. Hal. 221 - 249, sep. 2017. ISSN 2302-8203. Available at: <
http://journal.ubaya.ac.id/index.php/jimus/article/view/919
>. Date accessed: 20 june 2018.
Section
Bidang Akuntansi (AK)