STUDI KUANTITATIF PENGARUH SELF-SERVICE TECHNOLOGY QUALITY (SSTQUAL) TERHADAP KEPUASAN DAN LOYALITAS MAHASISWA PADA FASILITAS INPUT ONLINE DI FAKULTAS BISNIS DAN EKONOMIKA UNIVERSITAS SURABAYA
Cindy Claudia Kho

Jurusan Manajemen Fakultas Bisnis dan Ekonomika Universitas Surabaya
Abstract
Penelitian ini bertujuan untuk mengetahui dan menganalisis seberapa besar pengaruh Self-service technology quality (SSTQUAL) terhadap kepuasan mahasiswa dan loyalitas mahasiswa serta untuk mengetahui pengaruh kepuasan mahasiswa terhadap loyalitas mahasiswa. Data yang digunakan dalam penelitian ini adalah data primer yang diperoleh dari penyebaran kuesioner. Responden dalam penelitian ini adalah 130 responden yang pernah melakukan input mata kuliah yang dipilihnya secara online melalui situs krsonline pada Fakultas Bisnis dan Ekonomika Universitas Surabaya minimal semester 2. Teknik pengambilan sampel penelitian ini adalah non probability samping. Penelitian ini menggunakan pendekatan kuantitatif dengan melalui pengujian secara statistik. Pengujian dilakukan menggunakan metode Structural Equation Modeling (SEM) dengan bantuan Analisis of moment structures (AMOS 20).Hasil penelitian ini menunjukkan bahwa self-service technology quality (SSTQUAL) tidak berpengaruh terhadap kepuasan mahasiswa, Self-service technology quality (SSTQUAL) berpengaruh terhadap loyalitas mahasiswa, Kepuasan mahasiswa berpengaruh terhadap loyalitas mahasiswa.
Downloads
Download data is not yet available.
References
Anandya, D., Suprihadi,H., 2005, Riset Pemasaran, Bayumedia Publishing

Fitzsimmons J. (2003). Service Management, Operations, Strategy and Information Technology. New York: Mc Graw Hill.

Ghozali, I. (2012). Aplikasi Multivariat dengan Program IBM SPSS 20. Semarang: BPUNDIP.

Jogiyanto, H.M. (2011). Metodologi Penelitian Bisnis (Edisi Keempat). BPFE. Yogyakarta.

Kotler, P., & Armstrong, G. (2012). Principles of Marketing. New Jersey: Prentice Hall.

Kotler, P., & Keller L. Kevin. (2012). Marketing Management. New Jersey: Prentice Hall.

Lovelock C., & Wirtz J. (2011). Service Marketing: People, Technology, Strategy. New York: Pearson.

Malhotra, N.K. (2002). Marketing Research: An Applied Orientation (Fourth Edition). New Jersey: Prentice Hall.

Meuter M.L., Ostrom A.L., Roundtree R.I., & Bitner M.J. (2000). Self-Service Technologies: Understanding Customer Satisfaction with Technology- Based Service Encounters, Journal of Marketing, Vol. 64 (1), 50-64.

Musanto, Faizan et al. (Eds). (2001). Impact of Customer Satisfaction on Customer Loyalty and Intentions to Switch :Evidence from Banking Sector of Pakistan.

Orel, F. D., and A. Kara. (2014). Supermarket Self-checkout Service Quality, Customer Satisfaction, and Loyalty: Empirical Evidence from an Emerging Market. Journal of Retailing and Consumer Services, Vol. 21 (2), 118–29.

Rowley, J. (2006). An analysis of the e-service literature: towards a research agenda, Internet Research, Vol. 16 (3), 339-359.

Sarwono, J. (2013). Statistik Multivariat: Aplikasi untuk Riset Skripsi. Yogyakarta: ANDI.

Sugiyono. (2014). Metode Penelitian Manajemen. Bandung: Alfabeta.

Tjiptono, F., & Chandra, G. (2011). Service, Quality & Satisfaction. Yogyakarta: ANDI.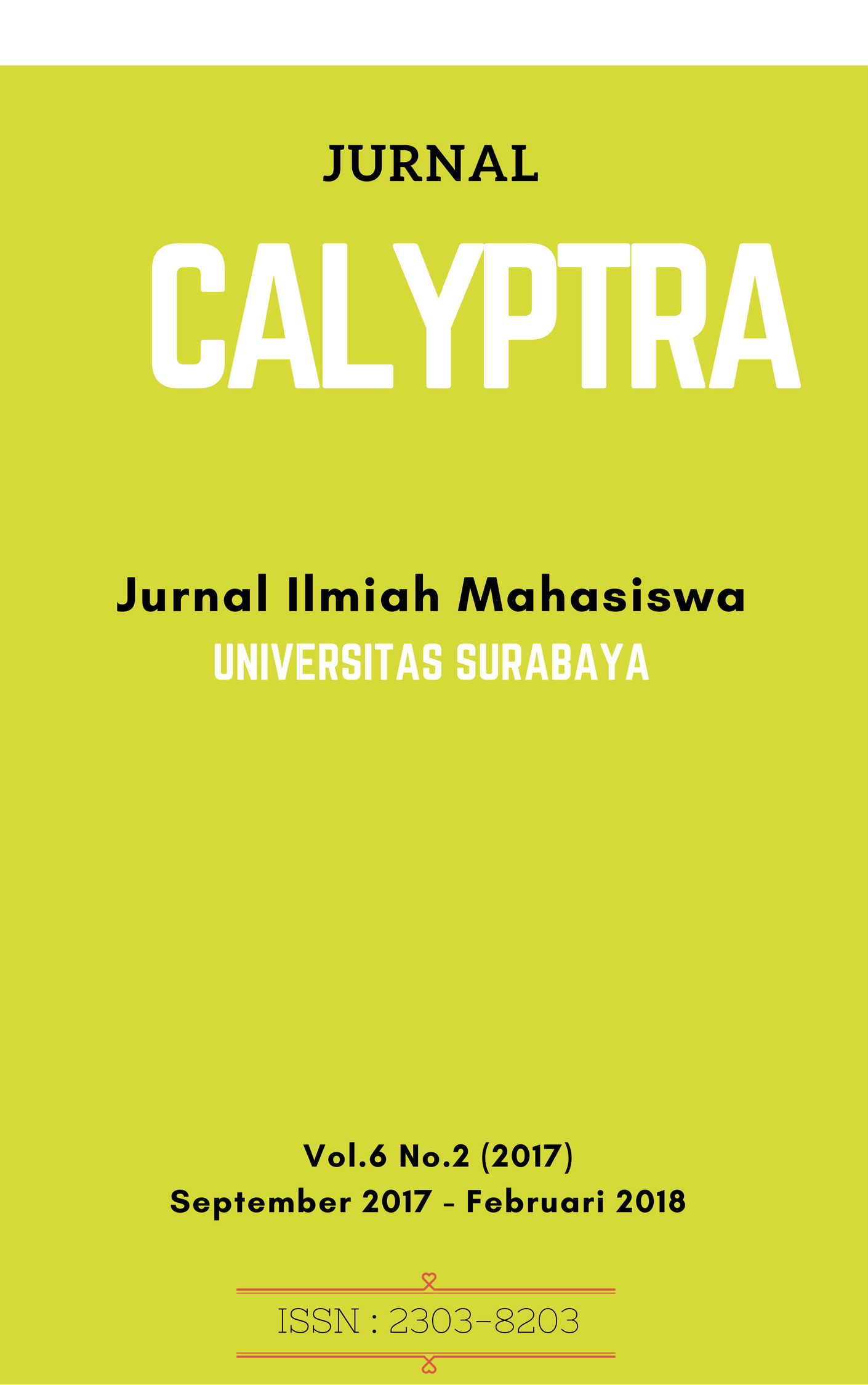 How to Cite
KHO, Cindy Claudia. STUDI KUANTITATIF PENGARUH SELF-SERVICE TECHNOLOGY QUALITY (SSTQUAL) TERHADAP KEPUASAN DAN LOYALITAS MAHASISWA PADA FASILITAS INPUT ONLINE DI FAKULTAS BISNIS DAN EKONOMIKA UNIVERSITAS SURABAYA.
CALYPTRA
, [S.l.], v. 6, n. 2, p. Hal. 675 – 690, sep. 2017. ISSN 2302-8203. Available at: <
http://journal.ubaya.ac.id/index.php/jimus/article/view/949
>. Date accessed: 23 may 2019.
Section
Bidang Manajemen (M)