FAKTOR – FAKTOR YANG MEMPENGARUHI LEVERAGE PADA PERUSAHAAN SEKTOR INDUSTRI AGRIKULTUR YANG TERDAFTAR DI BEI PERIODE 2007-2015
Joshua Hendra Edward

Jurusan Manajemen Fakultas Bisnis dan Ekonomika Universitas Surabaya
Abstract
Penelitian ini bertujuan untuk menguji faktor-faktor yang mempengaruhi leverage pada perusahaan industri pertanian yang tercatat di Bursa Efek Indonesia periode 2007-2015. Variabel dependen dalam penelitian ini adalah leverage. Variabel independen yang digunakan adalah growth, liquidity, retained earning, market to book, profitability, size dan tangibility. Penelitian ini menggunakan model analisis regresi yaitu model linier berganda untuk menguji hipotesis dengan sampel berupa 11 perusahaan industri pertanian di BEI periode 2007-2015. Jumlah observasi adalah 99 poin observasi dengan menggunakan syarat dan asumsi klasik. Temuan penelitian ini menunjukkan bahwa growth berpengaruh positif signifikan terhadap leverage, liquidity berpengaruh negatif signifikan terhadap leverage, retained earning berpengaruh negatif signifikan terhadap leverage, market to book berpengaruh negatif tidak signifikan terhadap leverage, profitability berpengaruh negatif tidak signifikan terhadap leverage, size berpengaruh positif signifikan terhadap leverage dan tangibility berpengaruh negatif signifikan terhadap leverage.
Downloads
Download data is not yet available.
References
Almeida, H., Campello, M., 2007. Financial constraints, asset tangibility, and corporate investment. Review of Financial Studies 20, 1429–1460.

Ardi Murdoko Sudarmadji dan Lana Sularto, 2007. "Pengaruh Ukuran Perusahaan, Profitabilitas, leverage, dan Tipe Kepemilikan Perusahaan Terhadap Luas Voluntary Disclosure Laporan Keuangan Tahunan", Proceeding PESAT, Volume 2.

Ashraf & Rasool, 2013, Determinants of Leverage of Automobile Sector Firms Listed in Karachi Stock Exchange Testing by Pecking Order Theory, Journal of Business Study Quarterly, Vol.4.Number 3, Superior University.

Baker, M. dan J. Wurgler, 2002, Market Timing and Capital Structure, The Journal of Finance, Vol 13:1

Byoun, 2007, Financial Flexibility, Leverage and Firm Size, JEL Classification: G32, Baylor University.

Chen & Chen, 2007, How the Pecking Order Theory Explain Capital Structure, Working Paper,Chang Jung Christian University, Taiwan.

Christianti, 2008, Pengujian Pecking Order Theory (POT): Pengaruh Leverage Terhadap Pendanaan Surplus dan Defisit Pada Industri Manufaktur di Bursa Efek Indonesia, The 2nd National Conferences UKWMS.

Erdrhart & Brigham, 2011, Financial Management: Theory and Practice, 10th edition, South-Western Cengage Learning.

Finky et. al., 2013, Faktor-Faktor Yang Mempengaruhi Struktur Modal Pada Industri Property dan Real Estate yang Terdaftar di BEI Periode 2008-2011, Jurnal Ilmiah Mahasiswa Universitas Surabaya, Vol 2. No. 2.

Gitman, L.J. dan Zutter, C.J., 2015, Principles of Managerial Finance, 14th Edition, Pearson Education.

Ghozali, Imam. 2007. Aplikasi Analisis Multivariate Dengan Program SPSS. Edisi 4. Badan Penerbit UNDIP. Semarang.

Jensen, M., Meckling, W., 1976, Theory of the Firm: Managerial Behavior,. Agency Costs, and Capital Structure, Journal of Financial Economics, vol. 2, pag. 305-360

Joni & Lina, 2010, Faktor-Faktor yang Mempengaruhi Struktur Modal, Jurnal Bisnis dan Akuntansi, Vol. 12 No. 2: 81-96, Universitas Trisakti.

Hermuningsih, Sri. 2013. Pengaruh Profitabilitas, Growth Opportunity, Sruktur Modal Terhadap Nilai Perusahaan Pada Perusahaan Publik Di Indonesia. Yogyakarta: University of Sarjanawiyata Taman siswa Yogyakarta.

Kartini & Arianto, 2007, Struktur Kepemilikan, Profitabilitas, Pertumbuhan Aktiva dan Ukuran Perusahaan Terhadap Struktur Modal Pada Perusahaan Manufaktur, Jurnal Keuangan dan Perbankan, Vol.12 No.1: 11-21, Universitas Islam Indonesia.

Kayo, E. K., Kimura, H., 2011. Hierarchical determinants of capital structure. Journal of Banking and Finance 35(2), 358-371.

Kim & Suh, 2010, Retained Earning and Capital Structure, JEL Classification: G32, Dankook University & Ewha Woman University, Korea.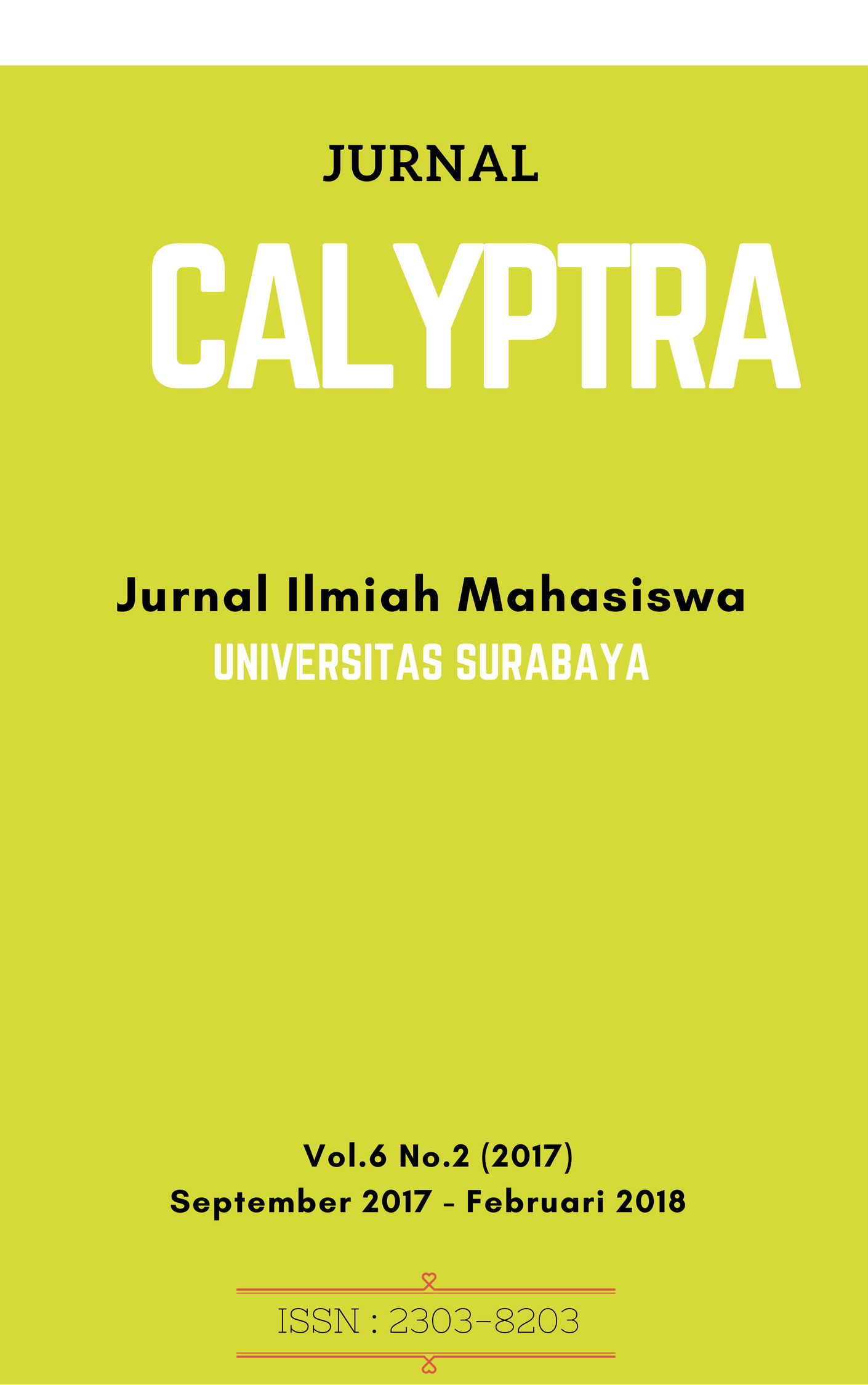 How to Cite
EDWARD, Joshua Hendra. FAKTOR – FAKTOR YANG MEMPENGARUHI LEVERAGE PADA PERUSAHAAN SEKTOR INDUSTRI AGRIKULTUR YANG TERDAFTAR DI BEI PERIODE 2007-2015.
CALYPTRA
, [S.l.], v. 6, n. 2, p. Hal. 748 – 760, sep. 2017. ISSN 2302-8203. Available at: <
http://journal.ubaya.ac.id/index.php/jimus/article/view/955
>. Date accessed: 23 may 2019.
Section
Bidang Manajemen (M)