PENERAPAN SERVICE ENCOUNTER PADA BAGIAN TELEPHONE OPERATOR DI HARRIS HOTEL & CONVENTIONS GUBENG
Lidya Winata Oeij

Jurusan Manajemen Layanan dan Pariwisata Fakultas Bisnis dan Ekonomika Universitas Surabaya
Abstract
Penelitian ini bertujuan untuk menguji teori service encounter pada departemen front office terutama di bagian telephone operator di tempat praktik kerja lapangan. Teori service encounter yang digunakan terdiri dari 4 dimensi, yaitu recovery, adaptability, spontaneity, dan coping. Penelitian dilakukan dengan melakukan internship di HARRIS Hotel & Conventions Gubeng Surabaya yang terletak di Jalan Bangka no. 8 - 18. Internship atau kerja lapangan dilakukan selama 13 minggu atau 624 jam kerja di departemen front office bagian telephone operator, fans relation officer, dan front desk agent. Pengamatan selama melakukan praktik kerja lapangan akan digunakan untuk membahas lebih dalam mengenai penerapan service encounter pada bagian telephone operator departemen front office di HARRIS Hotel & Conventions Gubeng dalam mengaplikasikan keempat dimensi tersebut dalam menangani telepon dari pelanggan.
Downloads
Download data is not yet available.
References
Angelo, R. M., and Vladimir, A. N. (1996). Hospitality today An introduction, second edition, Michigan: The Educational Institute of the American Hotel and Motel Association

Baker, Sue. (1995). Principle of Hotel Front Office Operation, Pustaka Pelajar, Yogyakarta.

Chandon, J.L, Leo, P,Y, and Phillipe, J. (1997). Service Encounter dimensions – a dyadic perspective: Measuring the dimensions of service encounters as perceived by customers and personnel. Internasional Journal of Service Industry Management.

Haksever C., B. render, R. Russel and R.Murdick (2000). Service Management and Operations, Prantice Hall

Hunt, Brian. and Ivergard, Tony. (2015) Designing service excellence : people and technology, Taylor & Francis group, LLC

Lai, J.S., Lui, S.S. and Hon, A.H.Y. (2014), "Does standardized service fit all? Novel service encounters in frontline employee-customer interface", International Journal of Contemporary Hospitality Management, Vol. 26 No. 8, pp. 1341-1363

Lovelock, C, and Wright, L, (2005). Principles of Service Marketing and Management, prentice hall, Third edition,New Jersey.

Manurung, Heldin dan Trizno Tarmoezi. 2000. Manajemen Front Office Hotel. Bekasi: Kesaint Blanc.

Sihite, Richard (2000). Hotel Management : Pengelolaan Hotel. Surabaya : SIC.

Sudarso, Andriasan (2016) Manajemen Pemasaran Jasa Perhotelan Yogyakarta

Sulastiyono, Agus. (2011). Manajemen Penyelenggaraan Hotel.Seri manajemen Usaha Jasa Sarana Pariwisata dan Akomodasi. Alfabeta,cv.

Tjiptono, Fandy (2008), Pemasaran Jasa. Bayumedia, Malang

Zeithaml V.A, M.J Bitner and D.D. Gremler, (2006). Service Marketing: Integrating Customer Focus Across the Firm, 4th Edition. New York: McGraw-Hill Companies, Inc.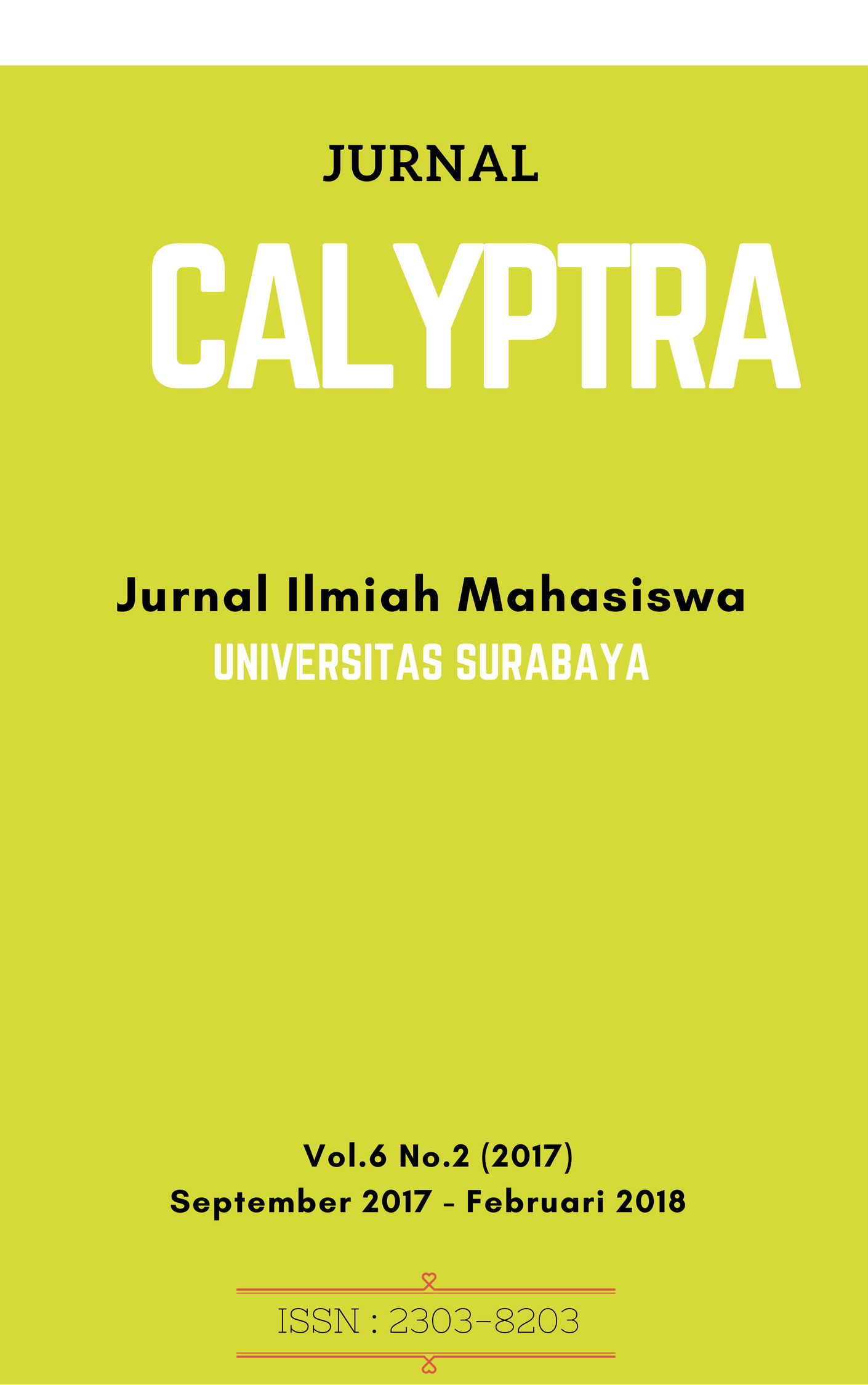 How to Cite
OEIJ, Lidya Winata. PENERAPAN SERVICE ENCOUNTER PADA BAGIAN TELEPHONE OPERATOR DI HARRIS HOTEL & CONVENTIONS GUBENG.
CALYPTRA
, [S.l.], v. 6, n. 2, p. Hal. 877 – 891, sep. 2017. ISSN 2302-8203. Available at: <
http://journal.ubaya.ac.id/index.php/jimus/article/view/963
>. Date accessed: 23 may 2019.
Section
Bidang Manajemen (M)