ASAS-ASAS UMUM KEBIJAKSANAAN LINGKUNGAN DALAM UNDANG-UNDANG NO. 32 TAHUN 2009 TENTANG PERLINDUNGAN DAN PENGELOLAAN LINGKUNGAN HIDUP (UUPPLH)
A'an Efendi

Dosen Tetap Fakultas Hukum Universitas Negeri Jember
Abstract
The function of environmental law in action to protect the environment is to place environmental policy in environmental legislation. In order to make environmental legislation effective ini action based on general principles of environmental policy, they are abatement at the source, best practicable means/best technical means, polluter pays principle, stand still principle, Principle oj regional differentiation and shifting of burden of proojlhet beginsel van de omkering van de bewijslast.
Downloads
Download data is not yet available.
References
Bagir Manan, 1997, Fungsi Peraturan Perundang-undangan, dalam Bagir Manan dan Kuntana Magnar, Beberapa Masalab Hukum Tata Negara Indonesia, Edisi Revisi, Alumni, Bandung

Daud Silalahi, 1995, Analisis Menge-nai Dampak Lingkungan Dalam Sistem Hukum Lingkungan In donesia, Mandar Maju, Bandung

E Saefullah Wiradipradja, 1989 Tanggung jawab Pengangkut Dalam Hukum Pengangkutan Udara Internasional dan Nasional, Li-berty, Y ogyakarta.

Koesnadi Hardjasoemantri, 1999, Hukum Tata Lingkungan, Edisi Ketujuh, Gajahmada University Press, Yogyakarta

Siti Sundari Rangkuti, 1994, Kesa-maan Per-sepsi Terhadap Penegakan Hukum Lingkungan, Yuridika, Majalah Fakultas Hukum Unair, No.5 Tahun IX September-Oktober

Siti Sundari Rangkuti, 2008, Instrumen Hukum Pengelolaan Lingkungan, dimuat dalam buku Dinamika Perkembangan Hukum Tata Negara dan Hukum Lingkungan, Edisi Khusus, Kumpulan Tulisan Dalam Rangka Purnabakti Siti Sundari Rangkuti, Airlangga Surabaya.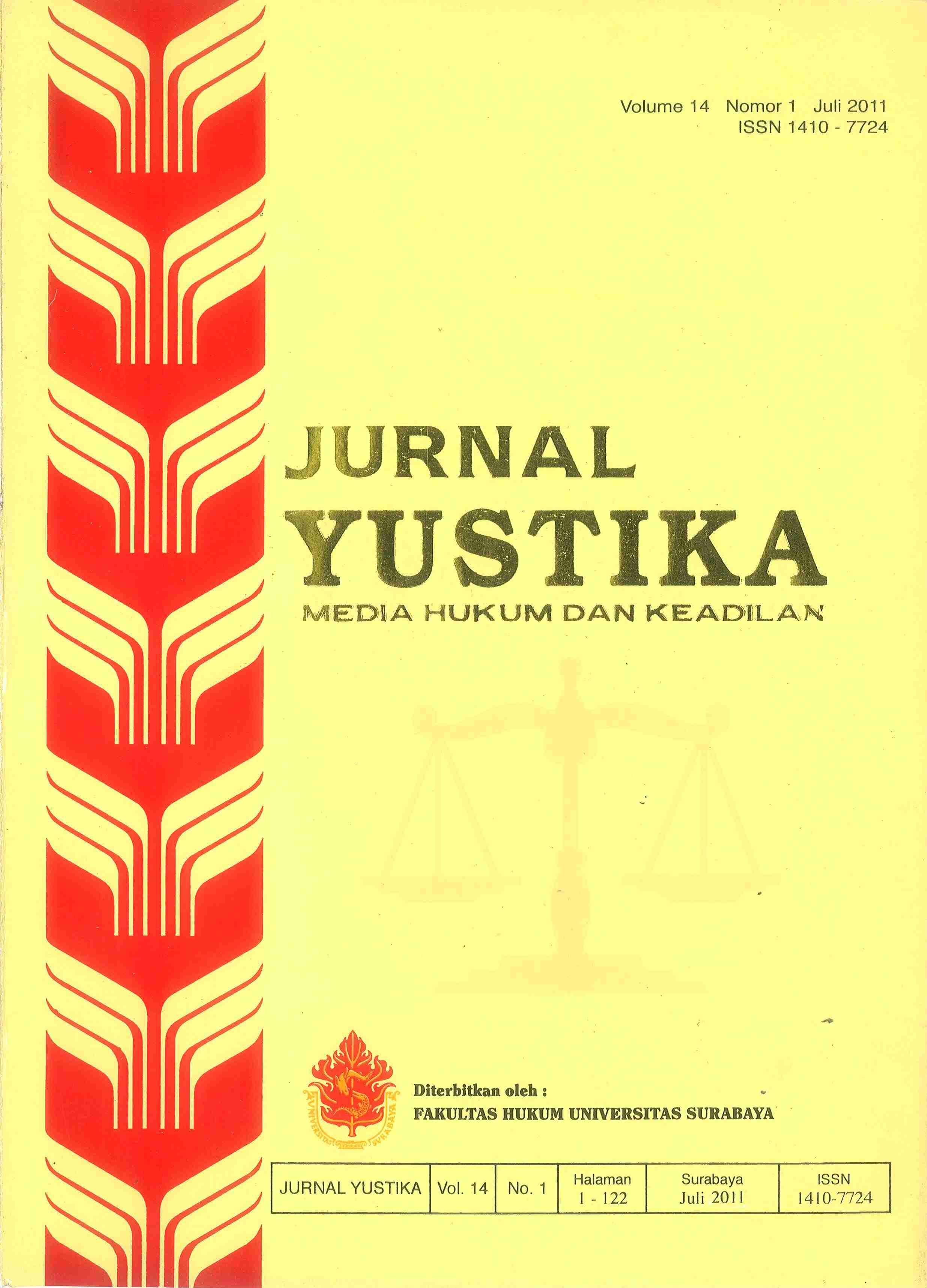 How to Cite
EFENDI, A'an. ASAS-ASAS UMUM KEBIJAKSANAAN LINGKUNGAN DALAM UNDANG-UNDANG NO. 32 TAHUN 2009 TENTANG PERLINDUNGAN DAN PENGELOLAAN LINGKUNGAN HIDUP (UUPPLH).
Jurnal Yustika: Media Hukum dan Keadilan
, [S.l.], v. 14, n. 1, p. Hal. 23 - 38, oct. 2018. ISSN 2655-7479. Available at: <
http://journal.ubaya.ac.id/index.php/yustika/article/view/1445
>. Date accessed: 24 june 2019.