Legal Protection of the Rights of the Child Victims in Indonesian Juvenile Criminal Justice System
Oksidelfa Yanto

Universitas Pamulang

Yoyon M. Darusman

Universitas Pamulang

Susanto Susanto

Universitas Pamulang

Aria Dimas Harapan

Universitas Pamulang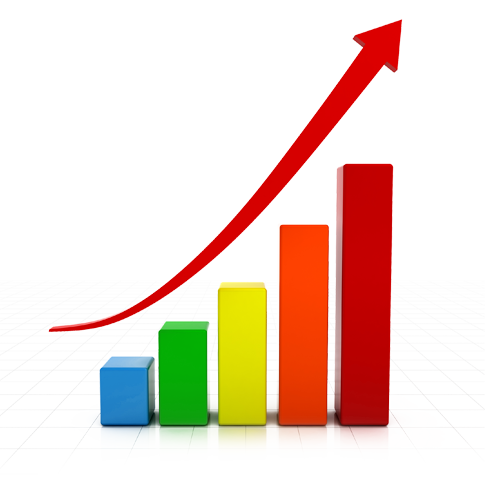 Abstract Views:
134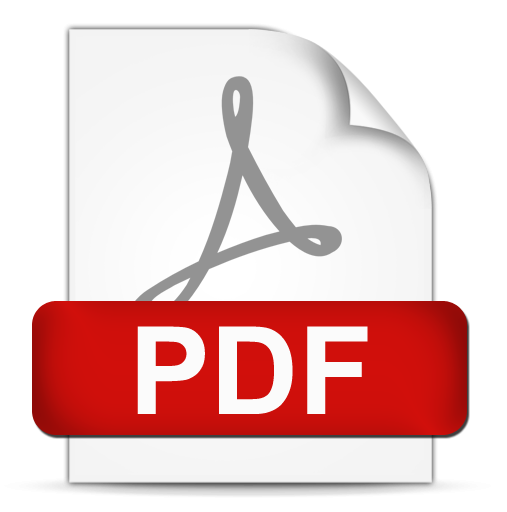 PDF Downloads:
88
Keywords:
Children's rights, crime, criminal justice
Abstract
This research purposes to observe the development of crimes against children in Indonesia. Firstly, will take a closer look toward the importance of child protection in family, school and the environment from violence and crime. Secondly, will evaluate how far the criminal justice system can give protection toward the children as victims of violence and crime. Thirdly, looking at the state responsibility in giving sanctions through the criminal justice system. The method used in this research is juridical-normative by collecting secondary data related to legislation and materials obtained from books, journals, and other relevant materials. The observation result shown that many children are victims of violence. The victimization is basically everywhere, not only at home, but also at school. Violence in schools is not merely physical violence, but also psychological. The responsibility for protecting, educating, and developing children lies in the environment, family, and school. The function of criminal law to fight crimes against children's rights is a major factor in the success of the juvenile criminal justice system.
Downloads
Download data is not yet available.
References
Books

Bakir, H, (2015), Filsafat Hukum, Tema-Tema Fundamental Keadilan dari Sisi Ajaran Fiat Justitia Ruat Caelum, Yogyakarta, Pustaka Pelajar.

Chazawi, A, (2016), Tindak Pidana Pornografi, Jakarta, Sinar Grafika.

Fanani, AZ, (2015), Pembaharuan Hukum Sengketa Hak Asuh Anak Di Indonesia, Yogyakarta, UII Press.

Hiariej, E, (2013), Beberapa Catatan RUU KUHAP dan Hakim Pemeriksa Pendahuluan Dalam Konteks Sistem Peradilan Pidana Terpadu, Dalam Problematika Pembaharuan Hukum Pidana Nasional, Jakarta, Komisi Hukum Nasional RI.

H. HS Salim & Nurbani ES, (2016), Penerapan Teori Hukum pada Penelitian Disertasi dan Tesis, Buku Ketiga, Jakarta, Rajawali Pers.

K. Kordi, MGH, (2013), HAM Tentang Kewarganegaraan, Pengungsi, Keluarga & Perempuan, Kompilasi Instrumen HAM Nasional dan Internasional, Yogyakarta, Graha Ilmu.

Manan, A, (2013), Aspek-Aspek Pengubah Hukum, Cetakan ke-4, Jakarta, Kencana Prenada Media Group.

Muladi, (2009), Hak Asasi Manusia Hakekat, Konsep dan Implikasinya dalam Perspektif Hukum dan Masyarakat, Bandung, Refika Aditama.

Mertokusumo, S, (2009), Hukum Acara Perdata Indonesia,Yogyakarta, Liberty.

Prakoso, A, (2016), Hukum Perlindungan Anak,Yogyakarta, LaksBang PRESSindo.

Prasetyo, A, (2013), Hukum Pidana, Jakarta: PT Raja Grafindo Persada, 2013.

Saraswati, R, (2015), Hukum Perlindungan Anak di Indonesia, Catakan II, Bandung, PT Citra Aditya Bakti.

Salam, S, (2015), Mendobrak Pendidikan Tinggi Hukum, Yogyakarta, Thafamedia.

Utomo L.St & Nadriana L, (2014), Penerapan Hukum Pidana Kini dan Masa Mendatang, Yogyakarta, Genta Publishing.

Wijaya Andika & Ananta WP, (2016), Darurat Kejahatan Seksual, Cetakan Pertama, Jakarta, Sinar Grafika.


Journal

Arbijoto, (2014). "Subjek Hukum Tindak Pidana Korupsi Teori dan Praktek Pelaksanaannya", Jurnal Hukum Pepakem, Volume 1 Nomor 2, Oktober 2014.

Hafsah, (2016). "Kajian Perlindungan Hak Pendidikan dan Agama Anak Dalam Keluarga Muslim di Kota Medan", Jurnal Ahkam, Vol. XVI No. 2, Juli.

Hikmawati, P. (2014). "Politik Hukum Pidana Pemberian Penangguhan Penahanan Dalam Pemeriksaan Perkara", Jurnal Negara Hukum: Membangun Hukum untuk Keadilan dan Kesejahteraan, Vol. 5 No. 1, Juni.

Nugroho, W, (2012). "Disparitas Hukuman Dalam Perkara Pidana Pencurian Dengan Pemberatan", Jurnal Yudisial, Vol. 5 No. 3 Desember.

Ramiyanto, (2015). "Sah atau Tidaknya Penetapan tersangka Sebagai Objek Gugatan Praperadilan", Jurnal Yudisia, Vol. 8 No. 2 Agustus.

Samekto, A, FX, (2017). "Tantangan Hakim di Indonesia: Dari Penjaga Kepastian Hukum Menuju Pencipta Keadilan Berdasarkan Pancasila", Jurnal Ketatanegaraan, Volume: 004/September.

Sawitri, HW, (2011). "Pembantaran Penahanan Terhadap Tersangka Dalam Perspektif Hak Asasi Manusia", Jurnal Dinamika Hukum, Vol. 11 No. 1 Januari.


Laws and Regulations
Laws Number 16 of 2004 concerning The Prosecution of Republic of Indonesia.
Laws Number 8of 1981concerning Indonesian Criminal Procedure Code.
Laws Number 1 of 1946 concerning Criminal Code.
Laws Number 35 of 2014 concerning Child Protection.
Laws Number 23 of 2002 concerning Child Protection.
Laws Number 39 of 1999 concerning Human Rights.

Prosiding

Yanda, DP, (2017). "Peranan Guru Bahasa Sebagai Agen Pembelajaran Untuk Meningkatkan Pengetahuan dan Kemampuan Berbahasa Siswa Melalui Pembelajaran Berbasis Budaya Di Sekolah Menengah", Proceeding, "Intercultural Communication through Language, Literature, and Arts", Faculty of Languages And Arts Universitas Negeri Jakarta, May 17-18.

Magazines

Alghiffari Aqsa, (2017). "Redupnya Api Reformasi", Majalah Catatan Akhir Tahun LBH Jakarta.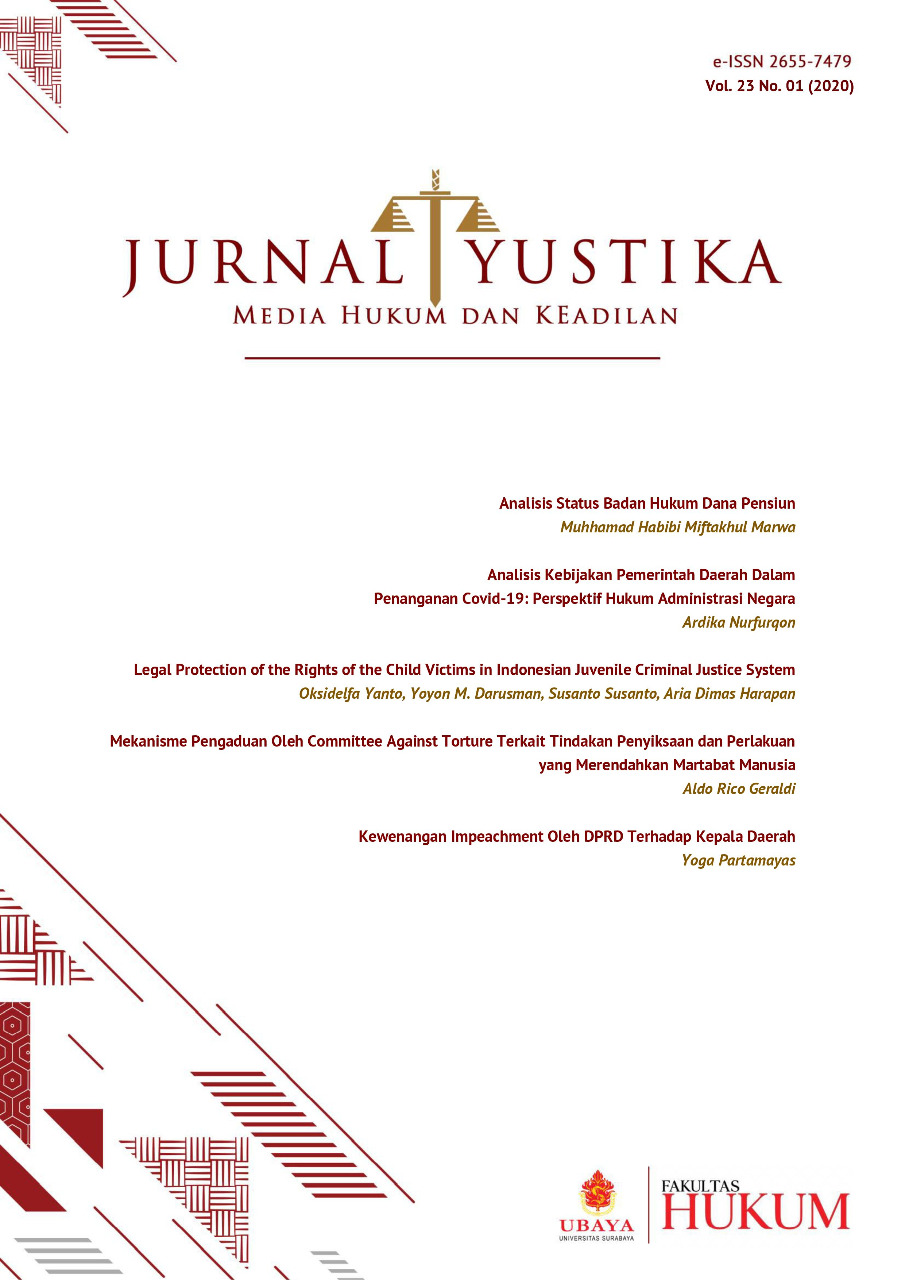 Copyright (c) 2020 The Author(s)
This work is licensed under a Creative Commons Attribution-ShareAlike 4.0 International License.

All articles published in YUSTIKA are licensed under a Creative Commons Attribution-ShareAlike 4.0 International (CC BY-SA) license. This means anyone is free to copy, transform, or redistribute articles for any lawful purpose in any medium, provided they give appropriate attribution to the original author(s) and YUSTIKA, link to the license, indicate if changes were made, and redistribute any derivative work under the same license.
Copyright on articles is retained by the respective author(s), without restrictions. A non-exclusive license is granted to YUSTIKA to publish the article and identify itself as its original publisher, along with the commercial right to include the article in a hardcopy issue for sale to libraries and individuals.
Although the conditions of the CC BY-SA license don't apply to authors (as the copyright holder of your article, you have no restrictions on your rights), by submitting to YUSTIKA, authors recognize the rights of readers, and must grant any third party the right to use their article to the extent provided by the license.