Perlindungan Hukum Terhadap Perempuan Korban Kekerasan Berbasis Gender Online di Indonesia
Stella Hita Arawinda

Universitas Diponegoro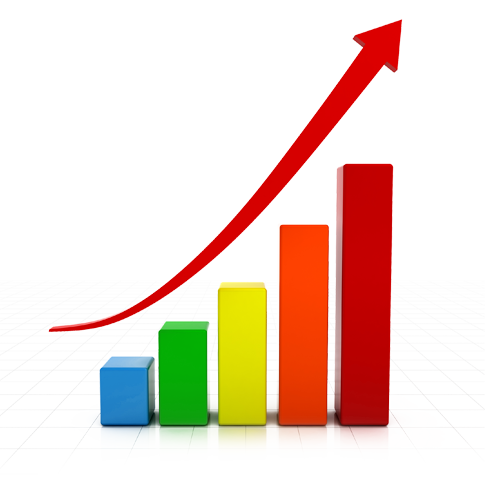 Abstract Views:
1020 times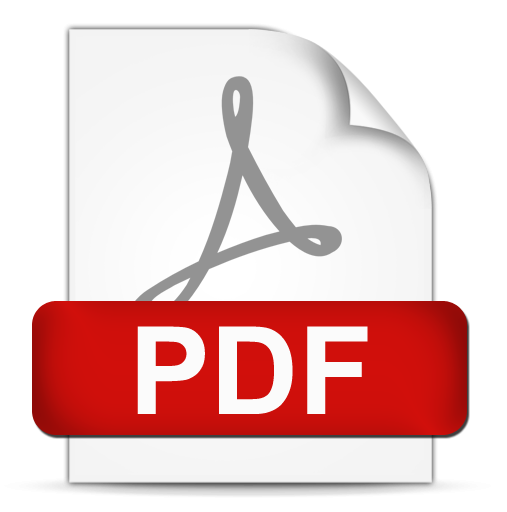 PDF Downloads:
866 times
Keywords:
Online Gender-Based Violence, Women, Legal Protection
Abstract
Rapid development of science and technology has become an indicator of disruption era in which innovation and fundamental changes happens. Amidst COVID-19 pandemic enforced the government to limit social mobility and shift all offline activities to online since early 2020 and bring impact in escalating people's access to cyberspace. One of the logical implication is increasing cases of online gender-based violence towards Indonesian women. Referring to definition by the Broadband Commission for Digital Development, online gender-based violence is a technology-facilitated act of gender-based discriminative violence towards certain person and causing traumatic effects. The Annual Record of Violence Against Women issued by Indonesia's National Commission on Violence Against Women in 2021 stated that the online gender-based violence rise significantly to 699 cases or up to 300% in the past 2 years (2019 until 2020). Based upon this urgency hence formulated a research comprise of: (1) The dynamics of violence against Indonesian women during the COVID-19; (2) Analysis and evaluation of RUU PKS and UU ITE as the legal basis to protect women as victims of online gender-based violence; (3) Optimization of the institution in protection for women as victims of online gender-based violence during pandemic. This research uses normative juridical method with literature study approach. The results are several weaknesses still founded in Indonesia's legal instruments, especially in UU ITE as Indonesia's Cyber Law to overcome online gender-based violence. However, RUU PKS will be useful when legalized. As for the existence of legal protection supporting institutions, still needs to be optimized.
Downloads
Download data is not yet available.
References
Buku
Cairo, J. F. (2014). Al-Quran Solusi Peradaban Modern untuk Manusia Abad 21.
Jurriens, E. & Tapsell, R. (2017). Digital Indonesia Connectivity and Divergence. Jakarta: ISEAS-Yusof Ishak Institute.
Komnas Perempuan. (2021). Catatan Tahunan Kekerasan Terhadap Perempuan. 1-3.
Kusuma & Arum. (2020). Memahami dan Menyikapi Kekerasan Berbasis Gender Online: Sebuah Panduan. SAFEnet.
Kusumaatmadja, M. (1986). Pembinaan Hukum Dalam Rangka Pembangunan Nasional. Bandung: Penerbit Binacipta.
Matlin, M. W. (2011). The Psychology of Women. Cengage Learning, 7th edition.
Muhammad, A. (2004). Metodologi Penelitian Hukum. Dalam Suteki, Met (hal. Hal. 40-41 ). Bandung: PT Citra Aditya Bakti.
Patricia. (1996). No Safe Place: Violence Against Women.
R., G. (1982). Tiga Nilai Dasar Hukum. Dalam S. Rahardjo, Ilmu Hukum (hal. 19-20). Semarang: PT Citra Aditya Bhakti.
Rahardjo, S. (1980). Studi Terhadap Hukum dan Masyarakat. Dalam Hukum dan Masyarakat (hal. 15-16). Semarang: Angkasa Bandung.
Tanjung. (2021). Dalam L. M. UGM. Universitas Gadjah Mada Yogyakarta.
Zihlman Tanner. (2007). Gathering and Hominid Adapatation. Female Hierarchies 1st Edition.
Artikel Jurnal
Junaelis, A. A. (2020). Urgensi Pengesahan RUU PKS Terhadap Instrumen Penegakan Hak Asasi Perempuan. SUPREMASI HUKUM UIN Sunan Kalijaga Yogyakarta, 94-96.
Savirimuthu. (2013). John Locke, Natural Rights and Intellectual Property: the Legacy of an Idea. Journal of Intellectual Property Law & Practice.
Peraturan Perundang-Undangan
Keputusan Presiden Republik Indonesia Nomor 181 Tahun 1998 Tentang Komisi Nasional Anti Kekerasan Terhadap Perempuan. (t.thn.).
Siaran Pers Nomor: B-184/Set/Rokum/MP 01/08/2020 Kementrian Pemberdayaan Perempuan dan Perlindungan Anak. (t.thn.). kemenpppa.go.id.
United Nations. (1979). International Convention On The Elimination of All Forms of Discrimination Against Women. UN General Assembly . United Nations.
Artikel Internet
Anggita. (2020). Pandemi COVID-19 dan Kekerasan Pada Perempuan di Indonesia. https://www.msn.com/id-id/berita/other/pandemi-covid-19-dan-kekerasan-pada-perempuan-di-indonesia (diakses Juli 2021).
Gerintya, S. (2018). Jerat UU ITE Banyak Dipakai oleh Pejabat Negara. tirto.id/jerat-uu-ite-banyak-dipakai-oleh-pejabat-negara (diakses Juli 2021).
Mursid, F. (2020). Kominfo: Pengguna Internet di Indonesia Capai 175,5 juta. https://republika.co.id/berita/qhgibx335/kominfo-pengguna-internet-di-indonesia-capai-1755-juta-jiwa (diakses Juli 2021).
Rianto, G. P. (2021). 9 "Pasal Karet" dalam UU ITE yang Perlu Direvisi Menurut Pengamat. tekno.kompas.com/read/2021/02/16/12020197/9-pasal-karet-dalam-uu-ite-yang-perlu-direvisi-menurut-pengamat (diakses Juli 2021).
S.Lestari. (2018). Perkosaan Mei 1998 'Tak Pernah Terungkap, Tak Pernah Dituntaskan'. www.bbc.com/indonesia/dunia-44134808 (diakses Juli 2021).
UN. (t.thn.). Cyber Violence Against Women And Girls a World-Wide Wake-Up Call a Report by The UN Broadband Commision For Digital Development Working Group On Broadband And Gender. Unesco.org.
Universitas Diponegoro. (t.thn.). http://eprints.undip.ac.id/.
Yukarista. (2019). Terdisrupsi atau Mendisrupsi Diri. https://yukaristiawordpress.wordpress.com/2019/02/02/terdisrupsi-atau-mendisrupsi-diri/ (diakses Juli 2021).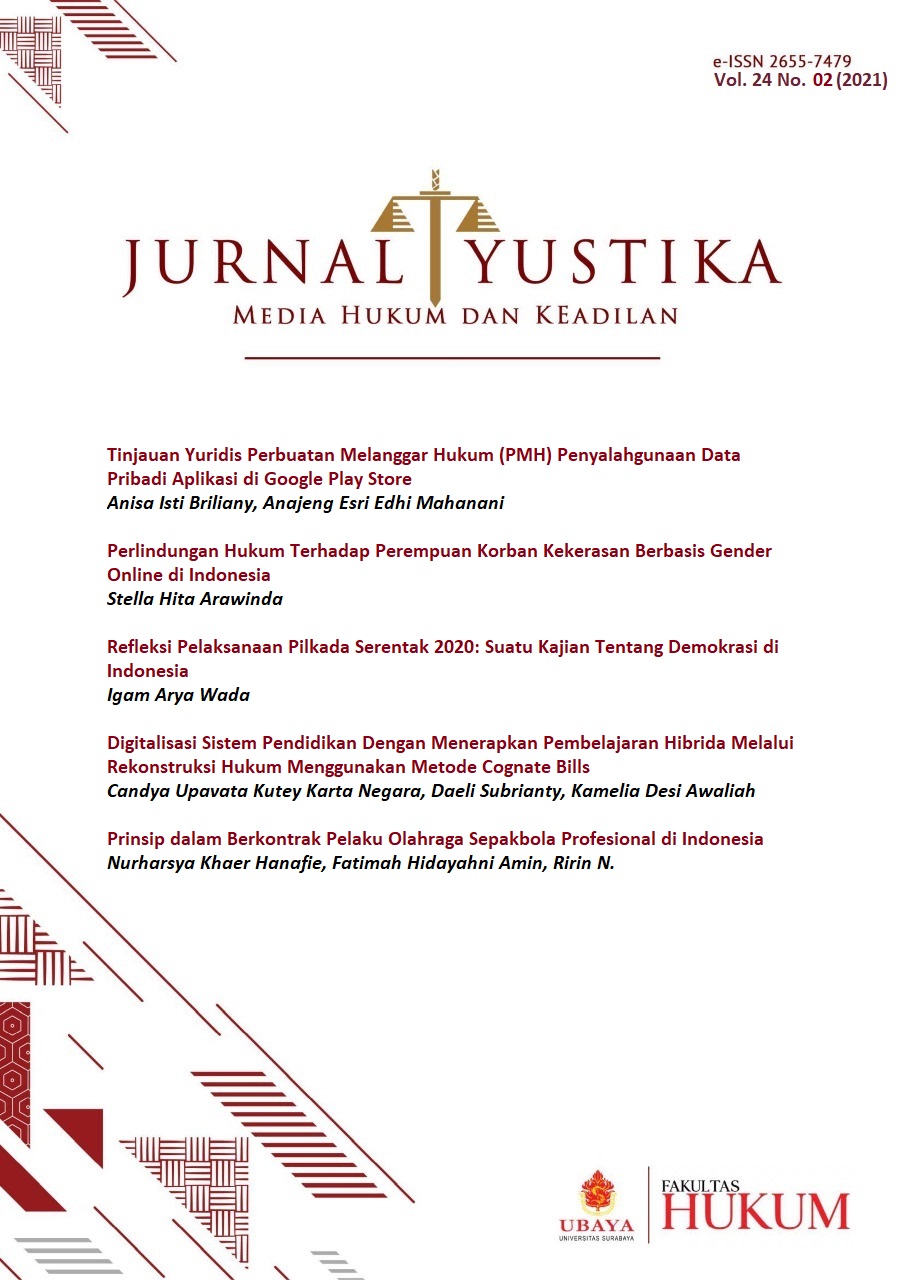 Copyright (c) 2022 The Author(s)
This work is licensed under a Creative Commons Attribution-ShareAlike 4.0 International License.

All articles published in YUSTIKA are licensed under a Creative Commons Attribution-ShareAlike 4.0 International (CC BY-SA) license. This means anyone is free to copy, transform, or redistribute articles for any lawful purpose in any medium, provided they give appropriate attribution to the original author(s) and YUSTIKA, link to the license, indicate if changes were made, and redistribute any derivative work under the same license.
Copyright on articles is retained by the respective author(s), without restrictions. A non-exclusive license is granted to YUSTIKA to publish the article and identify itself as its original publisher, along with the commercial right to include the article in a hardcopy issue for sale to libraries and individuals.
Although the conditions of the CC BY-SA license don't apply to authors (as the copyright holder of your article, you have no restrictions on your rights), by submitting to YUSTIKA, authors recognize the rights of readers, and must grant any third party the right to use their article to the extent provided by the license.