PENILAIAN PRESTASI KERJA MENGGUNAKAN STRATEGIC MODELS SEBAGAI SISTEM PENDUKUNG KEPUTUSAN UNTUK MENENTUKAN KENAIKAN JABATAN KARYAWAN
Reina A. Hadikusumo

Dosen Manajemen Pemasaran, Politeknik Ubaya, Surabaya
Abstract
In  organization,  especially  in  a  company,  it  is  necessary  to  implement a  monitoring  and  an  appraisal  toward  the  activities of  the employees. Performance Appraisal is the  activity  of  an  organization  in  appraising  the  task  that has been done by the employees / organization member. Strategic Models is  one of the models in the Decision Support Systems (DSS) that can be used as an  alternative way in doing the Performance Appraisal. Strategic Models is used by  the top management to help in determining the organization's objective, the  resources that are needed to achieve the objective, the policy to determine the  result, the usage, the assignment, and the management of the resources. In calculating formulas, Assignment Model and Sociometry Model which are used  as the implementation of  Strategic Models can give a useful result to the  management in getting the best employee.
Downloads
Download data is not yet available.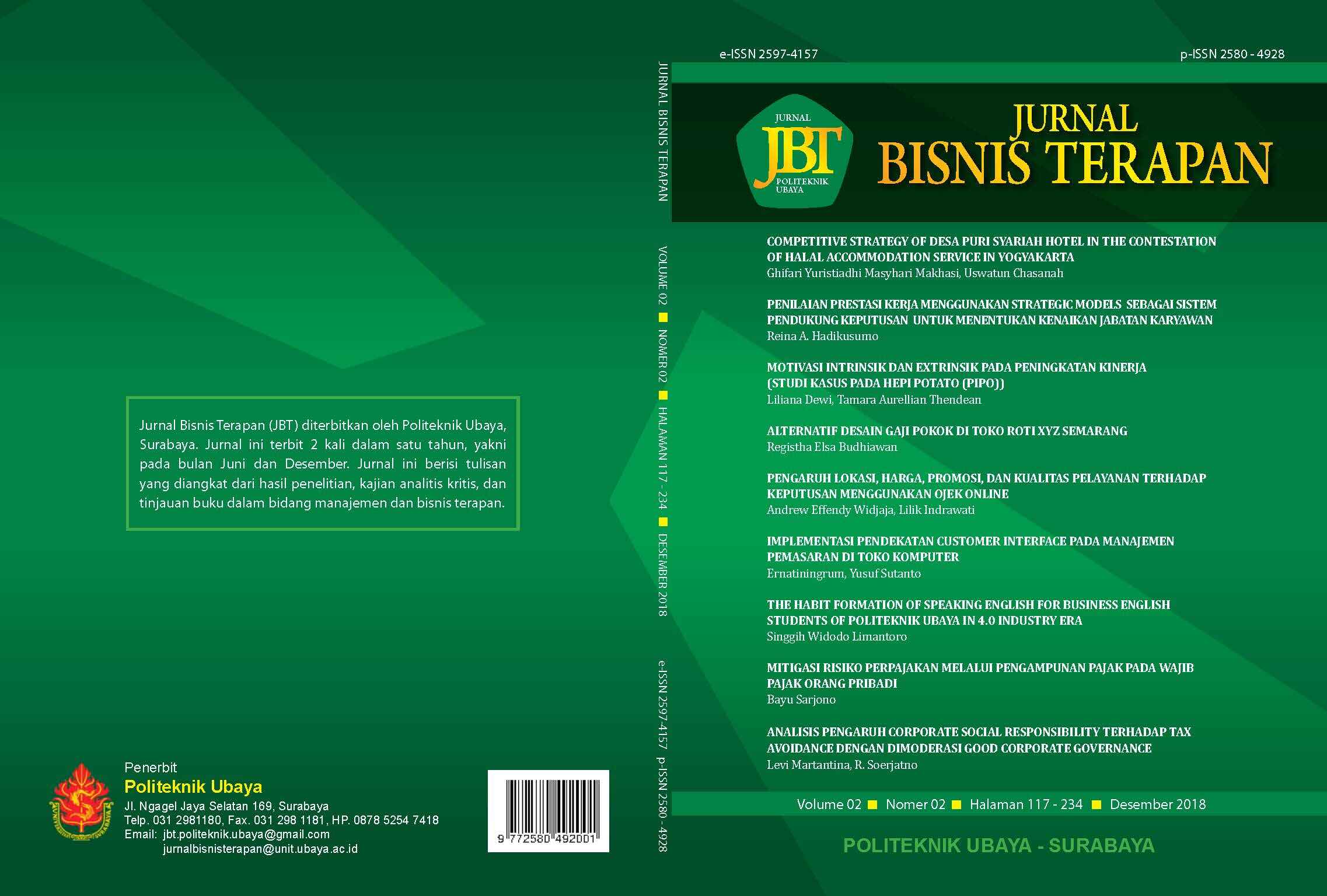 Ciptaan disebarluaskan di bawah Lisensi Creative Commons Atribusi-NonKomersial-BerbagiSerupa 4.0 Internasional.
Articles published in Jurnal Bisnis Terapan are licensed under a Creative Commons Attribution-NonCommercial-ShareAlike 4.0 International (CC BY-NC-SA 4.0) license, which permits anyone to copy, transform, or redistribute articles for any lawful purpose in any medium, provided appropriate credit is given to the original author(s) and Jurnal Bisnis Terapan is recognized as its original publisher. A link to this license should also be provided. Any derivative work of an article published in Jurnal Bisnis Terapan must also be shared under the same (or compatible) license.

Both copyright and publishing rights on articles are retained by the respective author(s), without restrictions. Only a non-exclusive license is granted to Jurnal Bisnis Terapan to publish the article and identify itself as its original publisher.