An Analysis on the Factors Affecting Credit Selection In BPR to Increase Competitiveness
Nobertus Purnomo Lastu

Dosen Politeknik Ubaya

Werner Ria Murhadi

Ratna Widyanti W
Abstract
Abstract
Bank Perkreditan Rakyat (BPR) is a part of  the  banking  financial institutions  apart from the commercial  banking. .One of the activities of the BPR is to distribute the credits as done by the commercial banks. The problems of BPR as micro financial institutions. In doing their business to  distribute  the credit up to certain amount, are  the  commercial banks  which  have more  competitive advantages, in both  the price  and facilities provided. The objective of this research is to identify the factors influencing the customers in making decisions to take the credit at BPR. By identifying the determinant factors in choosing the banks, BPR can use it to improve their services to the customers and at the same time BPR can use it as a strategy in giving credit to the customers or debtors. The method used in this study was regressive logistic method, which was  used to  identify  what factors determine the customers to choose credist at BPR. The conclusion is that the procedures and personality of the staffs are the main factors making the customers choose credits at BPR.
Downloads
Download data is not yet available.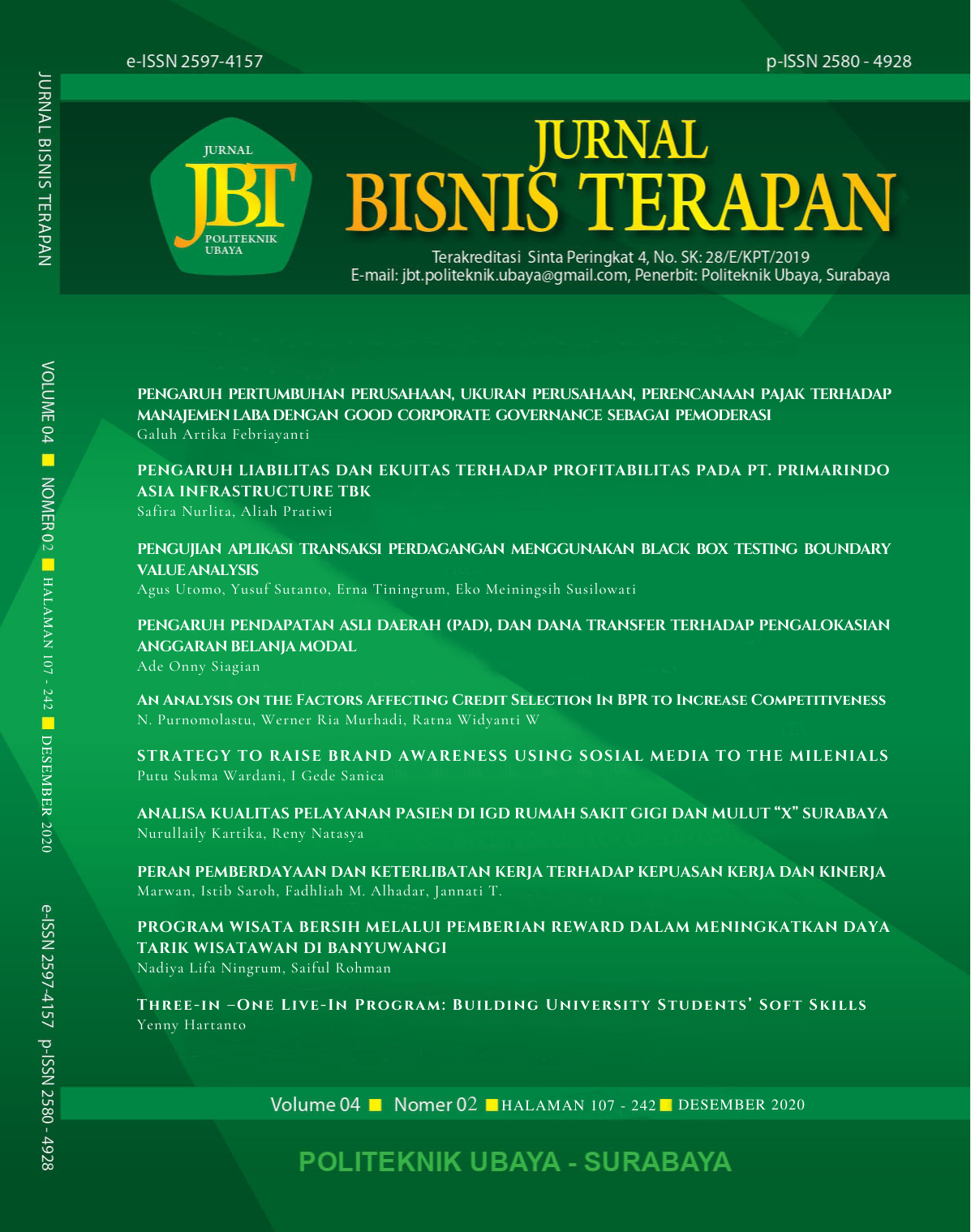 This work is licensed under a Creative Commons Attribution-NonCommercial-ShareAlike 4.0 International License.

Ciptaan disebarluaskan di bawah Lisensi Creative Commons Atribusi-NonKomersial-BerbagiSerupa 4.0 Internasional.
Articles published in Jurnal Bisnis Terapan are licensed under a Creative Commons Attribution-NonCommercial-ShareAlike 4.0 International (CC BY-NC-SA 4.0) license, which permits anyone to copy, transform, or redistribute articles for any lawful purpose in any medium, provided appropriate credit is given to the original author(s) and Jurnal Bisnis Terapan is recognized as its original publisher. A link to this license should also be provided. Any derivative work of an article published in Jurnal Bisnis Terapan must also be shared under the same (or compatible) license.

Both copyright and publishing rights on articles are retained by the respective author(s), without restrictions. Only a non-exclusive license is granted to Jurnal Bisnis Terapan to publish the article and identify itself as its original publisher.