TANGGUNG JAWAB PABRIK RUMAHAN PENGELOLA OTAK-OTAK DI SUKABUMI TERKAIT DENGAN PENGGUNAAN BAHAN BERACUN DALAM PRODUK PANGAN
Abstract
One measure of the welfare of the Indonesian people depends on the quality of food and food supply for the community. This is indirectly related to the rights that consumers have. Consumer rights recognized by producers will make producers more careful about producing their goods and or services. But the fact is not all consumers understand their rights. Therefore producers tend to use this situation as land to gain more profits. When consumers get a loss for goods and or services produced by producers, consumers are indirectly forced to accept losses made by producers. On this basis, this study outlines the responsibility of producers for consumers who are harmed. This study focuses on the responsibility of food producers on food products produced, if the goods and or services produced harm consumers. Therefore, it is related to food products to quality standards and food quality. This study uses a normative juridical type, where the processing of legal materials is carried out in literature. The results obtained from this study are that the producers of the brains in sukabumi, Rika, are proven to produce their brains with hazardous materials, after the police found the basic ingredients of rotten fish, dangerous additives namely borax, and ready-made dough to be marketed to the surrounding market. The use of this material is not in accordance with statutory provisions.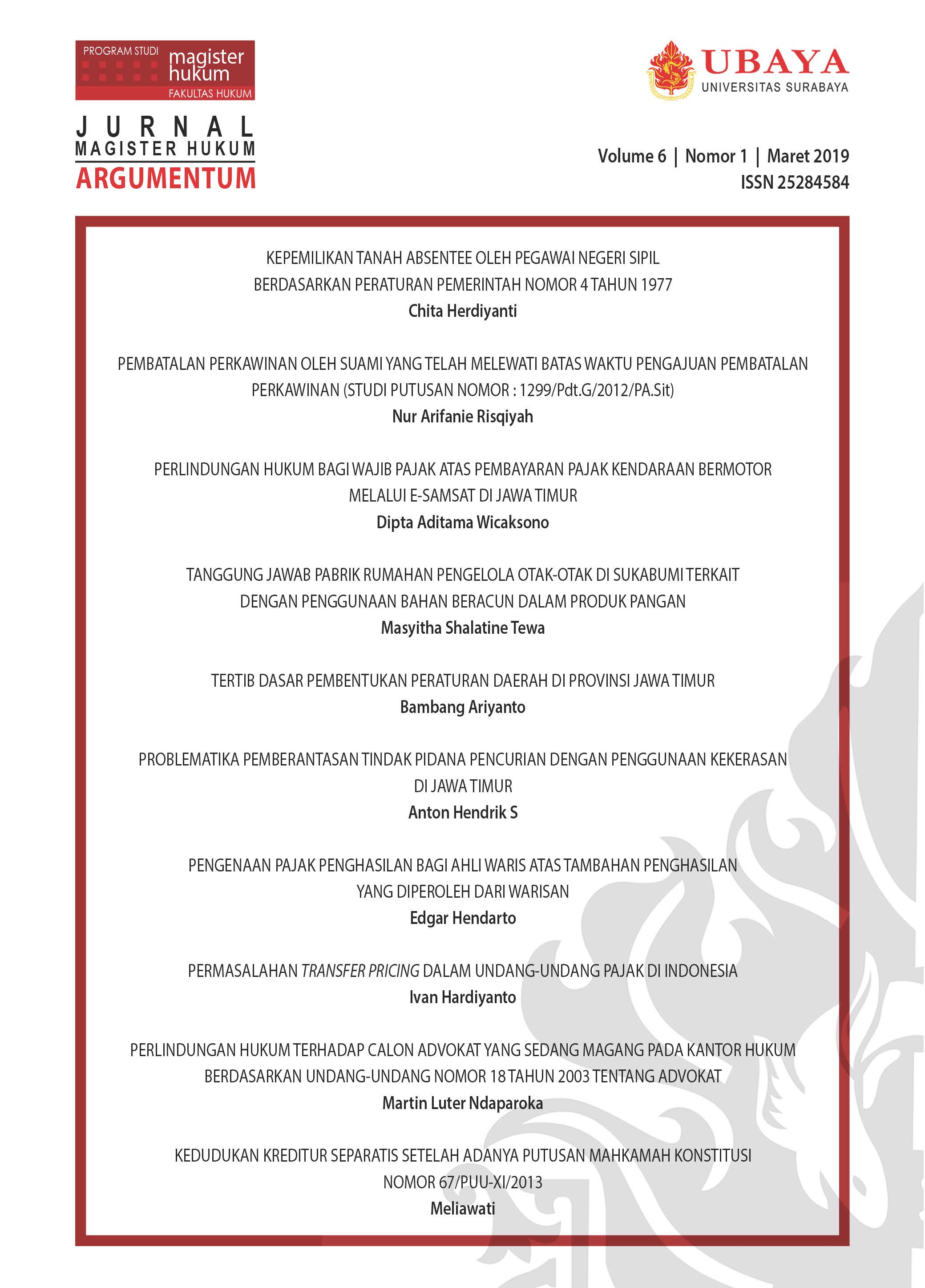 How to Cite
TEWA, Masyitha Shalatine. TANGGUNG JAWAB PABRIK RUMAHAN PENGELOLA OTAK-OTAK DI SUKABUMI TERKAIT DENGAN PENGGUNAAN BAHAN BERACUN DALAM PRODUK PANGAN.
ARGUMENTUM Jurnal Magister Hukum
, [S.l.], v. 6, n. 1, p. 1012-1034, may 2019. Available at: <
http://journal.ubaya.ac.id/index.php/argu/article/view/1851
>. Date accessed: 24 june 2019.