STUDI DESKRIPTIF E-SERVICE QUALITY PADA PEMBELIAN TIKET MASKAPAI PENERBANGAN AIRASIA INDONESIA MELALUI WEBSITE AIRASIA
Fredy Suharyo

Jurusan Peminatan Manajemen Layanan dan Pariwisata Fakultas Bisnis dan Ekonomika Universitas Surabaya
Abstract
Website AirAsia Indonesia adalah salah satu website yang menerapkan E-Service Quality serta konsep belanja mudah dan hemat sehingga mampu memberikan nilai tambah bagi konsumen. Namun di sisi lain tuntutan konsumen dan persaingan yang semakin ketat dengan sesama jasa penerbangan sehingga mendorong website AirAsia Indonesia untuk melakukan evaluasi mengenai kualitas layanannya. Tujuan dari penelitian ini adalah untuk menggambarkan E-Service Quality pada pembelian tiket maskapai penerbangan AirAsia Indonesia melalui website. Penelitian ini merupakan penelitian deskriptif dengan menggunakan sumber data primer yang diperoleh dengan menggunakan instrumen penelitian berupa kuesioner. Sampel yang digunakan adalah sampel stratified random sampling dengan jumlah responden sebanyak 100 orang. Identitas responden dan deskripsi jawaban responden diuji dan diolah menggunakan program IBM SPSS Statistic version 20.0 for windows. Secara keseluruhan, persepsi responden terhadap E-Service Quality pada pembelian tiket maskapai penerbangan AirAsia Indonesia melalui website adalah positif. Dimensi Assurance adalah dimensi yang memperoleh mean paling tinggi dibandingkan dengan dimensi yang lainnya. Hal ini dapat dijelaskan bahwa responden memiliki persepsi positif terhadap kebijakan-kebijakan yang dibuat oleh website AirAsia Indonesia.
Downloads
Download data is not yet available.
References
Al-Tarawneh, Khaled Atallah, " Measuring E-Service Quality from the Customer' Perspective : An Empirical Study on Banking Services", International Research Journal of Finance & Economics; 2012, Issue 91, p123, 2012

Blumberg, Donald F, Managing Service as a Strategic Profit Center, McGraw-Hill, Inc., 1991

Chang, Chiao-Yun Connie, "Taiwanese Consumer's Perception Of Service Convenience With Reference to Purchasing Tourism Product Online", Warwick Business School, University of Warwivk, Coventry, CV4 7AL, UK, 2006

Kinnear, Bernhardt, Krentler, Principle of Marketing, Harper Collins Publisher, Fourth Edition, New York, 2005

Kotler, Philip, and Gary Armstrong, Principles of Marketing, Prentice Hall International Inc., Englewood Cliffs, NewJersey, 2004

Kotler, Philip, Bowen, John T, and Makens, James C, Marketing for Hospitaly and Tourism, Fifth Edition, Pearson Prentice Hall, Upper Saddle River, New Jersey, 07458, 2010

Lovelock, Christopher, Services Marketing People, Technology, Strategy Fourth Edition, Prentice Hall International, Inc., 2001

Lupiyoadi, R, Manajemen Pemasaran dan Jasa: Teori dan Praktik, Salemba Empat, Jakarta, 2001

Semuel, Hatane, "Dampak Respon Emosi terhadap kecenderungan Perilaku Pembelian Implusif Konsumen Online dengan Sumberday yang Dikeluarkan dan Orientasi Belanja Sebagai Variabel Mediasi", JURNAL MANAJEMEN DAN KEWIRAUSAHAAN, VOL. 8, NO. 2, SEPTEMBER 2006: 101-115

Soekadijo, Anatomi Pariwisata, Gramedia Pustaka Utama, Jakarta, 1996

Spillane, James J., Ekonomi Pariwisata : Sejarah dan Prospeknya. Yogyakarta: Kanisius, 1990

Supranto., Pengkuran Tingkat Kepuasan Pelanggan Untuk Menaikan Pangsa Pasar. Rineka Cipta, Jakarta, 1997

Suwantoro, Gamal., Dasar-Dasar Pariwisata, Yogyakarta, Andi, 1997

Swaid, Samar I., Measuring The Quality of E-Service: Scale Development and Initial Validation. Derpartements of Information Science and Management Universtity of Arkansas at Little Rock. Journal of Electronic Commerce Research, Vol. 10, NO 1, 2009

Tjiptono, Fandy, Pemasaran Jasa, Bayumedia Publishing, Jakarta, 2005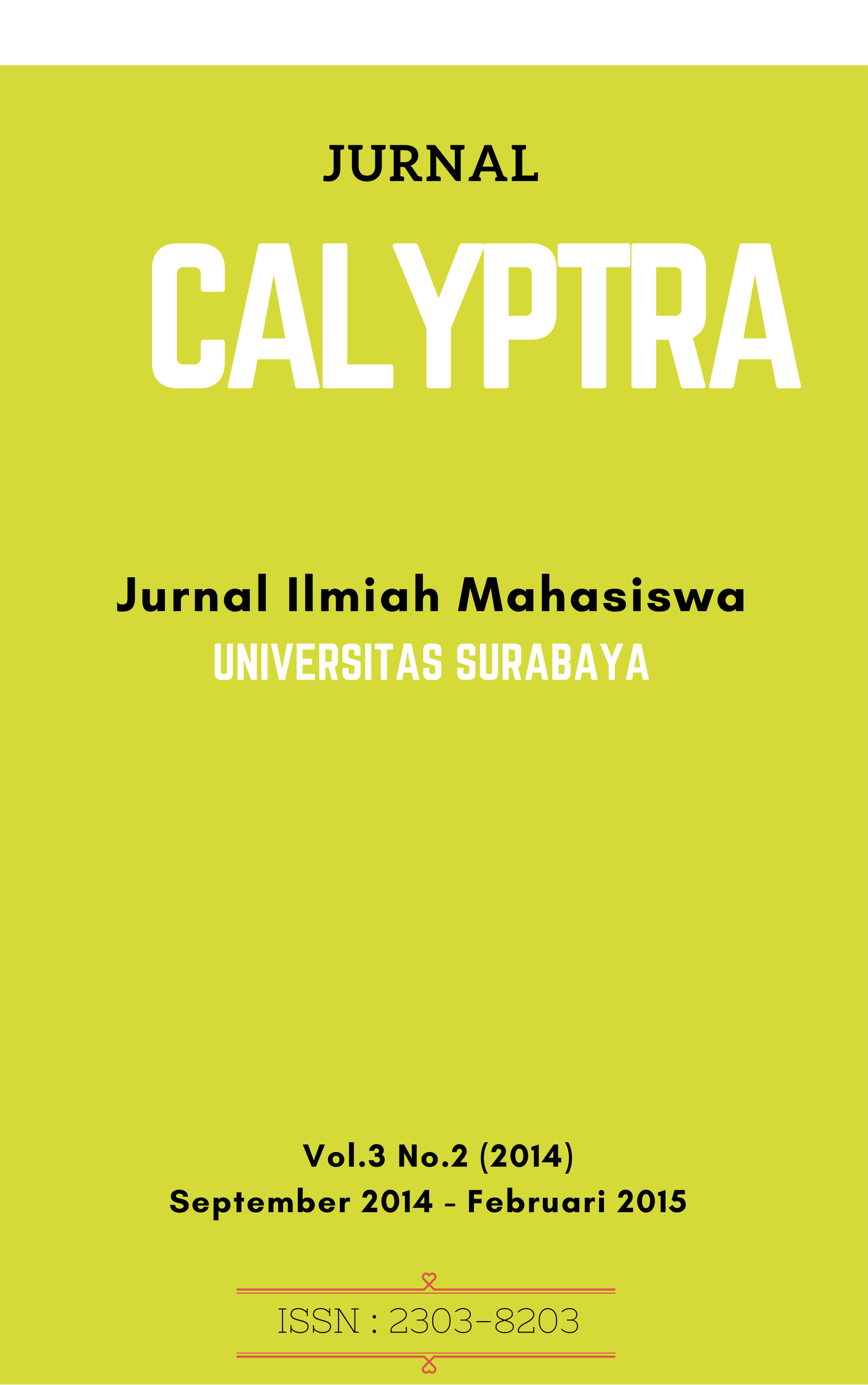 How to Cite
SUHARYO, Fredy. STUDI DESKRIPTIF E-SERVICE QUALITY PADA PEMBELIAN TIKET MASKAPAI PENERBANGAN AIRASIA INDONESIA MELALUI WEBSITE AIRASIA.
CALYPTRA
, [S.l.], v. 3, n. 2, p. Hal. 1 - 20, sep. 2014. ISSN 2302-8203. Available at: <
http://journal.ubaya.ac.id/index.php/jimus/article/view/1430
>. Date accessed: 26 may 2019.
Section
Bidang Manajemen (M)
This work is licensed under a Creative Commons Attribution-NonCommercial 4.0 International License.