HUBUNGAN ANTARA PERCEIVED TRANSFORMATIONAL LEADERSHIP PELATIH DENGAN PLAYER EFFICIENCY RATING (PER) PADA ATLET NATIONAL BASKETBALL LEAGUE (NBL) INDONESIA
Mega Nanda Perdana Putri

Fakultas Psikologi Universitas Surabaya
Abstract
Gaya kepemimpinan transformasional dasarnya merupakan gaya kepemimpinan yang menekankan pada pentingnya seorang pemimpin menciptakan visi dan lingkungan yang memotivasi para pemain untuk berprestasi. Kepemimpinan transformasional adalah gaya kepemimpinan yang menghormati ide dan pendapat. Tipe kepemimpinan ini memberikan kebebasan untuk memunculkan daya kreatifitas, dan inisiatif dalam usaha penyelesaian saat mereka bertanding. Pemimpin yang efektif akan dapat menjalankan fungsinya dengan baik, tidak hanya ditunjukkan dari kekuasaan yang dimiliki tetapi juga ditunjukkan pula oleh perhatian pemimpin terhadap kesejahteraan dan kepuasan para pemain terhadap pemimpin dan peningkatan performa mereka, terutama sikap mengayomi yang ditunjukkan untuk menguatkan kemauan pemain dalam melaksanakan tugasnya guna mencapai tujuan organisasi. Tujuan dari penelitian ini adalah untuk mengetahui apakah model kepemimpinan transformasional memiliki hubungan dengan performa atlet. Metode yang digunakan adalah metode survey. Teknik pengambilan data dilakukan dengan penyebaran angket dimana peneliti menggunakan 180 pemain NBL Indonesia (National Basket ball League) yang mengikuti tournament pre-season tahun 2013 di Malang. Sampel yang digunakan peneliti adalah non-random, yaitu dengan accidental sampling. Hasil penelitian ini menunjukkan bahwa model kepemimpinan transformasional tidak berkorelasi dengan performa para atlet (p = 0.000 ; r = 0.683). Hasil temuan ini sesuai dengan penelitian Serpa, Pataco, and Santos (1991) yang menemukan hubungan yang negatif terkait perilaku pelatih terhadap performa pada olahraga tangan. Hasil temuan lainnya dalam penelitian ini, yaitu tingginya performa subjek berhubungan dengan jumlah bermain dalam satu turnamen. Saran dari peneliti adalah tingginya performa seseorang bukan dari kemampuan dari diri pemain saja, peranan pelatih juga sangat memengaruhi dalam pertandingan. Selain itu, perhitungan PER tidak hanya dilakukan untuk penyerangan saja atau tetapi juga menambahkan statistik dalam penjagaan atau defense.
Downloads
Download data is not yet available.
References
Alimo-Metalcafe, Baverly., Alban-Metalcafe, J. Robert. (2001). The development of new Transformational Leadership Questionnaire. Journal of Occupational and Organizational Psychology, 74, 1-27.

Allameh, Sayyed Mohsen., & Davoodi, Sayyed Mohammad Reza. (2011). Considering transformational leadership model in branches of Tehran social security organization. Procedia - Social and Behavioral Sciences,15, 3131-3137.

Atwater, E. Leanne., Spangler D. William. (2004). Transformational Leadership and Team Performance. Journal of Organizational Change Management, 17, 2, 177.

Birasnav. M., Rangnekar. S., Dalpati. A. (2010). Transformational leadership, interim leadership, and employee human capital benefit: an empirical study. Procedia - Social and Behavioral Sciences, 5, 1037-1042.

Brooks, George A. & Thomas D. Fahey (1984). Fundamentals of Human Performance, New York: Mc.Millan Publishing Company.

Callow, Nichola., Smith J. Matthew. (2009). Measurement of Transformational Leadership and its Relationship with Team Cohesion and Performance Level. Journal of Applied Sport Psychology, 21, 395-412.

Celladurai P. (1985). Sport Management, London: Pear Creative Ltd.

Cox, Richard H. Sport Psychology Concepts An Aplications. Dubuque, Iowa: Wm.C.Brown Publishers.

Esfahani, N., Soflu, H. G., & Assadi, H. (2011). Comparison of Mood in Basketball Players in Iran League 2 and Relation with Team Cohesion and Performance. Procedia - Social and Behavioral Sciences, 30(0), 2364-2368.

Fauzi, Muhammad, SE., MM, (2009). Metode Penelitian Kuantitatif. Semarang:Walisongo Press.

Gunarsa, S.D. (2004). Psikologi Olahraga Prestasi (Cetakan 1). Jakarta: Gunung Mulia.

Gunarsa, S.D. & Monty, Myrna, Hardjolukito R. Soekasah. (1996). Psikologi Olahraga: Teori dan praktik (Cetakan 1). Jakarta: PT BPK Gunung Mulia.

Huey-Wen, Chou., Yu-Hsun, Lin., Hsiu-Hua, Chang & Wen-Wei, Chuang. (2013). Transformational Leadership and Team Performance: The Mediating Roles of Cognitive Trust and Collective Efficacy. Sage-open.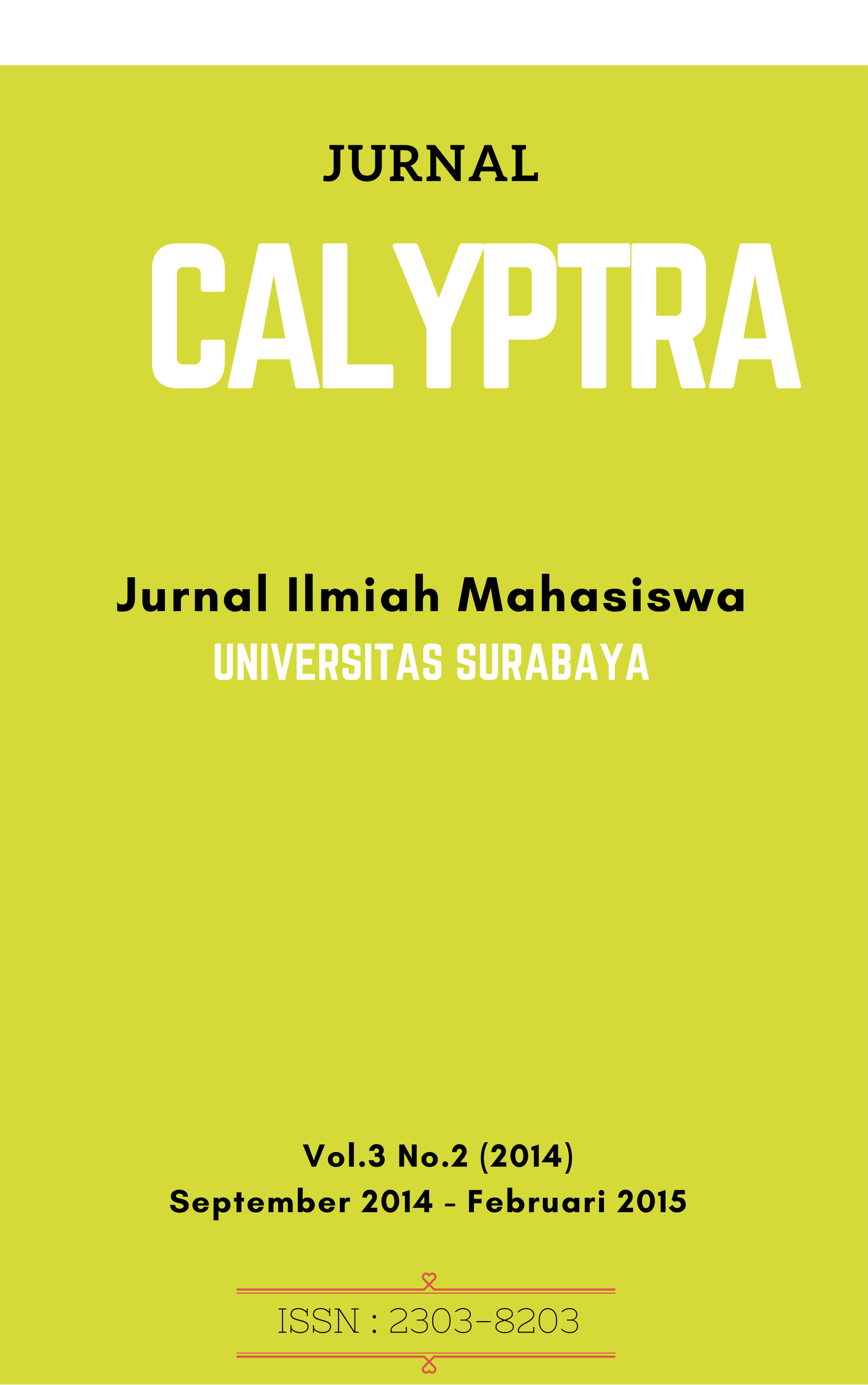 How to Cite
PUTRI, Mega Nanda Perdana. HUBUNGAN ANTARA PERCEIVED TRANSFORMATIONAL LEADERSHIP PELATIH DENGAN PLAYER EFFICIENCY RATING (PER) PADA ATLET NATIONAL BASKETBALL LEAGUE (NBL) INDONESIA.
CALYPTRA
, [S.l.], v. 3, n. 2, p. Hal. 1 - 15, sep. 2014. ISSN 2302-8203. Available at: <
http://journal.ubaya.ac.id/index.php/jimus/article/view/1481
>. Date accessed: 16 sep. 2019.
Section
Bidang Psikologi (S)