PENGARUH KEPERCAYAAN, KOMITMEN, KOMUNIKASI DAN PENANGANAN KONFLIK TERHADAP LOYALITAS PELANGGAN BANK BCA DI SURABAYA
Monica Cindy Cassandra

Jurusan Manajemen Pemasaran Fakultas Bisnis dan Ekonomika Universitas Surabaya
Abstract
Penelitian ini bertujuan untuk mengetahui dan menganalisis pengaruh kepercayaan. Komitmen, komunikasi dan penanganan konflik terhadap loyalitas pelangga bank BCA di Surabaya. Data yang digunakan dalam penelitian ini adalah data primer yang diperoleh dari penyebaran kuesioner. Responden dari penelitian ini adalah 130 nasabah bank BCA di Surabaya yang sudah menjadi nasabah selama 2 tahun dan memiliki pendidikan terakhir SMA dengan teknik pengambilan sampel non probability sampling. Metode pengolahan data yang digunakan adalah model regresi linier berganda, uji F, uji t-value dengan program windows SPSS 16.0. Dari hasil pengolahan data dan pengambilan hipotesis dapat disimpulkan bahwa terdapat 4 variabel yang memiliki dampak signifikan terhadap loyalitas pelanggan, yakni kepercayaan, komitmen, komunikasi dan penanganan konflik. Dimana besar nilai pengaruh kepercayaan terhadap loyalitas pelanggan ialah sebesar 0,232, pengaruh komitmen terhadap loyalitas pelanggan ialah sebesar 0,171, untuk variabel komunikasi besar nilai pengaruhnya terhadap loyalitas pelanggan sebesar 0,291, dan untuk penanganan konflik terhadap loyalitas pelanggan besar nilai pengaruhnya ialah sebesar 0,264. Berdasarkan hasil koefisien determinasi besarnya variasi variabel kepercayaan, komitmen, komunikasi, penanganan konflik secara bersama-sama mapu menjelaskan variasi variabel loyalitas pelanggan sebesar 73,3%, sedangkan 26,7% dijelaskan variabel-variabel atau faktor lain diluar model yang tidak tercermati. 
Downloads
Download data is not yet available.
References
Bruhn, Manfred, 2003, Relationship Marketing : Management of Customer Relationship, Upper Saddle River,Prentice Hall

Buttle, Francis, 2004, Customer Relationship management : Concepts and tools, Elseveir Butterworth-Heinemann

Buttle, Francis, 2009.Customer Relationsip Management : Concepts and Technologies, 2nd Edition. Elseveir Butterworth-Heinemann.

Hair, Joseph F., William C Black, Barry J. Babin, Rolph E. Anderson, dan Roland L. Tatham, 2006, Multivariate Data Analysis, 6th Edition Prentice Hall.

Hair, Joseph F., Arthur H. Money, Philiph Samouel, dan Mike Page, 2007, Research Methods for Business, John Wiley & Sons, Inc.

Hawkins, D.L., Mothersbaugh D.L., dan Best R.J., 2007, Consumer Behavior : Building Marketing Strategy, 10th Edition, McGraw-Hill

Kasmir, 2005, Bank & Lembaga Keuangan Lainnya, Raja Grafindo Persada.

Kotler, Philip dan Kevin Lane Keller, 2006, Marketing Management, 12th Edition Prentice Hall.

McDaniel, Carl, Charles W. Lamb, dan Joseph F. Hair, 2007 , Marketing Essentials, 5th Edition Belmont, Thomson South Western.

Moorman, Christine, Gerald Zaltman, dan Rohit Deshpande, 2002, Relationships between Providers and Users of Market Research : The Dynamics of Trust Within and Between Organization, Journal of Marketing Research ,Vol 29 : 314-328.

Ndubisi, Nelson Oly, 2007a, Relationship Marketing and Customer Loyalty, Marketing Intelligence & Planning, Vol 25 : 98-106.

Ribbink, Dina, Allard C. R Van Riel Veronica Liljander, dan Sandra Streukens, 2004, Comfort your Online Customer : Quality Trust and Loyalty on The Internet, Managing Service Quality Journal, Vol 14 : 446-456.

Santoso, Singgih, 2009, Panduan lengkap Menguasai Statistik dengan SPSS 17, PT Elex Media Komputindo.

Sekaran, Uma, 2003, Research Methods For Business : A Skill Building Approach, 4th Edition, John Wiley & Sons,Inc.

Solomon, Michael R., Greg W. Marshall, dan Elnora W. Stuart, 2008, Marketing : Real People, Real Choice, 5th Edition, Prentice Hall.

Zickmund, William G, 2003, Business Research Methods, 7th Edition Thomson South-Western.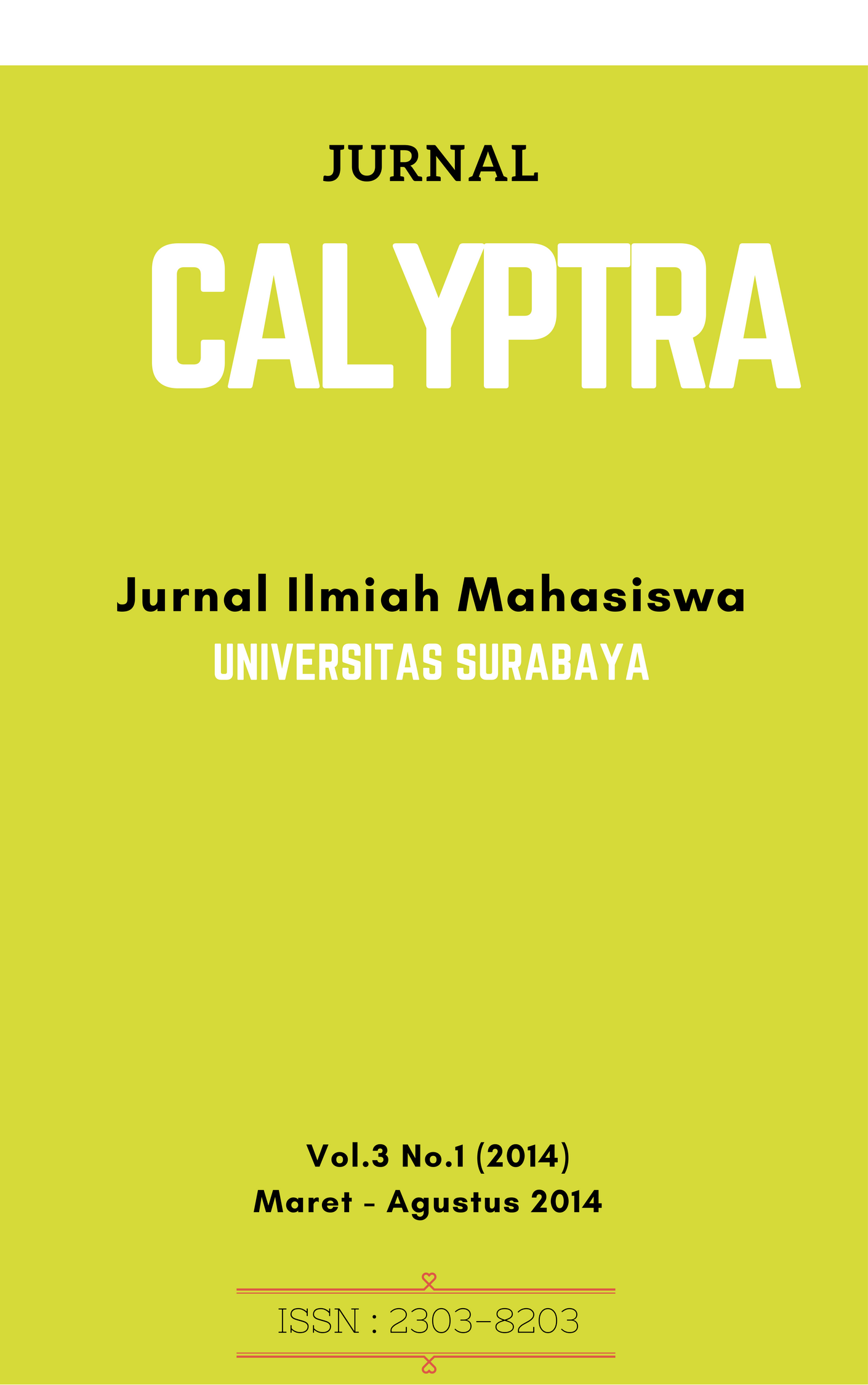 How to Cite
CASSANDRA, Monica Cindy. PENGARUH KEPERCAYAAN, KOMITMEN, KOMUNIKASI DAN PENANGANAN KONFLIK TERHADAP LOYALITAS PELANGGAN BANK BCA DI SURABAYA.
CALYPTRA
, [S.l.], v. 3, n. 1, p. Hal. 1 - 11, mar. 2014. ISSN 2302-8203. Available at: <
http://journal.ubaya.ac.id/index.php/jimus/article/view/1543
>. Date accessed: 28 may 2020.
Section
Bidang Manajemen (M)