PENERAPAN EMOTIONALLY FOCUSED THERAPY-COUPLE (EFT-C) SEBAGAI UPAYA UNTUK MENINGKATKAN EMOTIONAL WELL-BEING PADA PEREMPUAN YANG MENGALAMI KANKER PAYUDARA STADIUM LANJUT
Erwinda Tri Satya

Jurusan Magister Psikologi Fakultas Psikologi Universitas Surabaya
Abstract
Tujuan penelitian ini adalah untuk meningkatkan kesejahteraan emosi perempuan penderita kanker payudara stadium lanjut dengan penerapan Emotionally Focused Therapy-Couple (EFT-C). Penelitian ini menggunakan single-case experimental design. Subjek dalam penelitian ini adalah sepasang suami istri yang dipilih menggunakan teknik purposive sampling. Data pada penelitian didapat melalui observasi, wawancara, tes psikologi (TAT), dan angket SF-36 (Emotional well-being). Analisis kuantitatif yang digunakan pada penelitian ini lebih merupakan analisis deskriptif perbandingan angket pada saat pre-test dan post-test. Hasil penelitian menunjukkan bahwa penyebab rendahnya kesejahteraan emosi pada Sandra adalah karena kondisi fisiknya yang terus melemah akibat kanker payudara, kebutuhan attachment yang tidak terpenuhi, ekspresi emosi yang salah, kurangnya kemampuan regulasi emosi yang menyebabkan siklus interaksi negatif antara Sandra dengan Aji sebagai caregiver utamanya. Hasil analisis deskriptif perbandingan angket EWB menunjukkan adanya peningkatan emotional well-being pada Sandra dan Aji. Secara kualitatif, EFT-C mampu memberikan keterampilan pada Sandra dan Aji untuk meregulasi emosi mereka dengan adaptif. 
Downloads
Download data is not yet available.
References
Friedman et al., (2002). Buku Ajar Keperawatan Keluarga: Riset, Teori & Praktik (Edisi 5). Penerbit Buku Kedokteran EGC: Jakarta.

Greenberg, L. (2010). Emotion-focused Therapy: A clinical synthesis. The journal of Life Long Learning in Psychiatry. 2010, vol. VIII, no. 1.

Johnson, S.M., & Wittenborn, A.K. (2012). New research findings on emotionally focused therapy: introduction to special section. Diunduh dari: www.onlinelibrary.wiley.com/doi/10.1111/j.1752-0606.2012.00292.x/pdf .

Kahneman, D., & Deaton, A. (2010). High Income Improves Evaluation Of Life But Not Emotionall Well-Being. Diunduh tanggal 23 September 2013, dari: http://www.pnas.org/content/107/38/16489.long.

Kerri et al (2007). Older Breast Cancer Survivors: Factors Associated With Change in Emotional Well-Being. J Clin Oncol 25:1334-1340.

Leary, M.R. (2008). Introduction to Behavioral Research Methods. Pearson Education: Boston.

Lebow et al., (2012). Research On The Treatment Of Couple Distress. Journal Of Marital and Family Therapy Vol. 38, No. 1, 145–168.

Mahadevan et al. (2013). The Stress of Caregiving: A Study of Family Caregivers of Breast Cancer Patients Receiving Oncologic Treatment at a Malaysian General Hospital. Sains Malaysiana 42(7)(2013): 1019–1026.

Mazanah, M., Mogjan, A., & Fitrisehara, K. (2011). Family Support in Cancer Survivorship. Asian Pacific J Cancer Prev, 12, 1389-1397

Montazeri, A. (2008). Health-related quality of life in breast cancer patients: A bibliographic review of the literature from 1974 to 2007. Journal of Experimental & Clinical Cancer Research 2008, 27:32.

National Comprehensive Cancer Network. (2006). Breast Cancer Treatment Guidelines For Patients. Diunduh tanggal 15 mei 2012, dari: www. screening.iarc.fr/doc/Breast_VIII.pdf

Northouse et al. (1999). The Quality of Life of American Women With Breast Cancer. Research in Nursing & Health, 1999, 22, 449–460.

Ozkan S, Ogce F (2008). Importance of social support for functional status in breast Cancer patients. Asian Pac J Cancer Prev, 9, 601-4.

Shaheen et al., (2011). Effects Of Breast Cancer on Physiological and Psychological Health Of Patients. International Journal of Applied Biology and Pharmaceutical Technology. Volume: 2: Issue-1: Jan-Mar -2011.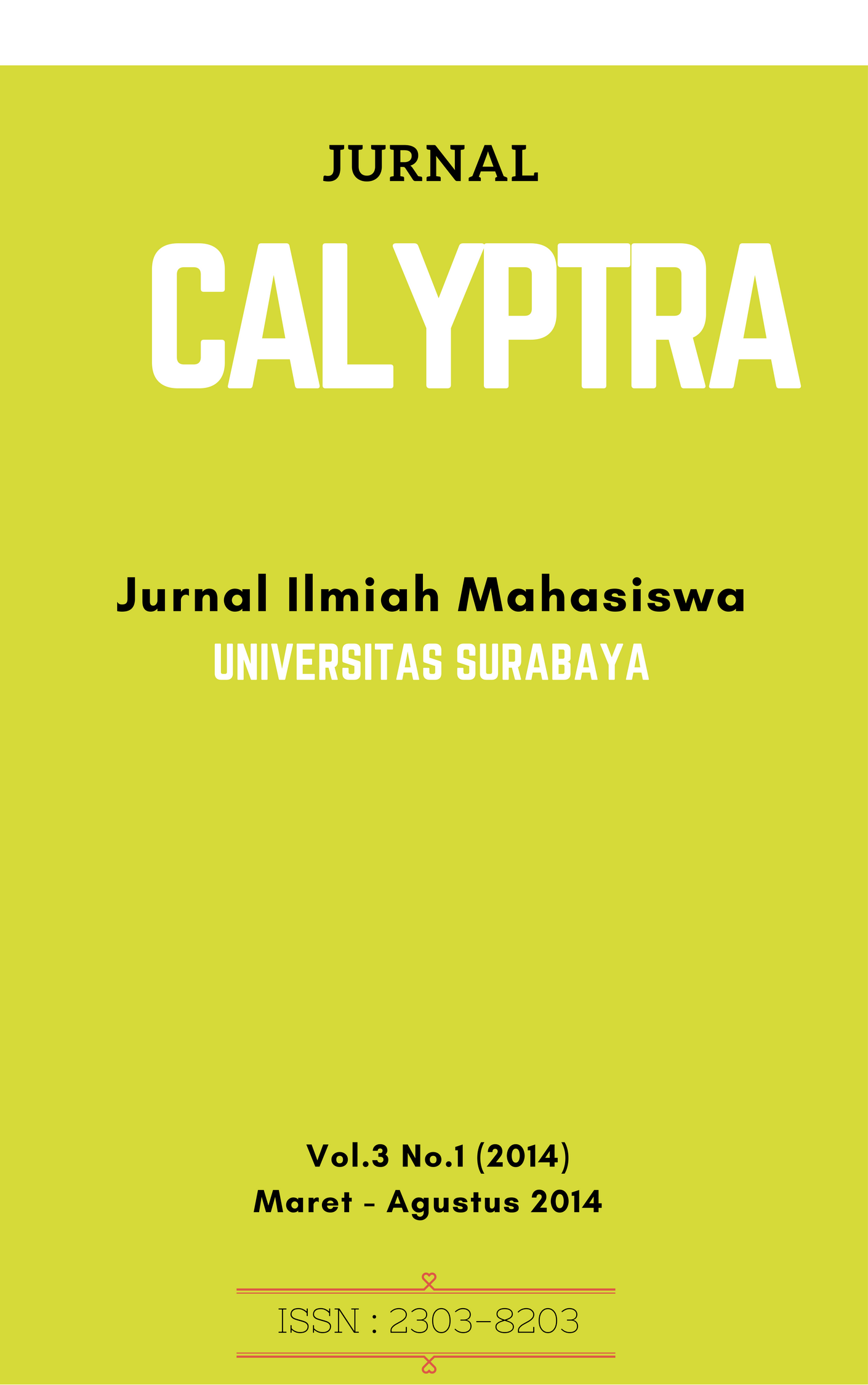 How to Cite
SATYA, Erwinda Tri. PENERAPAN EMOTIONALLY FOCUSED THERAPY-COUPLE (EFT-C) SEBAGAI UPAYA UNTUK MENINGKATKAN EMOTIONAL WELL-BEING PADA PEREMPUAN YANG MENGALAMI KANKER PAYUDARA STADIUM LANJUT.
CALYPTRA
, [S.l.], v. 3, n. 1, p. Hal. 1 - 21, mar. 2014. ISSN 2302-8203. Available at: <
http://journal.ubaya.ac.id/index.php/jimus/article/view/1674
>. Date accessed: 28 may 2020.
Section
Bidang Magister Psikologi (MPSI)