PENERAPAN METODE ANALYTIC HIERARCHY PROCESS (AHP) DALAM PEMILIHAN SUPPLIER BAWANG PUTIH PADA UD. DIAMOND, SURABAYA
Andi Jayantho

Jurusan Manajemen Fakultas Bisnis dan Ekonomika Universitas Surabaya
Abstract
Persaingan bisnis yang semakin ketat mengharuskan perusahaan untuk memiliki keunggulan dalam bersaing untuk dapat mempertahankan kelangsungan bisnisnya. Peran supply chain management sangat strategis hampir di seluruh industri. Salah satu aktivitas terpenting dalam supply chain adalah supplier. Pemilihan supplier merupakan sebuah masalah yang kompleks dalam pegambilan suatu keputusan. Penelitian ini bertujuan untuk menentukan pemilihan supplier terbaik berdasarkan beberapa kriteria pemilihan supplier, agar dapat menyelesaikan sebuah masalah yang kompleks pada dunia nyata. Penelitian ini menggunakan UD. Diamond. Perusahaan ini bergerak dalam bidang penyedia bawang putih di Surabaya.  Permasalahan yang terjadi dalam UD. Diamond adalah keterlambatan supplier yang sering terjadi dan barang yang dikirim supplier cenderung tidak sesuai. Hal ini dikarenakan perusahaan masih menggunakan cara sederhana dalam memilih supplier. Salah satu cara untuk menyelesaikan masalah tersebut dengan diterapkannya metode Analytic Hierarchy Process (AHP) dalam pemilihan supplier. Dengan metode AHP, pemilihan supplier lebih terstruktur dalam bentuk hierarki. Penilaian berasal dari membandingkan antar kriteria satu dengan kriteria lainya, tidak hanya dari penilaian pemilik perusahaan, sehingga penilaian lebih valid dan akurat.  Penelitian ini menunjukan bahwa Sumber Makmur merupakan supplier terbaik. Penelitian ini menggunakan beberapa kriteria yang sangat mempengaruhi pemilihan supplier, seperti harga, kualitas, merek, pengiriman, dan informasi.
Downloads
Download data is not yet available.
References
Anatan,L., Ellitan,L., 2008, Supply Chain Management Teori dan Aplikasi, Alfabeta : Bandung

Chauliah Fatma Putri. "Pemilihan supplier bahan baku kertas dengan model QCDFR dan Analytical Hierarchy Process (AHP). Wisya teknika vol.20 No.2; oktober 2012

Damien Beil, 2009, Supplier Selection Journal Stephen M. Ross School of Business

Gaspersz, V. 2004. Production Planning and Inventory Control, Gramedia Pustaka Utama, Jakarta.

Heizer,J., Render,B., 2011, Operations Management, Edisi 10, Pearson Education, inc : New Jersey

Kastowo, Banu. 2008. Penentuan Bobot Pada Metode Seleksi Calon Perawat Di Rumah Sakit Al-Islam Bandung Menggunakan Metode Analitycal Hierarchy Process (AHP).

Leenders et al., 2002, Purchasing and Supply Chain Management, Edisi 12, the McGrawHill : New York

Luo, X, C. WU, D. Rosenberg, & D. bernes. 2009. Supplier selection in agile supply chain: an information-processing model and an illustration. Journal of purchasing & Supply Management 15, pp 249-262

Marimin dan nurul, 2004, Teknik dan Aplikasi Pengambilan Keputusan Kriteria Majemuk, Jakarta : PT Grasindo. Mulyono

Mulyono, S., 2004. Riset Operasi, Lembaga Penelitian Fakultas Ekonomi Universitas Indonesia, Jakarta.

Monczka, Robert M, et al, 2009, Purchasing and supply chain management, Edisi 4, South Western Cengage learning.

Pujawan, I Nyoman., Mahendrawathi, ER (2010). Supply Chain Management. Surabaya, Guna Widya

Saaty, Thomas L., 2008, Decision making with the analytic hierarchy process, International Journal of Services Sciences, Volume 1, hal. 83-97.

Simchi, Levi,D., Kaminsky,P., 2008. Designing and Managing the Supply Chain : Concept, Strategies and Case Studies. Edisi 3, the McGraw-Hill Companies : Amerika, New York

Supriyanto, A., Masruchah, I., 2008, Purchasing Guide Konsep dan Aplikasi Manajemen Purchasing, PT Elex Media Komputindo Kelompok Kompas, Gramedia : Jakarta

Suryadi, Dr.Ir. Kadarsah. , Ramdhani, Ir.M.Ali.MT., 2000, Sistem Pendukung Keputusan, Edisi 2, PT Remaja Rosdakarya : Bandung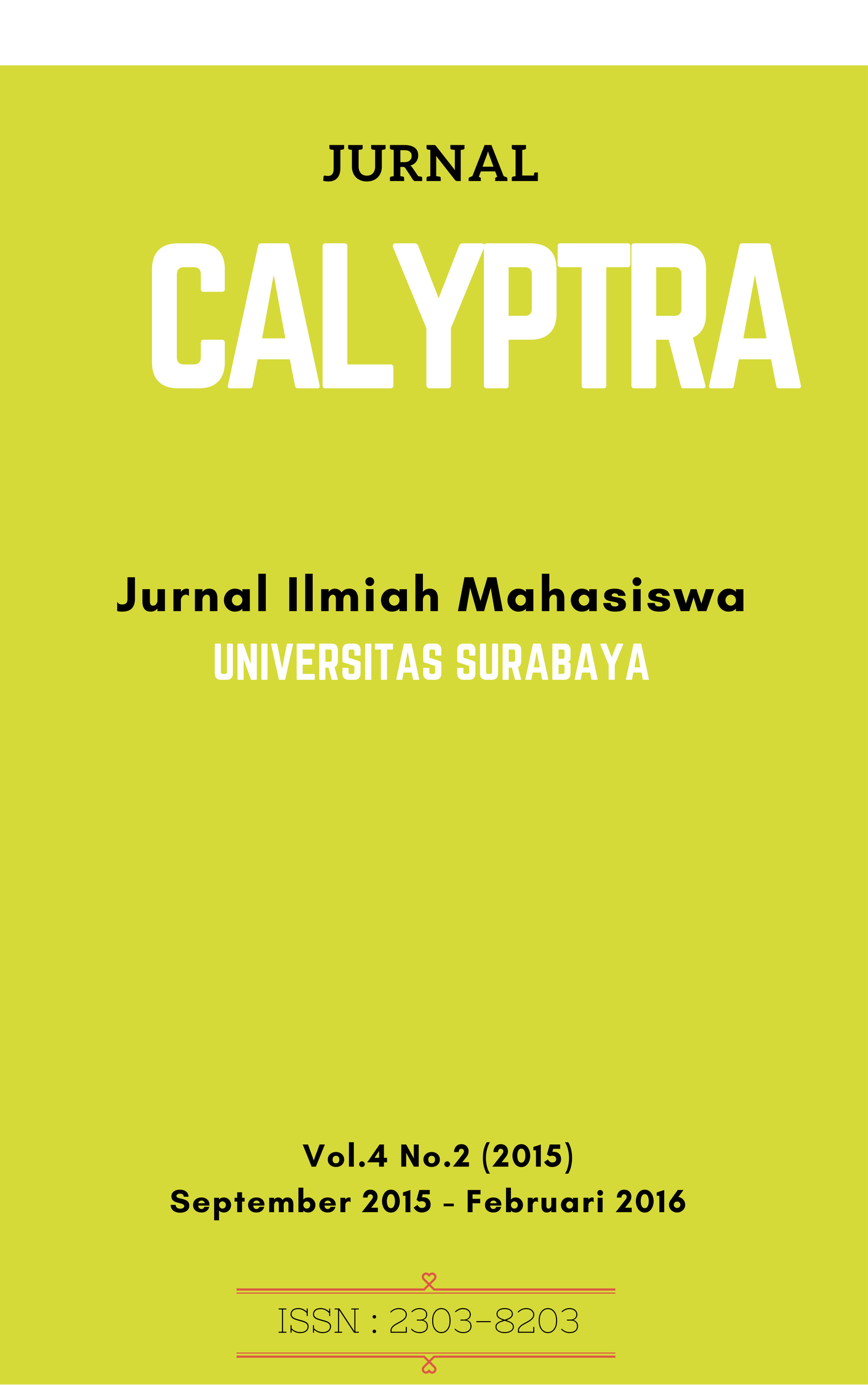 How to Cite
JAYANTHO, Andi. PENERAPAN METODE ANALYTIC HIERARCHY PROCESS (AHP) DALAM PEMILIHAN SUPPLIER BAWANG PUTIH PADA UD. DIAMOND, SURABAYA.
CALYPTRA
, [S.l.], v. 4, n. 2, p. Hal. 1 - 23, sep. 2015. ISSN 2302-8203. Available at: <
http://journal.ubaya.ac.id/index.php/jimus/article/view/2100
>. Date accessed: 01 apr. 2020.
Section
Bidang Manajemen (M)
This work is licensed under a Creative Commons Attribution-NonCommercial 4.0 International License.