ANALISIS PERANAN BUDAYA TIONGHOA-JAWA TERHADAP PENERAPAN PERSONNEL DAN CULTURAL CONTROL PADA PERCETAKAN "X" DI SURABAYA
Paula Citraningtyas

Jurusan Akuntansi Fakultas Bisnis dan Ekonomika Universitas Surabaya
Abstract
Penelitian ini bertujuan untuk mengidentifikasi dan menganalisis peranan budaya Tionghoa dan Jawa yang dianut oleh pemilik terhadap penerapan sistem pengendalian manajemen (SPM) khususnya personnel dan cultural control pada usaha kecil dan menengah (UKM), yakni Percetakan X sebagai obyek penelitian yang digunakan dalam penelitian ini. Hasil penelitian menunjukkan bahwa pemilik Percetakan X yang menganut budaya Tionghoa dan Jawa menerapkan pengendalian yang subjektif, pemberian reward yang berdasarkan pada hasil, adanya reward untuk kelompok, pengendalian yang desentralisasi, perlakuan yang sama dari atasan terhadap seluruh karyawan tanpa memandang etnis. Selain itu, penelitian ini juga membuktikan bahwa pengendalian informal memiliki peranan yang lebih penting dalam bisnis berskala kecil dan menengah (UKM) daripada pengendalian formal. 
Downloads
Download data is not yet available.
References
Alon, Ilan, 2003. Chinese Culture Organizational Behavior, And International Business Management.United States of America : Praeger.

Davies, H. 1995. China Business: Context and issues. Hong Kong: Longman.

Djumena, Erlangga, 2011. Inilah Filosofi Bisnis Orang Tionghoa. http://bisniskeuangan.kompas.com/read/2011/02/04/08414524 diakses pada 15 November 2013.

Dwipayana G, Ramadhan KH, 1989. Soeharto: PikirandanTindakanSaya. PT. CitraLamtoro Gung Persada, Jakarta.

Efferin, Sujoko and Trevor Hopper, 2007.Management Control, Culture, and Ethnicity in a Chinese Indonesian Company. Sience Direct, pp 223-262.

Efferin, Sujoko and WiyonoPontjoharyo, 2006.Chinese Indonesian Business in the Era of Globalization: Ethnicity, Culture and the Rise of China. In Southeast Asia's Chinese Businesses in an Era of Globalization: Coping with the Rise of China. Leo Suryadinata, ed (pp 102-161). Singapore: ISEAS.

Magnis-Suseno,Franz (1991) EtikaJawa: Sebuah Analisa Falsafi tentang Kebijaksanaan Hidup Jawa.Penerbit PT Gramedia Pustaka Utama, Jakarta

Merchant, K.A., and W.A. Van der Stede, 2007. Management Control Systems: Performance Measurement, Evaluation and Incentives, London, UK : Prentice-Hall.

Muktiyo, Widodo, 2010. Bisnis dalam Perspektif Budaya Jawa. http://manajemencitra.com/news-release/articles/440-bisnis-dalamperspektif-budaya-jawa.html diaksespada 17 November 2013.

Na'im, Akhsan dan Hendry Syaputra, 2010.Kewarganegaraan, Suku Bangsa, Agama, dan Bahasa Sehari-Hari Penduduk Indonesia :Hasil Sensus Penduduk 2010. Jakarta :Badan Pusat Statistik.

Sarsito, Totok, 2006. Javanese culture as the source of legitimacy for Soeharto's government. Springer-Verlag, pp 1-15.

Suryadinata, Leo, EviNurvidia, danArisAnanta, 2003. PendudukIndonesia : Etnisdan Agama Dalam Era Perubahan Politik. Jakarta : PustakaLP3ES Indonesia.

Xianzhi, Zhang, Liu Yuanyuan and Wu Yuting, 2011. Management Control System of China's Enterprises: Theory and Practice. SpringerLink, pp47-52.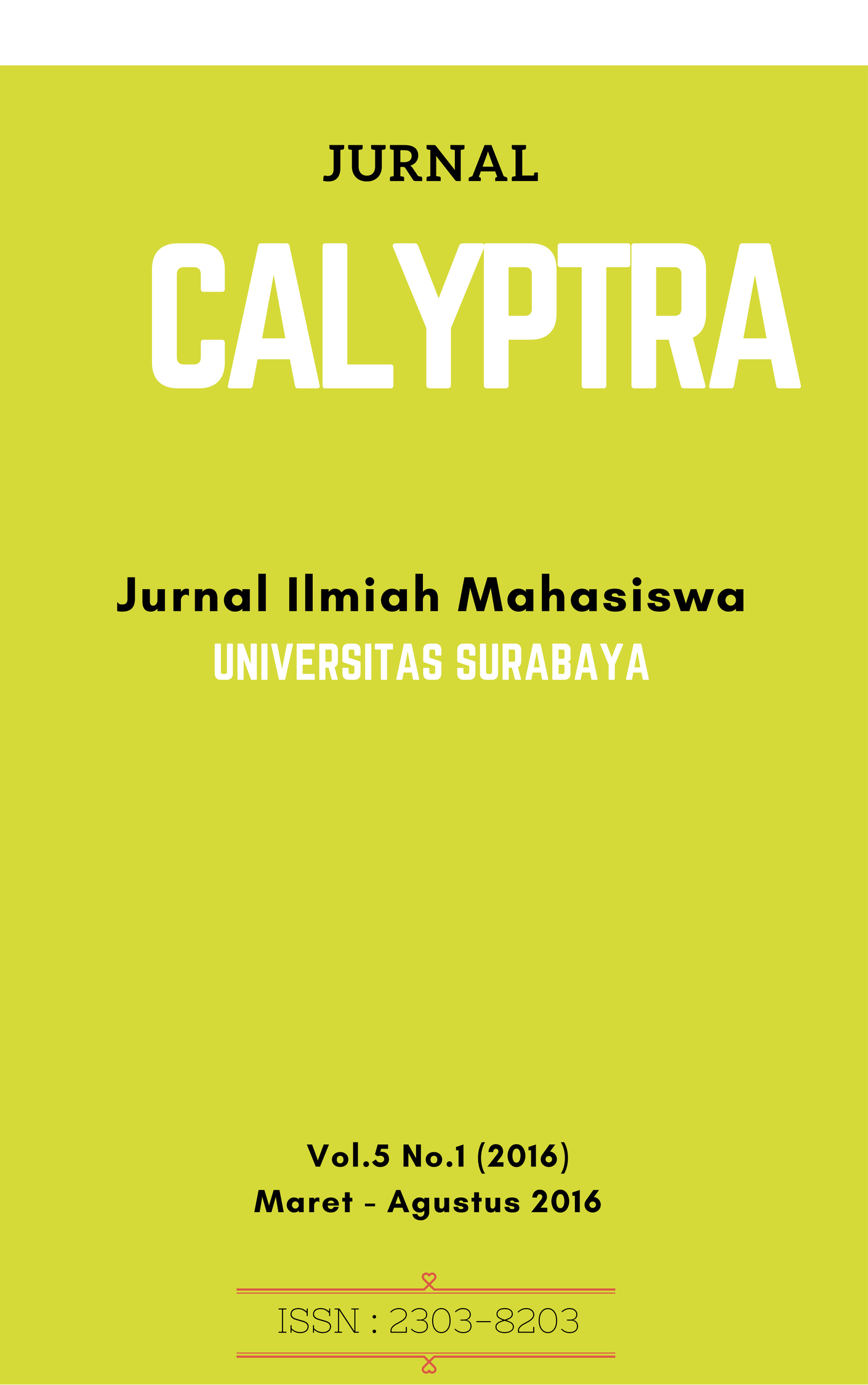 How to Cite
CITRANINGTYAS, Paula. ANALISIS PERANAN BUDAYA TIONGHOA-JAWA TERHADAP PENERAPAN PERSONNEL DAN CULTURAL CONTROL PADA PERCETAKAN "X" DI SURABAYA.
CALYPTRA
, [S.l.], v. 5, n. 1, p. Hal. 1 - 18, mar. 2016. ISSN 2302-8203. Available at: <
http://journal.ubaya.ac.id/index.php/jimus/article/view/2537
>. Date accessed: 29 mar. 2020.
Section
Bidang Akuntansi (AK)