SUBJECTIVE WELL BEING MAHASISWA YANG MENGGUNAKAN INTERNET SECARA BERLEBIHAN
Novrita Ade Putri

Fakultas Psikologi Universitas Surabaya
Abstract
Pada saat ini internet merupakan media yang hampir digunakan oleh semua orang dari berbagai kalangan usia. Terdapat dampak positif dan negatif yang dihasilkan dari penggunaan internet. Salah satu dampak negatifnya adalah penggunaan internet yang berlebihan membuat individu menjadi ketergantungan pada internet. Individu yang mengalami problematic internet use akan cenderung menunjukkan emosi yang negatif di dalam kehidupan sehari-harinya, sehingga diduga akan berkaitan dengan subjective well being. Penelitian ini dilakukan kepada 70 mahasiswa semester 7 Fakultas Psikologi Universitas Surabaya yang tergolong pengguna internet berlebihan.Penelitian ini bersifat deskriptif dan bertujuan untuk mengetahui subjective well being pada mahasiswa yang menggunakan internet secara berlebihan. Teknik analisis yang digunakan adalah teknik analisis cluster. Hasil penelitian menunjukkan bahwa subjective well being tidak berkaitan dengan problematic internet use. Motif penggunaan internet karena tuntutan akademis dan level of problematic internet use masing-masing simptom pada seluruh kelompok yang tidak tergolong tinggi merupakan faktor pendukung yang dapat menjelaskan penggunaan internet berlebihan subjek tidak berkaitan dengan subjective well being.
Downloads
Download data is not yet available.
References
Arnettt, J. J. (2000). Emerging adulthood. Diunduh dari http://www.jeffreyarnettt. com/articles/ARNETTT_Emerging_Adulthood_theory.pdf.


Budiwan, C. R (2011). Analisis faktor distorsi kognitif pada kecanduan internet. Skripsi. Sarjana Strata I. Surabaya: Fakultas Psikologi Universitas Surabaya, tidak diterbitkan.


Caplan, S. (2002). Problematic internet use and psychosocial well being. Development of a theory based cognitive-behavioral measurement instrument. Computers in Human Behavior, 18, 553-575.


Ceyhan, E. & Gurcan, A. (2008). Validity and realitibility studies of Problematic Internet Usage Scale. Educational Sciences. Theory & Practice, 7(1), 387-416


Diener, E., Emmons, R. A., Larsen, R. J., & Griffin, S. (1985). The satisfaction with life scale. Journal of Personality Assessment, 49, 71-75


Diener, E., Suh, E. M., Lucas, R. E., & Smith, H. L. (1999). Subjective well being: Three decades of progress. Psychological Bulletin, 2, 276-302


Edutechnolife. (2011). Pengguna internet di Indonesia mayoritas menggunakan ponsel (Internet mobile). Diunduh dari http://edutechnolife.com/pengguna-internet-di-indonesia-mayoritas-menggunakan-ponsel-internet-mobile/


Hair, J. F., Anderson, R. E., Tatham, R. L., & Black, W. C. (1998). Multivariate data analysis (5th ed). New Jersey: Prentice Hall


Herring, S. C. (1996). Computer-mediated communication: Linguistic, social, and cross-cultural perspectives, 81-106.


Kandell, J. J. (1998). Internet addiction on campus: the vulnerability of college students. Cyberpsychology and behavior, 1, 11-17


Kraut, R., Patterson, M., Lundmark, V., Kiesler, S., Mukopadhyay, T., & Scherlis, W. (1998). Internet Paradox: a social technology that reduces social involvement and psychological well being. American Psychologist, 53(9), 1017-1031


LaRose, R., Eastin, M. S., & Gregg, J. (2003). Reformulating the Internet Paradox: Social cognitive explanations of internet use and depression. Diunduh dari http://www.behavior.net/JOB/v1n1/paradox.html


Saputra, W. R (2008). Hidup dalam Dunia Game; Perbedaan Intensitas Bermain Game Online Ditinjau dari Gaya Hidup. Skripsi. Sarjana Strata 1. Surabaya; Fakultas Psikologi Universitas Surabaya, tidak diterbitkan


Spada, M. M., Langston, B., Nikcevic, A. V., & Moneta, G. B. (2008). The role of metacognitions in problematic internet use. Computers in Human Behavior, 24, 2325-2335

Stepanikova, I., Nie, N. H., & He, X. (2010). Time on the Internet at home, loneliness, and life satisfaction: Evidence from panel time-diary data. Computers in Human Behavior, 26(3), 329-338


Watson, D., Clark, L. A., & Tellegen, A. (1988). Development and validation of brief measures of positive and negative affects: The PANAS scales. Journal of Personality and Social Psychology, 54, 1063-1070


Young, K. S. (2005). Internet Addiction: The emergence of a new clinical disorder. CyberPsychology & Behavior, 3, 237-244.


Young, K. S (2007). Cognitive behavior therapy with internet addicts. Treatment outcomes and Implications. Journal of CyberPsychology & Behavior, Volume 10, 5, 2007.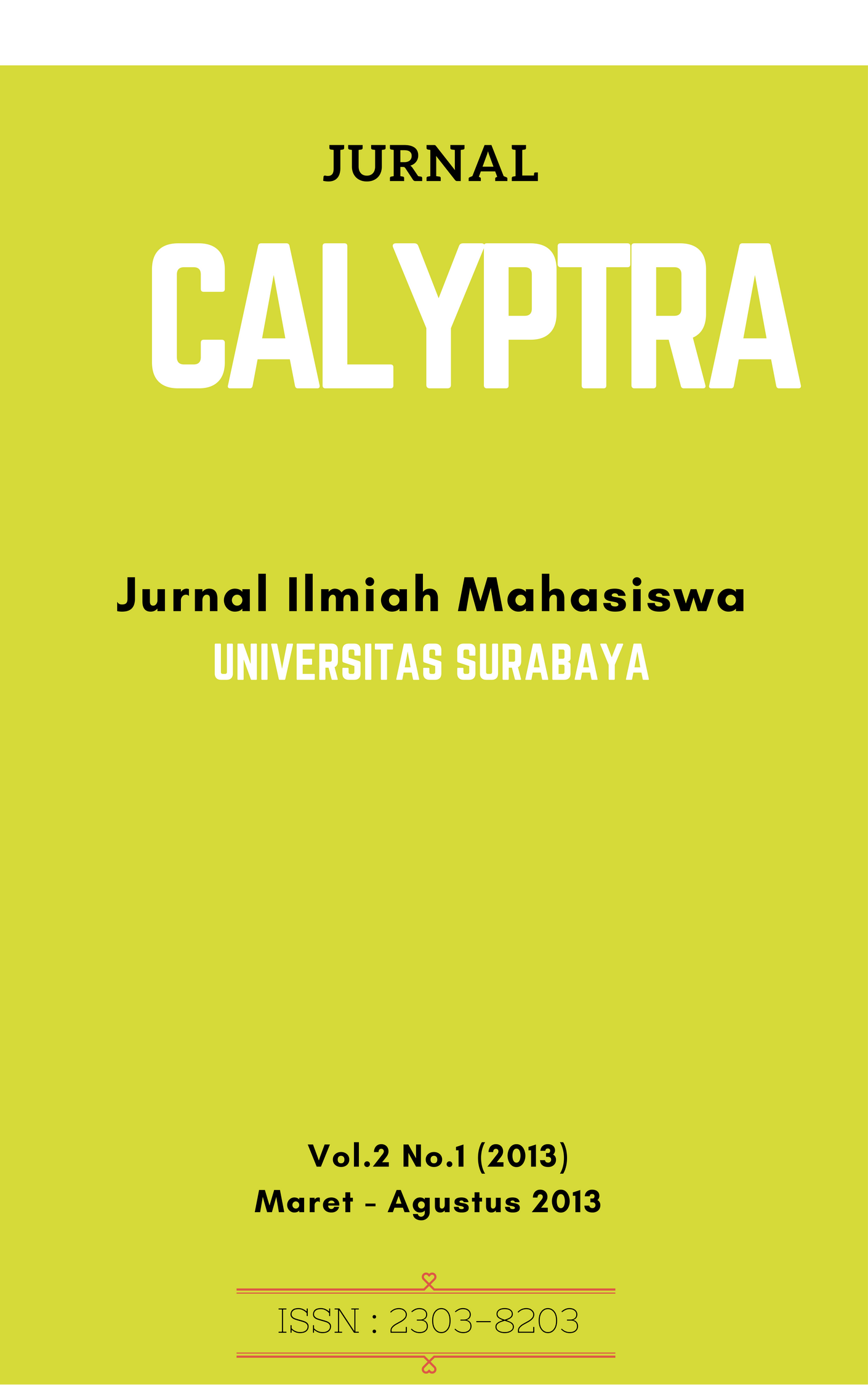 Section
Bidang Psikologi (ED)