PENGARUH KREDIBILITAS ENDORSER TERHADAP MINAT BELI MELALUI SIKAP ATAS IKLAN PADA PRODUK SHAMPO L'OREAL DI SURABAYA
Elysia Stephanie

Jurusan Manajemen Pemasaran Fakultas Bisnis dan Ekonomika Universitas Surabaya
Abstract
Penelitian ini bertujuan untuk mengetahui dan menganalisis pengaruh kredibilitas endorser terhadap minat beli melalui sikap atas iklan pada produk shampo L'Oreal di Surabaya. Penelitian ini menggunakan Structural Equation Modelling (SEM) dengan software LISREL versi 8.7. Penelitian ini menggunakan pendekatan kuantitatif dengan teknik pengambilan sampel yang digunakan dalam penelitian ini adalah non probability sampling dengan jenis convenience sampling. Jumlah sampel dalam penelitian ini adalah sebanyak 160 responden. Hasil penelitian ini menunjukkan adanya pengaruh Trustworthiness terhadap sikap atas iklan dan pengaruh sikap atas iklan terhadap minat beli pada produk shampo L'Oreal di Surabaya. Sedangkan pengaruh Attractiveness terhadap sikap atas iklan dan pengaruh Expertise terhadap sikap atas iklan tidak terbukti.
Downloads
Download data is not yet available.
References
Alma, Buchari, 2002, Manajemen Pemasaran dan Pemasaran Jasa, Cetakan Keempat, Penerbit Alfabeta, Bandung.

Ahmed, Methaq, 2001, An investigate of endoser creadibilty effect on consumer's attitude and purcashe itention, the role of brand familiarty, Journal, School Manajement University Sains Malasia

Ahmed, Methaq, 2001, The Role of Consumers' Attitude toward Product Brand: It's Implication to the SMEs, Journal, School Manajement University Sains Malasia.

Assael, H. 2001. Consumers Behavior and Marketing Action, Edisi 3, Kent Publishing Company, Boston Massachusset, AS.

Assael, H. (2002). Consumer Behaviour and Marketing Action Fourth Edition. Kent Publishing, New York.

Anoraga, Pandji. 2000. Manajemen Bisnis. Jakarta: PT. Rineka Cipta.

Durianto, Darinadi, 2003, Invasi Pasar Dengan Iklan Yang Efektif, Gramedia Pustaka Utama, Jakarta.

Dominanto 2008, dengan Judul Perbedaan Sikap Terhadap Iklan, Merek, Dan Niat Beli Konsumen Pada Iklan Dengan Fear Appeal, Jurnal Ekonomi Bisnis, Vol.2 No, 2, Juli 2008

Engel, James F., Roger D. Blackwell, & Paul W.Miniard, 2001, Penjualan Konsumen, (F.X. Budiyanto, Trane) Jakarta : Binapura Aksara.

Fazekas, Anna, Senn, Charlene Y., and Ledgerwood, David M. (2001).Predictors of Intention to Use Condoms Among University Women: An Aplication and Extention of The Theory of Planned Behavior, Canadian Journal of Behavioural Science, 33 (2), 103-117.

Goldsmith, R. E; Lafferty, B.A; & Newell, S. J, 2000. ìThe Impact of Corporate Credibility and Endorser Celebrity on Consumer Reaction to Advertisements and Brandsî. Journal of Advertising, (Fall), 43-54.

Hsu, Chung-kue, and McDonald, Daniella (2002). An Examination on Multiple Celebrity Endorsers in Advertising. Journal of Product & Brand Management, 11 (1), 19-29.

Hoekman, 2010, Celebrity Endorsement How does celebrity endorsement influence the attitude towards the brand and how does negative publicity affect this relationship, Thesis, International Business Administration, Tilburg University.

Ishak, Asmi, 2008, Pengaruh Penggunaan Selebriti Dalam Iklan Terhadap Minat Beli Konsumen, Jurnal Siasat Bisnis Vol. 12 No. 2, Hal: 71–88.

Jain, Vipul, (2011), Celebrity Endorsement And Its Impact On Sales: A Research Analysis Carried Out In India, Global Journal Of Management And Business Research Volume 11 issue 4 version 1.0.

Johnston, Russ. (2001). Credibility and Celebrity Endorsements. http://www.ciadvertising.org/stude nt_account/fall_01/adv382j/russj/celebrity.html

Kasali, Rhenald, 1992, Manajemen Periklanan KOnsep dan Aplikasinya di Indonesia, PT. Pustaka Utama Grafiti, Jakarta.

Kamins, M. A. (1989). Celebrity and non-celebrity advertising in a two-sided context. Journal of AdvertisingResearch, 29, 34-42.

Kamins, M. A. (1990). An investigation into the 'matchup' hypothesis in celebrity advertising: When beauty may be only skin deep. Journal of Advertising, 19,4-13.

Lafferty, Barbara A and Goldsmith, Ronald E. (1999). Corporate Credibility's Role in Consumers Attitudes and Purchase Intensions When a High Versus a Low Credibility Endorser Is Used in the Ad, Journal of Business Research; 44: 109-116.

Mowen, John C dan Michael Minor. 2002. Perilaku Konsumen. Edisi Kelima. Jakarta. Erlangga

Morisson, 2004, Periklanan Komunikasi Pemasaran Terpadu, Ramdina Prakarsa, Tanggerang.

Morissan, 2007, Periklanan Komunikasi pemasaran terpadu, Pramdina Prakarsa, Jakarta.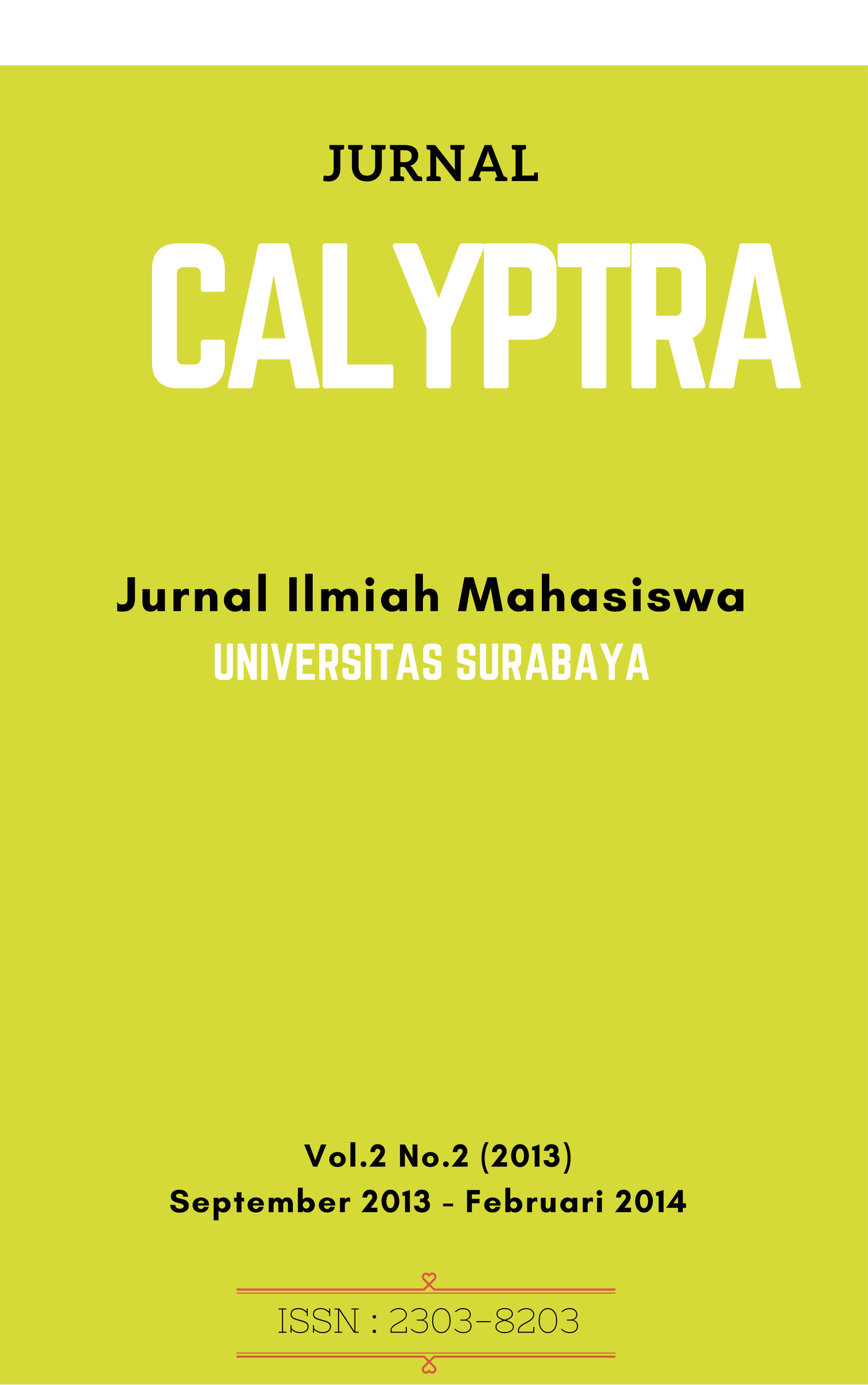 How to Cite
STEPHANIE, Elysia. PENGARUH KREDIBILITAS ENDORSER TERHADAP MINAT BELI MELALUI SIKAP ATAS IKLAN PADA PRODUK SHAMPO L'OREAL DI SURABAYA.
CALYPTRA
, [S.l.], v. 2, n. 2, p. Hal. 1 - 21, sep. 2013. ISSN 2302-8203. Available at: <
http://journal.ubaya.ac.id/index.php/jimus/article/view/714
>. Date accessed: 01 oct. 2020.
Section
Bidang Manajemen (M)