UJI ALAT JENTIK EKOR MODIFIKASI 5 TERHADAP EFEK ANALGESIK EKSTRAK DAUN KITOLOD (Isotoma longiflora Presl.) PADA MENCIT (Mus musculus)
Riyani Widiastuti

Fakultas Farmasi Universitas Surabaya
Abstract
Telah dilakukan penelitian dengan menggunakan alat jentik ekor modifikasi 5 dalam menguji aktivitas analgesik dari ekstrak daun Kitolod (Isotoma longiflora Presl.) dan Tramadol HCl pada mencit. Parameter yang dilihat adalah waktu pada saat ekor mencit diletakkan pada pelat panas hingga pertama kali menimbulkan respon berupa menjentikkan ekor. Dalam penelitian ini digunakan mencit sebagai hewan uji yang dibagi menjadi 5 kelompok, yaitu kelompok I sebagai kontrol yang diberi suspensi CMC Na 1%, kelompok II, III dan IV yang diberi ekstrak daun Kitolod berturut-turut sebesar 100, 300 dan 500 mg/kgBB dan kelompok V sebagai pembanding yang diberi Tramadol HCl 3 mg/kgBB. Masing-masing kelompok diberikan secara per oral sebanyak 0,5 ml dan ditunggu selama 15 menit sebelum diberi induksi panas. Hasil pengujian menunjukkan adanya perbedaan yang bermakna antara kelompok kontrol, uji dan pembanding. Dapat disimpulkan bahwa alat jentik ekor modifikasi 5 dapat digunakan untuk menguji aktivitas analgesik.
Downloads
Download data is not yet available.
References
Anonim, 2008, Buku Pintar Tanaman Obat : 431 Jenis Tanaman Penggempur Aneka Penyakit, Jakarta, Agromedia, 2008.

Corwin Elizabeth J, 2009, Handbook of Pathofisiology, 3th ed, Philadelphia, Lippincott, 388-399.

Dipiro Joseph T, Wells Barbara G, 2009, Pharmacotherapy Handbook, 7th ed, New York, McGraw Hill, Chapter 54, 614.

E.W Lucia, 2014, Eksperimen Farmakologik: Orientasi Preklinik, Surabaya, Sandira Surabaya.

Ganong William F, 2010, Ganong's Review of Medical Physiology, 23rd ed, New York, McGraw-Hill, 168-169.

Guyton Arthur C, Hall John E, 2011, Textbook of Medical Physiology, 12th, Philadelphia, Elsevier Saunders, 598-601.

Katzung Bertram G, 2012, Basic and Clinical Pharmacology, 12th, New York, McGraw-Hill, 543-546.

Shargel Leon, et al, 2012, Biofarmasetika & Farmakokinetika Terapan, 5th edition, Surabaya, Airlangga Univerity Press, 372-373

Rang H P, et al, 2012, Rang's and Dale's Pharmacology, 7th ed, Elsevier, London, 588-589

Siswandono, Soekardjo Bambang, 2000, Kimia Medisinal. 2nd ed, Vol. 2, Airlangga Univ. Press, 283

Smith John B, et al, 1988, Pemeliharaan, Pembiakan dan Penggunaan Hewan percobaan di Daerah Tropis, Universitas Indonesia Press, Jakarta, 7, 32, 37, 38

Thompson E.B, 1990, Drug Bioscreening Drug Evaluation Technique in Pharmacology, New York, VCH Publisher Inc., 70-75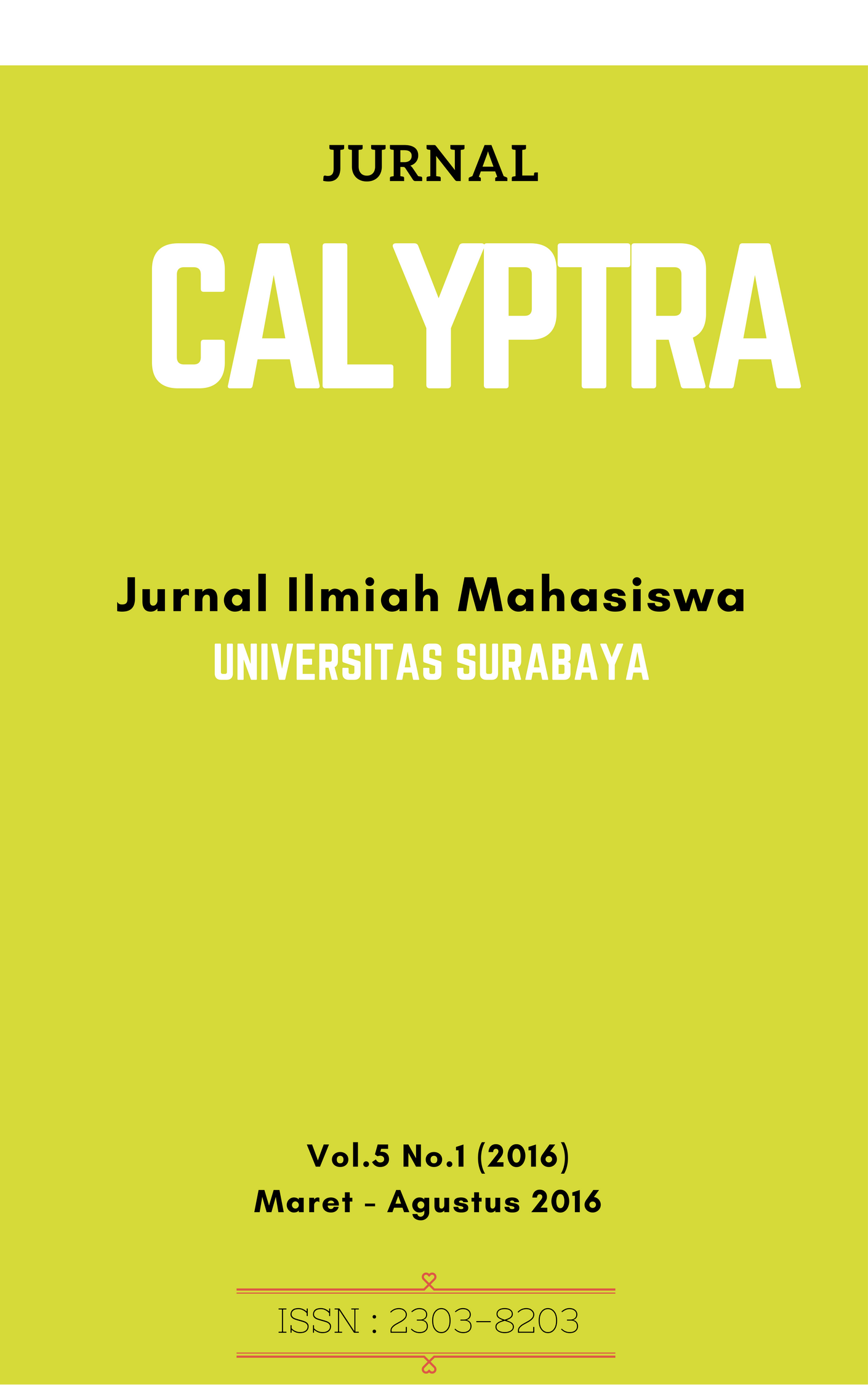 How to Cite
WIDIASTUTI, Riyani. UJI ALAT JENTIK EKOR MODIFIKASI 5 TERHADAP EFEK ANALGESIK EKSTRAK DAUN KITOLOD (Isotoma longiflora Presl.) PADA MENCIT (Mus musculus).
CALYPTRA
, [S.l.], v. 5, n. 1, p. Hal. 1 - 10, mar. 2016. ISSN 2302-8203. Available at: <
https://journal.ubaya.ac.id/index.php/jimus/article/view/2679
>. Date accessed: 06 july 2020.
Section
Bidang Farmasi (F)