IMPLIKASI BUDAYA PADA CONTROL BISNIS KELUARGA ETNIS TIONGHOA: STUDI KASUS PADA CV. K DI SAMARINDA
Felicia Lidwina Edlim

Jurusan Akuntansi Fakultas Bisnis dan Ekonomika Universitas Surabaya
Abstract
Sebagai salah satu etnis minoritas di Indonesia, etnis Tionghoa mampu menguasai perekonomian Indonesia. Salah satu faktor yang mempengaruhi keberhasilan ini adalah nilai yang dianut oleh etnis Tionghoa, yaitu mengutamakan keluarganya. Nilai inilah yang akan terus dibawa untuk memberikan keberhasilan dalam berusaha. Sehingga tidak dipungkiri, seringkali bentuk dari usaha yang dimiliki oleh etnis Tionghoa di Indonesia berbentuk family business. Metode penelitian yang digunakan adalah basic research, karena penelitian ini mengembangkan dan memperkaya teori sebelumnya mengenai bagaimana implikasi dari budaya etnis Tionghoa pada bisnis keluarga. Penelitian ini merupakan penelitian eksplanatori karena penelitian ini berusaha untuk memberikan wawasan mengenai implikasi budaya pada penerapan control dalam bisnis keluarga etnis Tionghoa Indonesia. Penelitian ini bertujuan untuk memperoleh pemahaman lebih dalam terkait dengan implikasi dari budayabudaya yang dianut oleh etnis Tionghoa dalam menjalankan control bisnis keluarga, terutama dimana jajaran top management-nya merupakan anggota keluarga. Objek dari penelitian ini berupa bisnis keluarga yang berada di Samarinda, Kalimantan Timur. Dengan demikian dapat terlihat dengan jelas bagaimana implikasi dari budaya yang ada pada control yang diterapkan.
Downloads
Download data is not yet available.
References
Acquaah, Moses. 2013. Management control systems, business strategy and performance: A comparative analysis of family and non-family businesses in a transition economy in sub-Saharan Africa. Journal of Family Business Strategy, Vol. 4: 131-146.

Anthony, Robert N., and Govindarajan, V. 2007. Management Control Systems volume 10. McGraw-Hill.

Ananta, Aris, E. N. Arifin, M. S. Hasbullah, N. B. Handayani, and A. Pramono. 2015. Demography of Indonesia's Ethnicity. Institute of Southeast Asian Studies and BPS-Statistics Indonesia

Biro Pusat Statistik, 2011. Kewarganegaraan, Suku Bangsa, Agama, dan Bahasa Sehari-Hari Penduduk Indonesia: Hasil Sensus Penduduk 2010, hal 17-18

Carlock, Randel S, M. Kets de Vries, and E. Florent-Treacy. 2007. Family Business International Encyclopedia of Organizational Studies.

Efferin, Sujoko, and W. Pontjoharyo. 2006. Chinese Indonesian Businesses in the Era of Globalization: Ethnicity, Culture, and the Rise of China. Southeast Asia's Chinese Businesses in an Era of Globalization: Coping with the Rise of China. Leo Suryadinata (Ed.). Institute of Southeast Asian Studies,Singapore: 102-161.

Efferin, Sujoko, and T. Hopper. 2007. Management control, culture and ethnicity in a Chinese Indonesian company. Accounting, Organizations and Society, Vol. 32: 223-262.

Efferin, Sujoko, dan B. Soeherman. 2010. Seni Perang Sun Zi dan Sistem Pengendalian Manajemen Filosofi dan Aplikasi. PT. Elex Media Komputindo: Jakarta.

Goel, Sanjay, X. He, and R. Karri. 2011. Family involvement in a hierarchical culture: Effect of dispersion of family ownership control and family member tenure on firm performance in Chinese family owned firms. Journal of Family Business Strategy, Vol. 2: 199-206.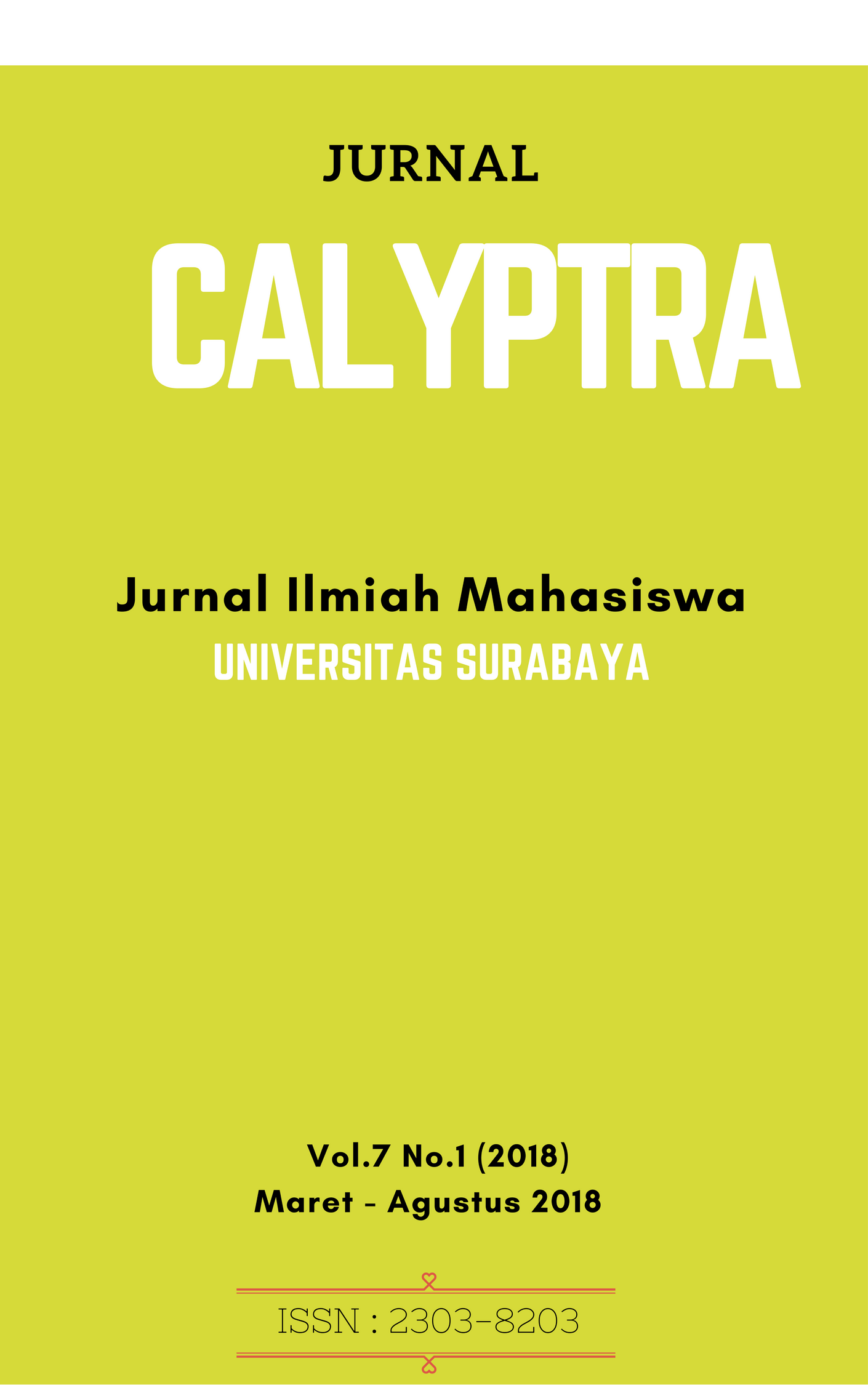 How to Cite
EDLIM, Felicia Lidwina. IMPLIKASI BUDAYA PADA CONTROL BISNIS KELUARGA ETNIS TIONGHOA: STUDI KASUS PADA CV. K DI SAMARINDA.
CALYPTRA
, [S.l.], v. 7, n. 1, p. Hal. 82 - 94, mar. 2018. ISSN 2302-8203. Available at: <
http://journal.ubaya.ac.id/index.php/jimus/article/view/1128
>. Date accessed: 19 june 2019.
Section
Bidang Akuntansi (AK)