FAKTOR-FAKTOR YANG MEMPENGARUHI IMPULSE BUYING BEHAVIOR DAN PERAN MODERASI GENDER PADA KONSUMEN YANG BERBELANJA DI TUNJUNGAN PLAZA SURABAYA
Joshua Renaldo Waworuntu

Jurusan Manajemen Fakultas Bisnis dan Ekonomika Universitas Surabaya
Abstract
Penelitian ini bertujuan untuk menjelaskan faktor-faktor yang mempengaruhi Impulse Buying Behavior di Tunjungan Plaza Surabaya. Penelitian ini juga bertujuan untuk mengetahui peran Gender yang memoderasi hubungan antara Hedonic Shopping Value terhadap Felt Urge to Buy Impulsively di Tunjungan Plaza Surabaya. Pengolahan data dilakukan dengan menggunakan Structural Equation Modeling (SEM) dengan software Amos 20. Hasil penelitian ini menunjukkan adanya pengaruh Physical Stimuli, Hedonic Shopping Value, Product Involvement, Positive Mood, Felt Urge to Buy Impulsively terhadap Impulse Buying di Tunjungan Plaza Surabaya. Sedangkan, pengaruh Impulse Buying Tendency terhadap Impulse Buying di Tunjungan Plaza tidak terbukti. Peran Gender tidak terbukti memoderasi hubungan antara Hedonic Shopping Value terhadap Felt Urge to Buy Impulsively.
Downloads
Download data is not yet available.
References
Beatty, S.E. and Ferrell, M.E. (1998), "Impulse buying: modeling its precursors", Journal of Retailing, Vol. 74 No. 2, pp. 169-91.

Bong, S. 2011. Pengaruh In-Store Stimuli Terhadap Impulse Buying Behavior Konsumen Hypermarket di Jakarta. Ultima Management Vol. 3 No. 1

Dittmar, H., Beattie, J. and Friese, S. (1995), "Gender identity and material symbols: objects and decision considerations in impulse purchase", Journal of Economic Psychology, Vol. 16 No. 3, pp. 491-511

Ferdinand, A., 2002, Structural Equation Modeling Dalam Penelitian Manajemen Aplikasi Model-Model Rumit Dalam Penelitian Untuk Tesis Magister dan Disertasi Doktor, Fakultas Ekonomi UNDIP, Semarang.

Foroughi, A., Buang, N.A., Senik, Z.C., & Hajmisadeghi, R.S. 2013. Impulse Buying Behaviour and Moderating Role of Gender among Iranian Shoppers. Journal of Basic and Applied Scientific Research, 3(4), 760-769.

Ghozali, I., 2005, Structural Equation Modeling: Teori, Konsep & Aplikasi Dengan Program LISREL 8.54, Badan Penerbit Universitas Diponegoro, Semarang.

Hair, J.F., Black, W.C., Babin, B.J., dan Anderson, R.E., 2010, Multivariate Data Analysis, Seventh Edition, Pearson Prentice Hall.

Hetharie, J.A. 2012. Peran Emosi Positif sebagai Mediator Stimulus Lingkungan Toko dan Faktor Sosial terhadap Impulse Buying Tendency pada Matahari Department Store Kota Ambon. Jurnal Aplikasi Manajemen, Vol. 10 No 4.

Semuel, H. 2005. Respons Lingkungan Berbelanja Sebagai Stimulus Pembelian Tidak Terencana pada Toko Serba Ada (Toserba). Jurnal Manajemen & Kewirausahaan, Vol. 7, No. 2, pp. 152-170.

Wijanto, S.H., 2008, Structural Equation Modeling dengan Lisrel 8.8, Graha Ilmu, Yogyakarta.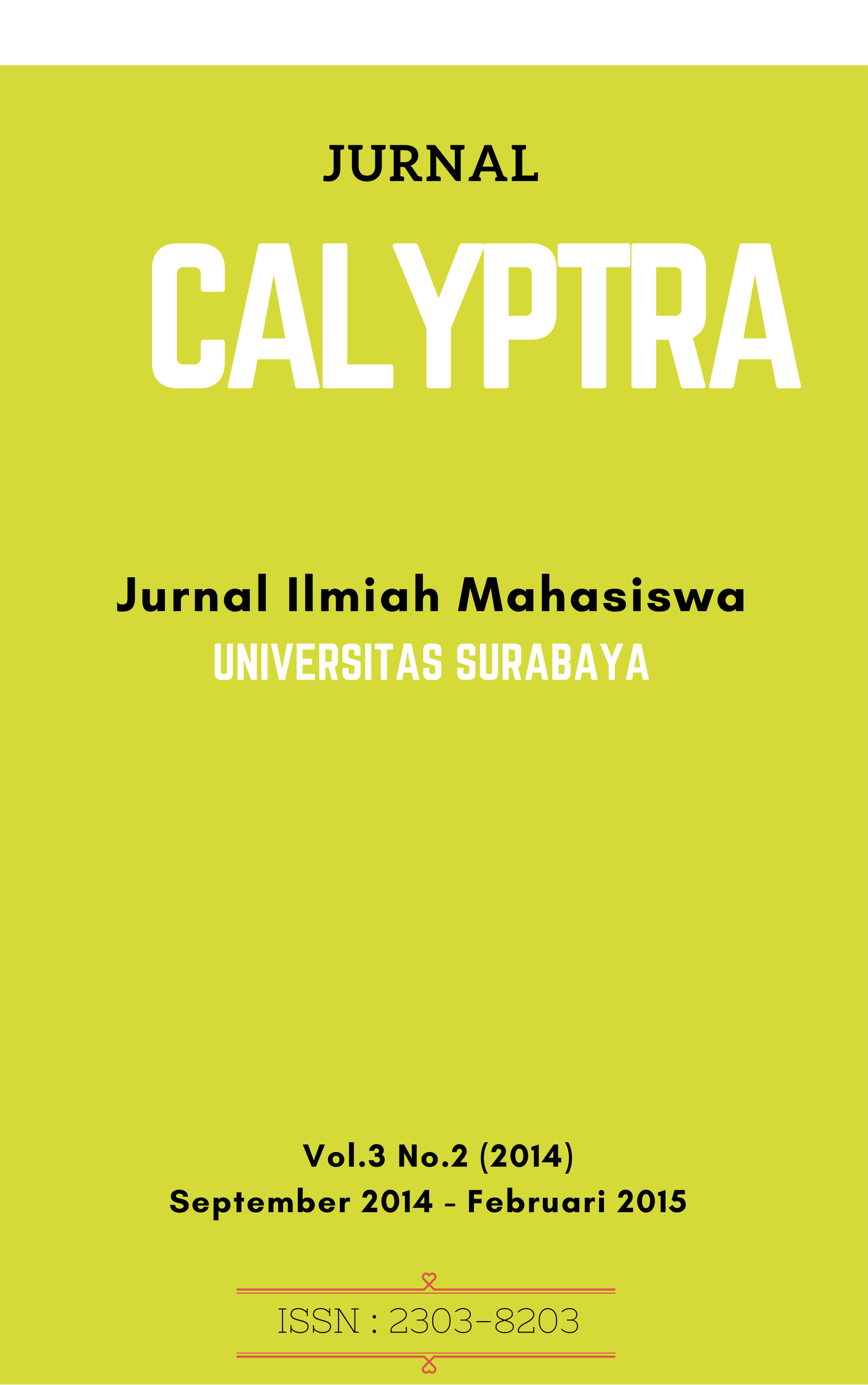 How to Cite
WAWORUNTU, Joshua Renaldo. FAKTOR-FAKTOR YANG MEMPENGARUHI IMPULSE BUYING BEHAVIOR DAN PERAN MODERASI GENDER PADA KONSUMEN YANG BERBELANJA DI TUNJUNGAN PLAZA SURABAYA.
CALYPTRA
, [S.l.], v. 3, n. 2, p. Hal. 1 - 17, sep. 2014. ISSN 2302-8203. Available at: <
http://journal.ubaya.ac.id/index.php/jimus/article/view/1464
>. Date accessed: 16 sep. 2019.
Section
Bidang Manajemen (M)