SELF-MANAGEMENT ABILITIES UNTUK MENINGKATKAN SUBJECTIVE WELL-BEING PEREMPUAN LANJUT USIA DI PANTI WERDA
Pratidina Kartika Putri

Jurusan Magister Psikologi Fakultas Psikologi Universitas Surabaya
Abstract
Para lansia perlu mencapai subjective well-being (SWB) di masa lanjut usianya, maka dibutuhkan kemampuan self-management ability (SMA) untuk medukung lansia agar dapat mencapai SWB.  Fokus penelitian adalah untuk melihat hubungan antara SMA dengan SWB perempuan lanjut usia di panti werda. Teknik pengambilan subjek yang digunakan incidental sampling. Penelitian ini dilakukan pada perempuan lanjut usia (≥80 tahun) yang tinggal di panti werda. SMA diukur dengan menggunakan angket SMAS-18 dan SWB diukur dengan menggunakan angket SWLS. Analisis data yang digunakan yaitu (1) Kuantitatif melalui uji Wilcoxon dan Friedman serta analisis grafik (magnitude of change), (2) Kualitatif pencatatan hasil deskripsi observasi pada masa pretest, posttest dan follow up. Hasil penelitian menunjukkan bahwa terdapat peningkatan subjective well-being setelah pemberian pelatihan self-management ability. menghasilkan nilai sig. 0,015 (α≤0,05) (Uji Friedman) peningkatan ini juga bertahan hingga proses follow up
Downloads
Download data is not yet available.
References
Cramm et al.(2012).The Relationship Between Older Adults' Self-Management Abilities, Well-being and Depression.Europe Journal Ageing,vol.9,353-360

Diener, E., Suh, E., & Oishi, S. (1997). Recent Findings on Subjective Well-Being. Indian Journal of Clinical Psychology, March 1997

Eddington N., Shuman, R. (2005). Subjective well-being (Happiness). Diunduh dari http://www.texcpe.com/html/pdf/tx/tx-happiness.pdf

Romer, C.T.,Klingebiel,A.M., Tomasik,M.J. (2007). Gender Differences In Subjective Well-Being: Comparing Societies With Respect to Gender Equality.SocIndic Res Vol 85.329-349

Setyoadi., Noerhamdani., Ermawati, F. (-). Perbedaan Tingkat Kualitas Hidup Pada Wanita Lansia Di Komunitas dan Panti. Retrieved from http://ejournal.umm.ac.id/index.php/keperawatan/article/viewfile/621/641_umm_scientific_journal.pdf

Uchino, B.N. (2009). Understanding The Links Between Social Support and Physical Health: A Life-Span Perspective With Emphasis On The Separability Of Perceived And Received Support. Association For Psychological Science. Vol 4 (3).

Zhang, J., Huang, H., Ye, M., Zeng, H.(2007).Factors Influencing The Subjective Well-Being (SWB) In A Sample Of Older Adults In Economically Depressed Area Of China. Archieves Of Gerontology And Geriatrics 46, 336-34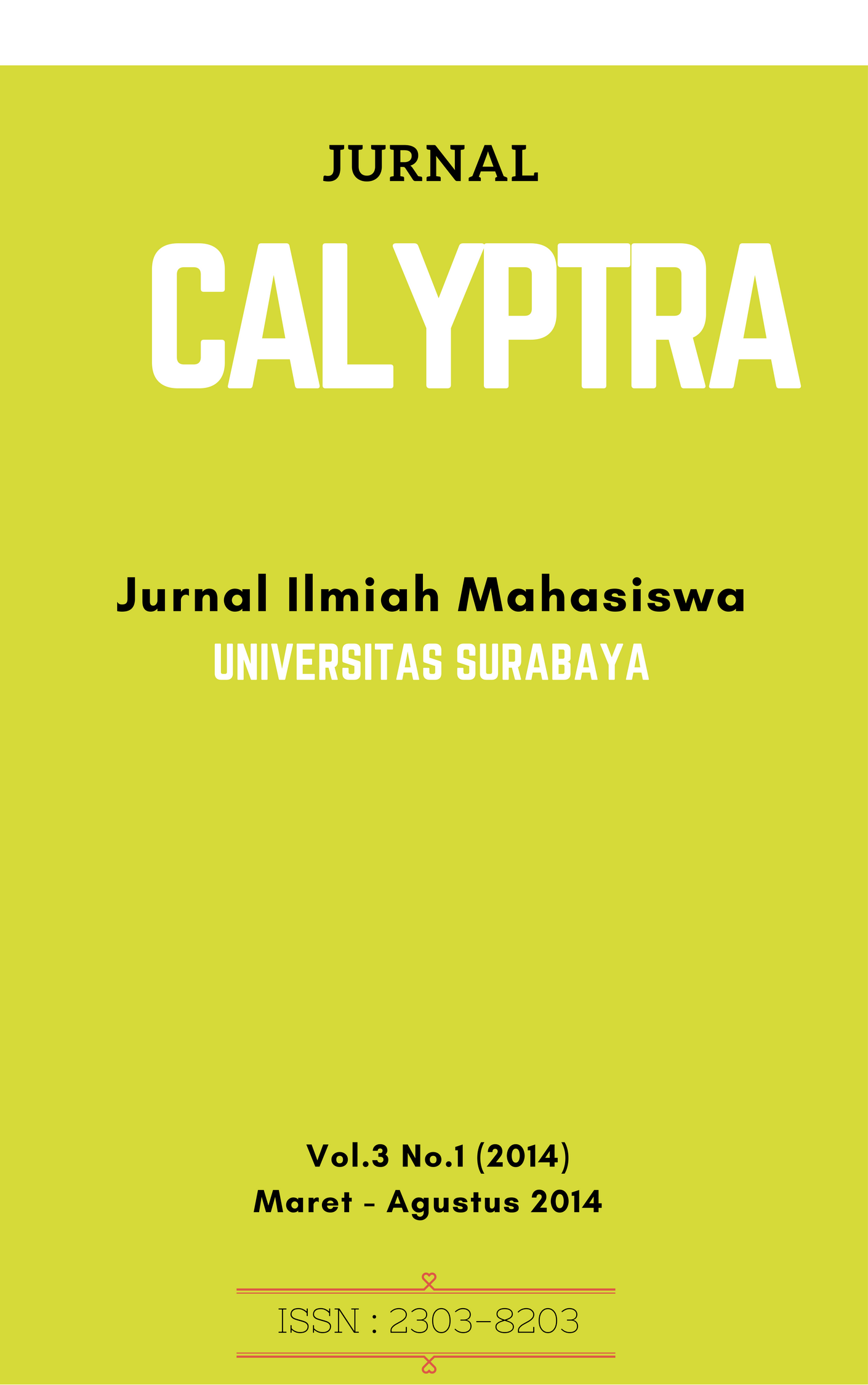 How to Cite
PUTRI, Pratidina Kartika. SELF-MANAGEMENT ABILITIES UNTUK MENINGKATKAN SUBJECTIVE WELL-BEING PEREMPUAN LANJUT USIA DI PANTI WERDA.
CALYPTRA
, [S.l.], v. 3, n. 1, p. Hal. 1 - 14, mar. 2014. ISSN 2302-8203. Available at: <
http://journal.ubaya.ac.id/index.php/jimus/article/view/1664
>. Date accessed: 28 may 2020.
Section
Bidang Magister Psikologi (MPSI)