STUDI DESKRIPTIF DISONANSI KOGNITIF PADA MAHASISWA TERHADAP PERILAKU GOLPUT PADA PEMILIHAN CAGUB-CAWAGUB JAWA TIMUR PERIODE 2014-2019
Moriska Kartika Triana

Fakultas Psikologi Universitas Surabaya
Abstract
Pemilu di Indonesia selalu diwarnai oleh pemilih yang tidak memberikat suaranya atau disebut juga golput (golongan putih). Meningkatnya angka golput dari tahun ke tahun dikarenakan adanya beberapa alasan (administratif, teknis dan politis). Alasan politis menjadi alasan yang mendominasi pada pemilih. Dalam penelitian Mullaithan dan Washington (2007) disebutkan bahwa disonansi kognitif dalam memprediksi perilaku memilih warga terhadap pemilu. Disonansi kognitif adalah keadaan dimana seseorang merasakan adanya kejanggalan antara dua atau lebih hal di dalam kognisinya sehingga menimbulkan dorongan untuk meredam kejanggalan tersebut. Subjek dalam penelitian ini adalah 300 mahasiswa dari 6 universitas di Surabaya yang diambil dengan teknik accidental purposive sampling. Hasil penelitian menunjukkan bahwa terdapat 4 kategori disonansi kognitif yaitu sangat rendah (N=27), rendah (N=177), sedang (N= 80) dan tinggi (N=16). Semakin tinggi disonansi kognitif maka semakin banyak hal yang dijadikan pertimbangan dalam memilih. Semakin rendah disonansi kognitif maka semakin sedikit hal yang dijadikan pertimbangan dalam memilih. 
Downloads
Download data is not yet available.
References
Ambarsari, R. (2009). Antara golput dan kearifan berdemokrasi pada pemilu 2009 dalam suatu tinjauan filosofis. Jurnal Konsititusi Pusat Kajian Konstitusi Universitas Kanjuruhan Malang Volume II Nomor 1, Juni 2009, 127-149.

Arianto, B. (2011). Analisis penyebab masyarakat tidak memilih dalam pemilu. Jurnal Ilmu Politik dan Ilmu Pemerintahan, Vol 1, No. 1, 2011, 51-60.

Azwar, S. (2009). Reliabilitas dan Validitas (3th ed.). Yogyakarta: Pustaka Pelajar.

Baldassari, D. & Schadee, H. (2005). Voter heuristics and political cognition in Italy: An empirical typology. Elsevier Electoral Studies.

Chabrak, N. & Craig, R. (2010). Student imaginings, cognitive dissonance and critical thinking. Elsevier Critical Perspective on Accounting Journal 24 (2012) 91-104.

Cooper, J. & Worchel, S. (1983). Understanding social psychology 3rd edition. California, United States of America. The Dorsey Press.

Dwiyana, T. (2009). Analisis Faktor Penyebab Perilaku Golput pada Mahasiswa dalam Pilkada Jawa Timur Periode 2008-2013. Skripsi S-1. Surabaya, Universitas Surabaya, tidak diterbitkan.

Fiske, S. T. & Taylor, S. E. (2008). Social cognition 2nd edition. New York, United States of America. McGraw-Hill.

Fontanari, J. F. et al. (2010). A structural model of emotions of cognitive dissonances. Elsevier Neural Networks Journal 32 (2012) 57-64.

Gorecki, M. A. (2011). Electoral context, habit formation and voter turnout: A new analysis. Elsevier Electoral Studies 32 (2013) 140-152.

Komisi Pemilihan Umum (2009). Data Statistik Komisi Pemilihan Umum tahun 1971-1999. Diunduh dari http:/www.kpu.go.id

McGregor, R. M. (2012). Cognitive dissonance and political attitudes: The case of Canada. The Social Science Journal Elsevier Journal xxx (2013) xxx-xxx.

Mullainathan, S. & Washingthon, E. (2007). Sticking With Your Vote : Cognitive Dissonance and Political Attitudes. Harvard University & Yale University.

Panagopoulos, C. (2010). Social pressure, surveillance and community size: Evidence experiments on voter turnout. Elsevier Electoral Studies.

Reitan, T. C. (2003). Too sick to vote? Public health and voter turnout in Russia during the 1990s. Pergamon Communist and Post-Communist Studies 36 (2003) 49-68.

Sarwono, S. W. (1999). Psikologi sosial: individu dan teori-teori psikologi sosial (cetakan kedua). Balai Pustaka: Jakarta

Southwell, P. L. (2003). The politics of alienation: nonvoting and support for third-party candidates among 18-30-year-olds. Pergamon The Social Science Journal 40 (2003) 99-107.

Sukriono, D. (2009). Menggagas sistem pemilihan umum di Indonesia. Jurnal Konstitusi Kajian Konstitusi Universitas Kanjuruhan Malang Volume II Nomor 1, Juni 2009, 7-36.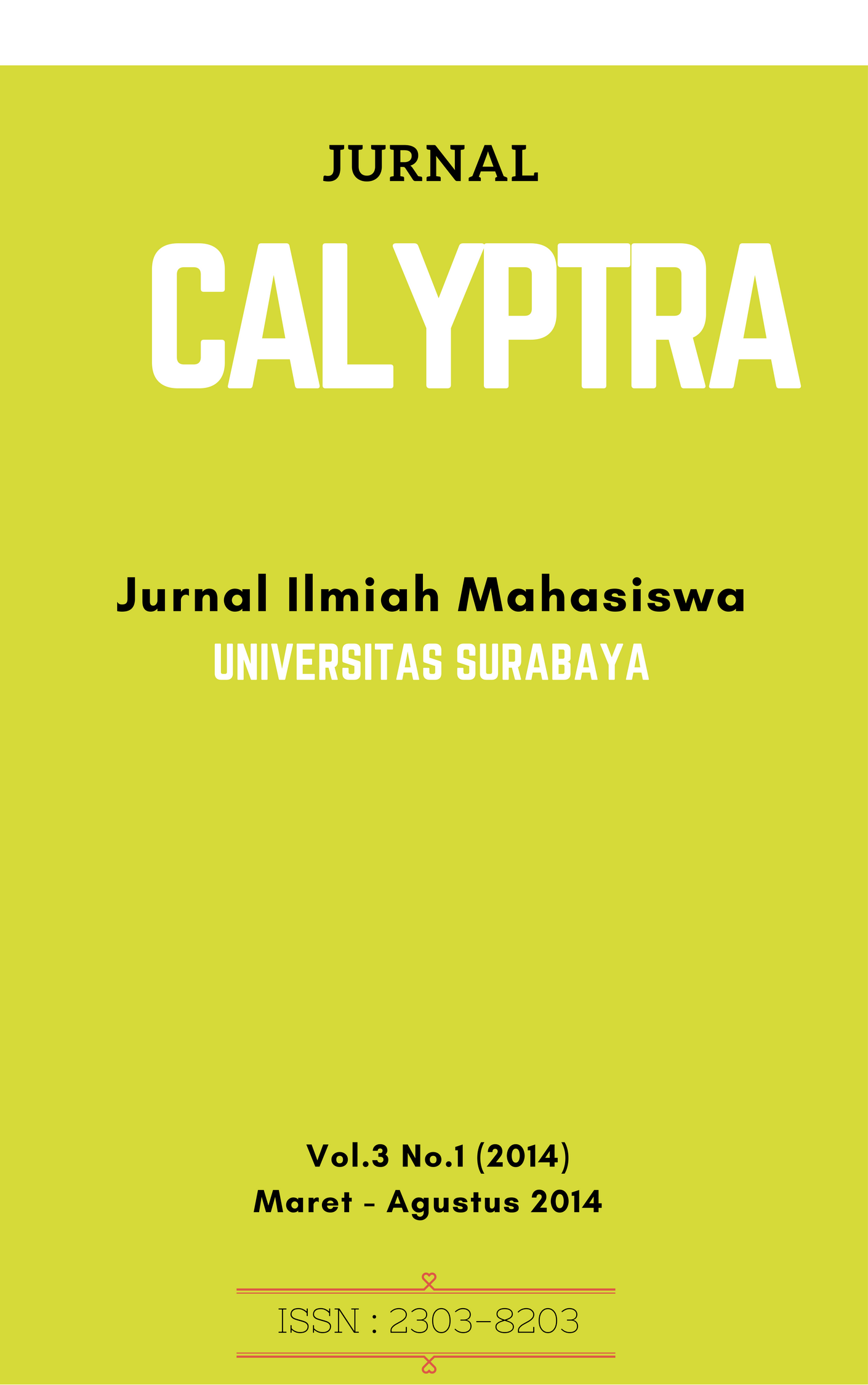 How to Cite
TRIANA, Moriska Kartika. STUDI DESKRIPTIF DISONANSI KOGNITIF PADA MAHASISWA TERHADAP PERILAKU GOLPUT PADA PEMILIHAN CAGUB-CAWAGUB JAWA TIMUR PERIODE 2014-2019.
CALYPTRA
, [S.l.], v. 3, n. 1, p. Hal. 1 - 7, mar. 2014. ISSN 2302-8203. Available at: <
http://journal.ubaya.ac.id/index.php/jimus/article/view/1740
>. Date accessed: 28 may 2020.
Section
Bidang Psikologi (S)