PENGARUH PERSONALIZATION TERHADAP INTENTION TO PURCHASE MELALUI EMOTIONS KONSUMEN E-TICKETING AIR ASIA DI SURABAYA
Alfred Tanoyo

Jurusan Manajemen Fakultas Bisnis dan Ekonomika Universitas Surabaya
Abstract
Penelitian ini bertujuan untuk mengetahui dan menganalisis pengaruh personalization terhadap intention to purchase melalui emotions konsumen e-ticketing Air Asia di Surabaya, Indonesia. Pengolahan data dilakukan dengan menggunakan Structural Equation Modeling (SEM) dengan software LISREL 8.70. Teknik pengambilan sampel yang digunakan adalah non probability sampling dengan jenis purposive sampling. Data diperoleh secara langsung dari responden yang memenuhi karakteristik populasi yang ditentukan dengan menyebarkan kuesioner. Jumlah sampel yang digunakan dalam penelitian ini adalah 120 responden. Hasil penelitian ini menunjukkan adanya pengaruh personalization terhadap positive emotions, positive emotions terhadap intention to purchase, dan negative emotions terhadap intention to purchase. Pengaruh personalization terhadap negative emotions dan personalization terhadap intention to purchase dinyatakan tidak terdukung.
Downloads
Download data is not yet available.
References
Adolphs C. & Winkelmann A. 2010. Personalization Research In E-Commerce-A State Of The Art Review (2000-2008). Journal of Electronis Commerce Research, Vol. 11, No. 4, 2010: 326-341.

Anggraeni D. et al. 2014. Keterkaitan Atmospheric, Joy, dan Customer Loyalty Pengunjung Trans Studio Bandung. Jurnal Manajemen dan Kewirausahaan, Vol. 16, No. 2, September 2014: 163-174.

Bagozzi R. et al. 1999. The Role Of Emotions In Marketing. Journal of The Academy of Marketing Science, Vol. 27, No. 2, pages 184-206.

Fairchild A. et al. 2009. R² Effect-Size Measures For Mediation Analysis. Behavior Research Methods 2009, 41(2), 486-498.

Hair et al. 1998. Multivariate Data Analysis (5tℎ ed.). New Jersey: Pearson Prentice Hall.

Indriantoro N. & Supomo B. 1999. Metodologi Penelitian Bisnis Untuk Akuntasi dan Manajemen, BPFE Yogyakarta.

Latan, Hengky. 2012. Structural Equation Modeling Konsep dan Aplikasi Menggunakan Program LISREL 8.80, Alfabeta, Bandung.

Pappas I. et al. 2014. Shiny Happy People Buying: The Role Of Emotions On Personalized E-Shopping.

Rangkuti, Freddy. 1997. Riset Pemasaran.

Sam M. and Tahir M. 2009. Website Quality and Consumer Online Purchase Intention Of Air Ticket. International Journal of Basic & Applied Sciences IJBAS-IJENS, Vol. 9, No. 10.

Tariq M. et al. 2013. Customer Perceptions About Branding and Purchase Intention: A Study Of FMCG In An Emerging Market. Journal of Basic and Applied Scientific Research, 3(2) 340-347, 2013.

Yin-fah B. et al. 2013. An Exploratory Of Airline E-Ticket Purchasing Intention Among Foreign Undergraduates In Malaysia. Journal Of Human and Scoial Science Research, Vol. 1, No. 1(2013), 51-61.

Zikmund, W. G., Babin, B. J., Carr, J. C., & Griffin, M. 2009. Business Research Methods (8th ed.). Cengage Learning. ISBN 10: 1439080674 / 1-4390-8067-4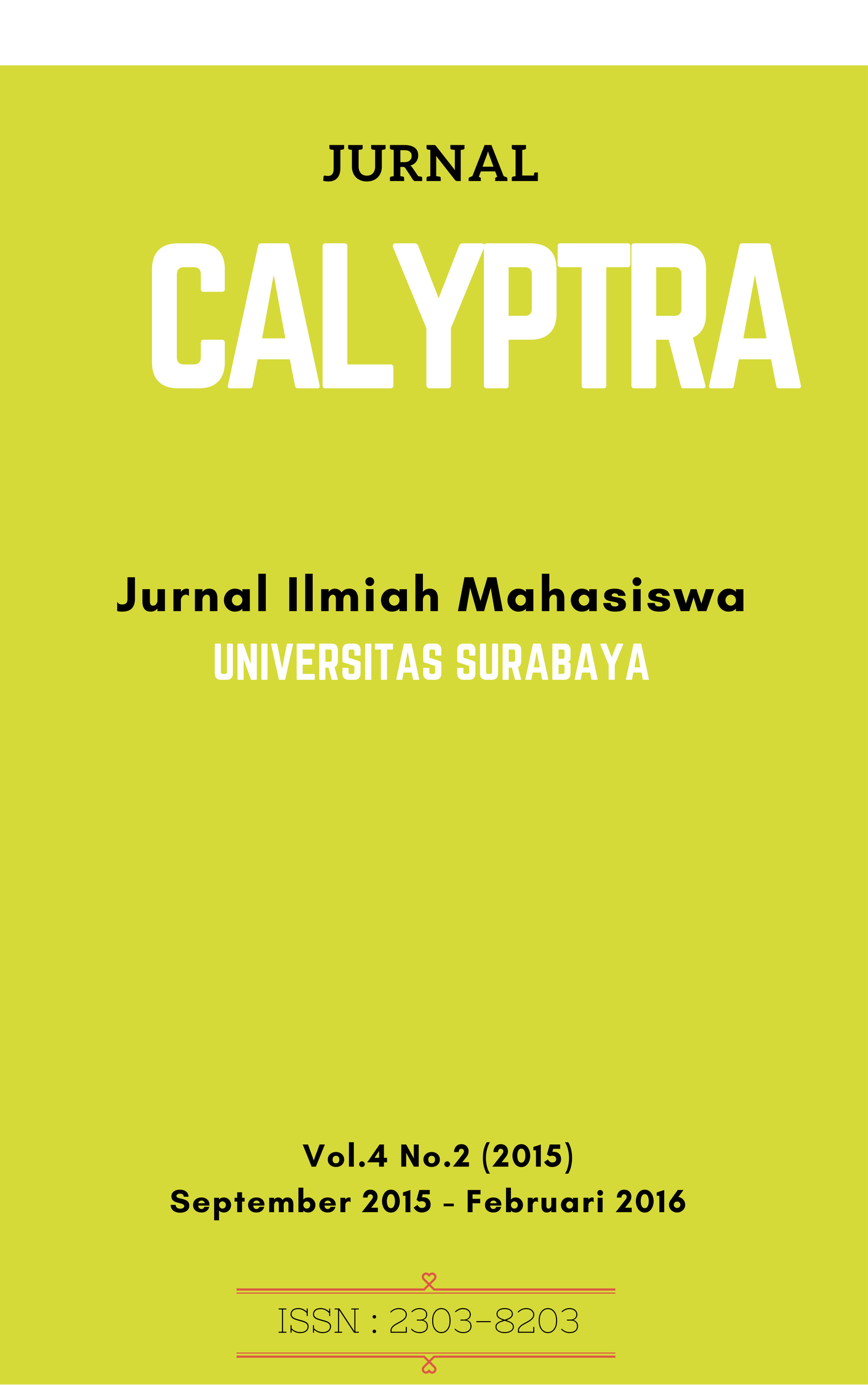 How to Cite
TANOYO, Alfred. PENGARUH PERSONALIZATION TERHADAP INTENTION TO PURCHASE MELALUI EMOTIONS KONSUMEN E-TICKETING AIR ASIA DI SURABAYA.
CALYPTRA
, [S.l.], v. 4, n. 2, p. Hal. 1 - 15, sep. 2015. ISSN 2302-8203. Available at: <
http://journal.ubaya.ac.id/index.php/jimus/article/view/2123
>. Date accessed: 11 nov. 2019.
Section
Bidang Manajemen (M)