MPLEMENTASI PENGENDALIAN KUALITAS DENGAN METODE STATISTIK PADA PABRIK SPAREPARTS CV VICTORY METALLURGY SIDOARJO
Santoni Darmawan Tanjong

Manajemen / Fakultas Bisnis dan Ekonomika Universitas Surabaya
Abstract
Spareparts industry is an industry with good prospects today, so it can generate a very large profit. The fact is the growing sales of motorcycles in 2012. Quality is a very important factor for the survival of the company. Consumers will evaluate the quality of a company based on the quality of the goods or services offered. So we can say that the products or services provided to the consumer is a reflection of the company itself. Because this study was done to implement the method for quality control in "Victory CV Metallurgy" to improve the quality of their products. Statistical tools used in this study are: Check Sheet, Pareto Diagram, Cause and Effect Diagram, Full Map and Table FMEA (Failure Mode Effect Analysis). The results showed that there are still defects in the brake pedal, the rear footstep, and handlebar steer the company exceeds tolerance limits. Pareto diagrams are used to determine the number of defects that affect the company's production process. The production process is well within control. Then made a causal diagram to determine the actual root of the problem and the root note of the most prominent issues in human resources. After that "CV Victory Metallurgy" using Failure Mode Effect Analysis to address the disability that occurs with prioritizing repairs
Downloads
Download data is not yet available.
References
Alisjahbana, Juita. 2005. "Evaluasi Pengendalian Kualitas Total Produk Pakaian Wanita Pada Perusahaan Konveksi." Jurnal Ventura, Vol. 8, No. 1, April 2005.

Gasperz, Vincent. 2005. Total Quality Management. Jakarta. Penerbit: PT. Gramedia Pustaka Utama.

Hatani, La. 2008. "Manajemen Pengendalian Mutu Produksi Roti Melalui Pendekatan Statistical Quality Control (SQC)." Diunduh 12 Maret 2012, dari www.google.com/Jurusan Manajemen FE Unhalu.

Heizer, Jay and Barry Render. 2006. Operations Management (Manajemen Operasi). Jakarta : Salemba Empat.

Juran, Joseph. 2005. Total Quality Management Jakarta. Penerbit: Rineka Cipta

Kholil, Muhammad dan A. Cahyono. 2006. "Usulan Perbaikan Kualitas Dengan Metode SPC Untuk Mengurangi Cacat Bending Part Scale PF Pada Proses Injection Pada Produk Plastic Departement PT. Indonesia Epson Industry." Buletin Penelitian No. 10 Tahun 2006.

Prawirosentono, Suyadi. 2007. Filosofi Baru Tentang Manajemen Mutu Terpadu Abad 21 "Kiat Membangun Bisnis Kompetitif". Jakarta: Bumi Aksara.

Mitra, Amitava. 1993. Fundamentals of Quality and Improvement. Penerbit Mac Millan

Mongomery, Douglas C. 2001. Introduction to Statistical Quality Control. 4th Edition. New York : John Wiley & Sons, Inc.

Nasution, M. N. 2005. Manajemen Mutu Terpadu. Bogor : Gahlia Indonesia.

Rath & Strong. 2005. Six sigma advance Tools Pocket Guide. Yogyakarta. Penerbit: Andi

Sarin, Rakesh K. dan Buffa, Elwood S. 1999. Manajemen Operasi&Produksi Modern. Penerbit: Binarupa Aksara

Ramsey, Patricia P. and Levine, David M. 1994 Business for Quality and Productivity Pretices Hall International. Penerbit International Encyclopedia

Richard B. Chase, Nicholas J. Aquilano and F. Robert Jacobs. 2001. Operations Management For Competitive Advantage. 9th Edition. New York : Mc Graw-Hill Companies.

http://etd.eprints.ums.ac.id/10847/4/Bab_1_Dafpus.pdf

http://www.tribunnews.com/2010/12/22/rei-pertumbuhan-rumah-2011-naik-15-persen

http://forum.detik.com/hebat-pertumbuhan-properti-di-jawa-timur-tinggi-berkat-dukungan-pemda-t506719.html

http://id.wikipedia.org/wiki/Globalisasi

http://journal.uii.ac.id/index.php/JSB/article/view/975/884

http://repository.usu.ac.id/bitstream/123456789/31807/5Chapter%20I.pdf)

http://pena.gunadarma.ac.id/wp-content/uploads/2012/07/Data-5-tahun-terakhir.jpg

http://www.indospring.co.id/index.php/in/profilperusahaan/sertifikasi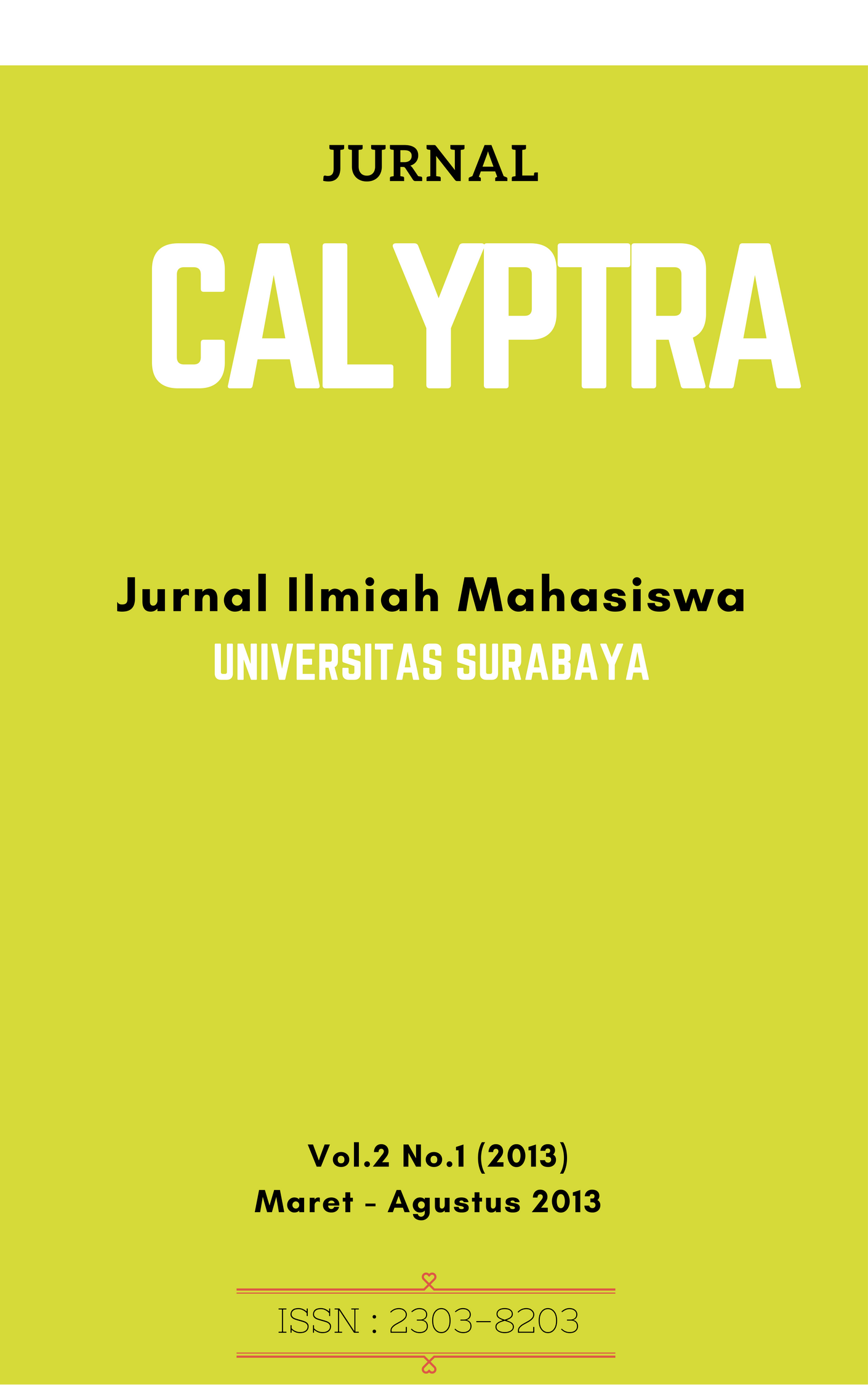 How to Cite
TANJONG, Santoni Darmawan. MPLEMENTASI PENGENDALIAN KUALITAS DENGAN METODE STATISTIK PADA PABRIK SPAREPARTS CV VICTORY METALLURGY SIDOARJO.
CALYPTRA
, [S.l.], v. 2, n. 1, p. Hal. 1 - 13, mar. 2013. ISSN 2302-8203. Available at: <
http://journal.ubaya.ac.id/index.php/jimus/article/view/359
>. Date accessed: 24 may 2020.
Section
Bidang Manajemen (M)