STUDI PENGGUNAAN ANTIBIOTIK TANPA RESEP DI KABUPATEN MANGGARAI DAN MANGGARAI BARAT – NTT
Beatrix Anna Maria Fernandez

Fakultas Farmasi Universitas Surabaya
Abstract
Penggunaan antibiotik yang relatif tinggi menimbulkan beragam masalah dan merupakan ancaman global bagi kesehatan terutama dalam hal resistensi antibiotik. Selain berdampak pada morbiditas dan mortalitas, juga memberi dampak negatif terhadap ekonomi dan sosial yang sangat tinggi. Tujuan penelitian ini untuk menengetahui penggunaan antibiotik tanpa resep dokter di Kabupaten Manggarai dan Manggarai Barat. Penelitian ini bersifat non eksperimental dengan pengambilan sampel secara purposive menggunakan quota sampling. Data yang dianalisis meliputi tingkat kesadaran terhadap penggunaan antibiotik dan perilaku yang mempengaruhi penggunaan antibiotik tanpa resep dokter. Dari hasil penelitian didapatkan semua pasien (108 pasien) cenderung pernah menggunakan antibiotik tanpa resep dokter dan tingkat kesadaran pasien masih rendah. Perilaku pasien terkait penggunaan antibiotik tanpa resep dokter: Antibiotik yang paling sering dibeli dalam pelayanan tanpa resep dokter adalah Amoxicillin, jenis penyakit yang mayoritas diobati pasien dengan antibiotik adalah gejala flu, alasan pasien dalam menggunakan antibiotik tanpa resep adalah karena penggunaan antibiotik terdahulu memberikan hasil yang baik. Sedangkan ditinjau dari segi biaya 55.56% pasien (60 pasien) menjawab uang bukan masalah namun 44.44% (48 pasien) menjawab karena masalah keuangan. Dari 60 pasien yang menjawab uang bukan masalah, 73.33% (44 pasien) diantaranya menjawab pengobatan terdahulu memberikan hasil yang baik sehingga bila digunakan untuk penyakit yang serupa hasilnya sama.
Downloads
Download data is not yet available.
References
Abdul MZ, Hajjaj A, 2005, Utilitation of Antibiotics in Nablus City-Palestina Pharmaco-epidemiological Study, An-Najah National University Faculty of Graduate Studies.

Abdulhak AAB, Tannir MAA, Almansor MA, et al., 2011, Non prescribed sale of antibiotics in Riyadh, Saudi Arabia: A Cross Sectional Study, BMC Public Health, 11:538

Al-Azzam SI, Al-Husein BA, Alzubi F, Masadeh MM et all., 2007. Selfmedication with antibiotics in Jordanian population. Int. J. Occup. Med. Environ. Health, 20: 373-380.

Al-Bakri AG, Bustanji Y and Yousef AM, 2005. Community consumption of antibacterial drugs within the Jordanian population: Sources, patterns and appropriateness. Int. J. Antimicrob. Agents, 26: 389-395.

Aslam M, Tan CK, Prayitno A, dkk, 2003, Farmasi Klinis (Clinical Pharmacy): Menuju Pengobatan Rasional dan Penghargaan Pilihan Pasien, PT.Elex Media Kompotindo, Jakarta.

DiazGranadoz CA, Cardo DM, McGowan JE, 2008, Antimicrobial resistance: international control strategies, with a focus on limited-resource settings,Int. Antimicroba Agents, 32:1-9

Lwangga SK and Lameshow S, 1991, Sample Size Determination in Health Studies, Word Health Organization, Geneva.

Llor C, Cost JM, 2009, The Sale of Antibiotics without Prescription in pharmacies in Catalonia, Spain.

Peraturan Mentri Kesehatan Republik Indonesia Nomor 2406/MENKES/PER/XII/2011 tentang Pedoman Umum Penggunaan Antibiotika

Reeves D, 2007, The 2005 Garrod lecture: The Changing Acces of Patients to Antibiotics-for better worse. J. Antimicrob. Chemother., 59:333-341.

Undang-Undang Obat Keras St. No.419 tgl 22 Desember 1949. Direktorat Jendral Pelayanan Kefarmasian dan Alat Kesetan. Jakarta http://www.muhlis_apt.com/mylife/UU_kesehatan/image_177_1_UU_OBATKARAS.Pdf.

Volpato DE, De Souza BV, Dalla Rosa LG et all., 2005. Use of antibiotics without medical prescription. Braz. J. Infect. Dis., 9: 288-291.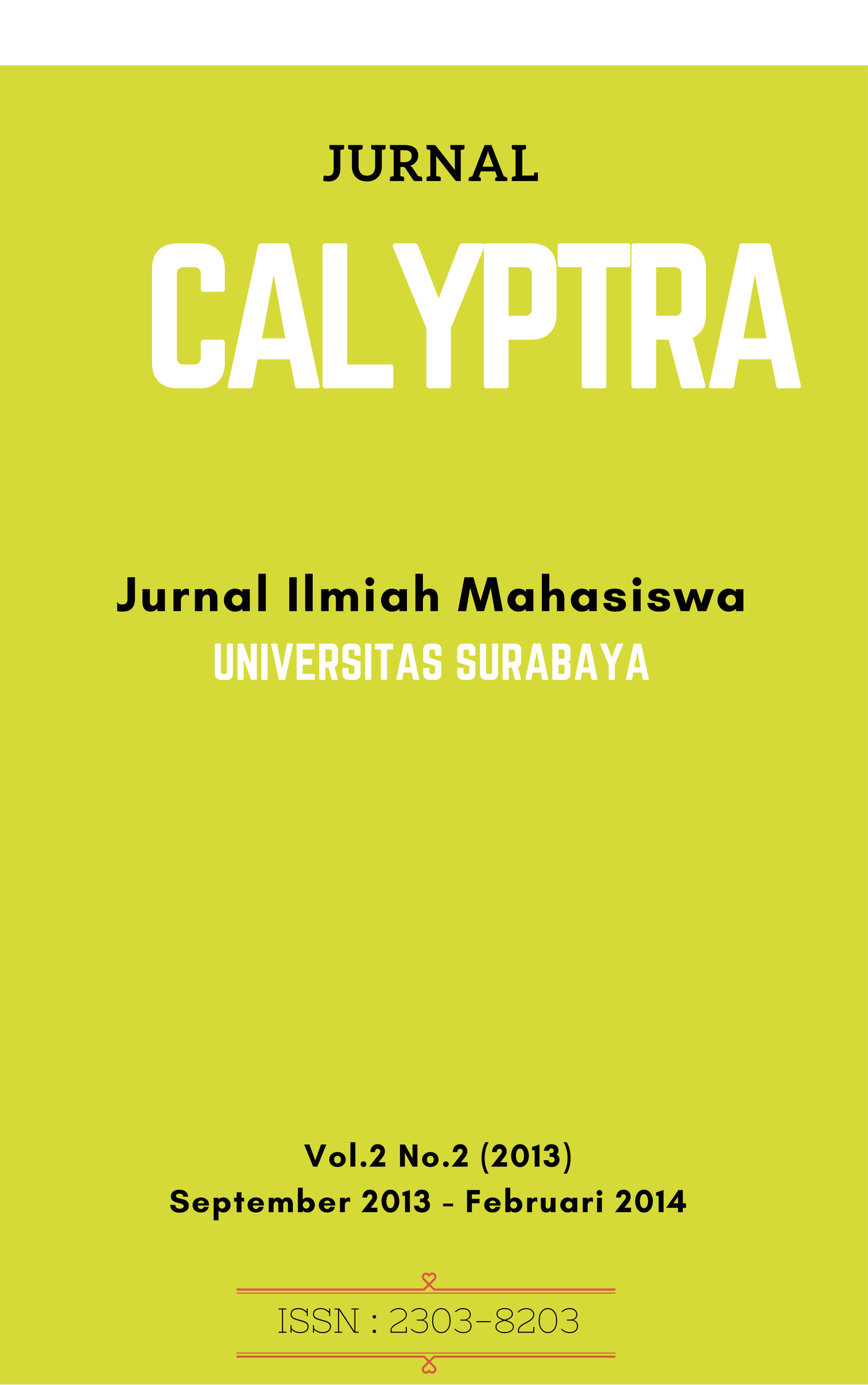 How to Cite
FERNANDEZ, Beatrix Anna Maria. STUDI PENGGUNAAN ANTIBIOTIK TANPA RESEP DI KABUPATEN MANGGARAI DAN MANGGARAI BARAT – NTT.
CALYPTRA
, [S.l.], v. 2, n. 2, p. Hal. 1 - 17, sep. 2013. ISSN 2302-8203. Available at: <
http://journal.ubaya.ac.id/index.php/jimus/article/view/556
>. Date accessed: 21 oct. 2018.
Section
Bidang Farmasi (F)