EVALUASI SISTEM PENGENDALIAN MANAJEMEN DALAM KERANGKA MANAGEMENT CONTROL SYSTEM PACKAGE UNTUK MENINGKATKAN KUALITAS LAYANAN STUDI KASUS: UD. "ABC" DI SURABAYA
Lisa Mardelina Sugiharta

Jurusan Akuntansi Fakultas Bisnis dan Ekonomika Universitas Surabaya

Imanuel Goestaman

Jurusan Akuntansi Fakultas Bisnis dan Ekonomika Universitas Surabaya
Abstract
Penelitian ini bertujuan untuk mengetahui apakah perusahaan distribusi aluminium yang hanya memiliki sistem pengukuran kinerja secara financial saja dan tidak adanya jenis pengukuran lain baik terhadap komplain pelanggan sudah cukup memuaskan bagi perusahaan dan pelanggan. Dalam kerangka value chain, perusahaan yang bergerak dalam bidang distribusi barang memiliki peran yang penting dalam external linkage. Sehingga penting bagi perusahaan untuk memperhatikan kualitas layanan yang diberikan kepada pelanggan. Suatu kualitas layanan dikatakan baik apabila memiliki faktor pendukung yang baik pula, yaitu seperti dari segi karyawan, sistem perusahaan dan pihak eksternal lainnya. Sistem pengukuran kinerja hanyalah salah satu sistem kontrol dan diselidiki secara keseluruhan dalam kerangka management control system package. UD. "ABC" di Surabaya yang bergerak di bidang distribusi aluminium mengalami permasalahan yaitu adanya komplain pelanggan yang terkait dengan ketersediaan informasi yang diberikan, jenis dan jumlah barang yang dikirim, dan keterlambatan pengiriman barang. Timbulnya permasalahan ini dipengaruhi oleh bentuk sistem pengendalian manajemen yang diterapkan oleh perusahaan dan pihak eksternal yang terkait dalam proses bisnis perusahaan yaitu pihak ekspedisi dan pabrik aluminium, di mana permasalahan ini dapat mempengaruhi going concern perusahaan. Permasalahan UD. "ABC" ini dapat diatasi dengan melakukan perbaikan terhadap sistem pengendalian manajemen perusahaan, selain itu UD. "ABC" juga perlu untuk memperhatikan dimensi kualitas layanan logistik pada Physical Distribution Service Quality (PDSQ). 
Downloads
Download data is not yet available.
References
Anthony, R. N., dan V. Govindarajan. 2007. Management Control Systems Twelfth Edition. Mc Graw Hill: New York.

Bienstock, Mentzer, and Bird. 1997. Journal of Marketing:Logistics Service Quality as a Segment-Customized Process. John T. Mentzer, Daniel J. Flint, and G. Tomas M. Hult, Vol.65 (October 2001), p. 82-104, 2001.

Bisnis, 2013, Inilah 8 Hal Penting Memuaskan Pelanggan, diakses 19 Mei 2013 pada http://www.bisnis.com/m/inilah-8-hal-penting-memuaskan-pelanggan

Conor, Munoz & Chan. 2011. Competitive Forces And The Importance Of Management Control Systems In Emerging-Economy Firms: The Moderating Effect Of International Market Orientation. Accounting, Organizations and Society 36 (2011) 246–266.

Gi du, Kang & Yong Duk, Kim. 2009. An Analysis of the Measurement of the Shipping Service Quality. The Asian Journal Of Shipping And Logistic Vol. 25 No. 1.

Investor Online, 2012, Krisis Global Turunkan Permintaan Aluminium, diakses 17 Mei 2013 pada http://www.investor.co.id/energy/krisis-global-turunkan-permintaan-aluminium/36256

Johnston. 1995. The Determinants Of Service Quality: Satisfiers And Dissatisfiers. International Journal of Service Industry Management, Vol. 6 No. 5, 1995, pp. 53-71.

Kaplan, Robert S., And David P. Norton. 2000. The Strategic Focused Organization: How Balanced Scorecard Companies Thrive In The New Business Environment. Boston, Massachusetts: Harvard Business School Press.

Koran Jitu, 2013, Bisnis Properti Tahun 2013 Tetap Booming Selama BI Rate 1 digit, diakses 19 Mei 2013 pada http://koranjitu.com/lifestyle.detail/7247/
Bisnis.Properti.Tahun.2013.
Tetap.Booming.Selama.BI.Rate.1.digit

Malmi, T., dan D.A. Brown. 2008. Management Control Systems as A Package - Opportunities, Challenges and Research Directions. Management Accounting Research 19 (2008).

Merchant, K.A., dan W.A. Van der Stede. 2007. Management Control Systems: Performance Measurement, Evaluation, and Incentives. 2nd edition. Prentice Hall: UK.

Molden, Andrea & Hongman, Maria. 2011. Employee Performance Measurement Systems and their Links to the Management Control System Package. Stockholm School of Economics Department of Accounting and Financial Management.

Nasution. 2010. Manajemen Mutu Terpadu:Total Quality Managemen. Edisi 2. Jakarta:Ghalia Indonesia.

Vincent dan Goestman. 2013. Bagaimana Peran Gaya Kepemimpinan Terhadap Implementasi SPM Perspektif (Malmi & Brown). Calyptra:Jurnal Ilmiah Mahasiswa Universitas Surabaya Vol.2 No.1 (2013).

Zairi, Mohamed. 2010. Becoming World Class Through A Culture Of Measurement. European Centre for TQM Management Centre.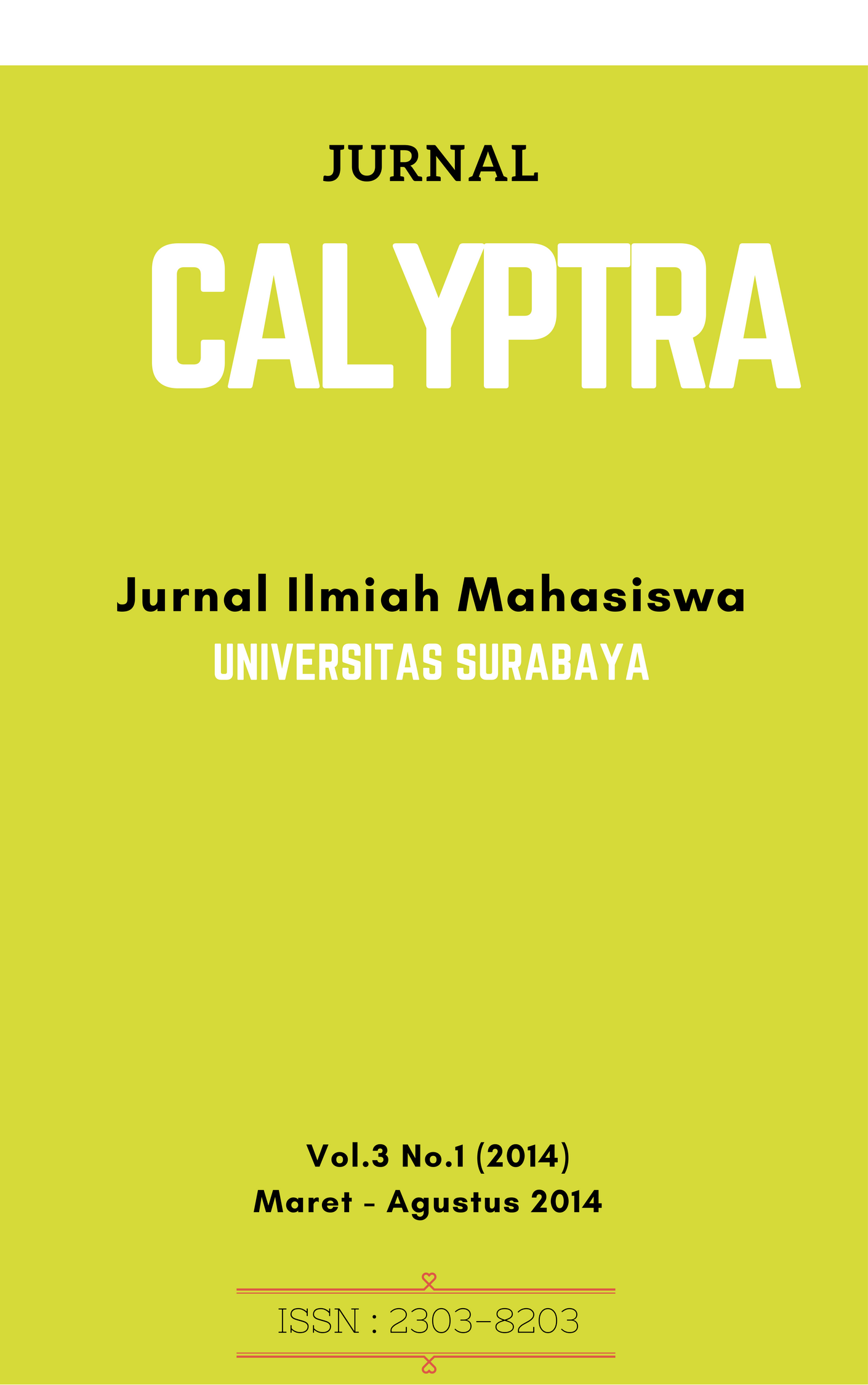 How to Cite
SUGIHARTA, Lisa Mardelina; GOESTAMAN, Imanuel. EVALUASI SISTEM PENGENDALIAN MANAJEMEN DALAM KERANGKA MANAGEMENT CONTROL SYSTEM PACKAGE UNTUK MENINGKATKAN KUALITAS LAYANAN STUDI KASUS: UD. "ABC" DI SURABAYA.
CALYPTRA
, [S.l.], v. 3, n. 1, p. Hal. 1 - 19, mar. 2014. ISSN 2302-8203. Available at: <
http://journal.ubaya.ac.id/index.php/jimus/article/view/840
>. Date accessed: 21 july 2019.
Section
Bidang Akuntansi (AK)