ANALISIS PERBANDINGAN PELAPORAN DAN DESAIN PROGRAM CORPORATE SOCIAL RESPONSIBILITY: STUDI CONTENT ANALYSIS PADA SEKTOR TELEKOMUNIKASI DI INDONESIA
Puspita Mustiko Djatmiko

Jurusan Akuntansi Fakultas Bisnis dan Ekonomika Universitas Surabaya

Dianne Frisko

Jurusan Akuntansi Fakultas Bisnis dan Ekonomika Universitas Surabaya

Rizky Eriandani

Jurusan Akuntansi Fakultas Bisnis dan Ekonomika Universitas Surabaya
Abstract
Corporate Social Responsibility (CSR) merupakan suatu  elemen yang penting dalam kerangka sustainability, yang mencakup aspek ekonomi, lingkungan dan sosial budaya. CSR merupakan proses penting dalam pengelolaan biaya dan keuntungan kegiatan bisnis dengan stakeholders baik secara internal maupun eksternal. Sudah banyak perusahaan telekomunikasi di Indonesia yang melaporkan pelaksanaan CSR dan mendesain program CSR.  Faktor-faktor yang mempengaruhi suatu perusahaan untuk melaporkan dan mendesain program CSR-nya pun berbeda-beda. Penelitian ini bertujuan mengetahui lebih dalam perbandingan pelaporan CSR dan desain program CSR pada perusahaan di Indonesia yang bergerak disektor telekomunikasi. Penelitian dilakukan pada tiga perusahaan telekomunikasi di Indonesia yang berbentuk perseroan terbatas tetapi dengan kepemilikan yang berbeda, yaitu PT Telkom, Tbk., PT Indosat, Tbk., dan PT XL Axiata, Tbk. Temuan dari hasil penelitian ini terdapat pada perbedaan fokus program CSR. PT Telkom, Tbk. cenderung berfokus pada program pelestarian lingkungan dan program kemitraan dan bina lingkungan (PKBL), sedangkan PT Indosat, Tbk. berfokus pada program kesehatan dan pendidikan dengan konsep inovasi digital, dan PT XL Axiata, Tbk. fokus program CSR pada pendidikan dan pemberdayaan masyarakat. PT Telkom dan PT XL memisahkan laporan CSR di Laporan Keberlanjutan, sedangkan PT Indosat menggabungkannya didalam Laporan Tahunan.
Downloads
Download data is not yet available.
References
Anggusti, Martono. 2010. Tanggung Jawab Sosial Perusahaan. Bandung : Books Terrace & Library.

Anis Chariri dan Firman A. Nugroho. 2009. Retorika Dalam Pelaporan Corporate Social Responsibility: Analisis Semiotik atas Sustainability Reporting PT Aneka Tambang Tbk. Simposium Nasional Akuntansi XII. Palembang

Anonim. 2013. Tanggung Jawab Sosial Perusahaan Di Indonesia Salah Paham. http://www.tempo.co.id/read/kolom/2013/05/16/720/tanggung-jawab-sosial- perusahaan-di-indonesia-salah-paham (diakses tanggal 16 Juli 2015)

Anonim. 2014. Telkom Kembali Raih Penghargaan Internasional. http://economy.okezone.com/read/2014/06/23/320/1002753/telkom- kembali-raih-penghargaan-internasional (diakses tanggal 30 Juli 2015)

Archie B. Carroll. Corporate Social Responsibility: Evaluation of Definitional Construct. Business & Society, Vol. 38 No. 3. September 1999 268-295. Sage Publication, Inc. 1999. halaman 268

Baker, Mallen. 2010. CSR Definition. http://www.mallenbaker.net/csr/definition.php (diakses tanggal 29 Juli 2015)

Bateman, Thomas S. dan Scott A. Snell. 2008. Manajemen: Kepemimpinan dan kolaborasi dalam Dunia yang kompetitif. Buku I Edisi 7. Penerbit Salemba Empat. Jakarta.

Belkoui, Ahmed. 2002. Teori Akuntansi. Edisi Terjemahan. Erlangga: Jakarta.

Budimanta, Arif. 2002. Corporate Social Responsibility : Realita dan Perkembangan CSR

Chika, et al. 2013. The Effects of Stakeholders on CSR Disclosure: Evidence From Japan. . http://papers.ssrn.com/sol3/papers.cfm?abstract_id=2239469, (diakses tanggal 31 Juli 2015)

Deegan, Craig. 2004. Financial Accounting Theory. Australia: McGraw-Hill.

Efferin, Sujoko & Bonnie, S. 2006. Seni Perang SunZi Dan Sistem Pengendalian Manajemen. Penerbit Elex Media Komputindo, Jakarta.

Elkington, J. 1997. Cannibals with Forks: The Triple Bottom Line of 21st Century Business. Capstone: Oxford.

Fauzi, Hasan. 2007. Institutional Ownership and Corporate Social Performance: Empirical Evidence from Indonesian Companies. Issues in Social and Environmental Accounting Vol. 1, No. 2 December 2007 Pp 334-347.

Freeman, Edward & Moutchnik, Alexander (2013): Stakeholder management and CSR: questions and answers. In: UmweltWirtschaftsForum, Springer Verlag, Bd. 21, Nr.

Freeman, R. Edward. 1989, 'A Stakeholder Theory of the Modern Corporation',dalam L.B.Pincus (ed), Perspectives in Business Ethics, Singapore:McGraw Hill, hlm.171-181.

Global Reporting Initiative (GRI). 2010. Pedoman Laporan Berkelanjutan (GRI-G3). 2000-2006. Versi Bahasa Indonesia. http://www.globalreporting.org (diakses tanggal 18 Mei 2015)

Hanh, Rudiger. 2012. ISO 26000 and the Standardization of Strategic Management Processes for Sustainability and Corporate Social Responsibility. Business Strategy and the Environment, 22(7), 442-455 (doi: 10.1002/bse.1751). http://papers.ssrn.com/sol3/papers.cfm?abstract_id=2094226 (diakses tanggal 13 Agustus 2015).

Hartman, L. P., & DesJardins, J. (2008). Etika Bisnis: Pengambilan Keputusan Untuk Integritas Pribadi dan Tanggung Jawab Sosial. Jakarta: Penerbit Erlangga.

Heslin, Peter A., & Ochoa, Jenna D. 2008. Understanding And Developing Strategic Corporate Social Responsibility. Organizational Dynamics, Vol. 37, No. 2, pp. 125–144. www.sciendirect.com (diakses tanggal 10 Agustus 2015)

Isaksson, Lars., Tim Kiessling, and Michael Harvey. 2014. Corporate social responsibility : Why bother?. Organizational Dynamics, Volume 43, Issue 1, January–March 2014, Pages 64-72. www.sciencedirect.com (diakses tanggal 10 Agustus 2015).

Kim, Yeonsoo. 2014. Strategic communication of corporate social responsibility (CSR): Effects of stated motives and corporate reputation onstakeholder responses. Public Relations Review, Volume 40, Issue 5, December 2014, Pages 838-840. (diakses tanggal 10 agustus 2015).

Kusniadji, Suherman. 2011. Mengkomunikasikan Program Corporate Social Responsibility Untuk Meningkatkan Citra Perusahaan. Jurnal Komunikasi Universitas Tarumanagara, Tahun III/01/2011 http://journal.tarumanagara.ac.id/index.php/FIKOM/article/viewFile/1140/1232. (diakses tanggal 10 September 2015).

Kusumaningtyas, Putri. 2014. Analisis Perbedaan Program dan Pelaporan Corporate Social Responsibility pada BUMN dan BUMS : Studi Content Analysis Perusahaan Semen di Indonesia.

Lako, Andreas. 2011. Dekonstruksi CSR & reformasi paradigma bisnis & akuntansi. Jakarta: Penerbit Erlangga.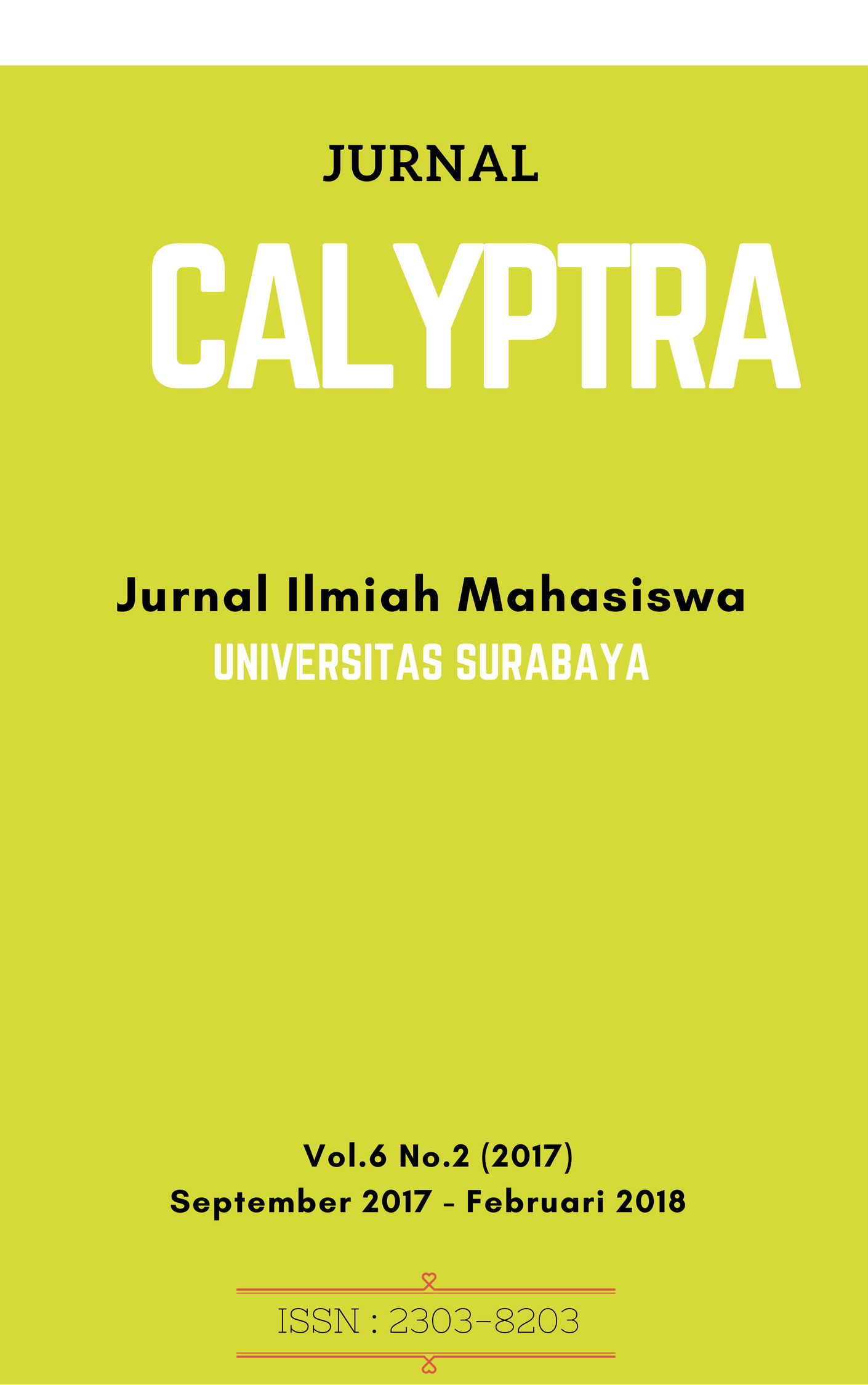 How to Cite
DJATMIKO, Puspita Mustiko; FRISKO, Dianne; ERIANDANI, Rizky. ANALISIS PERBANDINGAN PELAPORAN DAN DESAIN PROGRAM CORPORATE SOCIAL RESPONSIBILITY: STUDI CONTENT ANALYSIS PADA SEKTOR TELEKOMUNIKASI DI INDONESIA.
CALYPTRA
, [S.l.], v. 6, n. 2, p. Hal. 54 - 64, sep. 2017. ISSN 2302-8203. Available at: <
http://journal.ubaya.ac.id/index.php/jimus/article/view/898
>. Date accessed: 22 may 2018.
Section
Bidang Akuntansi (AK)