PERUMUSAN VISI, MISI & VALUE STATEMENT SERTA STANDARISASI PROSES BISNIS PADA PERUSAHAAN BERBASIS BISNIS KELUARGA
Wawan Wongso

Jurusan Magister Psikologi Fakultas Psikologi Universitas Surabaya
Abstract
Perkembangan bisnis keluarga di Indonesis begitu pesat dan luar biasa. Sayangnya tidak banyak dari perusahaan keluarga yang tumbuh, dapat bertahan lintas generasi untuk mempertahankan masa kejayaannya. Beberapa permasalahan yang menonjol salah satunya adalah ketidakmampuan sebuah perusahaan untuk mengatur arah perkembangan perusahaan. Perumusan visi dan misi perusahaan menjadi salah satu hal yang penting dalam mengatur arah perkembangan perusahaan. Perumusan visi dan misi perusahaan tidaklah cukup dan harus diimbangi dengan adanya value statement dari perusahaan untuk mendukung tercapainya visi dan misi perusahaan yang sudah dirumuskan sebelumnya.Visi, misi dan value statement dalam perusahaan menjadi faktor penting dalam memberikan arah perusahaan berkembang. Beberapa kesulitan lainnya adalah menterjemahkan visi dan misi tersebut, sehingga perlu dilakukan standarisasi proses bisnis yang dapat mencapai terwujudnya visi dan misi perusahaan melalui value yang sudah ditetapkan sebelumnya.
Downloads
Download data is not yet available.
References
Amran. N.A,. dan Ahmad., A.C,. (2009). Corporate Governance and Performance: Case of Family and Non-Family Companies in Malaysia. College of Business. Universiti Utara Malaysia. Sintok, Kedah, Malaysia.

Deeds, D.L. and Demirkan,I. (2011). The Impact of Governance Structures on the Choice Between Exploration and Exploitation in Family Enterprises. Working Paper. University of ST. Thomas Minnesota

Harshman, Carl. L. (2006). Mission, Vision, Values : Toward Common Definitions.

http://apindonesia.com/new/index.php?option=com_content&task=view&id=2630&Itemid=46 (Accesed on 26 March 2012)

Kodrat, D.S & Gunawan, L. (2007). Life Cycle of Indonesian Family Business. Surabaya : Economy Faculty of International Business Management Department Ciputra University.

Muenstermann, B., Eckhardt, A. and Weitzel, T. (2009a), ''The performance impact of business process standardization – an empirical evaluation'', Business Process Management Journal, Vol. 16 No. 1, pp. 29-56.

Paisner, Marshall B. 1999. Sustaining The Family Business. Family Business Review.

Senge, P. (1990). The Fifth Discipline: The Art & Practice of The Learning Organization. United States of America

Umar, Husein. (2002). Riset pemasaran dan perilaku konsumen. Cetakan kedua. Gramedia. Pustaka Utama: Jakarta

Weske, Mathias. (2007). Business Process Management: Concepts, Languages, Architectures. ISBN: 978 – 3 – 540 – 73521 - 2 © Springer - Verlag Berlin Heidelberg

Woiceshyn, J., Falkenberg, L. (2008). Value creation in knowledge-based firms: aligning problems and resources. The Academy of Management Perspectives , Volume 22, no. 2, pp. 85-99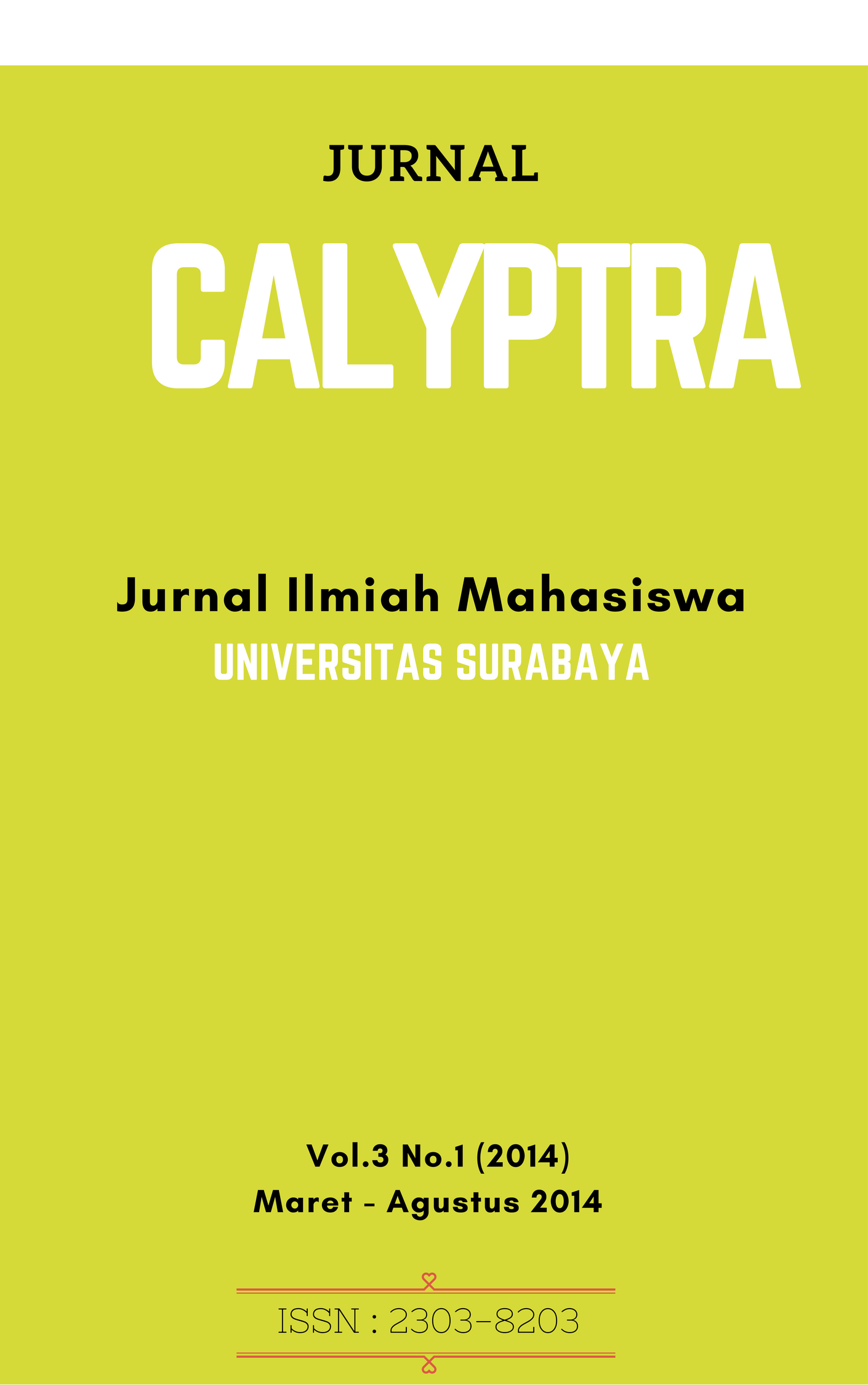 How to Cite
WONGSO, Wawan. PERUMUSAN VISI, MISI & VALUE STATEMENT SERTA STANDARISASI PROSES BISNIS PADA PERUSAHAAN BERBASIS BISNIS KELUARGA.
CALYPTRA
, [S.l.], v. 3, n. 1, p. Hal. 1 - 10, mar. 2014. ISSN 2302-8203. Available at: <
https://journal.ubaya.ac.id/index.php/jimus/article/view/1665
>. Date accessed: 06 june 2020.
Section
Bidang Magister Psikologi (MPSI)