POST IMPLEMENTATION REVIEW PADA INTEGRASI SKILUS PENDAPATAN DENGAN BIDANG AKUNTANSI DI PT. PLN (PERSERO) DISTRIBUSI JAWA TIMUR
Rizka Amelia

Jurusan Akuntansi Fakultas Bisnis dan Ekonomika Universitas Surabaya
Abstract
Penelitian ini betujuan untuk menguji Post-Implementation Review pada siklus pendapatan dan integrasinya di PT. PLN (Persero) Distribusi Jawa Timur. Penelitian ini merupakan applied research yang menggunakan pendekatan kualitatif dengan menggunakan metode semi-structured inquiries untuk memperoleh data dan fakta yang disajikan. Penelitian ini menggunakan data badan usaha tahun 2013. Post-Implementation Review ini bertujuan untuk menilai kesesuaian sistem yang telah diterapkan dengan orientasi perusahaan dan kebutuhan pengguna, sehingga dapat meninjau kelebihan dan kekurangan sistem. Hasil dari penelitian ini ditemukan bahwa PT. PLN (Persero) Distribusi Jawa Timur sebagai rollout unit belum  melakukan tahapan penting dalam Post-Implementation Stage setelah menerapkan SAP untuk proses bisnisnya. Selain itu SAP yang diterapkan belum mengakomodasi departemen niaga selaku departemen pengelola pendapatan badan usaha, adanya kenaikan piutang setelah pengimplementasian Payment Point Online Bank (PPOB), serta hambatan akan rekonsiliasi data pada Departemen Niaga. Sistem SAP yang diterapkan di PT. PLN (Persero) Distribusi Jawa Timur masih belum secara maksimal digunakan terkait kendaladari faktor pengguna.
Downloads
Download data is not yet available.
References
Botta-Genoullaz, V., dan P-A. Millet, 2006, An Investigation Into The Use of ERP Systems In The Service Sector, International Journal of Production Economics, Vol. 99: 202-221.

ERP implementation Life Cycle, www. Ifm.ac.tz/staff/.../ERP/ERP%20Implementation%20lifecycle.ppt, diakses tanggal 16 Agustus 2014

Bradford, Marianne, 2010, Modern ERP, Select, Implement & Use Today's Advanced Business Systems (Chapter 6), 2nd edition.

Hulley, Stephen B., Designing Clinical Research. Lippincott Williams & Wilkins, 2007, p.168-169 dalam http://en.wikipedia.org/wiki/Pilot_experiment diunduh pada 2 Juli 2014

Kartawiria, R., Kamal R.M., dan Johanes, R., 2011, Manfaat dan Penerapan ERP di PT. Garuda Indonesia, http://www.academia.edu/3711122/Manfaat_dan_Penerapan_ERP_di_PT._Garuda_Indonesia

Kumar, K., dan van Hillegersberg, J., 2000, Enterprise Resource Planning Experiences And Evolution, Communications of the ACM, Vol. 43: 22-26.

Monk, E., dan Wagner, B., 2013, Concepts od Enterprise Resource Planning, 4th Edition, Cengage Learning.

Motiq,Nurlaila, 2012, Persepsi Karyawan Bagian Akuntansi Terhadap Penerapan ERP (Enterprise Resource Planning) dalam Pembuatan Laporan Keuangan (Studi Kasus : PT. PLN (Persero) Distribusi Jawa Tengah dan Daerah Istimewa Yogyakarta) .

Nicolaou, Andreas, 2004, Quality Of Postimplementation Review For Enterprise Resource Planning Systems, International Journal of Accounting Information Systems, Vol. 5: 25-49.

Olhager J. dan Seldin E., 2003, Enterprise Resource Planning Survey Of Swedish Manufacturing Firms, European Journal of Operational Research, Vol. 146: 365-373.

Romney, M.B., dan P.J., Steinbart, 2009, Accounting Information Systems, 11th Adition, Pearson Prentice Hall.

Kanellou, A., dan Spathis, C., 2012, Accounting Benefits And Satisfaction In An ERP Environment, International Journal of Accounting Information Systems.

Spathis, C., Constantinides, S., 2004, Enterprise Resource Planning Systems Impact On Accounting Processes, Business Process Management Journal, Vol. 10: 234-247.

Sutton, G. Steve, 2006, Enterprise Systems And The Re-Shaping Of Accounting Systems: A call for research, International Journal of Accounting Information Systems, Vol. 7: 1-6.

Teltumbde, Anand, 2000, A Framework For Evaluating ERP Projects, International Journal of Production Research, Vol. 38 : 4507-4520.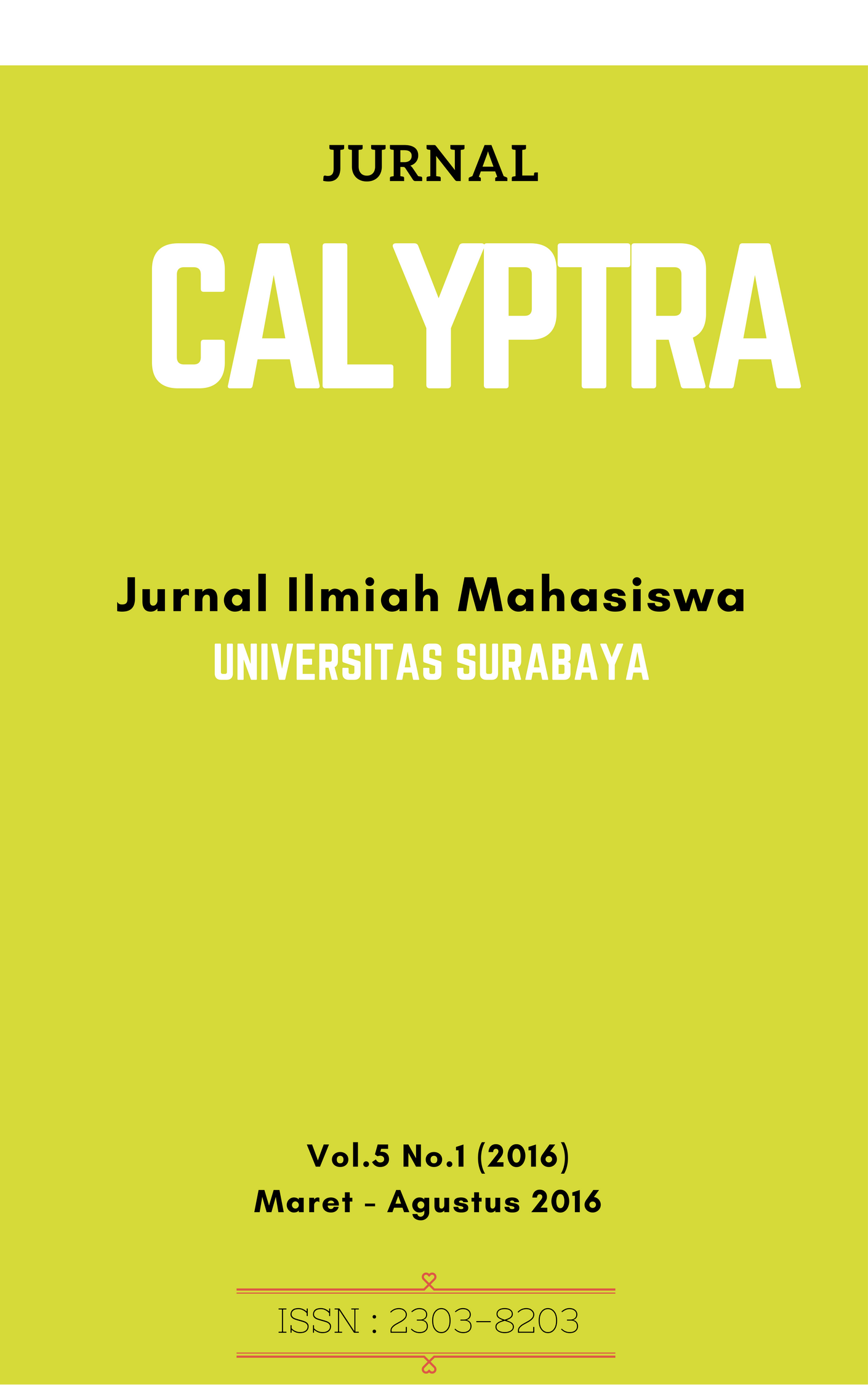 How to Cite
AMELIA, Rizka. POST IMPLEMENTATION REVIEW PADA INTEGRASI SKILUS PENDAPATAN DENGAN BIDANG AKUNTANSI DI PT. PLN (PERSERO) DISTRIBUSI JAWA TIMUR.
CALYPTRA
, [S.l.], v. 5, n. 1, p. Hal. 1 - 6, mar. 2016. ISSN 2302-8203. Available at: <
https://journal.ubaya.ac.id/index.php/jimus/article/view/2476
>. Date accessed: 09 july 2020.
Section
Bidang Akuntansi (AK)