PENGARUH ADOPSI IFRS TERHADAP KUALITAS AKUNTANSI DILIHAT DARI MANAJEMEN LABA DAN KONSERVATISME PADA BADAN USAHA YANG TERDAFTAR DI BEI PERIODE 2009, 2010, 2012 DAN 2013
Evelyn Pranata

Jurusan Akuntansi Fakultas Bisnis dan Ekonomika Universitas Surabaya
Abstract
Konvergensi IFRS didasari atas dua tujuan, pertama adalah kebutuhan akan standar akuntansi yang berkualitas tinggi di seluruh dunia dan kedua adalah kebutuhan akan komparabilitas internasional atas informasi keuangan. Penelitian ini bertujuan untuk mengetahui apakah adopsi IFRS pada Standar Akuntansi Keuangan di Indonesia memberikan dampak pada peningkatan kualitas akuntansi. Indonesia menggunakan pendekatan gradual dalam proses pengadopsian IFRS. Kualitas akuntansi yang dilihat dalam penelitian ini adalah tingkat manajemen laba dan ketepatan pengakuan kerugian (konservatisme). Populasi penelitian ini adalah seluruh badan usaha yang terdaftar di Bursa Efek Indonesia (BEI) kecuali sektor keuangan pada periode 2009, 2010, 2012 dan 2013. Hasil penelitian ini menunjukkan bahwa penerapan standar berbasis IFRS tidak memiliki pengaruh signifikan terhadap tingkat manajemen laba dan konservatisme. Tidak adanya perbedaan tingkat manajemen laba pada periode sebelum dan sesudah IFRS juga ditunjukkan dari hasil uji mann-whitney yang tidak signifikan. Sedangkan untuk konservatisme juga tidak ditemukan adanya hubungan yang signifikan ketika dilakukan pengujian secara terpisah pada periode sebelum dan sesudah IFRS. Secara keseluruhan, adopsi IFRS hingga saat ini tidak berpengaruh terhadap peningkatan kualitas akuntansi yang dilihat dari tingkat manajemen laba dan konservatisme.
Downloads
Download data is not yet available.
References
Ahmed, S.A., Michael Neel & Wang, D. 2012. Does Mandatory Adoption of IFRS Improve Accounting Quality? Preliminary Evidence. Contemporary Accounting Research, Vol. 30, Issue 4: 1344-1372

André, Paul, Andrei Filip, & Luc Paugam. 2013. Impact of Mandatory IFRS Adoption on Conditional Conservatism in Europe. Social Science Research Network Electronic Paper Collection: http://ssrn.com/abstract=1979748.

Ashbaugh, Hollis, & Morton Pincus. 2001. Domestic Accounting Standards, International Accounting Standards, and the Predictability of Earnings. Journal of Accounting Research Vol. 39, Issue 3, pages 417–434.

Ball, R., S.P. Kothari, & Ashok Robin. 2000. The Effect of International Institutional Factors on Properties of Accounting Earnings. Journal of Accounting and Economics, 29, 1-51.

Barth, M.E., Wayne R.L., & Mark H.L. 2008. International Accounting Standards and Accounting Quality. Journal of Accounting Research Vol. 46: 467-498.

Cahyati, A.D. 2011. Peluang Manajemen Laba Pasca Konvergensi IFRS: Sebuah Tinjauan Teoritis dan Empiris. JRAK Vol. 2 No. 1: 1-7.

Cai, L., Asheq Rahman, & Stephen Courtenay. (2014). The Effect of IFRS Adoption Conditional Upon the Level of Pre-adoption Divergence. International Journal of Accounting 49, 147-178.

Chen, H., Qingliang Tang, Yihong Jiang, & Zhijun Lin. 2010. The Role of International Financial Reporting Standards in Accounting Quality: Evidence from the European Union. Journal of International Financial Management & Accounting, Vol. 21, Issue 3.

Conover, C. Mitchell, Robert E.M., & Andrew Szakmary. 2008. The Timeliness of Accounting Disclosures in International Security Markets. International Review of Financial Analysis 17, 849-869.

Dimitropoulos, P.E., Dimitrios A., Dimitrios K., & Stergios Leventis. 2013. The Impact of IFRS on Accounting Quality: Evidence from Greece. Advances in Accounting, incorporating Advances in International Accounting 29, 108-123.

Ewert, Ralf, & Alfred Wagenhofer. 2005. Economic Effects of Tightening Accounting Standards to Restrict Earnings Management. The Accounting Review, Vol. 80, No. 4, pp. 1101-1124.

Hu, Jinshuai, Annie Yuansha Li, & Feida Zhang. 2014. Does Accounting Conservatism Improve The Corporate Information Environment. Journal of International Accounting, Auditing and Taxation 23: 32-43.

Kanaka Puradiredja, Suhartono. 2014. Menuju Adopsi IFRS Secara Penuh. [Artikel]. (http://kanaka.co.id/news/read/menuju-adopsi-ifrs-secara-penuh) diakses 27 Oktober 2014.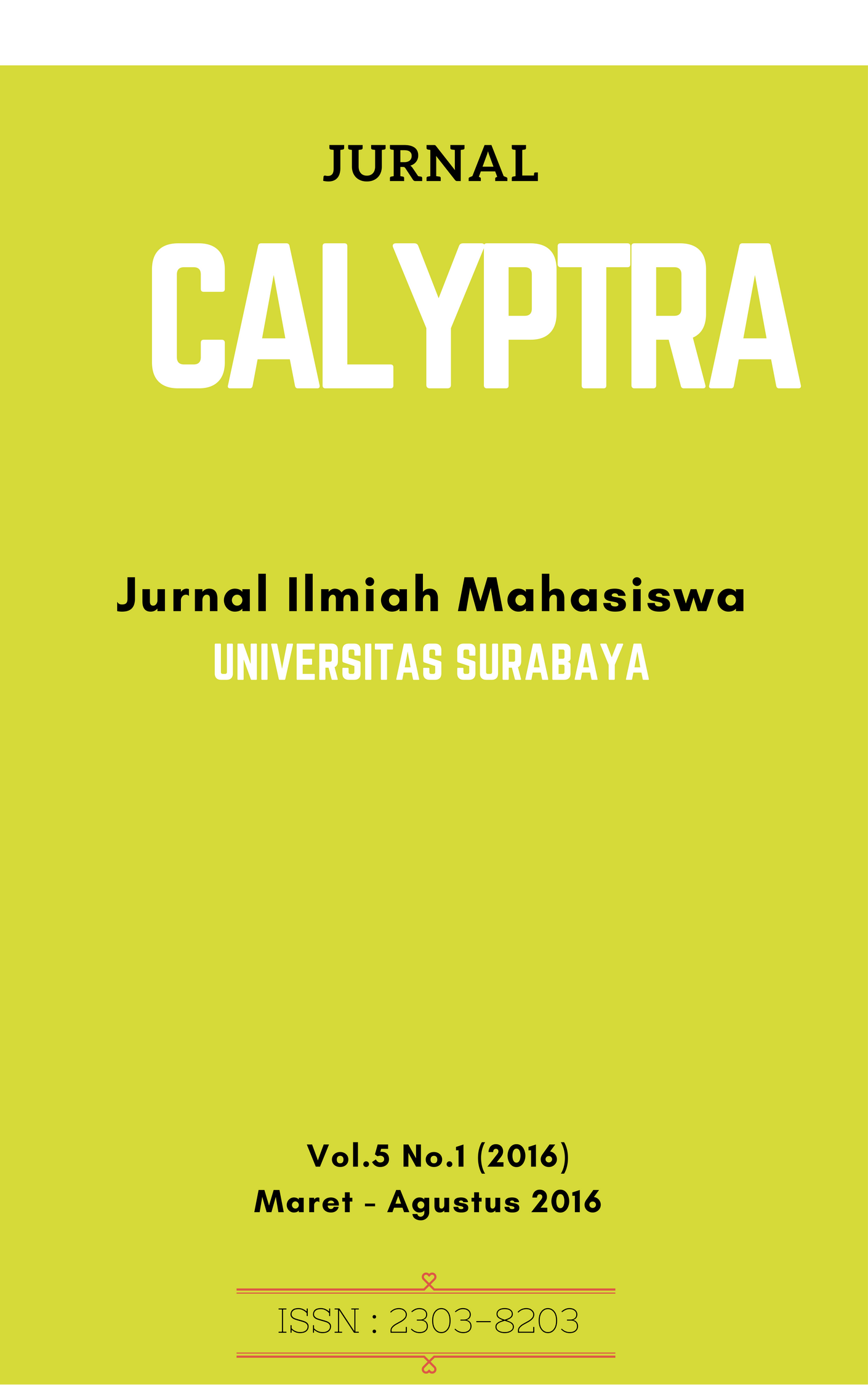 How to Cite
PRANATA, Evelyn. PENGARUH ADOPSI IFRS TERHADAP KUALITAS AKUNTANSI DILIHAT DARI MANAJEMEN LABA DAN KONSERVATISME PADA BADAN USAHA YANG TERDAFTAR DI BEI PERIODE 2009, 2010, 2012 DAN 2013.
CALYPTRA
, [S.l.], v. 5, n. 1, p. Hal. 1 - 17, mar. 2016. ISSN 2302-8203. Available at: <
https://journal.ubaya.ac.id/index.php/jimus/article/view/2547
>. Date accessed: 06 july 2020.
Section
Bidang Akuntansi (AK)
This work is licensed under a Creative Commons Attribution-NonCommercial 4.0 International License.