EVALUASI PENERAPAN RISK MANAGEMENT DALAM MEMITIGASI RISIKO KREDIT PADA PERUSAHAAN PEMBIAYAAN PT X FINANCE CABANG PROBOLINGGO
Regina Aprecellia Sigit

Jurusan Akuntansi Fakultas Bisnis dan Ekonomika Universitas Surabaya
Abstract
Penelitian ini bertujuan untuk memberikan rekomendasi perbaikan manajemen risko yang diterapkan oleh PT X Finance cabang Probolinggo. Penelitian ini bersifat kualitatif dengan objek penelitian PT X Finance cabang Probolinggo. Masalah yang terjadi di PT X Finance adalah nilai overdue ratio yang terus meningkat dari tahun sebelumnya. Nilai overdue ratio yang terus meningkat akan dapat menyebabkan financial distress. Agar overdue ratio ini tidak terus meningkat dan menyebabkan kerugian perusahaan, maka perusahaan memerlukan perbaikan dalam proses manajemen risiko. Penelitian ini berfokus pada rekomendasi perbaikan proses manajemen risiko, khususnya risk response perusahaan dalam memitigasi risiko kredit yang ada. Temuan dari penelitian ini adalah sebagian besar risiko kredit PT X Finance disebabkan oleh kesalahan proses analisis, identifikasi, dan evaluasi risiko. Selain itu, juga terdapat risiko kredit yang masih belum diantisipasi oleh perusahaan sehingga menyebabkan tingginya overdue ratio dan loss pada perusahaan. 
Downloads
Download data is not yet available.
References
Basel Committee on Banking Supervision. 2000. Principles for the Management of Credit Risk. (online), (http://www.bis.org/publ/bcbs75.pdf, diakses 14 September 2014).

Berkelit dari Risiko Kredit Macet. 2012. (online), (http://stabilitas.co.id/view_articles.php?article_id=486&article_type=0&article_category, diakses 25 Agsutus 2014)

Coyle, Bryan. 2000. Framework for Credit Risk Management. Chartered Institute of Bankers. United Kingdom.

Credit Risk Management. 2014 (online), (http://www.garp.org/risk-education/about-risk-education.aspx, diakses 25 Agustus 2014)

Cresswell, J.W. 2007. Research design: Qualitative, Quantitative, and Mixed Methods Approaches. Second Edition. SAGE Publications.

Demerjian, P. 2007. Financial Ratios and Credit Risk: The Selection of Financial Ratio Covenants in Debt Contracts. Stephen M. Ross School of Business - University of Michigan.

Efferin, Sujoko, Stevanus Hadi Darmaji dan Yuliawati Tan. 2008. Metode Penelitian Akuntansi: Mengungkap Fenomena dengan Pendekatan Kuantitatif dan Kualitatif. Yogyakarta, Indonesia: Graha Ilmu.

Iimo, K. dan Kalio, A.M. 2014. Influence of Credit Risk Management Practices on Loan Performance of Microfinance Institutions in Baringo Country. International Journal of Science and Research.

Indonesian Commercial Newsletter. 2008. Indonesian Commercial Newsletter: Industri Multifinance Semakin Bersinar. (online), (http://www.datacon.co.id/Multifinance2008Ind.html, diakses 12 September 2014)

Kalapodas, E. dan Thomson, M.E. 2006. Credit Risk Assessment: A Challenge for Financial Institutions. IMA Journal of MAdvance,Vol 17, pp. 25-46.

Miller, D. Kent. 1992. A Framework for Integrated Risk Management in International Business. Journal of International Business Studies, Vol 23, No, 2 (2nd Qtr), pp.311-331.

Platt, H. (2002). Predicting Corporate Financial Distress: Reflections on Choice-Based Sample Bias. Journal of Economics and Finance, Vol 26, No.2, 211-227.

Ranong, N. dan Phuenngam, W. 2009. Critical Success Factors for Effective Risk Management Procedures in Financial Industries. Umea University.

Saunders, A. 1997. Financial Institutions Management: A Modern Perspective. Richard D. Irwin, Inc, Second Edition.

Scott, Sherrie. 2012. Credit Risk Management. (online), (http://www.ehow.com/ about_6547512_define-creditrisk-management.html#ixzz1rhNwfqms, diakses 12 September 2014)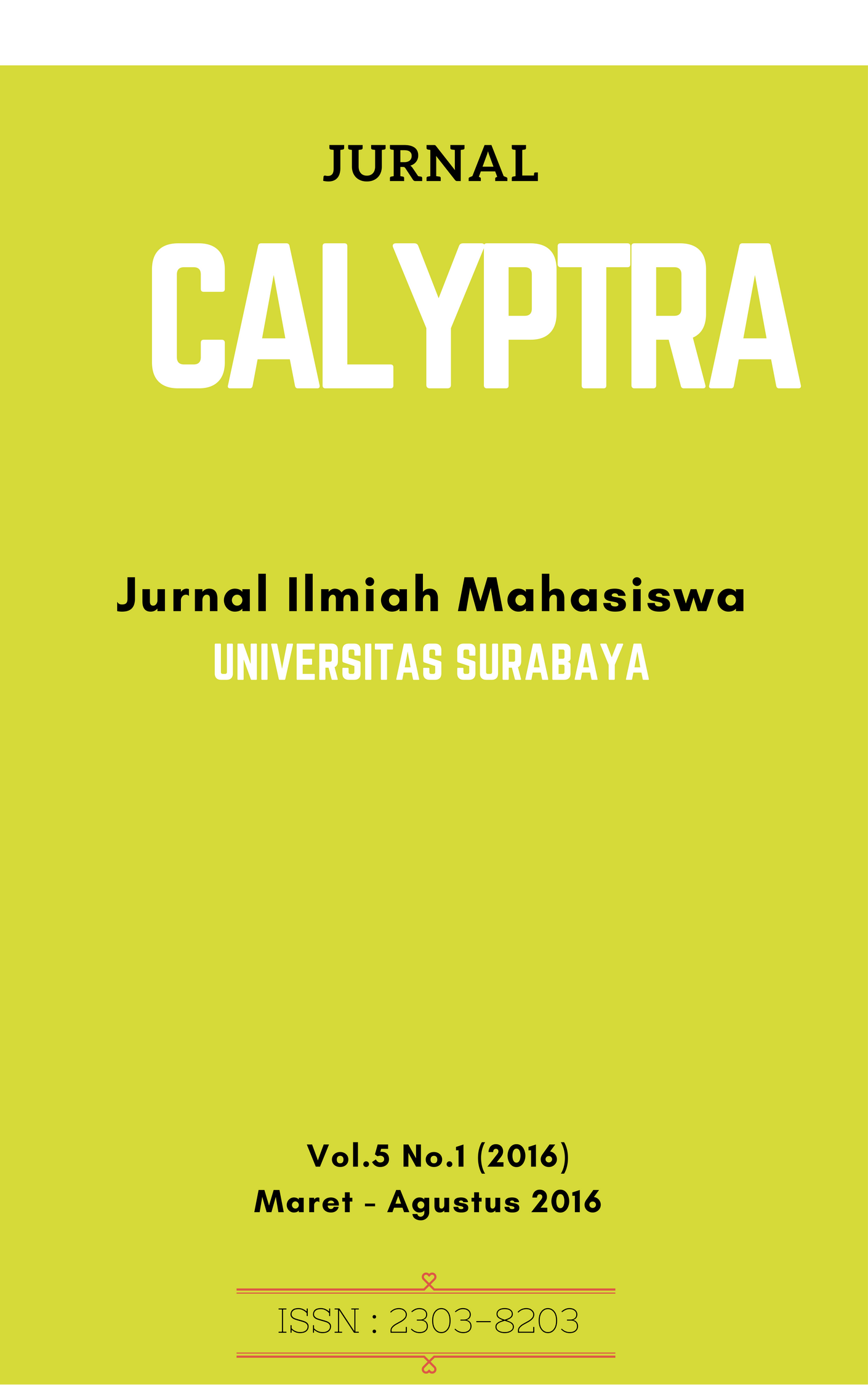 How to Cite
SIGIT, Regina Aprecellia. EVALUASI PENERAPAN RISK MANAGEMENT DALAM MEMITIGASI RISIKO KREDIT PADA PERUSAHAAN PEMBIAYAAN PT X FINANCE CABANG PROBOLINGGO.
CALYPTRA
, [S.l.], v. 5, n. 1, p. Hal. 1 - 11, mar. 2016. ISSN 2302-8203. Available at: <
https://journal.ubaya.ac.id/index.php/jimus/article/view/2548
>. Date accessed: 09 july 2020.
Section
Bidang Akuntansi (AK)