PENGARUH KEPEMILIKAN KELUARGA DAN TATA KELOLA PERUSAHAAN TERHADAP PENGUNGKAPAN SUKARELA DALAM LAPORAN TAHUNAN (Studi pada Perusahaan-Perusahaan Keluarga yang Terdaftar di BEI Periode 2014)
Gabriella Christina Listiono

Jurusan Akuntansi Fakultas Bisnis dan Ekonomika Universitas Surabaya
Abstract
Tujuan dari penelitian ini adalah untuk mengetahui pengaruh kepemilikan keluarga, tata kelola perusahaan, dari banyaknya dewan komisaris independen dan komite audit yang memiliki latar belakang akuntansi atau keuangan terhadap pengungkapan sukarela suatu perusahaan, serta pengaruh tata kelola perusahaan tersebut sebagai moderator hubungan antara kepemilikan keluarga dan pengungkapan sukarela. Obyek dari penelitian ini adalah seluruh perusahaan yang terdaftar di Burs efek Indonesia kecuali sektor keuangan untuk periode 2014. Penelitian ini menggunakan pendekatan kuantitif dan diuji dengan model regresi berganda. Variabel dependen dari penelitian ini adalah pengungkapan sukarela. Sedangkan variabel independennya adalah proporsi dewan komisaris independen, dan proprosi komite audit yang memiliki background akuntansi atau keuangan. Hasil dari penelitian ini menunjukkan bahwa kepemilikan keluarga dan tata kelola perusahaan , baik dewan komisaris independen maupun komite audit tidak memiliki hubungan yang signifikan terhadap pengungkapan sukarela. Peran tata kelola perusahaan dalam perusahaan keluarga juga tidak mempengaruhi hubungan antara kepemilikan keluarga dan pengungkapan sukarela secara signifikan. 
Downloads
Download data is not yet available.
References
Aktaruddin, M., M.A. Hossain, M. Hossain, Lee Yao. 2009. Corporate Governance and Voluntary Disclosure in Corporate Annual Reports of Malaysian Listed Firms. The Journal of Applied Management Accounting Research, Vol. 7 (1): 1-20.

Ahmed, K & D. Nicholls. 1994. The impact of non-financial company characteristics on mandatory compliance in developing countries: The case of Bangladesh. The International Journal of Accounting, Vol. 29 (1): 60-77.

Al-Janadi, Y., Rashidah Abdul R., Normah Haji O. 2013. Corporate Governance Mechanisms and Voluntary Disclosure in Saudi Arabia. Research Journal of Finance and Accounting, Vol. 4: 25 – 36.

Chakroun, Raida. 2013. Family Control, Board of Directors' Independence and Extent of Voluntary Disclosure in the Annual Reports: Case of Tunisian Companies. Journal of Business Studies Quarterly 2013, Vol. 5 (1): 22–42.

Chau, Gerald and Sidney J. Gray. 2002. Ownership structure and corporate voluntary disclosure in Hong Kong and Singapore. The International Journal of Accounting, Vol. 37: 247 - 265.

Chau, Gerald and Sidney J. Gray. 2010. Family ownership, board independence and voluntary disclosure: Evidence from Hong Kong. Journal of International Accounting, Auditing & Taxation, Vol. 19: 93 - 109.

Chen, Charles J.P. and Bikki Jaggi. 2000. Association between independent non-executive directors, family control and financial disclosures in Hong Kong. Journal of Accounting and Public Policy, Vol. 19: 285-310

Eng, L.L. and Y.T. Mak. 2003. Corporate governance and voluntary disclosure. Journal of Accounting and Public Policy, Vol. 22: 325 - 345.

Gisbert, Ana and Begoria Navallas. 2013. The association between voluntary disclosure and corporate governance in the presence of severe agency conflicts. Advances in Accounting, incorporating Advances in International Accounting, 29: 286 - 298.

Gul, Ferdinand A. and Sidney Leung. 2004. Board leadership, outside directors' expertise and voluntary corporate disclosures. Journal of Accounting and Public Policy, Vol. 23: 351 - 279.

Haniffa, R.M. & T.E. Cooke. 2002. Culture, Corporate Governance and Disclosure in Malaysian Corporations. Abacus, Vol. 38 (3): 317 – 349.

Hardiningsih, Pancawati. 2008. Analisis Faktor-Faktor yang Mempengaruhi Voluntary Disclosure Laporan Tahunan Perusahaan. Jurnal Bisnis dan Ekonomi (JBE), Maret 2008, Vol. 15 (1): 67 - 79.

Healy, P.M. and K.G. Palepu. 1993. The effect of firms' financial disclosure strategies on stock prices. Accounting Horizons, Vol. 7 (1): 1 - 11.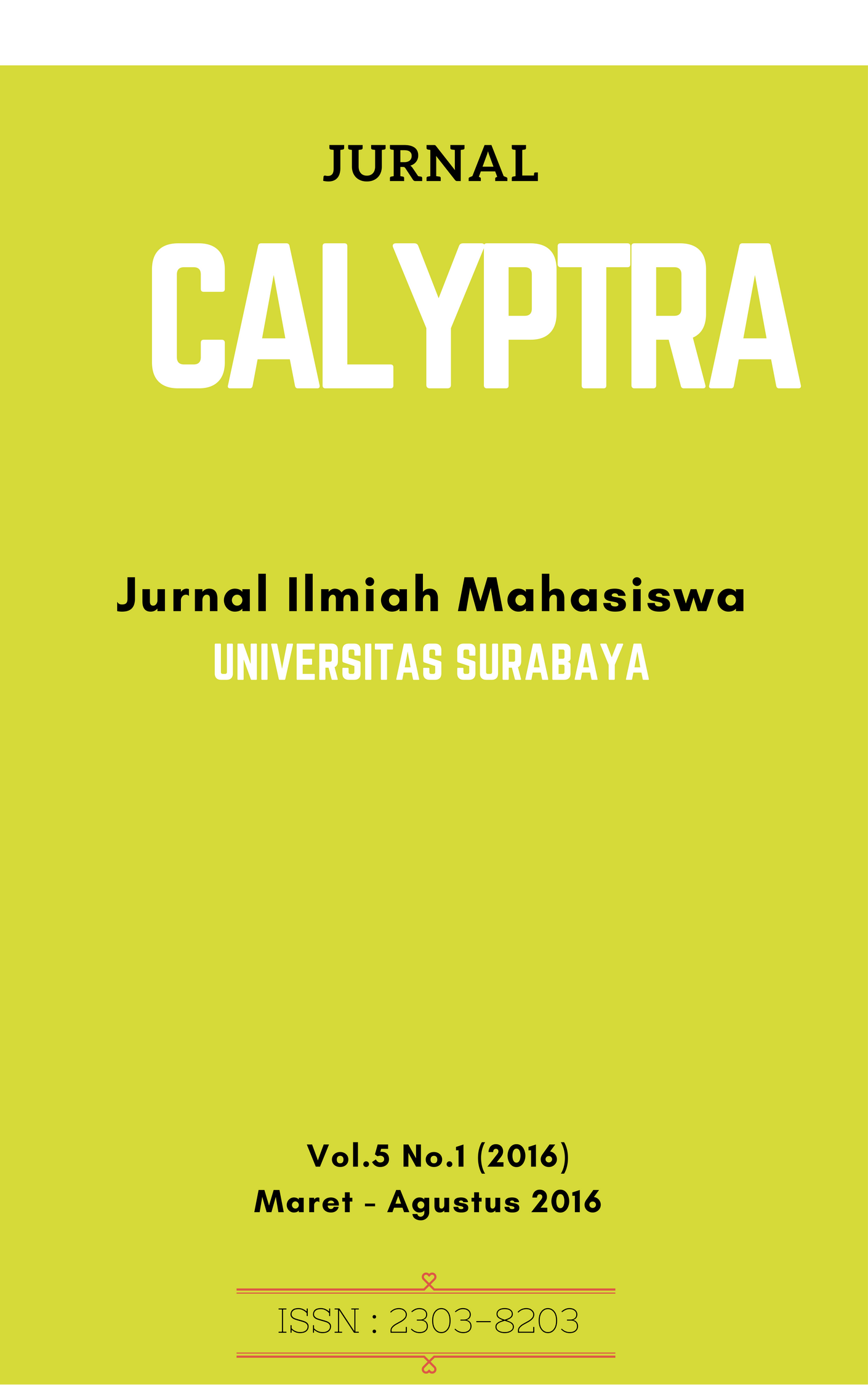 How to Cite
LISTIONO, Gabriella Christina. PENGARUH KEPEMILIKAN KELUARGA DAN TATA KELOLA PERUSAHAAN TERHADAP PENGUNGKAPAN SUKARELA DALAM LAPORAN TAHUNAN (Studi pada Perusahaan-Perusahaan Keluarga yang Terdaftar di BEI Periode 2014).
CALYPTRA
, [S.l.], v. 5, n. 1, p. Hal. 1 - 17, mar. 2016. ISSN 2302-8203. Available at: <
https://journal.ubaya.ac.id/index.php/jimus/article/view/2559
>. Date accessed: 09 july 2020.
Section
Bidang Akuntansi (AK)