PENERAPAN PENGENDALIAN BUDAYA BERBASIS SENI PERANG SUN ZI DALAM MENINGKATKAN KINERJA KARYAWAN DI PT. J CABANG SURABAYA-GEMPOL
Baso' Achmad Syaiful Mustari Husein

Jurusan Akuntansi Fakultas Bisnis dan Ekonomika Universitas Surabaya
Abstract
Penelitian ini bertujuan untuk menguji teori sistem pengendalian manajemen khususnya pengendalian budaya pada badan usaha yang menerapkan nilai-nilai budaya dalam meningkatkan kinerja karyawan. Teori pengendalian ini diharapkan dapat membantu untuk mengatasi permasalahan yang yang muncul dan dapat mencapai tujuan badan usaha nantinya. Penelitian ini menggunakan pendekatan kualitatif dengan menggunakan wawancara, observasi dan analisis dokumen sebagai metode untuk mendapatkan data. Hasil dari penelitian yang dilakukan, di maksudkan untuk menjelaskan bahwa terdapat rekomendasi-rekomendasi yang diperlukan oleh PT. J dalam meningkatkan kinerja karyawan di PT. J, sehingga dapat terbentuk suasana kerja yang kondusif antara atasan dan karyawan, serta membentuk rasa kekeluargaan dan kerja sama pada masing-masing karyawan melalui pengendalian budaya berbasis seni perang Sun Zi. Rekomendasi terpusat pada pengendalian budaya meliputi penerapan nilai-nilai budaya sebagai penentu utama dari perilaku, akibat dan hasil dari mengarahkan karyawan pada prinsip-prinsip yang sesuai dengan filosofi Sun Zi. Sehingga dengan rekomendasi pengendalian seperti ini, badan usaha diharapkan untuk melakukan perbaikan terus menerus dalam mengembangkan karyawannya yang nantinya akan memberikan pengaruh significant terhadap kegiatan operasional PT. J. 
Downloads
Download data is not yet available.
References
Ames, Roger. 1993. Sun Tzu: The Art of Warfare. Ballantine Books: New York.

Anthony, R. and Govindarajan, V. 2007. Management Control Systems 12th ed., New York, Mc-Graw-Hill IRWIN.

Auzair, Sofiah dan Smith, Kim Langfield. 2005. The Effect of Service Process Type, Business Strategy and Life Cycle Stage on Bureaucratic MCS in Service Organizations (online). Download: 16 Desember 2014.

Bassford, Christopher. Clausewitz in English: The Reception of Clausewitz in Britain and America, 1815-1945. New York: Oxford University Press, 1994.

Davis, N. and Cho, MI. 2005. Intercultural competence for future leaders of educational technology and its evaluation., Interactive Educational Multimedia, Vol. 10 No. 1. pp. 1-22

Efferin, Sujoko dan Soeherman, Bonnie. 2010. Seni Perang Sun Zi dan Sistem Pengendalian Manajemen: Filosofi dan Aplikasi. Jakarta: Gramedia.

Gray, Colin S. 1999: Modern Strategy in "The Dimension of Strategy" , New York: Oxford University Press, pp. 17-47.

Horngren, C., Sundem, G. and Stratton, W., 2005. Introduction to Management Accounting, New Jersey, Pearson.

Merchant, K. A., dan Van Der Stede. 2014. Sistem Pengendalian Manajemen: Pengukuran kinerja, Evaluasi, dan Insentif. Edisi 3. Jakarta: Salemba Empat.

R. Mannion H.T.O. Davies M.N. Marshall, (2005): Cultural characteristics of "high" and "low" performing hospitals, Journal of Health Organization and Management, Vol. 19 Iss 6 pp. 431 – 439 (online). Download: 15 Desember 2014.

Reddy, R. J., 2004. Management Control Systems. New Delhi: A.P.H. Publishing Corporation.

Soeherman, Bonnie, dan Wiyono Pontjoharyo., 2008. Pengembangan Sistem Pengendalian Manajemen Dalam Perspektif Kristen. 12 Desember 2010

Strachan, Hew (2011). "Clausewitz and the First World War". Journal of Military History 75 (2): 367–391.

Wee, Chow Hou. 2010. Sun Zi Art of War: An Illustrated Translation with Asian Perceptives and Insights. Singapore: Pearson Education.

Wu, Chou, Jung. 2004: A Study of Strategy Implementation as Expressed Through Sun Tzu's Principles of War (online). Download: 15 Desember 2014.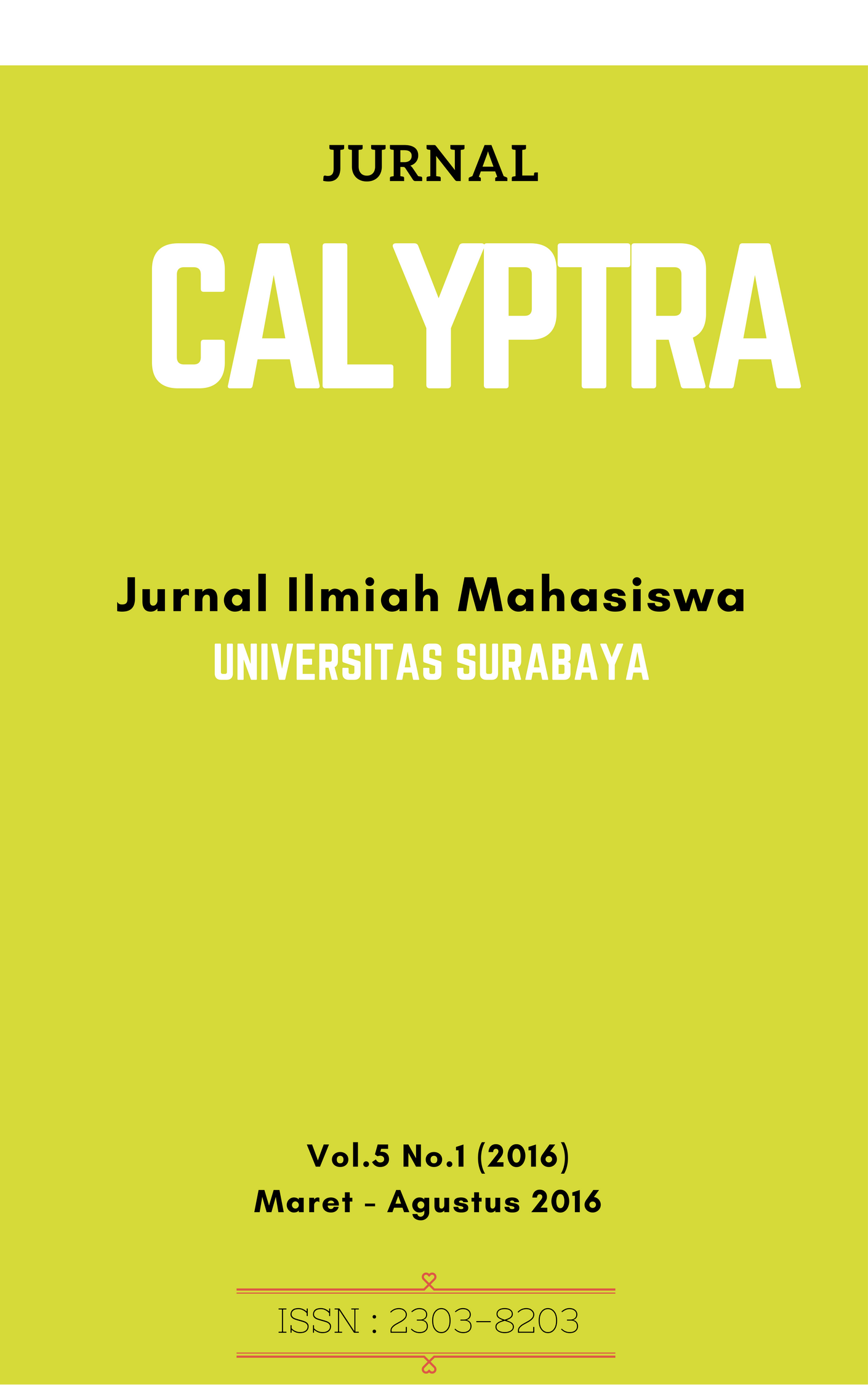 How to Cite
HUSEIN, Baso' Achmad Syaiful Mustari. PENERAPAN PENGENDALIAN BUDAYA BERBASIS SENI PERANG SUN ZI DALAM MENINGKATKAN KINERJA KARYAWAN DI PT. J CABANG SURABAYA-GEMPOL.
CALYPTRA
, [S.l.], v. 5, n. 1, p. Hal. 1 - 14, mar. 2016. ISSN 2302-8203. Available at: <
https://journal.ubaya.ac.id/index.php/jimus/article/view/2560
>. Date accessed: 10 july 2020.
Section
Bidang Akuntansi (AK)