STUDI EKSPERIMENTAL DAMPAK DARI IKLAN DENGAN KLAIM RAMAH LINGKUNGAN VS KINERJA HEBAT TERHADAP NIAT BELI LAMPU MEREK PHILIPS DI SURABAYA
Linda Gunawan

Jurusan Manajemen Fakultas Bisnis dan Ekonomika Universitas Surabaya
Abstract
Penelitian ini bertujuan untuk mengetahui dan menganalisis dampak dari iklan dengan klaim pemasaran ramah lingkungan vs kinerja hebat terhadap niat beli lampu merek Philips di Surabaya. Pengolahan data dilakukan dengan menggunakan Manova, one way Anova, dan independent t-test dengan software SPSS 18.0 for Windows. Pengujian hipotesis penelitian ini melihat nilai signifikansi dari uji one way Anova. Data diperoleh secara langsung dari partisipan yang memenuhi karakteristik populasi yang ditentukan dengan melakukan eksperimen dan membagikan kuesioner. Jumlah sampel yang digunakan dalam penelitian ini sebanyak 134 partisipan. Hasil penelitian ini menunjukkan adanya pengaruh A great performance claim memiliki hubungan positif terhadap attitudes toward the advertisement. Selanjutnya A great performance claim memiliki hubungan positif terhadap attitudes toward the brand yang dapat meningkatkan brand beliefs. Selebihnya, A great performance claim berpengaruh terhadap purchase intention juga terbukti.  
Downloads
Download data is not yet available.
References
Abdee Pamungkas. 2012. Pengertian Periklanan/Promosi (Advertising). http://www.diwarta.com/2012/04/05/pengertian-periklanan-promosi-advertising.html. 11 Agustus 2015.

Belch, E.George dan Belch, A.Michael, 2003. Advertising and Promotion: An Integrated Marketing Communication. 6 th Edition. McGraw-Hill.

ozby, Paul C. and Bates, Scott C. 2011. Methods In Behavioral Research 11th Edition. McGraw-Hill. ISBN: 978-0-07-803515-9.

Cherian, J dan Jacob, J. 2012. A Study Of Consumers' Attitude Towards Environment Friendly Products. Asian Social Science Vol 8 No 12. ISSN: 1911-2017.

Hair, J. F., Black, W. C., Babin, B. J., dan Anderson, R. E. 2010 Multivariate Data Analysis: A Global Perspektif 7th Edition. New Jersey: Pearson Prentice Hall.

Hu, XiYing. 2013. How Defference in Product Involvement Influence The Emotional Response Of The Chinese Consumer. Thesis. University Of Florida.

Kotler, Philip and Kevin, L.Keller. 2012. Marketing Management 14e. New Jersey: Pearson Prentice Hall.

Laroche, M et al. 2001. Targeting Consumers Who Are Willing To Pay More Environmentally Friendly Products. Journal Of Consumer Marketing Vol 18 Iss 6 pp. 503-520.

Malhotra, N. K. 2010. Marketing Research and Applied Orientation. 6th Edition. New Jersey: Pearson Prentice Hall.

Neese, T.William dan Favia, J.Monica. 2013. The Impact Of An Environtmentally Friendly Advertising Claim On Purchase Intentions. Marketing Management Journal Vol 23, Issue 1, Pages 14-30.

Petty, Richard.E dan Cacioppo,T. John. 1986. Central Peripheral Routes To Persuasion: An Individual Difference Perspective. Journal Of Personality and Psychology Vol 51 No 5: 1032-1043.

Purnama, J dan M, M. Nurhadi. 2014. Pengaruh Produk Ramah Lingkungan, Atribut Merek Hijau, Iklan Peduli Lingkungan dan Persepsi Harga Premium Terhadap Keputusan Pembelian Produk AMDK. Jurnal Fakultas Ekonomi. Universitas Negeri Yogyakarta.

Riyanto, M. 2008. Analisis Faktor Yang Mempengaruhi Efektifitas Iklan dan Implikasinya Terhadap Sikap Merek. Thesis. Universitas Diponegoro Semarang.

Schiffman, Leon.G and Kanuk, L.Lazar. 2007. Consumer Behaviour. 9th Edition. New Jersey: Pearson Prentice Hall.

Shimp, T. A. 2007. Integrated Marketing Communications in Advertising and Promotion. 7th Edition. Thomson South-Western (P. 240)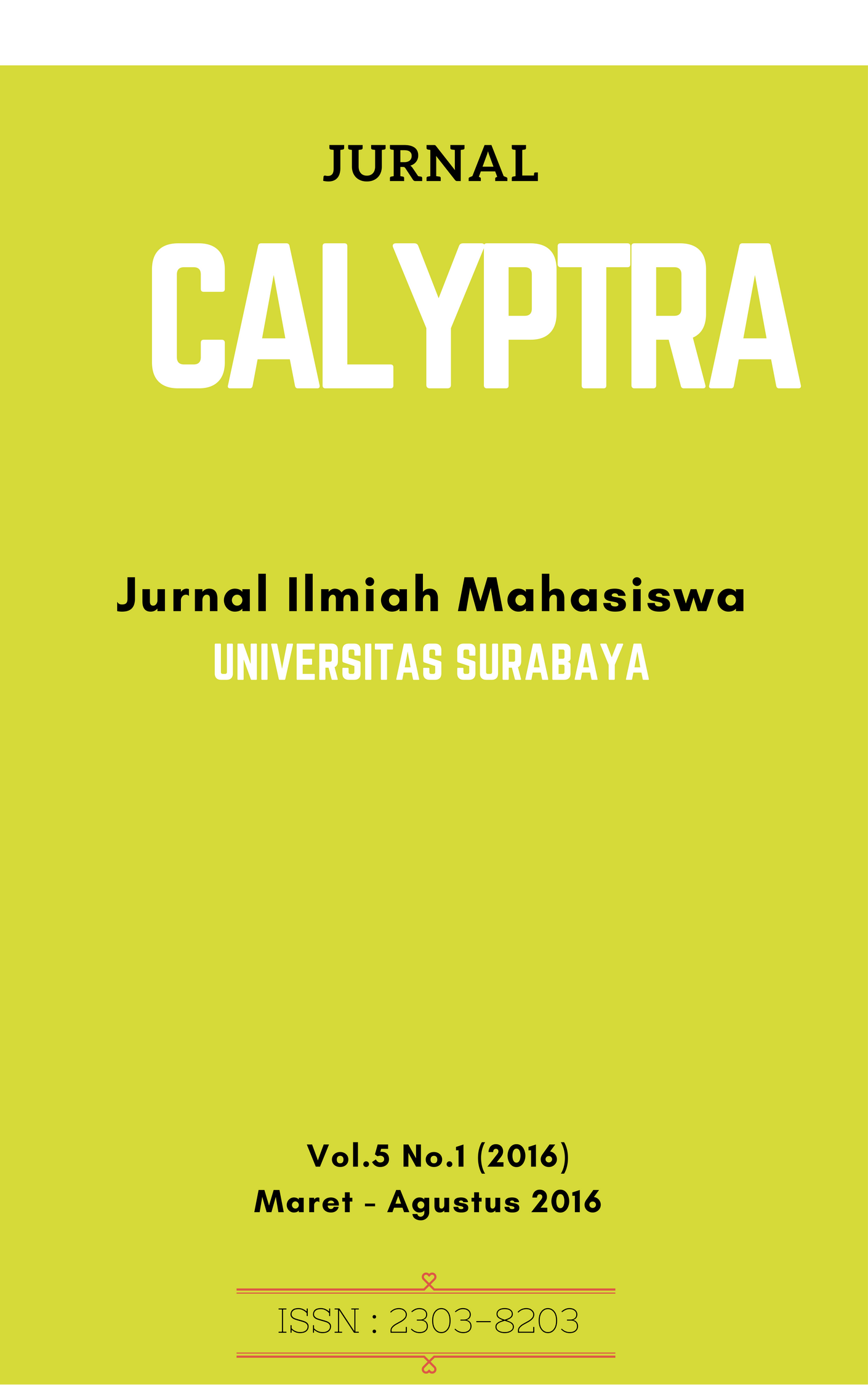 How to Cite
GUNAWAN, Linda. STUDI EKSPERIMENTAL DAMPAK DARI IKLAN DENGAN KLAIM RAMAH LINGKUNGAN VS KINERJA HEBAT TERHADAP NIAT BELI LAMPU MEREK PHILIPS DI SURABAYA.
CALYPTRA
, [S.l.], v. 5, n. 1, p. Hal. 1 - 14, mar. 2016. ISSN 2302-8203. Available at: <
https://journal.ubaya.ac.id/index.php/jimus/article/view/2727
>. Date accessed: 03 july 2020.
Section
Bidang Manajemen (M)