RANCANGAN BENTUK KEPEMILIKAN BISNIS KELUARGA PT X UNTUK MENJAGA KEBERLANGSUNGAN DI MASA DEPAN
Lisia Gandhatama

Jurusan Magister Akuntansi Fakultas Bisnis dan Ekonomika Universitas Surabaya

Sujoko Efferin

Jurusan Magister Akuntansi Fakultas Bisnis dan Ekonomika Universitas Surabaya
Abstract
Penelitian ini dilakukan untuk mengetahui perbedaan serta pertentangan yang terjadi di dalam perusahaan keluarga yang sudah berdiri sejak tahun 1991 ini serta alternatif apa saja yang bisa menjadi pilihan bagi perusahaan untuk dapat tetap menjaga keberlangsungannya di masa depan. Oleh karena itu, peneliti melakukan interview serta observasi yang cukup mendalam terhadap cara pandang dan tujuan yang dimiliki oleh kedua pimpinan di dalam perusahaan ini serta pertentangan apa saja yang terjadi di dalam perusahaan. Tidak lupa peneliti juga meminta pendapat mereka tentang masa depan perusahaan nantinya. Selain daripada itu, peneliti juga melakukan observasi yang cukup panjang terhadap kegiatan operasional perusahaan serta hubungan personal keduanya di dalam keluarga. Penelitian ini merupakan applied research dengan metode penelitian kualitatif yang menggunakan sumber data wawancara dan observasi. Penelitian menunjukkan 3 alternatif bentuk kepemilikan perusahaan keluarga yang tepat untuk diterapkan di dalam perusahaan ini. Untuk setiap alternatif, peneliti memberikan pertimbangan atas alternatif tersebut disertai pula dengan kelemahan serta keuntungan atas masing-masing alternatif tersebut.  Hasil penelitian memberikan sebuah alternatif yang dipandang peneliti adalah pilihan yang paling tepat untuk diterapkan di dalam perusahaan keluarga ini, yaitu bentuk kepemilikan perusahaan Induk-Anak Perusahaan. Setiap pemimpin akan mengurus dan mengatur perusahaan miliknya sendiri tanpa campur tangan dari pemimpin yang lain. Harapannya, masing-masing perusahaan dapat berjalan dengan baik dan sesuai dengan apa yang ingin dicapai oleh pemimpinnya.
Downloads
Download data is not yet available.
References
Adler, P.S. dan Kwon, S.W. 2002. Social Capital: Prospect for a New Concept. Academy of Management Review, 27, 17-40.

Arregle, J., Hitt, M.A., Sirmon, D.G., dan Very, P. 2007. The Development of Organizational Social Capital: Attributes of Family Firms. Journal of Management Studies, 441, 73-95.

Astrachan, Joseph. H dan Shanker, Melissa Carey. 2003. Family Businesses' Contribution to the U.S. Economy: A Closer Look. Family Business Review : Volume 16, Issue 3, pages 211–219, September 2003

Coleman, J.S. 1988. Social Capital In the Creation of Human Capital. American Journal of Sociology, 93, 291-321.

Donelley, Robert G. 1964. "The Family Business". Harvard Business Review, p.96

Habbershon, T.G dan Williams, M.L. 1999. A Resource-based Framework for Assessing the Strategic Advantages of Family Firms. Family Business Review, 12, 1-15.

Handoyo, S. Stefan. Agustus 2010. Structure of Family-Owned and Controlled Corporations, Makalah dalam Pelatihan yang diselenggara- kan oleh Indonesia Institute for Corporate Directorship IICD, Jakarta.

Kansikas, Juga, Anne Laakkonen, Ville Sarpo, dan Tanja Kontinen. 2011. Entrepreneurial Leadership and Familiness as Resources for Strategic Entrepreneurship. International Journal of Entrepreneurial Behaviour & Research, Vol. 18 No. 2

Lansberg, I. 1999. Succeeding Generations. Boston: Harvard Business School Press.

Leana, C.R. dan Van Buren, H.J. 1999. Organizational Social Capital and Employment Practices. Academy of Management Review, 24, 538-555.

Nahapiet, J. dan Ghoshal, S. 1998. Social Capital, Intellectual Capital, and the Organizational Advantage. Academy of Management Review, 23, 242-266.

Pearson, Allison W., Jon C. Carr dan John C. Shaw, 2008, Toward a Theory of Familiness: A Social Capital Perspective. Entrepreneurship Theory and Practice, Vol. 32, pp. 949-969.

Saunders, Mark; Lewis, Philip; Thornhill, Adrian;. (2009). Research Methods for Business Students, Fifth edition. United Kingdom: Prentice Hall.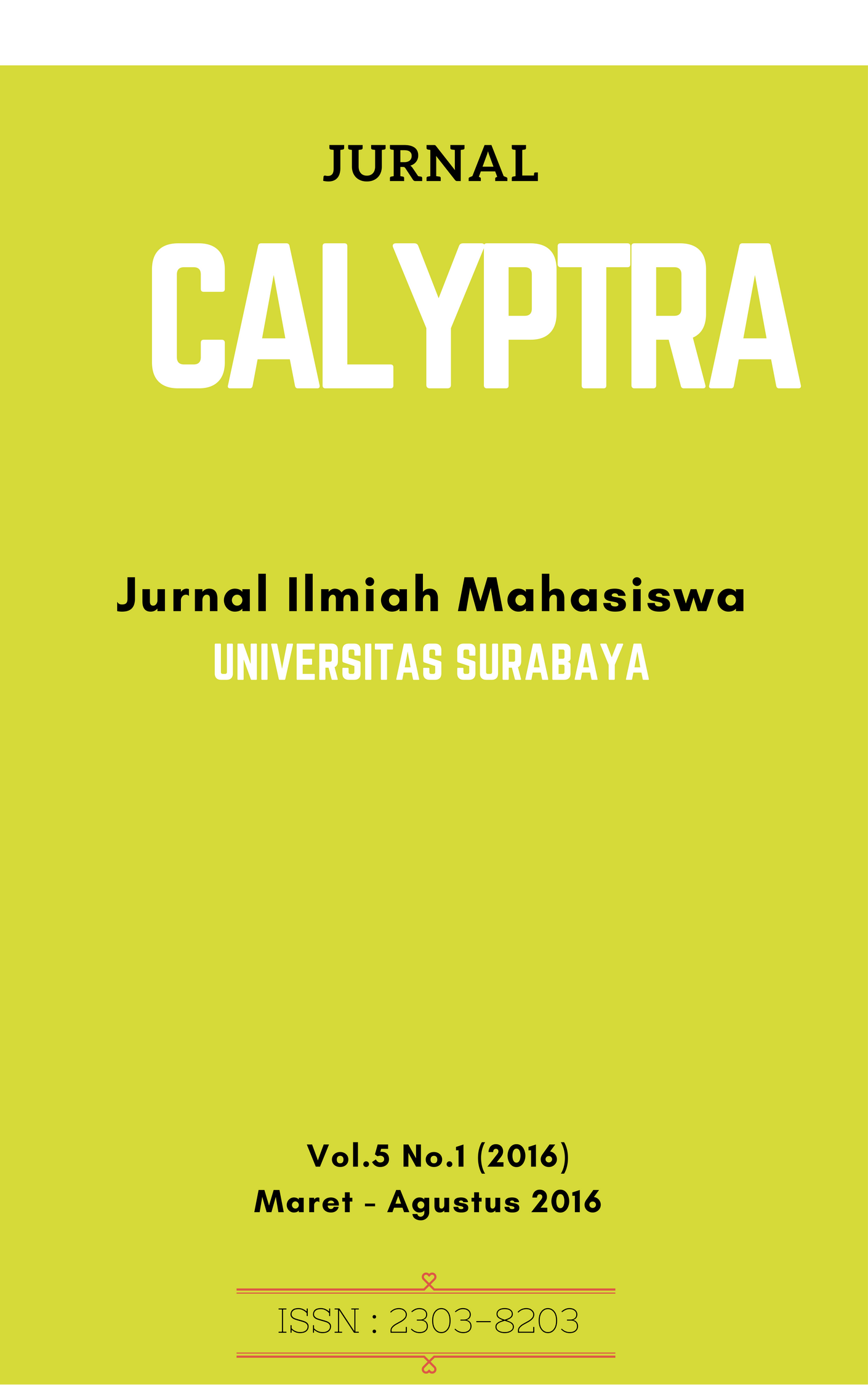 How to Cite
GANDHATAMA, Lisia; EFFERIN, Sujoko. RANCANGAN BENTUK KEPEMILIKAN BISNIS KELUARGA PT X UNTUK MENJAGA KEBERLANGSUNGAN DI MASA DEPAN.
CALYPTRA
, [S.l.], v. 5, n. 1, p. Hal. 1 - 21, mar. 2016. ISSN 2302-8203. Available at: <
https://journal.ubaya.ac.id/index.php/jimus/article/view/2735
>. Date accessed: 08 july 2020.
Section
Bidang Magister Akuntansi (MAK)