ANALISIS PREFERENSI RISIKO TERKAIT PENGELOLAAN INVENTORI STUDI KASUS: CARRYING COST PT XX DI MALANG
Melisa Dianatobing

Jurusan Akuntansi Fakultas Bisnis dan Ekonomika Universitas Surabaya
Abstract
Warehouse dipandang sebagai salah satu bagian terpenting dalam supply chain, terutama apabila perusahaan tersebut bergerak dalam bidang distribusi. Banyak faktor yang dapat mempengaruhi pengambilan keputusan terkait masalah warehouse ini, salah satunya preferensi risiko. Penelitian ini bertujuan mengkaitkan cara pandang top management terhadap risiko dengan manajemen inventori, khususnya pada carrying cost. Objek yang akan diteliti adalah perusahaan yang bergerak di bidang distribusi di Kabupaten Malang.  Penelitian ini menggunakan pendekatan kualitatif dan menganalisa keterkaitan personality manajement dalam memandang suatu risiko. Sebagai hasil analisa, terdapat faktor-faktor yang mempengaruhi manajemen dalam pengambilan keputusan investasi gudang, baik dalam hal sewa maupun beli, seperti lokasi atau basis customer dan harga tanah. Hasil penelitian juga menunjukkan adanya keterkaitan antara preferensi risiko ketika pihak manajemen membuat strategi untuk sewa gudang. Manajemen menghendaki adanya pengembalian yang sepadan seiring dengan kenaikan risiko. 
Downloads
Download data is not yet available.
References
Ancarani A., C.Di Mauro, D.D'Urso. 2013. "A human experiment on inventory decisions under supply uncertainty" Production Economics, Vol. 142 pp. 61–73

Apak, Sudi, Mikail Erol, Ismail Elagoz, Metin Atmaca. 2012. "The Use of Contemporary Developments in Cost Accounting in Strategic Cost Management." Social Behaviour Sciences, Vol. 41 pp. 528-534

Bailey, Jeffrey J. dan Chris Kinerson. 2005. "Regret Avoidance and Risk Tolerance". Association for Financial Consulting and Planning Education.

Borgonovo, E., L. Peccati. 2009. "Financial Management in Inventory Problems: Risk Averse vs Risk Neutral Policies". Int. J. Production Economics 118 pp. 233–242

Bowen, J.T., 2008. "Moving places: The Geography of Warehousing in The US." Journal of Transport Geography, Vol. 16 pp. 379-387

Bozarth, Cecil C. dan Robert B. Handfield. 2008. Introduction to Operations and Supply Chain Management. Ohio: Pearson Prentice Hall

Chevny, Adam A. 2012. Bisnis sewa Gudang: Benteng Tunggal Buka Ritz Park Di Surabaya Selatan. http://www.bisnis.com/articles/bisnis-sewa-gudang-benteng-tunggal-buka-ritz-park-di-surabaya-selatan (diakses pada 29 November 2012)

Chris Dubelaar, Garland Chow, Paul D. Larson. 2001. "Relationships between inventory, sales and service in a retail chain store operation", International Journal of Physical Distribution & Logistics Management, Vol. 31 Iss: 2 pp. 96- 108

Cook, Lori S.,Daniel R. Heiser, Kaushik Sengupta. 2011. "The Moderating Effect of Supply Chain Role on The Relationship Between Supply Chain Practices and Performance: An Empirical Analysis." International Journal of Physical Distribution & Logistics Management, Vol. 41 No. 2 pp. 104-134

Ezziane, Zoheir. 2000. "Evaluating Customer Service Performance in Warehousing Environments", Logistics Information Management, Vol. 13 Iss: 2 pp. 90 – 94

Faber, Nynke, Rene (Marinus) B.M., de Koster, and Steef L. van de Velde. 2002. "Linking Warehouse Complexsity to Warehouse Planning And Control Structure: An Exploratory of The Use of Warehouse Management Information Systems". International journal of physical distribution & logistics management, Vol. 32 no 5 pp. 381-395

George, Jennifer and Jones Gareth. 2008. Understanding and Managing Organizational Behavior: International Edition. USA: Pearson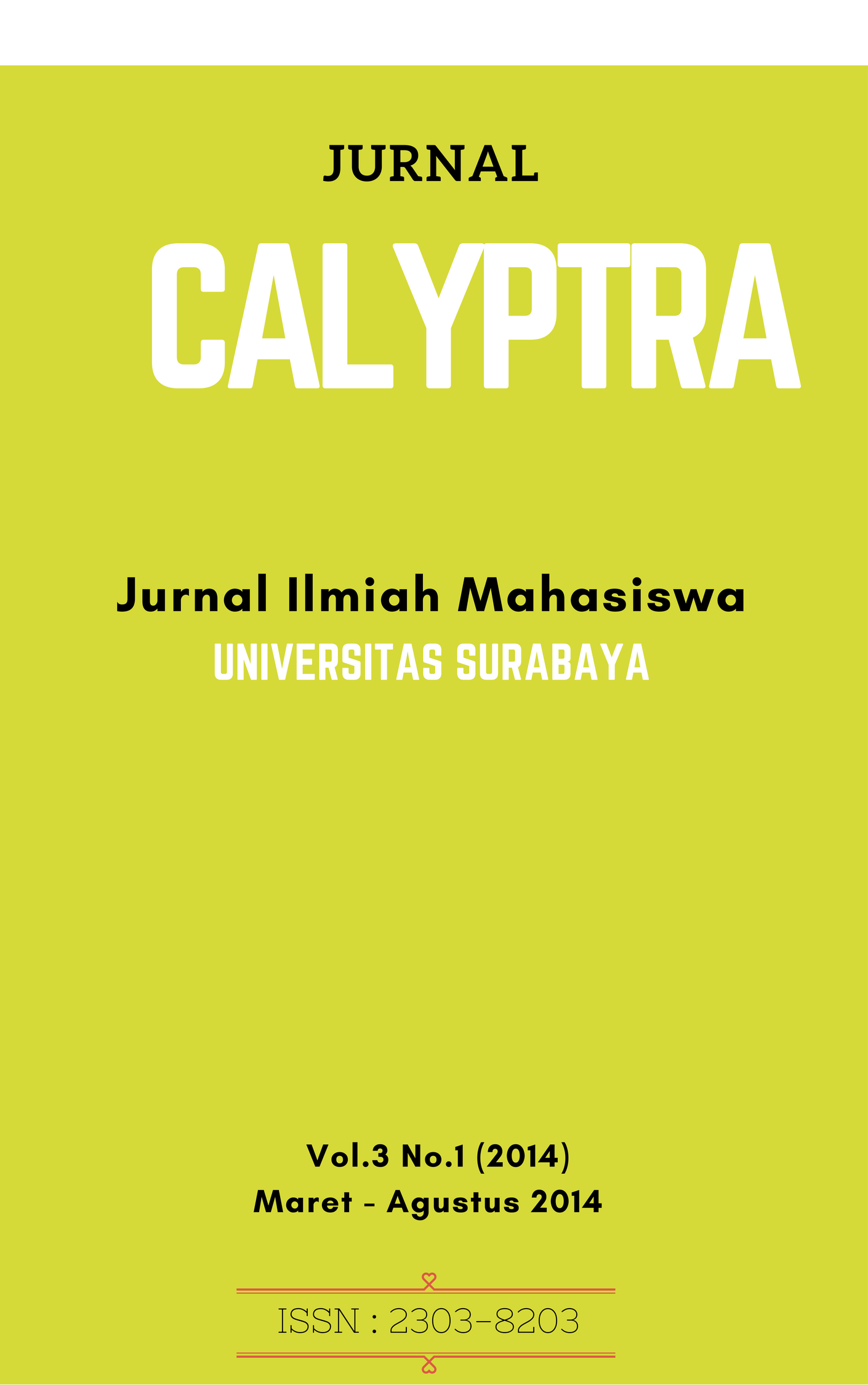 How to Cite
DIANATOBING, Melisa. ANALISIS PREFERENSI RISIKO TERKAIT PENGELOLAAN INVENTORI STUDI KASUS: CARRYING COST PT XX DI MALANG.
CALYPTRA
, [S.l.], v. 3, n. 1, p. Hal. 1 - 22, mar. 2014. ISSN 2302-8203. Available at: <
https://journal.ubaya.ac.id/index.php/jimus/article/view/836
>. Date accessed: 06 june 2020.
Section
Bidang Akuntansi (AK)
This work is licensed under a Creative Commons Attribution-NonCommercial 4.0 International License.