PENGARUH KUALITAS LAYANAN TERHADAP KEPUASAN PELANGGAN DALAM MEMBENTUK LOYALITAS PELANGGAN PADA ES TELER 77 SURABAYA
Robert Priyadi

Jurusan Manajemen Fakultas Bisnis dan Ekonomika Universitas Surabaya
Abstract
Tujuan dari penelitian ini adalah untuk menganalisa bagaimana kualitas layanan dapat mempengaruhi kepuasan pelanggan dalam membentuk pelanggan Es Teler 77 Surabaya. Penelitian ini menggunakan Structural Equation Modeling (SEM) dengan software AMOS versi 18.0. Teknik pengambilan sampel dalam penelitian ini adalah teknik non probability sampling dengan jenis convenience sampling. Penelitian ini menggunakan survei untuk mengumpulkan data dengan bertanya secara langsung kepada responden melalui kuesioner. Jumlah sampel dalam penelitian ini adalah 150 responden. Hasil Penelitian yang diperoleh menunjukkan bahwa kualitas layanan memiliki pengaruh positif terhadap kepuasan pelanggan. Selain itu kualitas layanan memiliki pengaruh positif terhadap loyalitas pelanggan. Kemudian kepuasan pelanggan memiliki pengaruh positif terhadap loyalitas pelanggan.
Downloads
Download data is not yet available.
References
Agyapong, Gloria K.Q. (Ed). (2011). The effect of service quality on customer satisfaction in the utility industry- A Case of Vodavone (Ghana)

Akbar, M.M., and Parvez, N. 2009. Impact of Services Quality, Trust, and Customer Satisfaction on Customer Loyalty, ABAC Journal, Vol. 29, No. 1, pp. 24-38.

Bowen, John T & Shiang-Lih Chen.2001. The Relationship Between Customer Loyalty and Customer Satisfaction, International Journal of Contemporary Hospitality Management, Vol. 13, No. 5, pp. 213-217.

Istianto, John Hendra dan Maria Josephine Tyra. 2011. Analisis Pengaruh Kualitas Pelayanan Terhadap Kepuasan Pelanggan Rumah Makan Ketty Resto. Palembang. Jurnal Ekonomi dan Informasi Akuntansi, 1(3), h: 275-293.

Kotler, P. (2000), Marketing management: Analysis, planning, implementation and control, (8th edn), New Jersey: Prentice Hall International.Inc.

Kotler, P. Dan G. Amstrong, 2007, Marketing And Introduction, Eighth Edition, Upper Saddle River, Pearson Education.

Kotler, P. Dan K. L. Keller, 2006, Marketing Management, 12th Edition, Upper Saddle River, Pearson Education.

Kotler, Philip, 2012, Marketing Management, 14th Edition, Pearson Education Limited, England.

Kumar, M., Kee, F. T., and Manshor, A. T. 2009. Determining the Relative Importance of Critical Factors in Delivering Service Quality of Banks: an Application of Dominance Analysis in SERVQUAL Model, Managing Service Quality, Vol. 19, No. 2, pp. 211-228.

Lupiyoadi, Hamdani (2006). Manajemen Pemasaran Jasa. Edisi kedua. Jakarta: Penerbit Salemba Empat

Ming, S.L., Huey, D.H., and Ming, F.Y. 2010. The Study of The Relationship Among Experiental Marketing, Services Quality, Customer Satisfaction and Customer Loyalty, International Journal of Organizational Innovation, pp. 352-378.

Molaee, M., Ansari, and Telmouri, H. 2011. Analizing The Impact of Service Quality Dimensions on Customer Satisfaction and Loyalty in The Banking Industry of Iran, International Journal of Academic Research in Accounting, Finance and Management Sciences, Vol. 13, No. 3, pp. 5-13.

Molina, A., Consuegra, D., Esteban, A. 2007. Relation Benefit and Customer Satisfaction in Retail Banking, International Journal of Bank Marketing, Vol. 25, No. 4, pp. 253-270.

Naeem, H., and Saif, I. 2009. Service Quality and Its Impact on Customer Satisfaction: An Empirical Evidence from the Pakistani Banking Sector, The International Business and Economics Research Journal, Vol. 8, No. 12, pp. 99-104.

Palitati, A. 2007. Pengaruh Nilai Pelanggan, Kepuasan Terhadap Loyalitas Nasabah Tabungan Perbankan di Sulawesi Selatan, Journal Manajemen dan Kewirausahaan, Vol. 9, No. 1, pp. 73-81.

Ramdhani, M.A., Ramdhani, A., dan Kurniati, D.M. 2011. The Influence of Service Quality Toward Customer Satisfaction of Islamic Sharia Bank, Australian Journal of Basic an Applied Sciences, Vol. 5, No. 9, pp. 1099 - 1104.

Siddiqi, K.O. 2011. Between Service Quality Attributes, Customer Satisfaction and Customer Loyalty in the Retail Banking Sector in Bangladesh, International Journal of Business and Management, Vol. 6, No. 3, pp. 12 -36.

Tjiptono, Fandy dan Chandra, Gregorious dan Adriana, Dedi. 2008. Pemasaran Strategic, Yogyakarta: Andi Offset.

Ueltschy, Linda C., Michael Laroche, Axel Eggert, and Uta Bindl. 2007. Service Quality and Satisfaction: An International Comparison of Professional Service Perceptions. The Journal of Service Marketing, 21(6), pp: 410-423.

Vranakis, S., Chatzoglou. P , And Mpaloukas, A. 2012. Customer Satisfaction of Greek Mobile Phone Services, International Journal of Managing Value and Supply Chains, 3(4), pp: 43–54

Zeithaml, V. A., Mary Jo Bittner, and Dwayne D. Gremler.,2006. Service Marketing: Intergrity Customers Focus Accros the Firm. 4th Edition. New York: McGraw-Hill.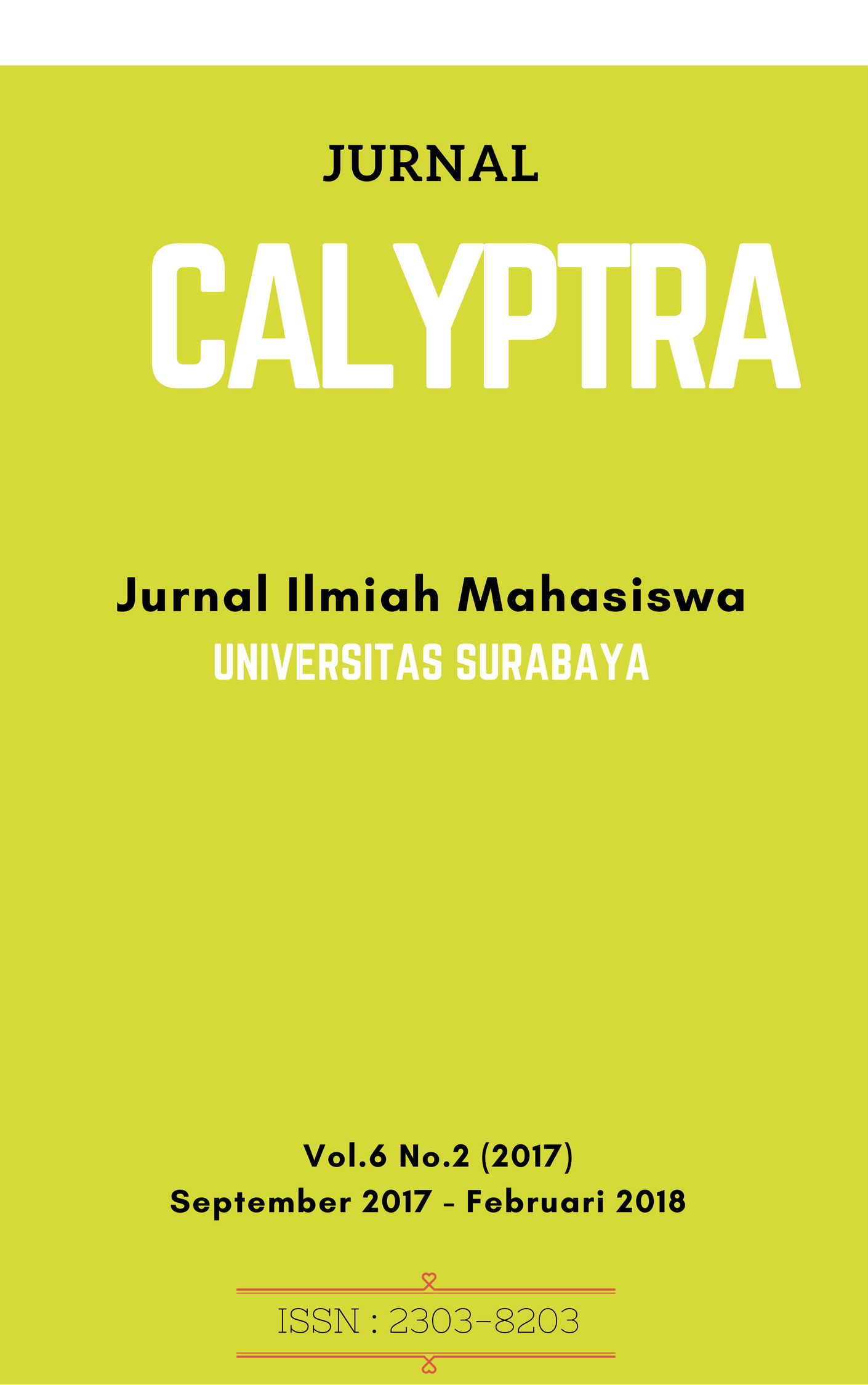 How to Cite
PRIYADI, Robert. PENGARUH KUALITAS LAYANAN TERHADAP KEPUASAN PELANGGAN DALAM MEMBENTUK LOYALITAS PELANGGAN PADA ES TELER 77 SURABAYA.
CALYPTRA
, [S.l.], v. 6, n. 2, p. Hal. 1135 – 1146, sep. 2017. ISSN 2302-8203. Available at: <
http://journal.ubaya.ac.id/index.php/jimus/article/view/1043
>. Date accessed: 23 may 2019.
Section
Bidang Manajemen (M)