ANALISIS DRUG RELATED PROBLEMS PENGGUNAAN ANTIPSIKOTIK PADA PENDERITA SCHIZOPHRENIA DEWASA DI RUMAH SAKIT JIWA X SURABAYA
Ike Desy Ratnasari

Fakultas Farmasi Universitas Surabaya
Abstract
Penelitian ini dilakukan untuk menganalisis drug related problems (DRPs) yang mungkin terjadi pada pasien rawat inap yang didiagnosis menderita schizophrenia. Penelitian non-eksperimental ini dilakukan dengan rancangan analisis diskriptif yang bersifat retrospektif. Sebagai bahan penelitian digunakan data rekam medis sebanyak 30 sampel periode Juli 2015 sampai November 2015 dengan teknik sampling non random purposive sampling. Berdasarkan hasil analisis data diperoleh DRPs yang terjadi adalah adanya kombinasi obat-obat antipsikotik maupun kombinasi obat antipsikotik dengan non antipsikotik yang menyebabkan interaksi (62,50%), pemilihan obat yang kurang tepat karena sebenarnya belum diperlukan (19,44%), pemilihan obat yang kontraindikasi sehingga  menyebabkan ROTD (11,11%), adanya banyak obat untuk indikasi yang sama (4,17%), adanya kebutuhan obat yang tidak diresepkan padahal obat tersebut bersifat sinergis serta adanya pemberian obat yang tidak diminum (1,39%).
Downloads
Download data is not yet available.
References
Addington D, Bouchard RH, Goldberg J, et al, 2005, Treatment of Schizophrenia, The Canadian Journal of Psychitry, Vol. 50 No. 13, (online), (http://www.cpaapc.org/publications/clinical_guidelinesschizophrenia/november2005 diakses 12-12-2015).

Badan Penelitian dan Pengembangan Kesehatan Departemen Kesehatan, 2008, Riset Kesehatan Dasar 2007, 119.

Badan Penelitian dan Pengembangan Kesehatan Kementerian Kesehatan RI, 2013, Riset Kesehatan Dasar 2013, 162-164.

Barbato A, 1998, Schizophrenia and Public Health, (online), (http://www.who.int/mental_health/media/en/55.pdf diakses 12-12-2015).

Baxter K, 2010, Stockley Drug Interactions, 9th ed, USA, 831-912

Departemen Kesehatan RI, 1993, Pedoman PenggolonganDiagnosis Gangguan Jiwa di Indonesia, 3th ed. Jakarta.

Direktorat Bina Pelayanan Kesehatan Jiwa, Direktorat Jenderal Bina Pelayanan Medik, Departemen Kesehatan Republik Indonesia, 2009, Pedoman Terapi Psikofarmaka,16-39.

Dixon L, Perkins D, Calmes C, 2009, Practice Guideline For The Treatment Of Patients With Shizophrenia, (online), (http://www.psychitryonline.org diakses 12-12-2015).

Fahrul, Mukaddas A, Faustine I, 2014, Rasionalitas Penggunaan Antipsikotik pada Pasien Skizofrenia di Instalasi Rawat Inap Jiwa RSD Madani Provinsi Sulawesi Tengah Periode Januari-April 2014, Journal of Natural Science, Vol. 3 No. 2, (online), (http://www.jurnal.untad.ac.id/jurnal/index.php/ejurnalfmipa/article/view/2981.com diakses 19-09-2015).

Fausiah F, Widury J, 2007, Psikologi Abnormal, Universitas Indonesia, Jakarta.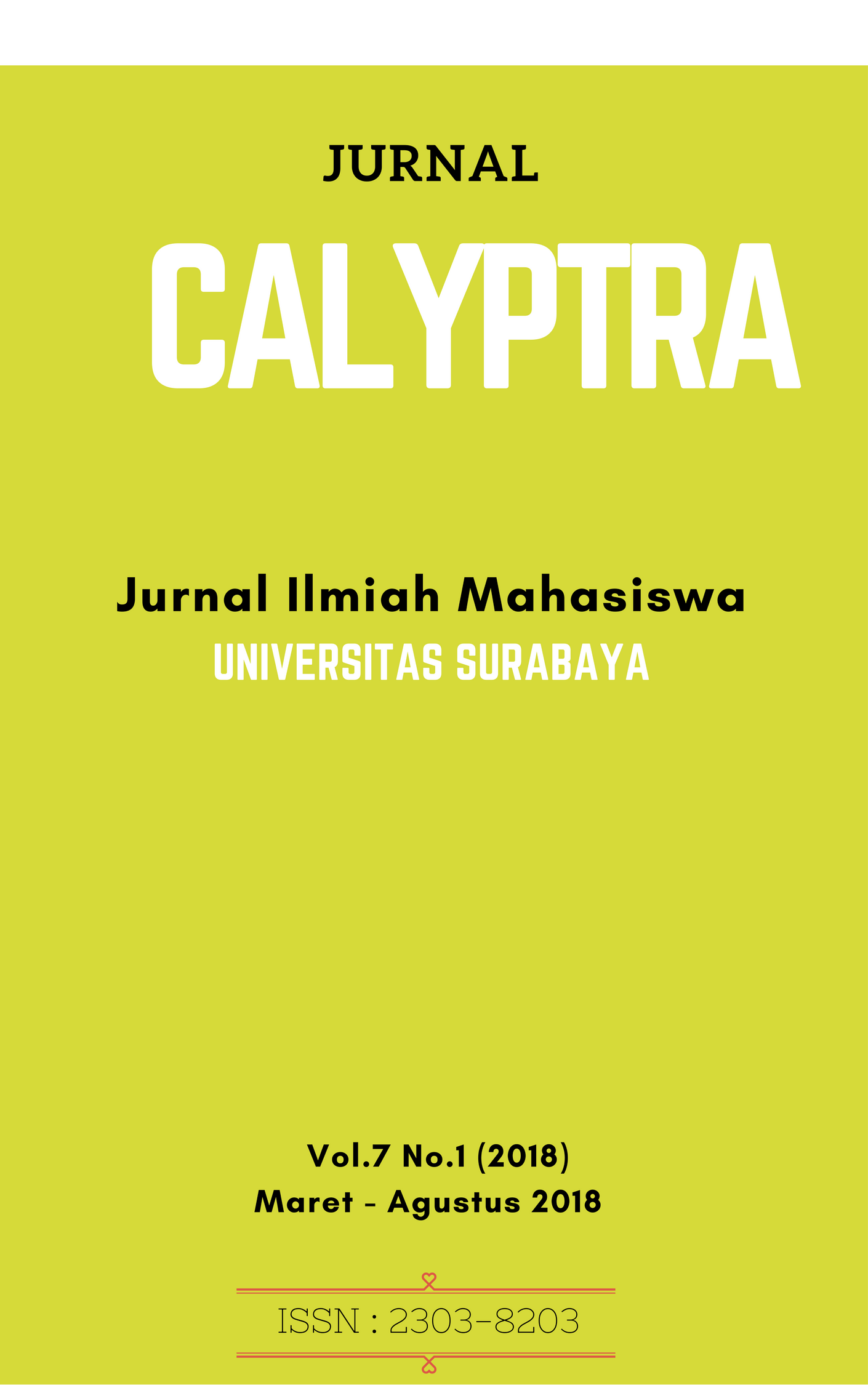 How to Cite
RATNASARI, Ike Desy. ANALISIS DRUG RELATED PROBLEMS PENGGUNAAN ANTIPSIKOTIK PADA PENDERITA SCHIZOPHRENIA DEWASA DI RUMAH SAKIT JIWA X SURABAYA.
CALYPTRA
, [S.l.], v. 7, n. 1, p. Hal. 721 - 735, mar. 2018. ISSN 2302-8203. Available at: <
http://journal.ubaya.ac.id/index.php/jimus/article/view/1192
>. Date accessed: 17 oct. 2018.
Section
Bidang Farmasi (F)