IMPLEMENTASI METODE PENGENDALIAN KUALITAS PADA PROSES PRODUKSI TALI RAFIA HITAM DENGAN MENGGUNAKAN METODE STATISTIK DI UD KARTIKA PLASTIK JOMBANG
Harkit Dwi Hargo

Manajemen / Fakultas Bisnis dan Ekonomika Universitas Surabaya
Abstract
Dapat dilihat bahwa kebutuhan masyarakat dalam kehidupan sehari-hari tidak dapat terlepas dari penggunaan bahan dasar plastik. Begitu banyaknya penggunaan plastik ini dikarenakan plastik memiliki sifat-sifat unggul dan mudah diolah. Dari berbagai pengolahan plastik yang ada tali rafia adalah salah satu produk yang sudah tidak asing lagi di telinga masyarakat. Hampir setiap sektor industri bahkan konsumen rumah tangga membutuhkan tali rafia sebagai alat untuk mengemas dibandingkan dengan tali tampar yang terbuat dari serabut kelapa. Salah satu produsen tali rafia adalah UD Kartika Plastik yang terletak di Jombang, Jawa Timur. Alat statistik yang digunakan dalam penelitian ini adalah: Check Sheet, Diagram Pareto, Diagram Ishikawa (Sebab Akibat), Peta Kendali, Tabel FMEA (Failure Mode Effect Analysis) dan Matriks Pugh. Hasil Penelitian ditunjukkan dengan adanya titik-titik yang melebihi batas kendali dalam peta kendali individual X-bar. Dan melakukan desain terhadap check sheet karena UD. Kartika Plastik masih belum memiliki check sheet sebagai alat perekaman data produksi yang baik. Diagram Pareto digunakan untuk melihat proporsi cacat pada produk tali rafia hitam UD Kartika Plastik. Setelah itu UD Kartika Plastik memilih konsep yang layak dan mudah diterapkan dalam perusahaan melalui matriks pugh. Konsep-konsep tersebut didapatkan dari FMEA yang telah dilakukan berdasarkan diagram Ishikawa.
Downloads
Download data is not yet available.
References
Assauri, Sofjan, Manajemen Produksi, Edisi Ketiga, Lembaga Penerbit Fakultas Ekonomi Universitas Indonesia, Jakarta 1993.

Besterfield, Dale H., Quality Control, 4th edition, Prentice Hall International., New Jersey, 1994.

Durwar K., dan Art Smalley, Understandung A3 Thinking; A Critical Component of Toyota PDCA Management system , Taylor & Francis, 2008.

Feigenbaum A.V., Total Quality Control, McGraw-Hill, New York, 1991.

Gaspersz, Vincent, Statistical Process Control, PT Gramedia Pustaka Utama, Jakarta, 1998.

Gaspersz, Vincent, Metode Analisis Untuk Peningkatan Kualitas, PT Gramedia Pustaka Utama, Jakarta, 2001

Gaspersz, Vincent, Total Quality Management, PT Gramedia Pustaka Utama, Jakarta, 2005.

Hansen, Don R. dan Mowen, Maryanne M., Cost Management 4th edition, South Western College Publishing, Cincinnati-Ohio, 1994.

Ishikawa, Kaoru, Teknik Penuntun Pengendalian Mutu, Edisi Pertama, Penerbit PT Mediyatama Sarana Perkasa, Jakarta, 1989.

Levine, P.P. Ramsey, dan Mark L., Business Statistics For Quality and Productivity, Prentice–Hall, Inc., New Jersey, 1995.

Mitra, Amitava, Fundamentals Of Quality Control And Improvement, Macmillan Publishing Company, New York, 1993.

Montgomery, Douglas C., Introduction to Statistical Quality Control, 4th Edition, John Willey & Sons, Inc, Canada, 2001.

Montgomery, Douglas C., Introduction to Statistical Quality Control, 6th Edition, John Willey & Sons, Inc, United States of America, 2009.

Pugh, Stuart, Creating Innovative Product Using Total Design, Addison Wesley Publishing Company Reading, 1996.

Rath & Strong, Six sigma Advance Tools Pocket Guide, Penerbit Andi, Yogyakarta, 2005.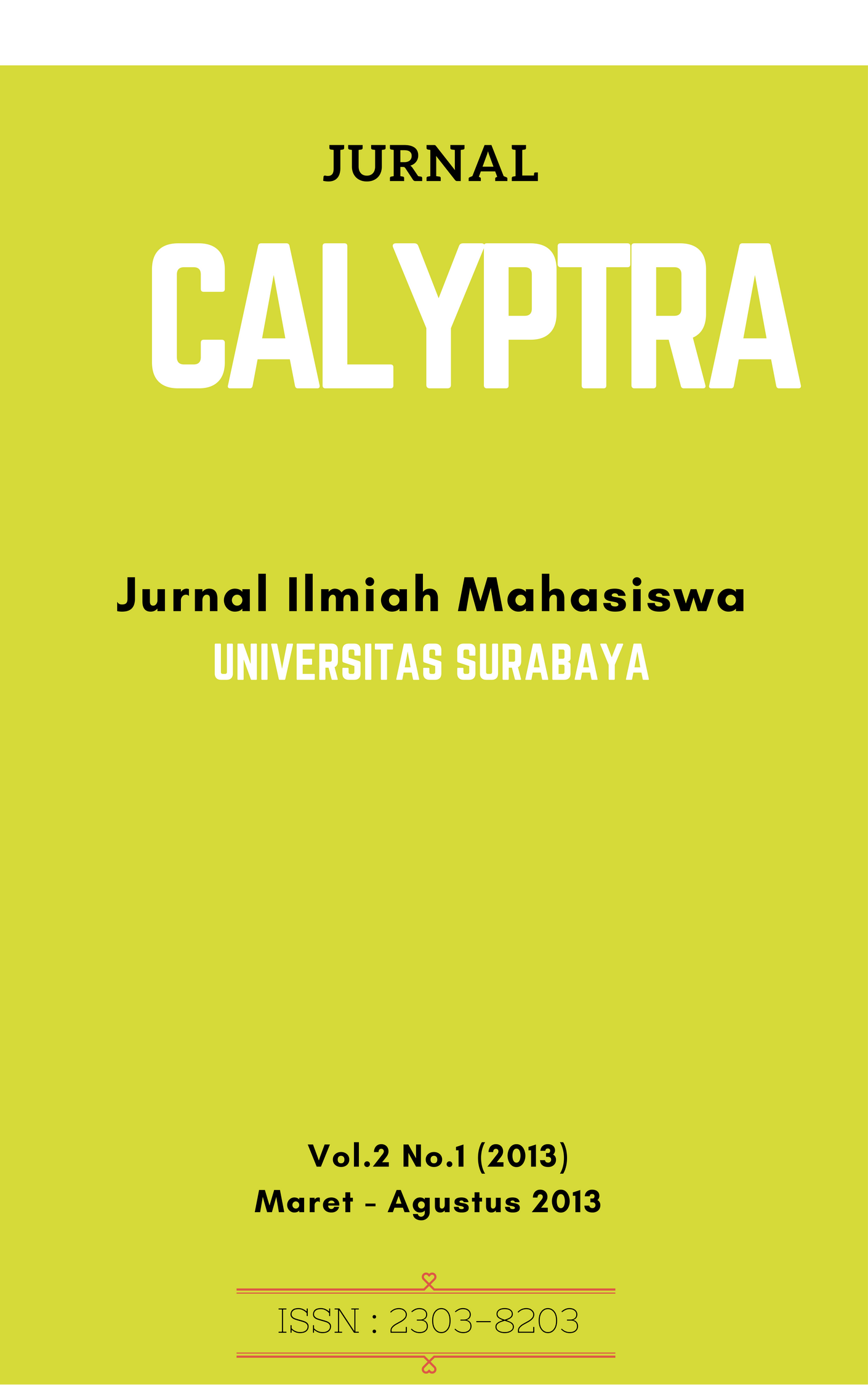 How to Cite
HARGO, Harkit Dwi. IMPLEMENTASI METODE PENGENDALIAN KUALITAS PADA PROSES PRODUKSI TALI RAFIA HITAM DENGAN MENGGUNAKAN METODE STATISTIK DI UD KARTIKA PLASTIK JOMBANG.
CALYPTRA
, [S.l.], v. 2, n. 1, p. Hal. 1 - 19, mar. 2013. ISSN 2302-8203. Available at: <
http://journal.ubaya.ac.id/index.php/jimus/article/view/334
>. Date accessed: 18 sep. 2019.
Section
Bidang Manajemen (M)