STUDI DESKRIPTIF PENERAPAN SERVICESCAPE PADA RUMAH MAKAN DAPUR DESA SURABAYA MENURUT PERSEPSI KONSUMEN
Gana Sinata

Manajemen / Fakultas Bisnis dan Ekonomika Universitas Surabaya
Abstract
Penelitian ini bertujuan untuk mengetahui dan menggambarkan penerapan konsep Servicescapes pada Rumah Makan Dapur Desa di Surabaya yang dipersepsikan oleh pelanggan. Setiap perusabaan secara sadar atau tidak merniliki lingkungan fisik yang dinilai oleh pelanggannya. Lingkungan fisik dapat bemilai positif atau negatit: tergantung bagaimana perusabaan membentuk lingkungan fisik tersebut di mata pelanggan. Penelitian ini menggunakan jenis penelitian Deskriptif, dan menggunakan pendekatan kuantitatif. Penelitian ini menggunakan sampel yaitu responden yang pernah makan di Rumah Makan Dapur Desa. Metode yang digunakan adaJah Statistik deskriptif yang dilakukan dengan menggunakan bantuan komputer SPSS for Windows 18. 00. Temuan penelitian ini menunjukkan babwa Servicescapes yang dimiliki o1eh Rumah Makan Dapur Desa di Surabaya dinilai baik oleh pelanggan.
Downloads
Download data is not yet available.
References
Schiffman, Leon G., Kanuk L.L., 2010, Consumer Behavior: Global Edition, Tenth Edition~ Pearson Prentice Hall.

Sujatno, A. Bambang., 2011, HOSPITALITY: Secret Skill, Atittude, and Performances for Restaurant Manager, edisi pertama) Penerbit ANDI Y ogyakarta.

Yuksel, Atila and Yuksel, Fisun. (2002). Measurement of Tourist Satisfaction With Restaurant Sen,ices: A Segment-Based Approach, Journal of Vacation Marketing Vol. 9 No. 1, Henry Stewart Publications.

Zeithaml, Valarie A., Bitner M.J., Gremler Dwayne D., 2004, Services Marketing: Integrating Customer Focus Across The Firm, Fifth Edition, McGrow Hill International

Cock.ril, A, Goode, M., and Emberson, D., 2008, Servicescape Matters-or does it? : The Special Case of Betting Shops, Journal of Marketing Inteligence & Planning Vol. 26 No.2, Emerald Group Publishing Limited.

Kotler, Philip and Keller, Kevin Lane, 2012, Marketing Management: Global Edition, fourteenth Edition, Pearson Education Limited, Prentice Hall, United States of America

Kotler, Philip and Amstrong, Gary, 2012, Principles of Marketing: Global Edition, Fourteenth Edition, Pearson Education Limited, Prentice Hall, United States of America.

Lovelock, C., Wirtz J., Keh H.T., and Lux., 2005, Service Marketing In Asia, Second Edition, Prentice Hall.

Marsum, W.A., 2000, Restoran dan Segala Permasalahannya, Edisi Ketiga, Cetakan Kesatu, Yogyakarta, PT. ANDI.

Rosenbaum, Mark S and Masiah, Carolyn. (20 11 ). An Expanded Sevicescape Perspective. Journal of Service Management Vol. 22 No. 4, Emerald Group Publishing Limited.

Solihati, D., Aris, R., dan Risvan, 2011, Semaraknya Bisnis Kuliner, Majalah SW A, edisi XXVII : 8-9 September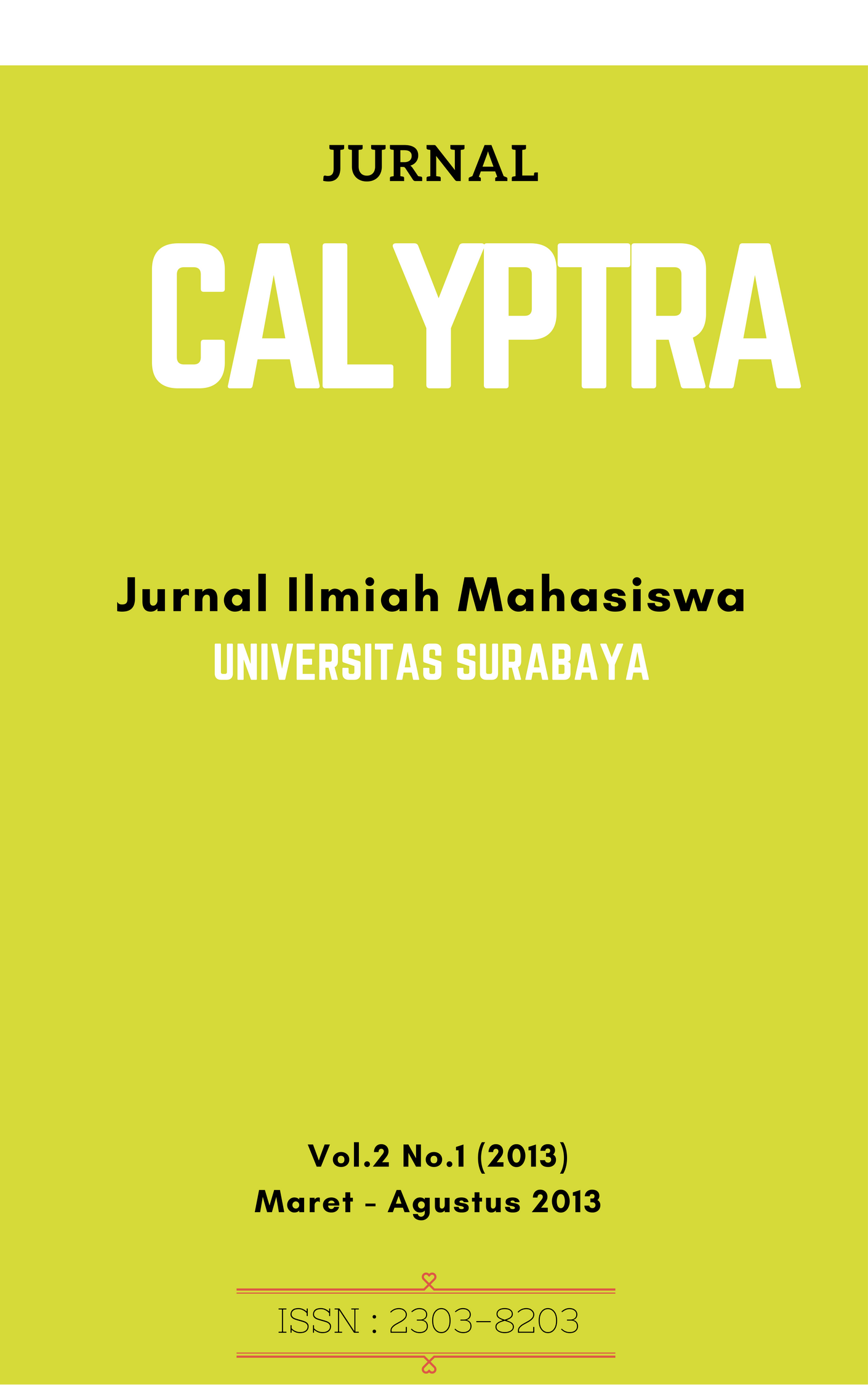 How to Cite
SINATA, Gana. STUDI DESKRIPTIF PENERAPAN SERVICESCAPE PADA RUMAH MAKAN DAPUR DESA SURABAYA MENURUT PERSEPSI KONSUMEN.
CALYPTRA
, [S.l.], v. 2, n. 1, p. Hal. 1 - 15, mar. 2013. ISSN 2302-8203. Available at: <
http://journal.ubaya.ac.id/index.php/jimus/article/view/357
>. Date accessed: 18 sep. 2019.
Section
Bidang Manajemen (M)