HUBUNGAN ANTARA SELF ESTEEM DAN PROKRASTINASI AKADEMIK PADA MAHASISWA ANGKATAN 2010 FAKULTAS PSIKOLOGI UNIVERSITAS SURABAYA
Marvel Joel Tetan El

Fakultas Psikologi Universitas Surabaya
Abstract
Prokrastinasi merupakan istilah dalam bidang ilmu psikologi ketika seseorang melakukan penundaan terhadap sesuatu yang seharusnya dilakukannya pada saat-saat tertentu. Perilaku prokrastinasi bisa terjadi di dalam semua bidang kehidupan, salah satunya adalah di bidang akademik. Self-esteem adalah salah satu faktor yang berhubungan dengan prokrastinasi (Beswick, 1988). Menurut Branden (2000), self esteem adalah penilaian diri yang dilakukan seseorang terhadap dirinya berdasarkan pengalaman sebelumnya.Secara teoritis, ada hubungan antara prokrastinasi akademik dengan self esteem namun hasil korelasi yang didapatkan masih bervariasi. Subjek yang dilibatkan adalah mahasiswa angkatan 2010 fakultas Psikologi Universitas Surabaya sejumlah 118 karena mahasiswa angkatan tersebut akan menyelesaikan semester ke-4 mereka dan akan menghadapi evaluasi drop out. Metode pengumpulan data yang digunakan adalah dengan menggunakan angket online melalui media Google Docs. Hasilnya, ada hubungan atau korelasi negatif dengan nilai korelasi sebesar = - .445 (p = .000).
Downloads
Download data is not yet available.
References
Bandura, A. (1977). Self-efficacy: toward a unifying theory of behavioral change. Psychological Review. Vol. 84(2), 191-215.

Beswick, G. (1988). Psychological antecedents of student procrastination. Ausralian Psychologist 23(2).

Beck, B. L., Koons, S. R., & Milgrim, D. L. (2000). Correlates & consequences of behavioral procrastination: The effects of academic procrastination, self-consciousness, self-esteem & self-handicapping. Journal of social behavior and personality. Vol. 15(5), 3-13.

Branden, N. (2001). Kiat jitu meningkatkan harga diri. Jakarta : PT. Pustaka Delapratasa.

Burka, J. B. & Yuen, L. M. (1983). Procrastination : Why you do it, what to do about it. New York : Perseus Books.

Cohen, J. R., & Swerdlik, M. E. (2005). Psychological testing and assessement : an introduction to tests and measurement (6th ed). New York : McGraw-Hill Companies, Inc.

Endy. (2012). Validasi alat ukur Steel Procrastination Scale (SPS). Surabaya : (Skripsi, diterbitkan) Fakultas Psikologi Universitas Surabaya, Surabaya.

Ferrari, J. R., Johnson, J. L., & McCown, W. (1995). Procrastination and task avoidance : theory, research, and treatment. New York : Plenum Press.

Rizal, Y. (2012). Hubungan antara prokrastinasi akademik dan self esteem. (Skripsi, diterbitkan) Fakultas Psikologi Universitas Surabaya, Surabaya.

Rosenberg, M. (1989). Society &adolescent self image (rev ed.). Middletown, CT: Wesleyan University Press.

Solomon, L. J. & Rothblum, E. D. (1984). Academic procrastination : frequency and cognitive-behavioral correlates. Journal of counseling psychology. Vol. 31 (4).

Steel, P. & König, C. J. (2006). Intergrating theories of motivation. Academy of management review. Vol 31(4), 889-913.

Steel, P. (2007). The nature of procrastination : A meta-analytic and theoretical review of quintessential self-regulatory failure. Psychological Bulletin, 133(1), 65-94.

Tondok, M. S., Ristyadi, H. & Kartika, A. (2008). Prokrastinasi akademik dan niat membeli skripsi. Anima : Indonesian Psychological Journal, 24(1), 76-87.

Vasconcelos, F. (2007). Running head : perfectionism, self esteem & procrastination : Perfectionism and self esteem underlying procrastination. Eastern Michigan University.

Yuwanto, L., Winduwati, G., Santoso, C., Yenny. (2010). Panduan analisis statistik. Surabaya : Putra Media Nusantara.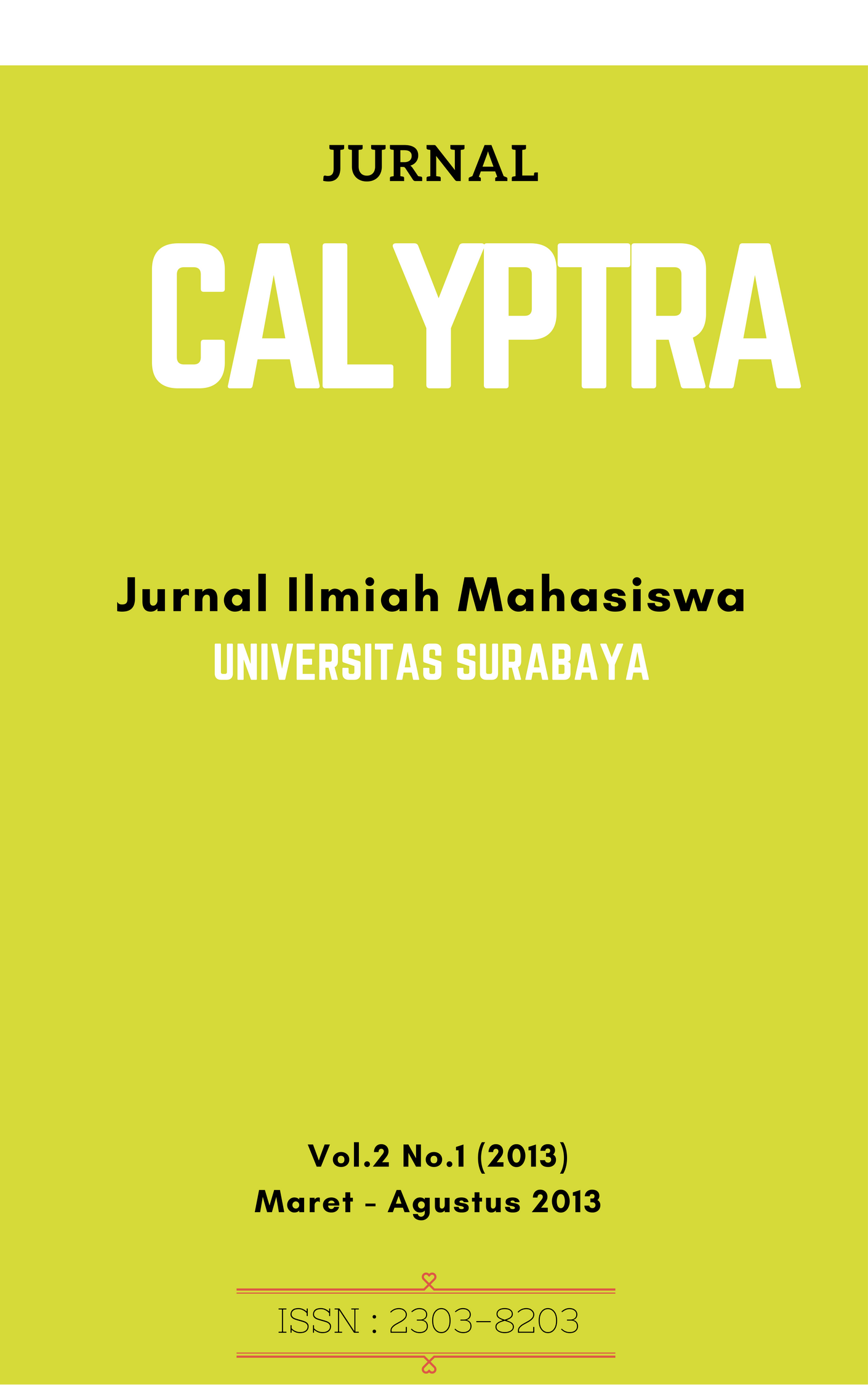 How to Cite
EL, Marvel Joel Tetan. HUBUNGAN ANTARA SELF ESTEEM DAN PROKRASTINASI AKADEMIK PADA MAHASISWA ANGKATAN 2010 FAKULTAS PSIKOLOGI UNIVERSITAS SURABAYA.
CALYPTRA
, [S.l.], v. 2, n. 1, p. Hal. 1 - 17, mar. 2013. ISSN 2302-8203. Available at: <
http://journal.ubaya.ac.id/index.php/jimus/article/view/436
>. Date accessed: 18 sep. 2019.
Section
Bidang Psikologi (ED)