ANALISIS PENERAPAN ACTION DAN RESULT CONTROL UNTUK MENGATASI MOTIVATIONAL PROBLEM CV. MULIA JAYA BOX
Zella Dicta Wijaya

Jurusan Akuntansi Fakultas Bisnis dan Ekonomika Universitas Surabaya

Imanuel Goestaman

Jurusan Akuntansi Fakultas Bisnis dan Ekonomika Universitas Surabaya
Abstract
Sumber daya manusia merupakan salah satu faktor penting dalam pelaksanaan pengendalian demi mencapai tujuan badan usaha. Namun, seringkali terdapat perbedaan antara tujuan yang ingin dicapai karyawan dengan badan usaha. Untuk mengatasi masalah motivasi karyawan dalam bekerja diperlukan adanya system pengendalian manajemen. Hal ini menyebabkan seringkali karyawan bertindak sesuai dengan kepentingan karyawan itu sendiri dan mengorbankan kepentingan badan usaha (motivational problem). Dengan melakukan action dan result control dapat mengatasi masalah terkait adanya motivational problems yaitu keterlambatan yang dilakukan karyawan karena tidak adanya motivasi karyawan untuk disiplin. Masalah lain yang dapat diatasi dengan menggunakan action dan result control adalah masalah penyelesaian target kerja badan usaha, dikarenakan sering tidak tercapainya target. Dengan menetapkan action dan result control maka pengendalian terhadap suatu hasil dari kinerja karyawan dinilai berdasarkan penilaian formal. Dengan penilaian secara formal dapat mengurangi masalah terhadap motivasi karyawan untuk tidak merasa bahwa karyawaan hanya digunakan sebagai subjek bukan merupakan objek dan juga dapat mengatasi masalah terhadap motivasi karyawan untuk melakukan yang terbaik untuk badan usaha.
Downloads
Download data is not yet available.
References
Anthony, R.N., and V. Govindarajan. 2007, Management Control Sytem. MCGraw Hill / Irwin : New York, America

Ade Hapsari Lestarini – Okezone. 2011. Pertumbuhan Industri Percetakan RI Diprediksi Capai 4,7%, (online), (http://www.okezone.com/2011.html , diakses pada tanggal 20 november 2011)

Capital Incentives and Motivation 2005. You Can Lead Employess to Eat. Maggots But You Cannot Make Them Eat

Efferin, S., H.S. Darmadji, dan Y. Tan, 2008. Metode Penelitian untuk Akuntansi. Banyumedia Publishing : Malang, Jawa Timur.

Ferano, 2005 Pengaruh strategi sumber daya manusia terhadap kinerja perusahaan http://fenaro.narotama.ac.id/download_berita/pengaruh%20strategi%20sdm%20terhadap%20kinerja.pdf diakses pada tanggal 11 januari 2012

Hardy, K. 2007. Self-Reward : An Untapped Resource for High Performance, Public Maneger. Potomac : Summer 2007. Vol. 36, Edisi 2; pg. 55, 4 pgs.

Informasi dan pengetahuan tentang kotak karton gelombang sebagai media packaginghttp://kotak-karton-gelombang.blogspot.com/2009/01/sejarah-penemuan-kertas.html, diakses pada tanggal (11 Januari 2012)

Kotler, P., and Keller, K. L. 2007, Marketing Management, 15th edition. Pearson Internasional Education

Klie, S. 2007. New challenges in pay for performace. Canadian HR Reporter. Toronoto : Vol.20, Iss.8; pg 9,2pgs

Maritz. 2007. Human Resources in firm' s, dissertation. USA : Vol.18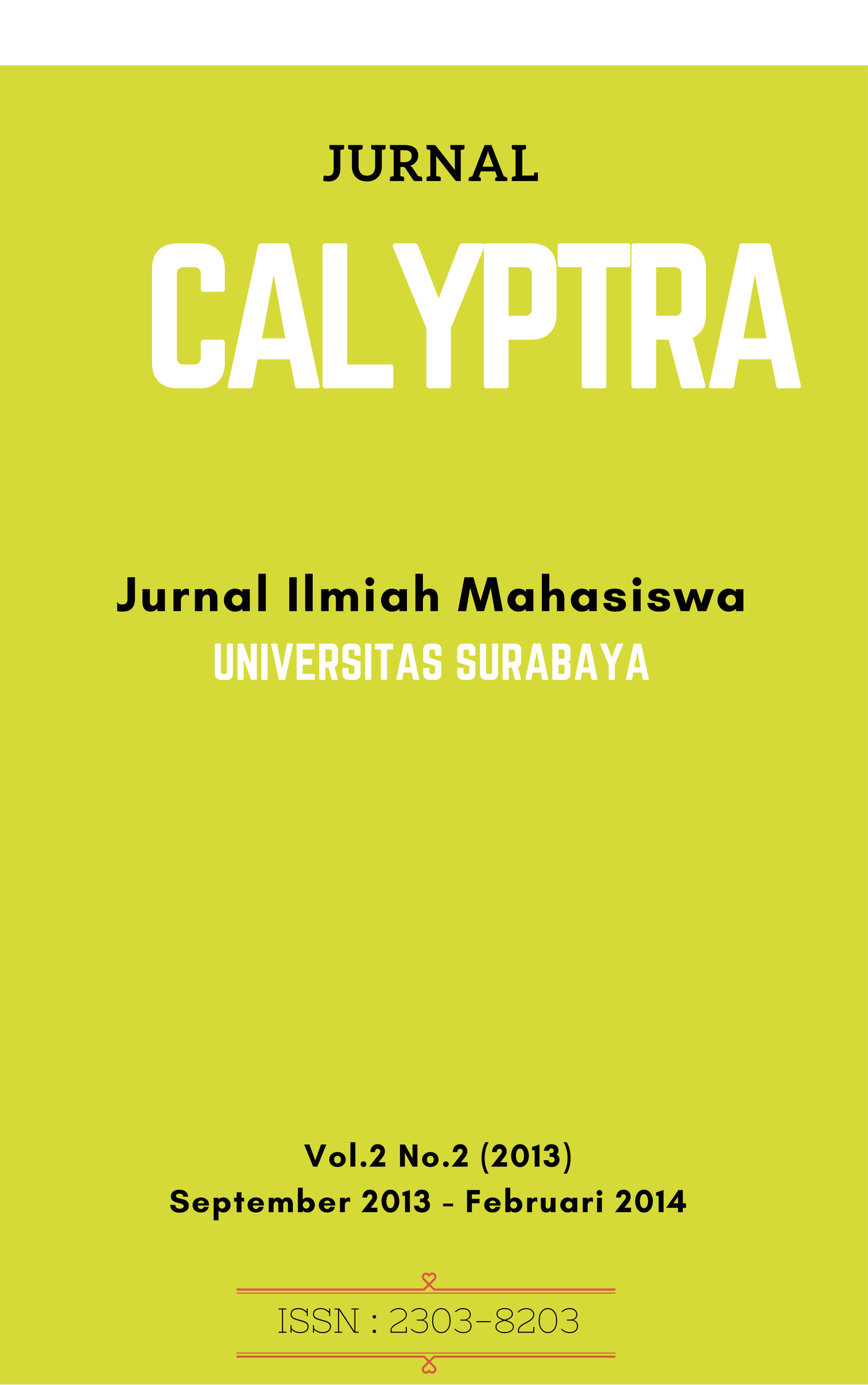 How to Cite
WIJAYA, Zella Dicta; GOESTAMAN, Imanuel. ANALISIS PENERAPAN ACTION DAN RESULT CONTROL UNTUK MENGATASI MOTIVATIONAL PROBLEM CV. MULIA JAYA BOX.
CALYPTRA
, [S.l.], v. 2, n. 2, p. Hal. 1 - 13, sep. 2013. ISSN 2302-8203. Available at: <
http://journal.ubaya.ac.id/index.php/jimus/article/view/465
>. Date accessed: 22 jan. 2018.
Section
Bidang Akuntansi (AK)