STUDI DESKRIPTIF TENTANG KOMPETENSI PROFESSIONAL SCM YANG DIMILIKI LULUSAN JURUSAN TEKNIK INDUSTRI, DAN MANAJEMEN JEJARING BISNIS UNIVERSITAS SURABAYA
Robin Herianto

Jurusan Manajemen Jejaring Bisnis Fakultas Bisnis dan Ekonomika Universitas Surabaya
Abstract
Penelitian ini bertujuan utuk menggambarkan kompetensi Professional SCM yang dimiliki lulusan Perguruan Tinggi khususnya Jurusan Teknik Industri, dan Manajemen Jejaring Bisnis Universitas Surabaya sebelum bekerja, dengan tuntutan kompetensi sesudah bekerja yang dibutuhkan di dunia profesi Supply Chain Management dan diukur melalui teori Professional SCM.Pengolahan data dilakukan dengan menggunakan SPSS 17.0 for Windows. Teknik pengambilan sampel yang digunakan dalam penelitian ini adalah teknik non probability sampling dengan jenis convenience sampling. Data diperoleh melalui data sekunder, dan survei dengan menyebar kuesioner. Jumlah sampel dalam penelitian ini adalah 100 responden yang terdiri dari 44 responden alumni Jurusan Teknik Industri Universitas Surabaya, 56 responden alumni Manajemen Jurusan Jejaring Bisnis Universitas Surabaya. Hasil penelitian ini menunjukkan adanya kesenjangan antara kemampuan alumni Universitas Surabaya yang dimiliki saat baru lulus, dengan kebutuhan kompetensi Professional SCM di dunia kerja profesi Supply Chain.
Downloads
Download data is not yet available.
References
Anders Drejer, 2004,"Back to basics and beyond: Strategic management - an area where practice and theory are poorly related", Management Decision, Vol. 42 Iss: 3 pp. 508 – 520

Dean Elmuti, 2004,"Can management be taught?: If so, what should management education curricula include and how should the process be approached?", Management Decision, Vol. 42 Iss: 3 pp. 439 – 453

Joniarto Parung, 2013, "Melintas Batas Membangun UBAYA Memperkuat Sinergi dan Kerjasama", Laporan Tahunan Rektor, Dies Natalis ke 45 Universitas Surabaya.

Kovács, G., and Tatham, P.H. ,2009, "Humanitarian performance in the light of gender", International Journal of Production and Performance Management, 58(2):174-187.

Michael Tracey, Kimberly A. Smith-Doerflein, 2001,"Supply chain management: what training professionals need to know", Industrial and Commercial Training, Vol. 33 Iss: 3 pp. 99 – 104

Paul D. Larson, 2008,"Accreditation program design: a survey of supply chain professionals", Journal of Enterprise Information Management, Vol. 21 Iss: 4 pp. 377 – 392

Peter Tatham, Gyöngyi Kovács, and Paul Larson, 2010, What Skills and Attributes are Needed by Humanitarian Logisticians – a Perspective Drawn from International Disaster Relief Agencies, POMS 21st Annual Conference

Vinh V. Thai, Stephen Cahoon, Hai T. Tran, 2011,"Skill requirements for logistics professionals: findings and implications", Asia Pacific Journal of Marketing and Logistics, Vol. 23 Iss: 4 pp. 553 – 574

tufe.ubaya.ac.id diunduh tanggal 11 Maret 2012

ti.ubaya.ac.id diunduh tanggal 11 Maret 2012

www.dikti.go.id diunduh tanggal 11 Maret 2012

www.supplychaincanada.org/ea/ diunduh tanggal 11 Maret 2012

www.supplychainindonesia.com diunduh tanggal 29 April 2012

www.wikipedia.com diunduh tanggal 29 April 2012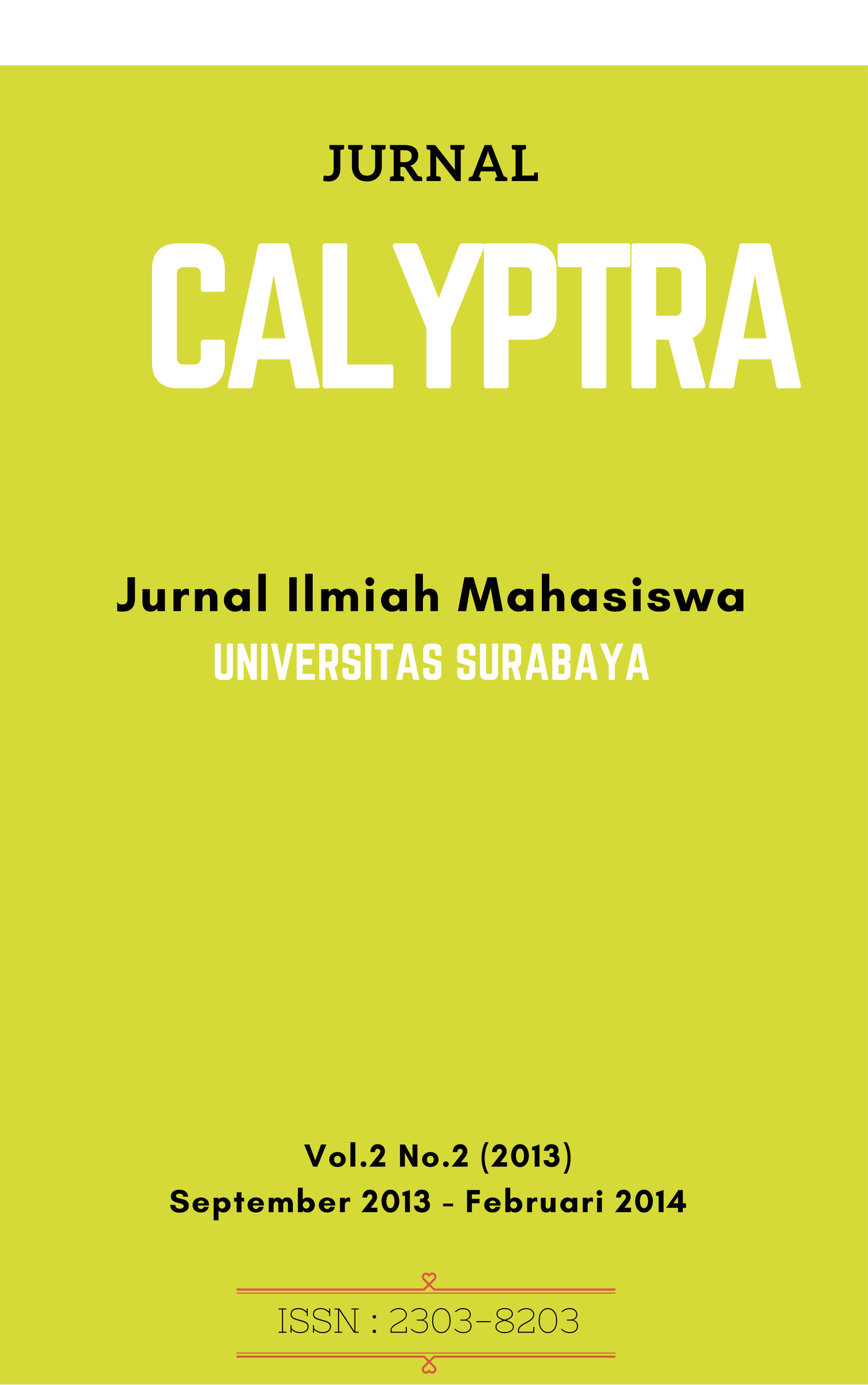 How to Cite
HERIANTO, Robin. STUDI DESKRIPTIF TENTANG KOMPETENSI PROFESSIONAL SCM YANG DIMILIKI LULUSAN JURUSAN TEKNIK INDUSTRI, DAN MANAJEMEN JEJARING BISNIS UNIVERSITAS SURABAYA.
CALYPTRA
, [S.l.], v. 2, n. 2, p. Hal. 1 - 13, sep. 2013. ISSN 2302-8203. Available at: <
http://journal.ubaya.ac.id/index.php/jimus/article/view/650
>. Date accessed: 18 feb. 2020.
Section
Bidang Manajemen (M)