ANALISIS RISK MANAGEMENT BERBASIS ISO 31000 UNTUK MENGURANGI WANPRESTASI KONTRAK PADA CV. PUTRA PERTAMA DI SURABAYA
Ayuningtyas Setia Budi

Jurusan Akuntansi Fakultas Bisnis dan Ekonomika Universitas Surabaya
Abstract
Penelitian ini betujuan untuk memberikan pemahaman mengenai Managemen Risiko bagi perusahaan dengan skala bisnis kecil terutama untuk bidang jasa kontruksi yang sesuai dengan ISO 31000. Managemen Risiko ini bertujuan untuk menilai besarnya risiko dalam setiap kegiatan operasional atau aktivitas perusahaan yang memberikan dampak yaitu wanprestrasi kontrak. Tingkat risiko yang tinggi akibat wanprestasi kontrak membuat para kontraktor harus mulai melakukan pengelolaan risiko di masing-masing aktivitas operasional. Dengan adanya penerapan Risk Management, perusahaan akan diarahkan dalam mengelola risiko yang muncul pada setiap aktivitas operasional perusahaan. 
Downloads
Download data is not yet available.
References
A.Gordon, Lawrance. 2009. Enterprise Risk Management and Firm Performance: A Contigency Perpective. Elsevier.

Alijoyo, A. 2006. Enterprise Risk Management. Jakarta : Ray Indonesia.

Aven, Terje. 2011. On the new ISO guide on Risk Management Terminology. University of Stavanger. Stavanger, Norway.

Delloit. 2009. Global Risk Management Survey: Sixth Edition Risk Management In The Spothlight. Available http://www.deloitte.com/-assets/DcomUnitedStates/Local%20Assets/Documents/us_fsi_GlobalRskMgmtSrvy_June09.pdf, download 15 Juni 2012

Djohanputro, Bramantyo. 2008. Manajemen Risiko Korporat. Jakarta : PPM.

Enterpreneur, Ciputra. 2012. Bisnis Florist, Resiko Tinggi dengan Laba Besar. http://www.ciputraentrepreneurship.com/mobile-16320-bisnis-florist-risiko-tinggi-dengan-laba-besar.html. (Diakses 25 April 2012)

Fahmi, Irham, S.E., M.Si. 2010. Manajemen Risiko : Teori, Kasus, dan Solusi. Bandung : Alfabeta

Final Results of COSO vs ISO Risk Management Survey. http://sustaina-blebusinessfor-um.-com/norman-marks/57-796/final-results-coso-vs-iso-risk-management-survey

Fuady, Munir, 2001, Hukum Kontrak (Dari Sudut Pandang Hukum Bisnis), PT. Citra Aditya Bakti, Bandung.

Frame. 2003. Managing Risk in Organizations : A Guide For Managers. First Edition. United States Of America : Frame, J. Davidson.

Hiro Tugiman. 2006. Standart Profesional Audit Internal. Yogyakarta: Kanisius.

Institute Internal Auditors. 2004. Applying COSO's : Enterprise Risk Management–Integrated Framework. http://books.google.co.id/-books?-id=iM1i-D1I4-ksC&p-g=PT-99&d-q=apply-ing+co-so's+ERM+-INTEGRA-TEDFRAMEWORK-hl=en&sa=-X-&-ei-=7-P-XU-U-dK4-MIL5r-Qf-I0-YCABw&ved=0CCsQ6AEwAA

International Journal of Project Management Vol.15, No.1, pp. 31-38, 1997. Risk Analysis and Management in contruction. Copyright ©1996. Great Britain.

International Organization for Standardization (ISO). "ISO 13000:2009—Risk Management: Principles and Guidelines." Geneva, 2009. (http://www.iso.org/iso/home/standards/iso31000.htm)

Kontan. 2011. Survei: Indonesia paling menghindari pengambilan risiko.http://keuangan.kontan.co.id/news/-survei-indonesia-paling-menghind-ari-pengambilan-risiko. 17 Agustus 2011.

Managing Cost Risk & Uncertainty In Infrastructure Projects Leading Practice and Improvement: Report from the Infrastructure Risk Group 2013. http://www.theirm.org/‐documents/‐IRMREPORTLRV2_001.pdf

Ramli, Soehatman. 2010. Pedoman Praktis : Managemen Risiko dalam Perpektif K3 OHS Risk Management. Cetakan Pertama, PT. Dian Rakyat. Jakarta.

Structured Approach to Enterprise Risk Management (ERM) and the Requirements of ISO 31000. http://www.theirm.org/‐ISO31000‐guide.htm

Singhal, Dr. Divya & Singhal, K. R. 2009. Managing Risk in a Systematic Way. SSRN.

Sustainable Risk Management Services. 2009. Australia. http://www.srma.com.au/index.php?sectionID=4121&pageID=4132

Tempo. 2003. BNI Jelaskan L/C Rp 1,7 Triliun Pekan Depan. http://www.tempo.co/read/news/2003/10/25/05624883/BNI-Jelaskan-L-C-Rp-17-Triliun-Pekan-Depan. 25 Oktober 2003.

Tempo. 2011. Nasabah Suryati Mengadu, Aksi Malinda Terkuak. http://www.tempo.co/read/news/2011/10/17/063361809/Nasabah-Sury-ati-Mengadu-Aksi-Malinda-Terkuak. 17 Oktober 2011Watts, Christopher & Kim Benjamin. 2008. The Bigger Picture Enterprise Risk Management in Financial Services Organization Available: http://www.sas.com/resources/whitepaper/wp_5621.pdf, download: 15 Juni 201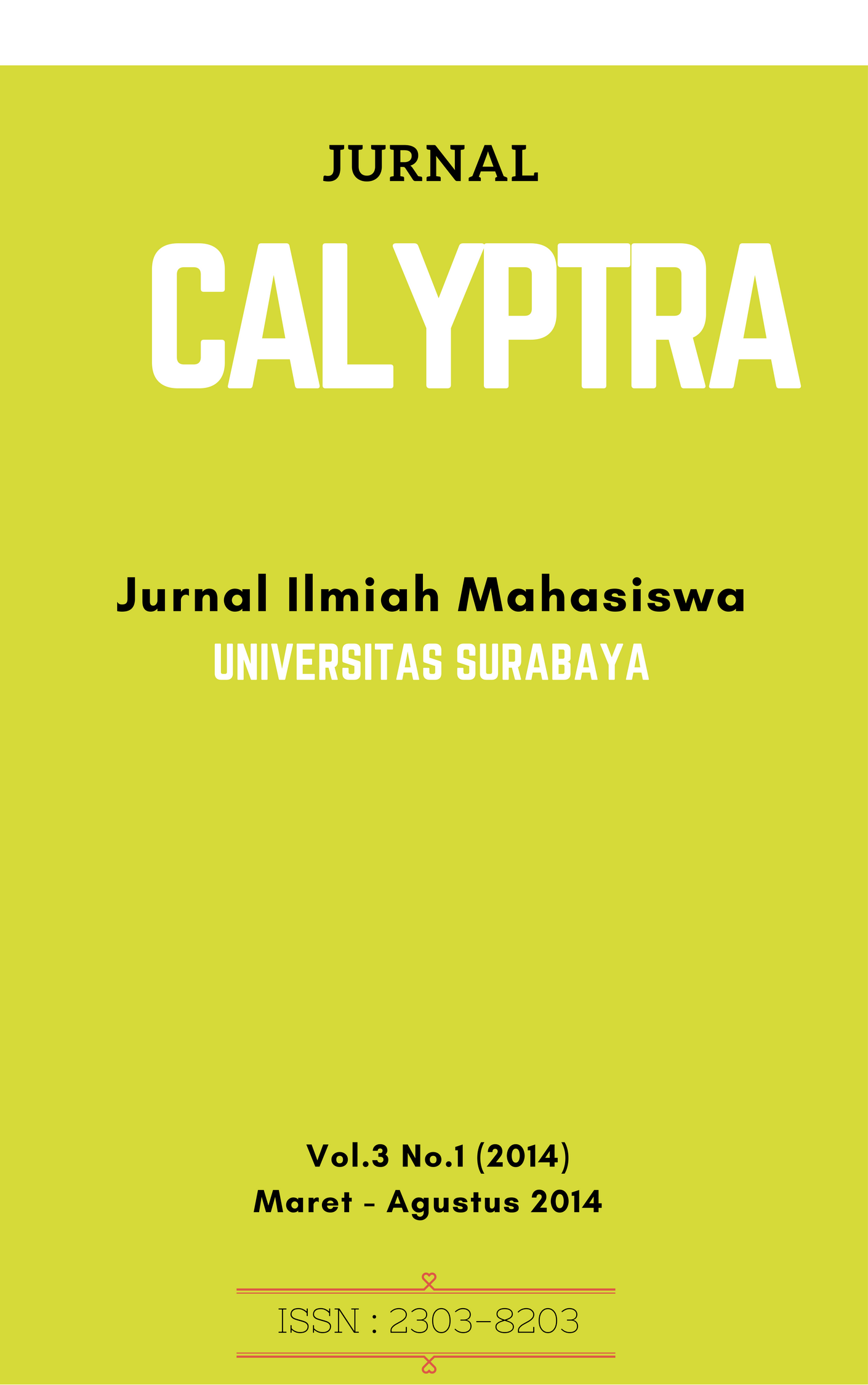 How to Cite
BUDI, Ayuningtyas Setia. ANALISIS RISK MANAGEMENT BERBASIS ISO 31000 UNTUK MENGURANGI WANPRESTASI KONTRAK PADA CV. PUTRA PERTAMA DI SURABAYA.
CALYPTRA
, [S.l.], v. 3, n. 1, p. Hal. 1 - 8, mar. 2014. ISSN 2302-8203. Available at: <
http://journal.ubaya.ac.id/index.php/jimus/article/view/886
>. Date accessed: 21 july 2019.
Section
Bidang Akuntansi (AK)