IMPLIKASI GENDER PEMIMPIN TERHADAP SISTEM PENILAIAN KINERJA DI FAMILY BUSINESS (STUDI KASUS PADA PT. X DI GERSIK)
Ratu Kharisma Prahartiwi

Jurusan Akuntansi Fakultas Bisnis dan Ekonomika Universitas Surabaya
Abstract
Dari sudut pandang gender, terdapat dua karakter yang berbeda. Karakter tersebut dapat membentuk sikap dan perilaku pemimpin terhadap bawahannya. Sikap dan perilaku tersebut kemudian membentuk budaya dan menciptakan lingkungan kerja yang berbeda. Lingkungan kerja juga akan menentukan hasil kinerja bawahan. maka dari itu, penelitian ini akan mengulas mengenai karakter yang diterapkan oleh pimpinan perempuan PT. X. Metode yang digunakan adalah metode kualitatif deskriptif studi kasus. Objek dari penelitian ini ditekankan pada gender pemimpin family business tersebut, penilaian kinerja yang diterapkan di perusahaan, dan karakter family business yang berbeda dengan karakter perusahaan biasa lainnya. Kemudian data diuji keabsahannya dengan menggunakan metode triangulasi sumber. Penelitian ini berjudul "Implikasi Gender Pemimpin Terhadap Sistem Penilaian Kinerja Di Family Business (Studi Kasus Pada Pt. X Di Gersik)". data diuji keabsahannya dengan menggunakan metode triangulasi sumber. Hasil dari penelitian ini menunjukkan bahwa gender pemimpin PT. X cenderung feminim sehingga penetapan penilaian kinerja perusahaan lebih terfokus pada terjalinnya hubungan kekeluargaan yang lebih erat antara atasan dan bawahan. Namun, perusahaan dengan karakter family business di mana posisi-posisi penting kebanyakan di.duduki oleh anggota keluarga memberikan efek kepercayaan yang lebih tinggi. Dampak positif dari karakter feminim pemimpin dalam menetapkan penilaian kinerja karyawan akan membuka peluang kepada karyawan untuk lebih kreatif dan terbuka. Sedangkan dampak negatifnya yaitu dengan adanya koordinasi dan hubungan pendekatan pribadi maka akan lebih membutuhkan waktu yang lebih panjang untuk memutuskan sesuatu.
Downloads
Download data is not yet available.
References
Anthony dan Govindarajan. 2005, Management Control System, Penerbit Salemba Empat, Jakarta.

Bem, S.L., 1981. Bem Sex-Role Inventory: Professional manual. Consulting Psychologists Press, Palo Alto, CA
 
Bem, S.L., 1993. The lenses of gender: Transforming the debate on sexual inequality. Yale University Press, New Haven.

Brush, C.G., 1992. Research on women business owners: past trends, a new perspective and future directions. Entrepreneurship Theory and Practice 16 (4), 5–30

Burkart M., Panunzi F. & Schleifer A. 2003. Family Firms. Journal of Finance, LVIII, 2167-2202.

Butress, Rick 2005 Implication of Succession on Family Firms. Great Britain

Collinson, D. & Hearn, J. 1994. Naming men as men: Implications for work, organization and management. Gender, Work, and Organization, 1, 2-22.

Cooper, M. 2000. Being the "go-to guy": Fatherhood, masculinity, and the organization of work in Silicon Valley. Qualitative Sociology, 23, 379-405

DeCenzo dan Robin. 1999. Manajemen Sumber Daya Manusia. Jakarta: Erlangga.

Donnelley, R. G. 2002. The Family Business. Marietta: Family Enterprise Publishers.

Duxbury, L.E. & Higgins, C.A. 1991. Gender differences in work-family conflict. Journal of Applied Psychology, 76, 60-74.
 

Echols, John M., 2003 dan Hasan Shadily, Kamus Inggris-Indonesia, Jakarta: PT Gramedia Pustaka Utama.

European Commission Report, 2007. Women and Men in Decision-Making 2007 – Analysis of the situation and trends.

E. Atwater, 1983, Psychological Adjustment, New Jersey: Prentiece Hall

Fernandez Perez P. & Hamilton E. 2007. Gender and family firms: an interdisciplinary study. Universitat de Barcelona. Espai de Recera en Economia Working Papers in Economics nr.171

Frankel, Lois P. (2007). See jane lead: 99 kiat sukses memimpin bagi perempuan. Jakarta: PT Gramedia Pustaka Utama.

Gomez-Mejia, Balkin, dan Cardy. 2001. Manajemen Sumber Daya Manusia. Jakarta: Salemba Empat.

Griffin, Ronald J. Ebert. 2010. Business essentials (8th ed). Upper Saddle River, NJ: Prentice Hall.

Hornby, A.S, 1995, Oxford Advanced Learners Dictionary of Current English, Britain: Oxford University Press.

Howorth C., Rose M.B. & Hamilton E. 2006. Definitions, Diversity and Development: Key Debates in Family Business Research. In The Oxford Handbook of Entrepreneurship, (eds) Casson M, Yeung B, Basu A and Wadeson N, Oxford University Press

Humm, Maggie. 1989. The dictionary of feminist theory (2nd edition). Colombus: Ohio State University Press.

Hungu. 2007. Demografi Kesehatan Indonesia. Jakarta: Penerbit Grasindo.

Kaufman, Scott Barry. 2009. From George and Lennox to Gaga and Lambert: Androgyny, Creativity, and Pop Culture.

Levinson H. 1971. Conflicts that Plague Family Businesses. Harvard Business Review, XLIX, 90-98.

Lips, Hilary M., 1993, Sex & Gender an Introduction, California, London, Toronto: Mayfield Publising Company.

Lopez-Zafra, E., Garcia-Retamero, R., & Martos, M. P. 2012. The relationship between transformational leadership and emotional intelligence from a gendered approach. The Psychological Record, 62(1), 97-114.

Marpa, N. 2012. Perusahaan Keluarga Sukses Atau Mati.Tangerang: Penerbit Cergas Media

Maury B. 2005. Family ownership and firm performance: Empirical evidence from Western European corporations. Journal of Corporate Finance, Vol 12, p.321-341.

Money, J., 1965. Psychosocial Differentiation. In J. Money (Ed.), Sex Research: New Development. New York: Holt, Rinchart and Winston.

Miller, Le-Breton Miller, Lester, Canella, "Are Family Firms Really Superior Performers," Journal of Corporate Finance, Vol. 13, Issue 5, 2007.

Mroczkowski, Jim & Tanewski, Philip. 2006. Understanding Family Business. Great Britain

N. Chodorow, 1991 dalam J. B. Miller. Wommen's and Men's Script for Interpersonal Conflict, Phsycology of Women Quarterly 5, Chambridge: Cambridge University Press.

Oakley, Ann. 1972. Sex, Gender, and Society. New York: Yale University Press.

Poza, E. J. 2007. Family Business, 2nd Edition. United States of America: Thomson South-Western.

Reid, Marie. 2000. Communicating successfully in groups. Psychology Press

Santrock, John W. 2007. Psikologi Pendidikan Edisi Kedua. Jakarta: Prenada Media Group.

Sarros, J.C. & J.C. Santora. 2001, "The transformational-transactional leadership model in practice, Leadership, & Organization Development Journal, Vol. 22, No. 8, pp. 383-393.

Sciascia and Mazzola, Family Business Review, Vol. 21, Issue 4, 2008

Sharma, P., Chrisman, J. J., & Chua, J. H. 2003. Succession Planning as Planned Behavior: Some Empirical Results. Family bussinees review, 1-35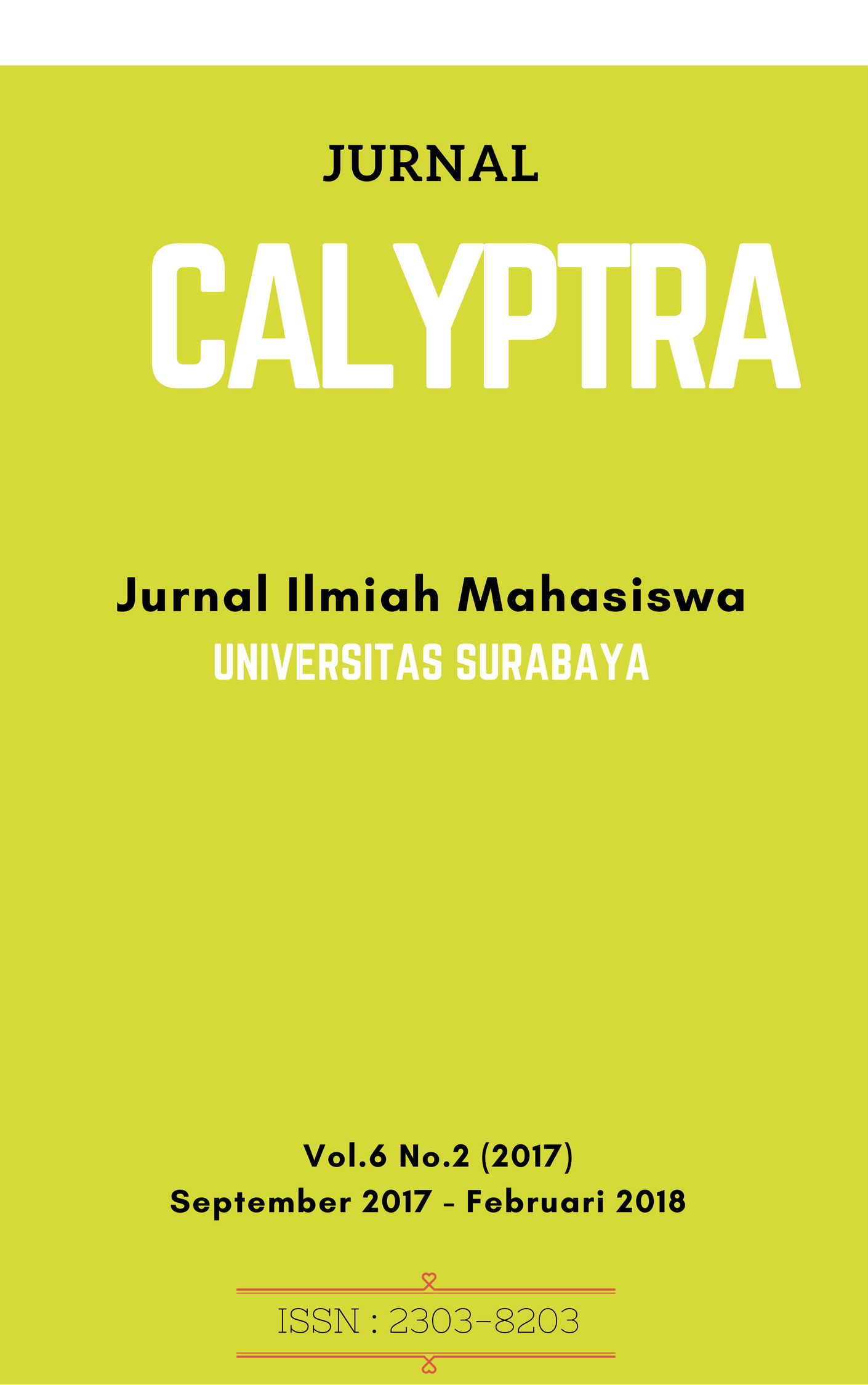 How to Cite
PRAHARTIWI, Ratu Kharisma. IMPLIKASI GENDER PEMIMPIN TERHADAP SISTEM PENILAIAN KINERJA DI FAMILY BUSINESS (STUDI KASUS PADA PT. X DI GERSIK).
CALYPTRA
, [S.l.], v. 6, n. 2, p. Hal. 76 - 89, sep. 2017. ISSN 2302-8203. Available at: <
http://journal.ubaya.ac.id/index.php/jimus/article/view/900
>. Date accessed: 18 sep. 2019.
Section
Bidang Akuntansi (AK)