PENGARUH CORPORATE GOVERNANCE TERHADAP KEPUTUSAN STRUKTUR MODAL PADA PERUSAHAAN SEMUA SEKTOR NON-KEUANGAN YANG TERDAFTAR DI BEI PERIODE 2012-2014
Octavia Anizar

Jurusan Akuntansi Fakultas Bisnis dan Ekonomika Universitas Surabaya
Abstract
Penelitian ini bertujuan untuk menganalisis dan mengetahui apakah atribut dari Corporate Governance seperti board size, outside directors, ownership concentration, dan managerial ownership memiliki pengaruh terhadap Capital Structure. Penelitian ini menggunakan profitabilitas, likuiditas, ukuran perusahaan dan aset tetap berwujud sebagai variabel kontrol. Struktur modal dalam penelitian ini diukur dengan total utang dan utang jangka panjang sebagai variabel dependen. Populasi dalam penelitian ini adalah perusahaan-perusahan yang terdaftar di Bursa Efek Indonesia (BEI) selama periode 2012 sampai dengan 2014. Hasil pengujian hipotesis menunjukkan bahwa ukuran dewan direksi berpengaruh positif terhadap struktur modal yaitu pada utang jangka panjang sedangkan variabel corporate governance yang lain seperti komisaris independen, kepemilikan manajerial dan kepemilikan konsentrasi tidak berpengaruh terhadap struktur modal. Oleh karena itu, Penelitian selanjutnya direkomendasikan agar menggunakan variabel corporate governance lain yang berpengaruh terhadap struktur modal.
Downloads
Download data is not yet available.
References
Abor, J. 2007. Corporate Governance and Financing Decisions of Ghanaian Listed Firms. Corporate Governance. Vol. 7(1): 83-92.

Adams, R. and Mehran, H. 2003. Is corporate governance different for bank holding companies?. Federal Reserve Bank of New York Economic Policy Review. Vol. 9(1): 123-142.

Al-Fayoumi, N. A., & Abuzayed, B. M. 2009. Ownership structure and corporate financing. Applied Financial Economics. Vol. 19(24): 1975-1986.

Al- Najjar, B., & Hussainey, K. 2011. Revisiting the Capital Structure Puzzle: UK Evidence. The Journal of Risk Finance. Vol. 12(4), 329-338.

Anderson, R. W. 2002. Capital Structure, Firm Liquidity and Growth. Working Paper. National Bank of Belgium.

Awat, Napa. I, dan Muljadi. 1995. Keputusan Keputusan Keuangan Perusahaan: Teori dan Hasil Pengujian Empiris, Yogayakarta: Liberty.

Berger, P.G., Ofek, E. and Yermack, D.L. 1997. Managerial Entrenchment and Capital Structure Decisions. Journal of Finance. Vol. 52 No. 4. pp. 1411-38.'

Booth, L, Aivazian, V., Demirguc-Kunt, A. & Maksimovic, V. 2001. Capital Structures in Developing Countries.The Journal of Finance. Vol. 56: 87-130.

Claessens Stijn, Simeon Djankov, Larry H.P. Lang. 2000. The Separation of Ownership and Control in East Asian Corporations. Journal of Financial Economics. Vol. 58(2): 81-112.

Do Xuan Quang and Wu Zhong Xin, 2015. Measuring Impact Of Ownership Structure And Corporate Governance On Capital Structure Of Vietnamese Soes. pp. 218 – 230.

Friend, I. and Lang, L.H.P. 1988. An empirical test of the impact of managerial self-interest on corporate capital structure. The Journal of Finance. Vol. 43 No. 2. pp. 271-81.

Godfred A. Bokpin, Anastacia C. Arko, 2009.Ownership structure, corporate governance and capital structure decisions of firms: Empirical evidence from Ghana. Studies in Economics and Finance. Vol. 26(4): pp. 246-256.

Hassan, A. dan Butt, S.A. 2009. Impact of Ownership Structure and Corporate Governance on Capital Structure of Pakistani Listed Companies. International Journal of Business and Management. Vol. 4(2): 50-57.

Heng, T, Azrbaijani S, Tze O. 2012. Board of Directors and Capital Structure: Evidence from Leading Malaysian Companies. Asian Social Science. Vol. 8(3).

Kasbi, S. 2009. Ownership concentration and capital structure adjustments. Working Paper.

Khan Shoaib, Suzuki Yasushi. 2012. Capital Structure And Managerial Ownership: Evidence from Pakistan. Vol. 11(2): 131-142.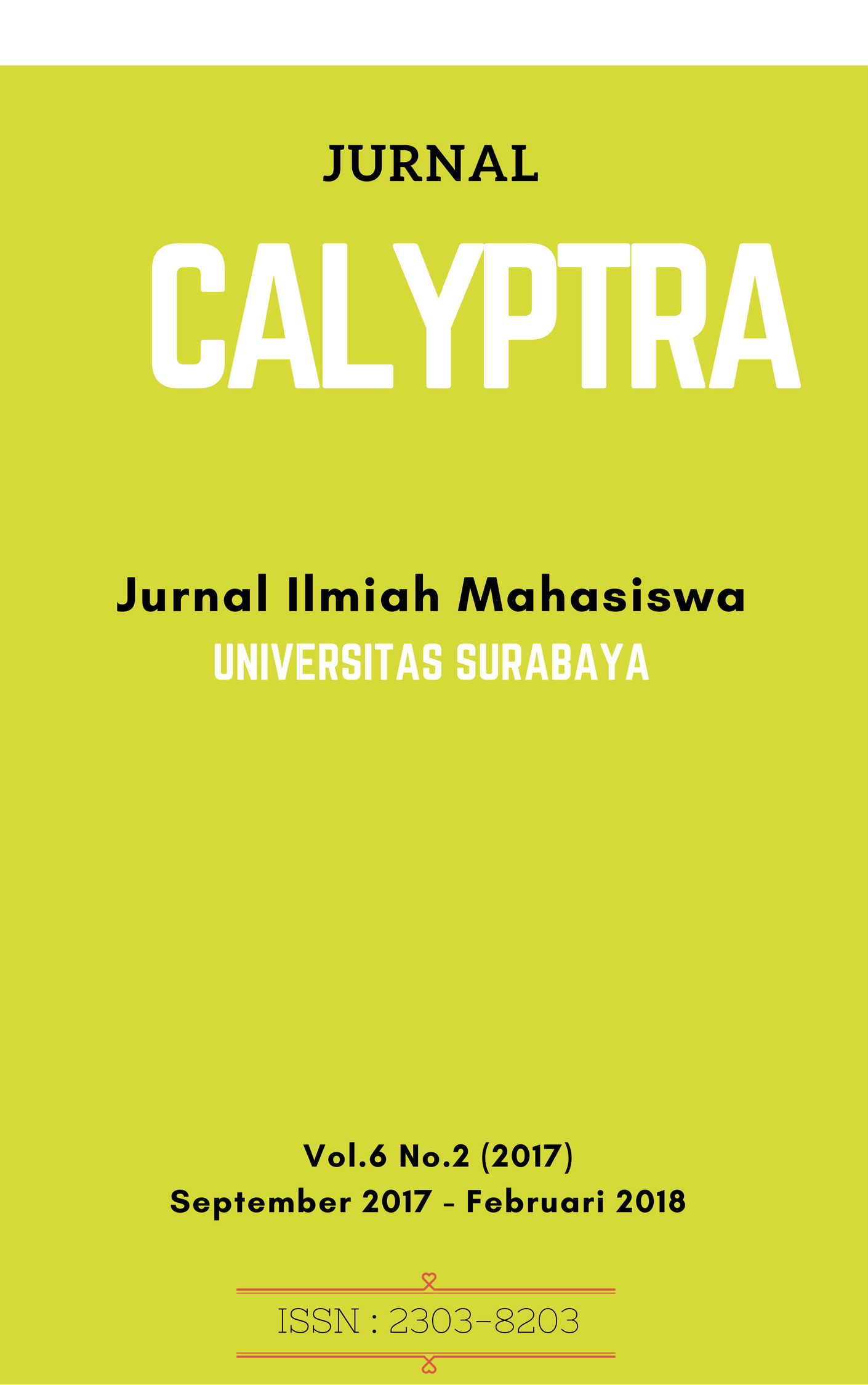 How to Cite
ANIZAR, Octavia. PENGARUH CORPORATE GOVERNANCE TERHADAP KEPUTUSAN STRUKTUR MODAL PADA PERUSAHAAN SEMUA SEKTOR NON-KEUANGAN YANG TERDAFTAR DI BEI PERIODE 2012-2014.
CALYPTRA
, [S.l.], v. 6, n. 2, p. Hal. 207 - 220, sep. 2017. ISSN 2302-8203. Available at: <
http://journal.ubaya.ac.id/index.php/jimus/article/view/918
>. Date accessed: 23 may 2019.
Section
Bidang Akuntansi (AK)