PENGARUH KONFORMITAS TERHADAP PENGAMBILAN KEPUTUSAN PADA PRODUK MINUMAN COKLAT MAHASISWI PSIKOLOGI DI UNIVERSITAS SURABAYA
Jilly Lukito

Fakultas Psikologi Universitas Surabaya
Abstract
Penelitian ini dilakukan untuk mengkaji pengaruh konformitas terhadap pengambilan keputusan pada produk minuman coklat pada mahasiswi Psikologi di Universitas Surabaya. Sampel untuk penelitian ini berjumlah 60 orang yang terbagi menjadi dua kelompok yaitu kontrol dan kelompok eksperimen. Pengambilan sampel dilakukan dengan menggunakan skala yaitu skala preferensi atas produk minuman coklat dan angket terbuka yang bertujuan untuk mengetahui faktor yang memengaruhi dalam pengambilan keputusan. Aktor yang diambil adalah teman sebaya. Analisis data yang digunakan adalah teknis analisis tabulasi silang dan Chi Square test. Hasil analisis tersebut menunjukkan tidak ada asosiasi yang signifikan sehingga tidak adanya pengaruh konformitas terhadap pengambilan keputusan (0.313 > 0.05). Berdasarkan kuesioner yang telah diberikan, diketahui bahwa faktor mayoritas atau yang paling banyak mempengaruhi pengambilan keputusan adalah faktor psikologikal yaitu persepsi (100%), komparasi (36,6%) dan preferensi (33,3%). Bagi peneliti selanjutnya mungkin bisa menggunakan alat ukur yang terstandarisasi untuk mengukur efektivitas dan tingkat konformitas , tipe kepribadian dan menggunakan alat ukur untuk mengetahui seberapa besar faktor-faktor yang dapat memengaruhi pengambilan keputusan selain faktor sosial (lingkungan). Saran penelitian sebaiknya melakukan pengembangan produk dengan memperhatikan karakeristik konsumen.
Downloads
Download data is not yet available.
References
Aronson, E. (1972). The social animal. San Fransisco : Freeman.

Asch, S. E., (1951). Effects of group pressure upon the modification and distortion of judgments. In H. Guetzkow (Ed.), Groups, leadership and men. Oxford, England: Carnegie Press

Berger, J., Rosenholtz, S. J., & Zelditch, M. (1980). Status organizing processes. Annual Review of Sociology. From Libraries Texas A & M University. Retrieved from http://hdl.handle.net/1969.1/154809

Deutch, M., & Gerard, H. B. (1955). A study of normative and informational social influences upon individual judgement. The Journal of Abnormal and Social Psychology.

Gerard, H. B., Wilhelmy., & Conolley, E.S. (1968). Conformity and group size. Journal of Personality and Social Psychology. DOI: 10.1037/h0025325

Kotler., & Amstrong. (2008). Prinsip-prinsip Pemasaran. Jilid 1 dan 2.Edisi 12. Alih bahasa: Bob Sabran. Jakarta: Erlangga.

Kotler, P., & Keller, K. L. (2007). Manajemen Pemasaran edisi 12. Alih bahasa: Benyamin Molan. Jakarta: Indeks

Madrigal, R. (2001). Social identity effects in a belief-attitude-intentions hierarchy: Implications for corporate sponsorship. Psychology & marketing (Vol. 18). New York: Wiley.

Morissan, M.A. (2010). Psikologi Komunikasi. Bogor: Ghalia Indonesia.

Myers, D. G. (2005). Social Psychology. New York : McGraw Hill, Higher Education.

Olahan Cokelat Indonesia Capai 500 Ribu Ton | bisnis | tempo.co. (n.d.). Retrieved June 5, 2016, from https://m.tempo.co/read/news/2013/07/23/090498959/olahan-cokelat-indonesia-capai-500-ribu-ton.

Profitability and health. a recipe for success. 52nd Biscuit, Cake, Chocolate and Confectionery Association (Vol. 35). (2005). Hilton Birmingham Metropole.

Swastha, B. D., Handoko, H. (2008). Manajemen pemasaran analisis perilaku konsumen. Yogyakarta: BPFE

Schiffman & Kanuk. 2008. Perilaku konsumen. Edisi 7. Jakarta: Indeks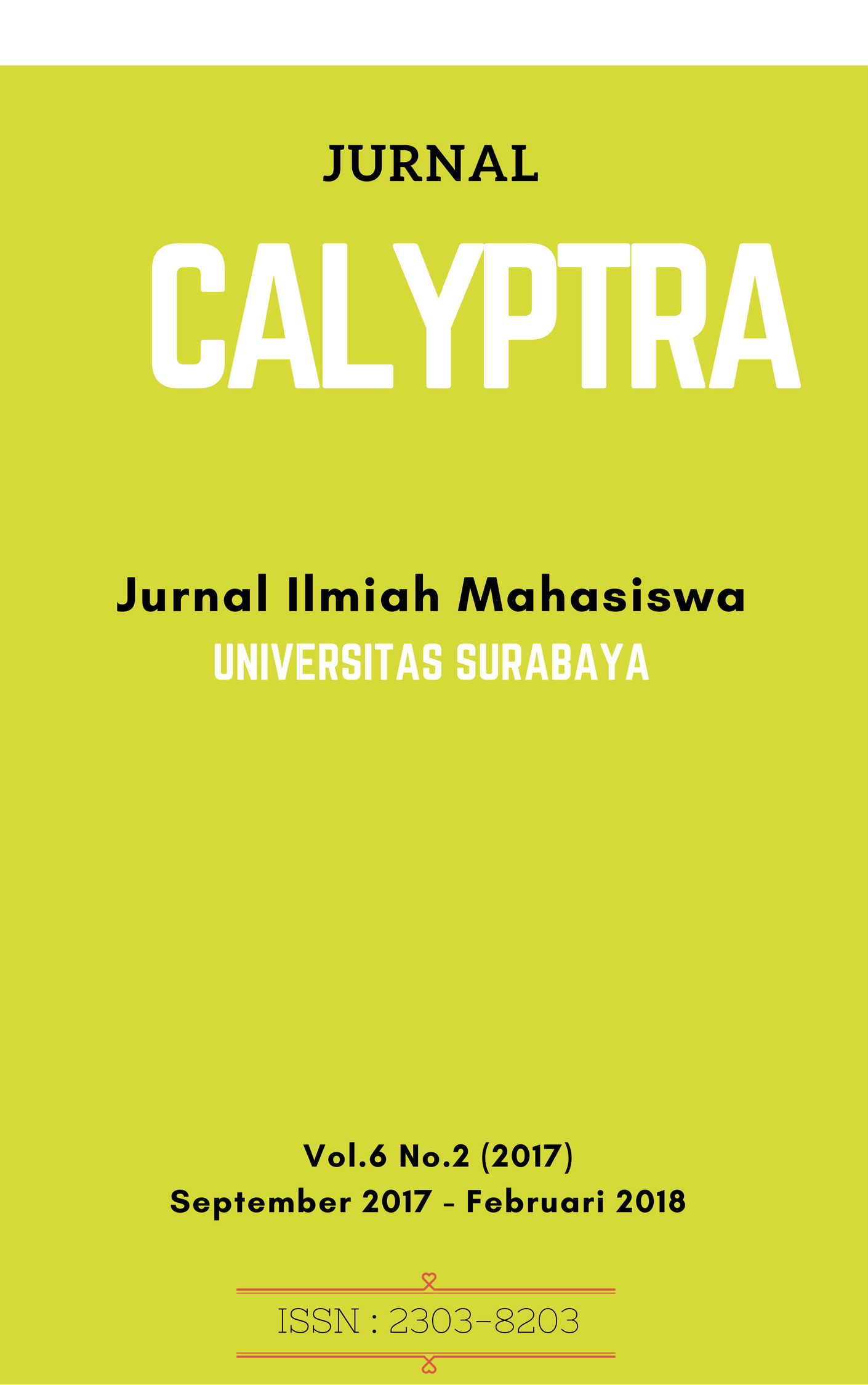 How to Cite
LUKITO, Jilly. PENGARUH KONFORMITAS TERHADAP PENGAMBILAN KEPUTUSAN PADA PRODUK MINUMAN COKLAT MAHASISWI PSIKOLOGI DI UNIVERSITAS SURABAYA.
CALYPTRA
, [S.l.], v. 6, n. 2, p. Hal. 587 – 602, sep. 2017. ISSN 2302-8203. Available at: <
http://journal.ubaya.ac.id/index.php/jimus/article/view/943
>. Date accessed: 23 may 2019.
Section
Bidang Psikologi (IN)