Role of Social Media toward Brand Performance through Mediation of Customer's Satisfaction
Vicentsius Felix Reynaldi

Management Department, Widya Mandala Catholic University, Indonesia

Lena Ellitan

Maria Mia Kristanti

Management Department, Widya Mandala Catholic University, Indonesia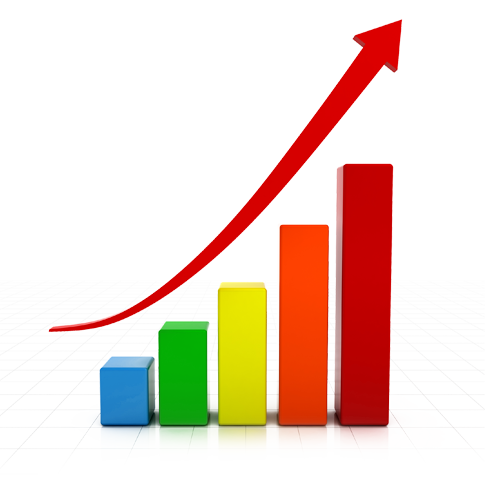 Abstract Views:
275 times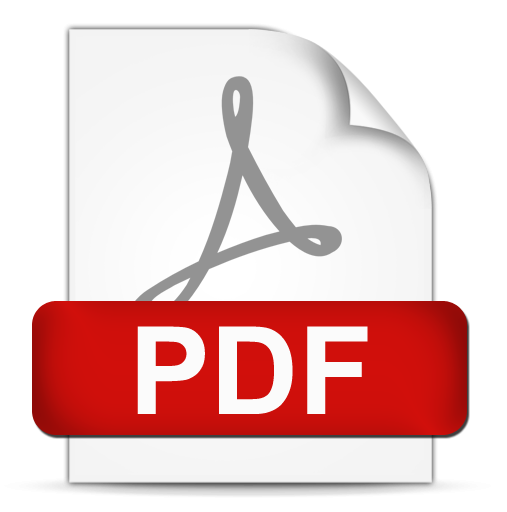 PDF Downloads:
187 times
Keywords:
Communication, Interaction, Motivation, Customer's Satisfaction, Brand Performance
Abstract
A B S T R A C T
This study aims to examine the effect of social media communication, interaction, and motivation toward BBQ Frenzy Brand Performance with the mediating role of customer's satisfaction and moderating role perceived service quality and trust during COVID-19 Pandemic. To achieve the purpose of the study, the study uses quantitative methods and collecting data in the form of online questionnaire using Google forms from 150 responses of selected group of people which are 18 years old or older, had an Instagram Account, had seen the advertisement about BBQ Frenzy, had visited BBQ Frenzy, and lived in Surabaya, Indonesia during this covid-19 pandemic. The data then analyzed using PLS-SEM in SMART PLS 3.3.3 to test the hypothesis of the study. The result shows that for direct effect social media communication, interaction, and motivation all have a positive and significant effect on the BBQ Frenzy customer's satisfaction, customer's satisfaction also shown to have a very strong positive and significant effect on brand performance. As for mediating (indirect) effect it was shown that customer's satisfaction has a positive and significant effect in mediating social media communication, interaction, and motivation toward BBQ Frenzy brand performance.
Downloads
Download data is not yet available.
References
Agnihotri, R., Dingus, R., Hu, M. Y., & Krush, M. T. (2016). Social media: Influencing customer satisfaction in B2B sales. Industrial Marketing Management, 53, 172–180.
Bazi, S., Filieri, R., & Gorton, M. (2020). Customers' motivation to engage with luxury brands on social media. Journal of Business Research, 112, 223–235.
Chaudhary, M. A., Chaudhary, N. I., & Ali, A. Z. (2020). Enhancing university's brand performance during the COVID-19 outbreak: The role of ICT orientation, perceived service quality, trust, and student's satisfaction. Pakistan Journal of Commerce and Social Sciences (PJCSS), 14(3), 629–651.
Chirani, E., Taleghani, M., & Moghadam, N. E. (2012). Brand performance and brand equity. Interdisciplinary Journal of Contemporary Research in Business, 3(9), 1033–1036.
Copypress. (2013). The Power of Social Media Interaction. Retrieved from Copypress.com website: https://www.copypress.com/blog/the-power-of-social-media-interaction/
Desai, V. (2019). Digital marketing: A review. International Journal of Trend in Scientific Research and Development, 5(5), 196–200.
Ghozali, I., & Lathan, H. (2015). Partial least squares: Konsep, teknik, dan aplikasi menggunakan program smart PLS 3.0 (2nd ed.). Semarang: BP Undip.
Hoffman, L. (2018). Three Ways Effective Communication Improves Customer Satisfaction. Retrieved from mojomedialabs.com website: https://www.mojomedialabs.com/blog/effective-communication-strategies
Jhandir, S. U. (2012). Customer satisfaction, perceived service quality and mediating role of perceived value. International Journal of Marketing Studies, 4(1), 68–78.
Leane. (2014). Why Is Social Media Communication Important? Retrieved from socialmediaspecialist.com.au. website: http://www.socialmediaspecialist.com.au/why-is-social-media-communication-important/
Montgomery, E. T. (2018). The Importance of Interacting on Social Media. Retrieved from https://www.business2community.com/ website: https://www.business2community.com/social-media/the-importance-of-interacting-on-social-media-02128088
Soewandi, M. (2015). The impact of social media communication forms on brand equity dimensions and consumer purchase intention. IBuss Management, 3(2), 204–213.
SolveoCo. (2019). Social Media vs. other Digital Marketing: Which should you focus on? Retrieved from solveoco.medium.com website: https://solveoco.medium.com/social-media-vs-other-digital-marketing-which-should-you-focus-on-8ecd289769c4
Torres, A., & Tribó, J. A. (2011). Customer satisfaction and brand equity. Journal of Business Research, 64(10), 1089–1096.
Zoubi, F. H., & Al-Harazneh, D. M. (2021). The impact of social media on customers' loyalty toward hotels in Jordan. International Journal of Business and Management, 14(5), 123.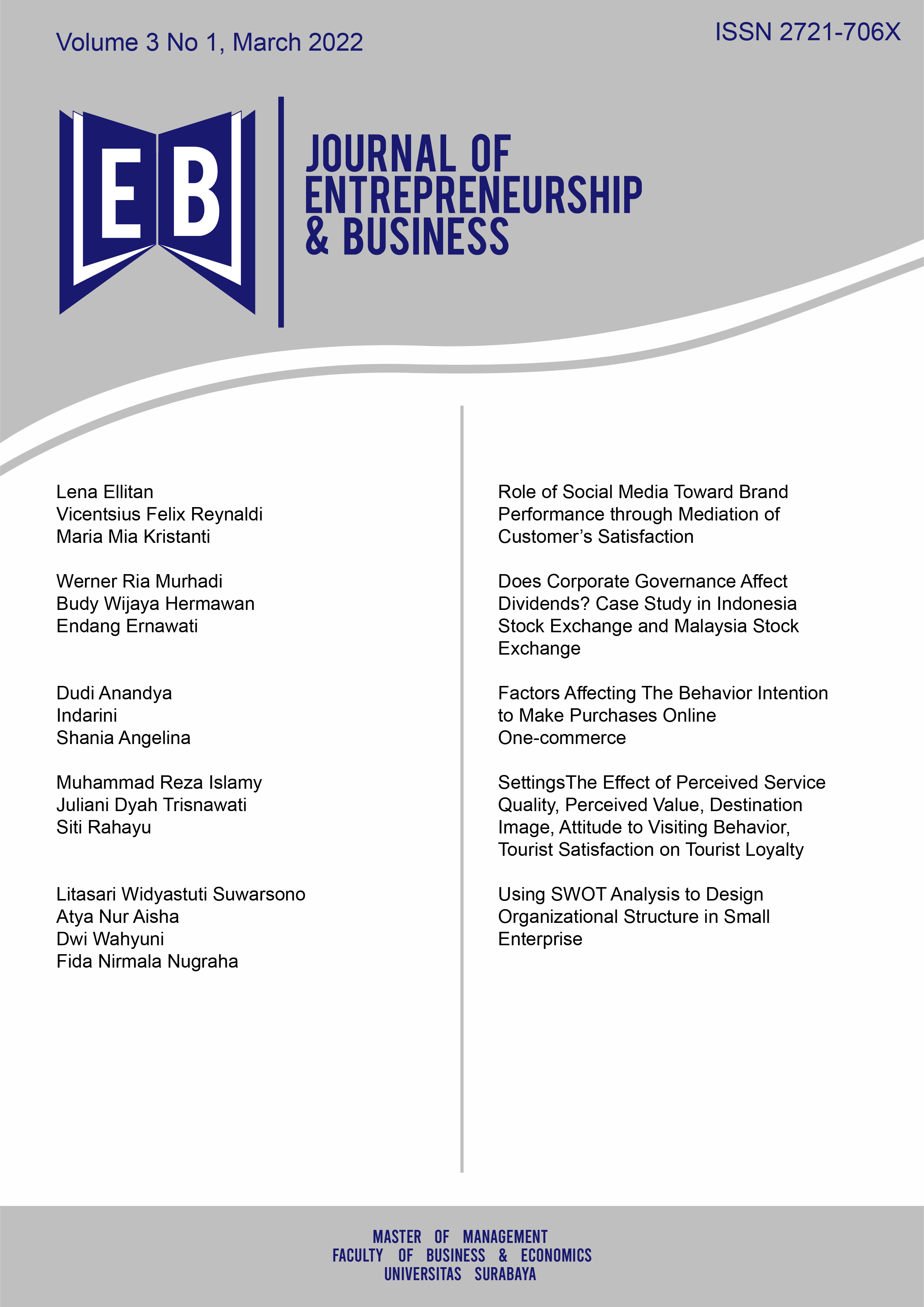 How to Cite
Reynaldi, V. F., Ellitan, L., & Kristanti, M. M. (2022). Role of Social Media toward Brand Performance through Mediation of Customer's Satisfaction. Journal of Entrepreneurship & Business, 3(1), 1-13. https://doi.org/10.24123/jeb.v3i1.4699
Copyright (c) 2022 THE AUTHOR(S)
This work is licensed under a Creative Commons Attribution 4.0 International License.
The journal allow the authors to hold the copyright without restrictions and allow the authors to retain publishing rights without restrictions.